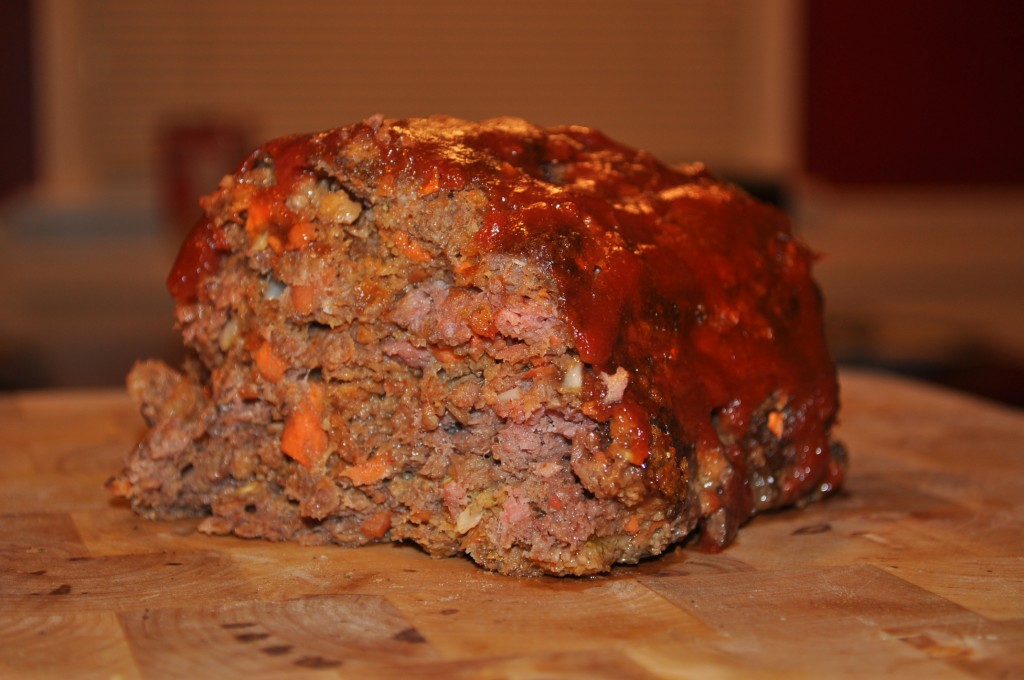 I wish I had a picture of the whole thing, but my SD card was still in my laptop.  Evidently my fancy camera doesn't have a memory of it's own (much like its owner).
Ingredients List
6 slices stale bread (if you don't have stale bread, just toast them)
1 tsp ground black pepper
1/2 tsp cayenne pepper
1 tsp chili powder
1 tsp dried thyme
3 tsps secret ingredient
1/2 onion, cut into large chunks
2 carrots, cut into large chunks
3 garlic cloves, whole
1/2 red pepper, in large chunks (optional, because I didn't realize I didn't have any)
2 lbs good ground beef
1 large egg, slightly beaten
Sauce
1 cup ketchup
2 tsp ground cumin
1 tsp Worcestershire sauce
1/2 tsp Durkee Red Hot sauce
2 tbsp Honey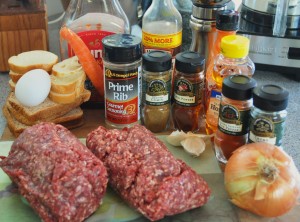 Here are the ingredients, they'd like to thank you all for admiring them.
Directions
Preheat the oven to 325 degrees
You'll need a food processor: Into the food processor, tear up the bread pieces (I used some wheat bread that was on it's last legs, and a few pieces of stale french bread.  Add the cayenne pepper, chili powder, dried thyme and….
The Secret Ingredient!  My baby boy discovered this delicious and healthful seasoning at a Made in Montana Expo.  Of course you don't have to come to Great Falls to purchase it.  You can get it online at http://www.afpmt.com/xcart/.  If you can't wait, just substitute 1 to 1/2 tsp all purpose seasoning, it'll still be great, I promise you.
Next, put that food processor to work.  Let it run until your bread crumbles under the pressure.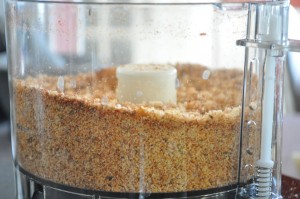 They should look like this.  Please ignore the spots on my processor, it is clean, I promise you.  I'm just not in the habit of drying dishes that come out of the dish washer.  I can live with the spots and so can you.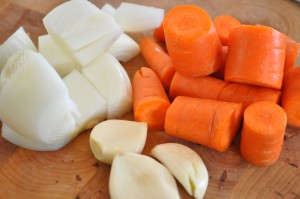 Chunk up the onion and carrots, but the garlic, its okay whole (you can add the optional red pepper here if you have it).
Give those veggies a work out and pulse, pulse it good.  Pulse it until it is sooo fine, or however you like it.
Next…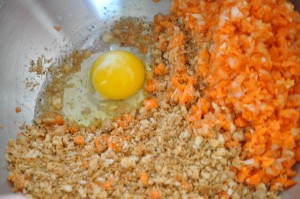 Put it all in a large bowl.  Notice how my egg is not slightly beaten?  I am lazy, I do not like extra dishes, so I have this little trick I do…..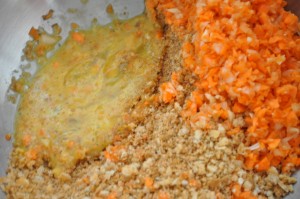 I push all the ingredients aside or create a well, then I stir up my egg in its little cubby until it is lighly beaten.  Don't worry if you get bits in it, it'll all be mixed up soon.  Next we add…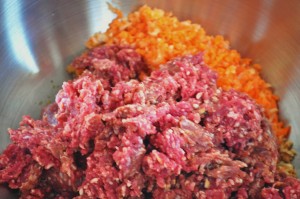 The best damn beef in the world!  100% Black Angus beef from the Pribyl Ranch in Cascade, Montana.  I am fortunate enough to work with Tina-Mari and have an opportunity to purchase the burger directly from the ranch.  Let me tell you folks, this is the best burger I have ever had!  You can subsitute other ground beef, and your meatloaf will be superb, but it just doesn't get any better then this!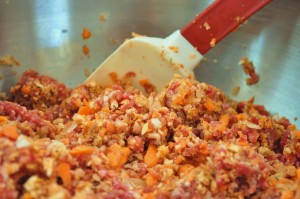 Mix it all up, you can use your hands if you like, it's okay, I won't tell anyone.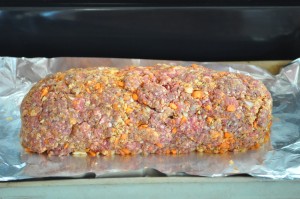 Then shape it into a nice big loaf, you have to use your hands for this, just wash them please.  If you love your dishwasher (read baby boy), you might want to take the time to line your dish with aluminum foil.  But you don't have to.  Notice, no bread pan?  I like to put mine on a sheet pan with an edge, like a jelly roll pan.  Putting it on a flat surface allows the grease to run off and makes for easier slicing.
Pop it in the oven (hope you remembered to preheat) at 325 degrees for 90 minutes.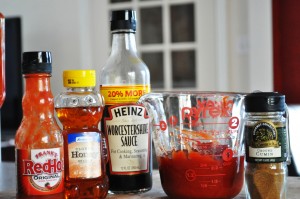 Mix all the sauce ingredients together and cover the meatloaf with it during the last 20 minutes of cooking.
Remove the meatloaf and let sit 10 – 15 minutes prior to slicing.  Serve with any extra sauce.