You would not believe how good these peppers are.  Try it, I promise you'll become a believer.  You may not want any other kind of stuffed pepper ever!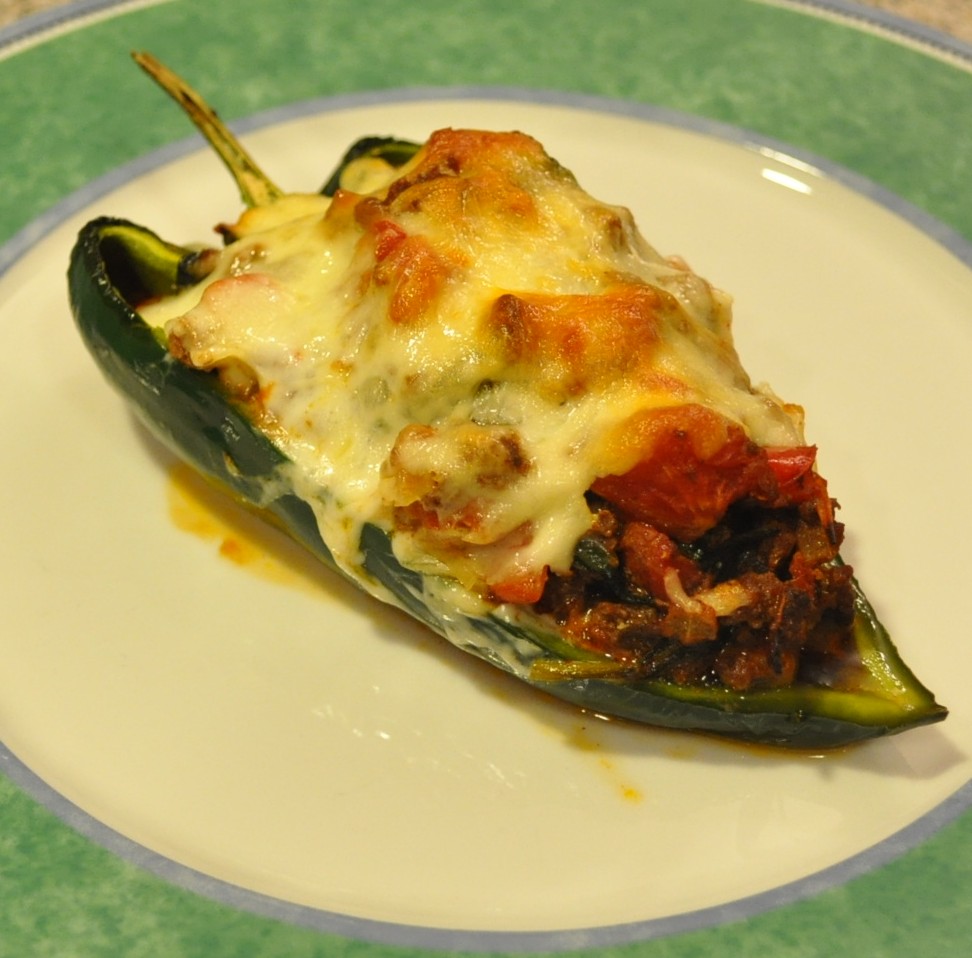 Ingredients
1 lb ground beef
1 onion, fine diced
2 garlic cloves, minced
1/2 red or green pepper, small diced
1 tsp ground cumin
1/2 tsp chili powder
1 tsp ground cinnamon
2 tbs tomato paste
1 can diced tomatoes
1 pkg baby spinach
6 large pasilla or poblano peppers, halved and cleaned
6 oz queso ozxaco or mozarell cheese, grated
Directions
Preheat oven to 350 degrees.
And here are the ingredients…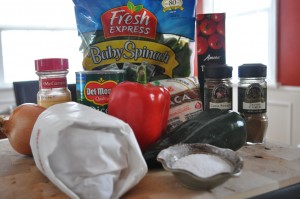 Please note, that the garlic was late for the photo shoot.  The garlic will be appearing later.  I hope all you garlic fans aren't to disappointed.
Let's get that marvelous Pribyl Ranch Black Angus Beef into the pan over Med High heat.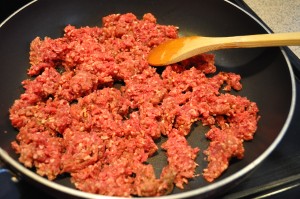 Meanwhile, let's get our onions, garlic and peppers diced.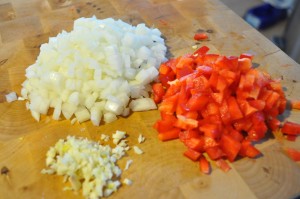 For those of you who were worried that the garlic would miss the photo shoot, no more worries.  The garlic is ready for the show.
 When the beef looks like this: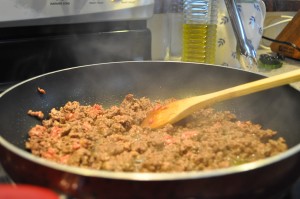 You may have to drain it, then add the onions, peppers and the garlic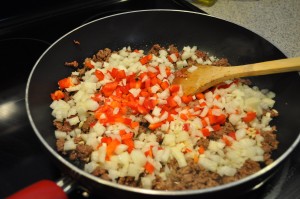 Continue to cook over med high heat for approximately 5 minutes or until the onions are translucent.  Get ready for the stars of the show….
Add the spices, salt, cumin, chili powder and the oh so aromatic cinnamon.  Cinnamon really make this dish special, so don't try to omit it, you'll be sorry.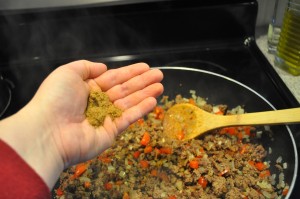 Cook for 30 more seconds, stirring to mix in all the spices. Then add the tomato paste and diced tomatoes.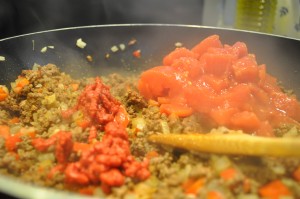 Cook until heated through.
Now add all the spinach, it's okay, it'll shrink.  Plus it's really good for you!
Cook the spinach until it cooks down and it is nice and wilty.  It will look this: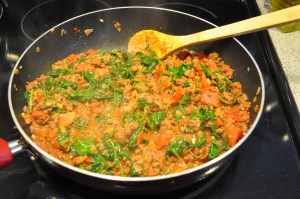 Turn the burner off and get your peppers ready.  Cut them in half and clean our the seeds.
You may want to wear gloves, if your hands are sensitive.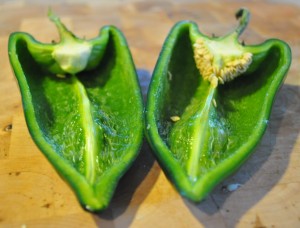 Place the peppers on a shallow baking sheet and stuff with the meat mixture.
Top with cheese and bake for 30 – 45 minutes.  When the cheese is hot and bubbly and golden brown, it is ready!
Side Note: If you want a sous chef to grate the cheese for you,  just offer them a small little piece!
Also note the 3rd eye on my baby boys forehead.  Isn't it great to be a teenager?