Have I told you that I love, love, love my new Dutch Oven?  It heats perfectly, looks great and it's easy to clean (which makes the Baby Boy happy too).  Speaking of Baby Boy, this recipe is adapted from his Nana's Pasta Fazool recipe.  Traditional Pasta Fazool also known as Pasta e Fagioli is an Italian soup/stew that can be found in almost every region of Italy.  It's variations include prosciutto, sausage, or potatoes.  But it always has pasta in it and beans in it, most commonly cannelini beans.  Nana's recipe calls for Pepperoni and Ceci beans (a.k.a. garbanzo beans or chickpeas).  I love it because it is spicy and has a rich tomato base.  Add a salad and some garlic bread for a perfect comfort meal.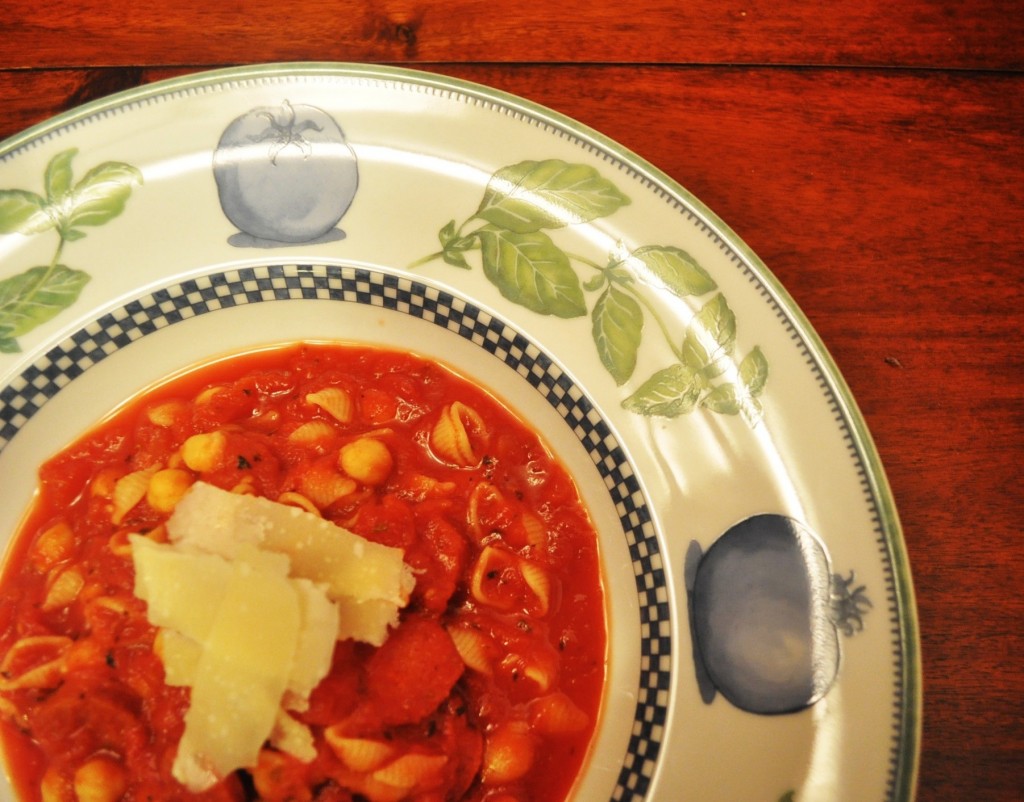 Ingredients
8 – 10 oz pepperoni, thickly sliced
2 tsp garlic powder
1 tbs dried oregano
1 tbs dried basil
1/2 tsp salt
1/2 tsp fresh ground pepper
2 cans (28 oz) crushed tomatoes
1 can (6 oz) tomato paste
2 cans (6 oz) water
2 cans chickpeas
8 oz of dried small pasta such as shells or ditalini
Fresh Parmesan and crushed red peppers if desired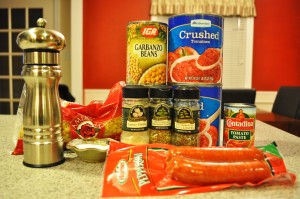 Yes, I buy store brand, they're cheaper and it doesn't seem to make a difference in this dish.  Also, the dried herbs are fine too, you can subsitute fresh is you like, but again, the dried is very good.  If I could buy better pepperoni, I would, it's the star of the dish.  When you live in one of the least populated states, you manage with whats available.
Directions
Start a large pot of water to boil for the pasta and heat up your Dutch oven or heavy bottomed pot.  Meanwhile slice up the pepperoni.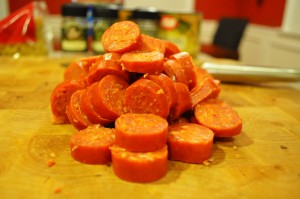 Add the pepperoni and cook for about 10 minutes to render some of the fat.  This is an important step, if you skip it, your Pasta Fazool will be greasy.  Sometimes greasy is good but not this time.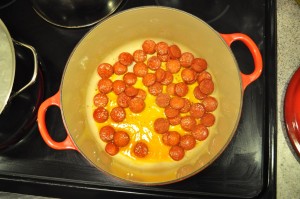 Drain the pepperoni.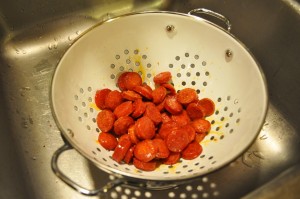 Return the pepperoni to the pot.  Add the garlic, oregano, basil, salt and pepper.  Cook for about 30 seconds so the spices bloom.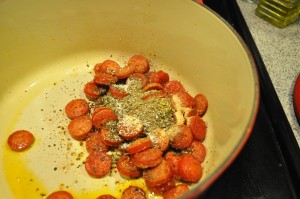 Hopefully you had your cans of crushed tomato opened, because 30 seconds isn't long and it doesn't take long for the spices to burn, like another 30 seconds or what ever time it takes to open the can.  Add both cans of crushed tomatoes.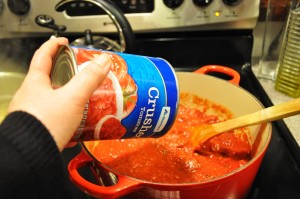 Next the tomato paste.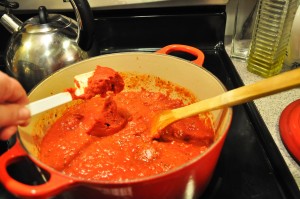 Then add 2 cans of water (I don't like to dirty up a lot of dishes so I often use the cans to add water).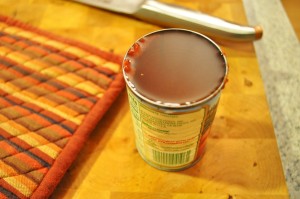 Cover and simmer at least one hour.  Please admire the shiny red Le Creuset. Please ignore my dirty stove.   Also ignore my teapot, I have no idea why it's spout is still open.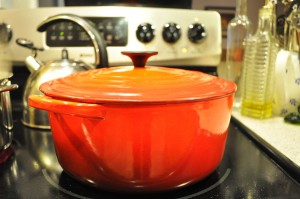 Let's not forget our pasta.  Boil it for approximately 10 minutes or what ever the directions say for al dente.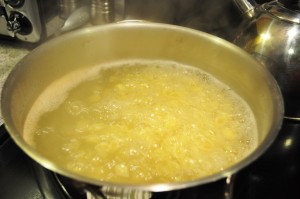 Drain the pasta and set it aside.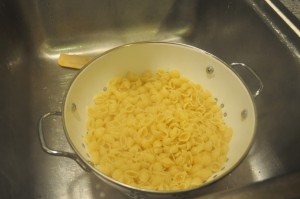 After simmering for one hour plus, add the chick peas.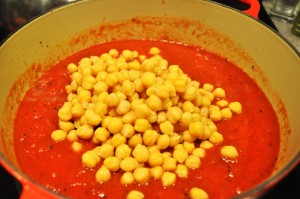 Then add the cooked pasta and stir.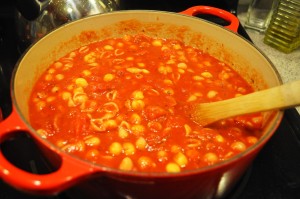 Doesn't that look good and comforting?  Thanks Nana for sharing.  Don't forget to add fresh parmesan and red pepper flakes if desired.