Dear sweet and thoughtful Chantel loaned me one of her favorite cookbooks.  Chantel hails from Belgium;she grew up with heavy French, Dutch and German influences (lucky girl).  Chantel is also an outstanding cook, and I am  honored that she is sharing one of her favorite cookbooks.  I read the book cover to cover, and couldn't wait to try the recipes.  I was craving a nice juicy steak, so this is what I picked first:
The cookbook French by Carole Clements & Elizabeth Wolf-Cohen.  The Recipe adaptation Steak au Poivre (Pepper Steak)
Ingredients
2 tbs black peppercorns
2 fillet or sirloin steaks, 3 New York Strips, about 8 oz each (there are 3 of us at home)
1 tbs butter
2 tsp vegetable olive oil
3 tbs brandy (we used a good cognac)
2/3 cup heavy cream
1   2 garlic clove(s), finely chopped
salt, if needed (I needed)
plus 1 shallot, minced and 1 tbs fresh thyme, chopped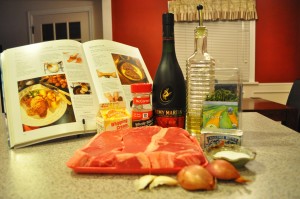 Directions
Start by crushing the peppercorns, Baby boy used a mortar and pestle but you can put them in a plastic bag and use a rolling pin to crush them.
Anyone who knows me, it's a Sturday night and a cocktail would be in order.  My old stand-by a Cuba Libre.  Although, I probably should be drinking a nice French red wine.
Next coat the the steaks with the crushed peppercorn and salt if desired.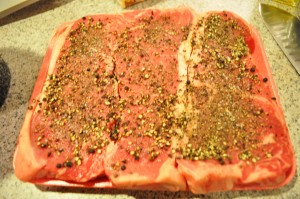 Heat the butter and oil  in a heavy frying pan over med-high heat.  Add the meat and cook for 6-7 minutes, turning once, until done as preferred.
Remove the steaks, to a plate and cover to keep warm.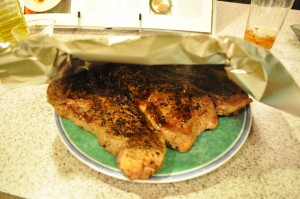 De-glaze the pan with the brandy then add the minced garlic and shallots, allow to boil until reduced by half. Refresh cocktail as needed.
Add the cream and boil until the cream has reduced by 1/3.  Stir accumulated juices from the meat into the sauce, taste and add salt if necessary.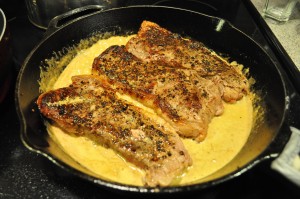 Serve the steaks with the sauce, and a nice glass of wine, or a Cuba Libre if you prefer.