I actually made this on Sunday, I didn't want to leave and not have a big pot of something to hold McGyver and Baby Boy over for a couple days.  You know, something a little more nutritious then take-out and pizza.  And actually this isn't really boeuff it's venison because we're a Montanan family.  Venison is a beautifully lean meat so it lends itself well to long slow cooking and the red wine is perfect for taking the "gaminess" out of the meat.
Isn't it strange how sometimes certain people are on the same paralell?  My daughter lives in Seattle and she has her own healthy food blog, other then food blog, nothing paralell about that.  Then I read her Sunday blog, Leftovers for Lunch.  She made Tofu au Vin.  She mentions that it taste like beef burgundy, only with tofu and that she wished her carrots were chunkier.  Well, my daughter, here is what you were hoping for (minus the tofu).
The recipe is adapted from the cookbook French by Carole clements and elizabeth Wolf-Cohen.
Ingredients
3 1/2 lbs lean beef venison
6 oz salt pork or thick cut bacon
3 4 tbs  unsalted butter
3/4 lb pearl onions (frozen is fine..no, better)
3/4 lb small button mushrooms
1 small onion, finely chopped
1 carrot 2 cups baby carrots
2 or 3 4 garlic cloves, finely chopped
3 tbs flour
3 cups red wine
1 1/2 tbs tomato paste
bouquet garni
2 1/2 – 3 cups beef broth 3 beef bouillion cubes + 2 cups water
salt and pepper
chopped fresh parsley
Directions
Heat a Dutch oven or heavy bottom pot over medium heat. Dice salt pork or slice bacon.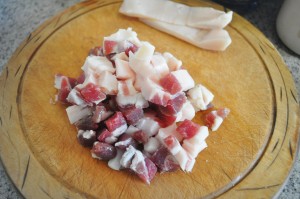 Add to dutch oven, cook until nice and brown.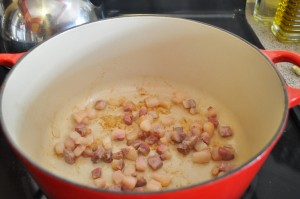 While the salt pork/bacon is cooking, cut up the beef/venison into large cubes.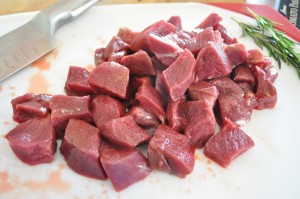 When salt pork/bacon is golden brown, use a slotted spoon and set aside.  Pour off all but 2 tbs of the fat.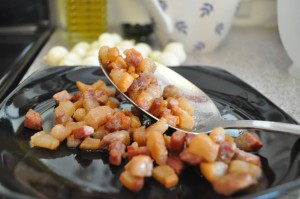 Add meat to the dutch oven, in small batches. Make sure there is plenty of space in between pieces so that they brown nicely.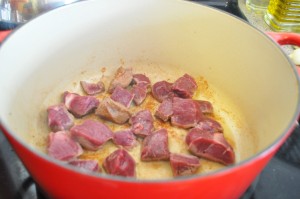 While the meat is cooking, peel the pearl onions.  Then cry, let your mascara run…smaller=stronger!  I peeled until I couldn't even see anymore, so Baby Boy took over.  He thought I was such a whimp.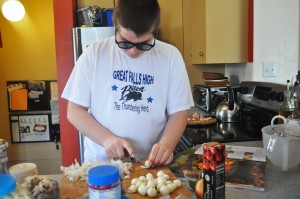 Baby Boy thought glasses might help.  He's sporting the 3-D glasses from Avatar.
He decided maybe I'm not such a whimp…
The end result…
In a heavy frying pan, melt 1 tbs of the butter over medium heat.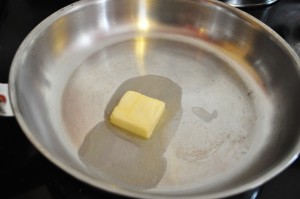 Add the onion and cook until nice and braised.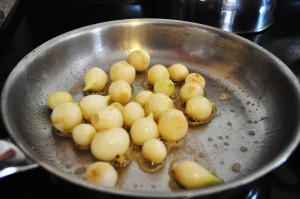 Cut up the onion and the garlic.
Don't forget the mushrooms.  I have nice spotted mushrooms.  It was cooking them or else!  They were ready to revolt!
When the meat is done, remove it to another dish.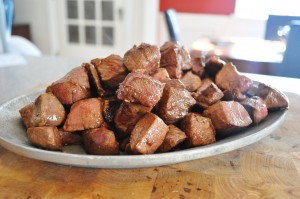 Set the cooked onions aside and melt another tbs of butter and add the mushrooms.
Meanwhile in the dutch oven melt yet another tbs of butter.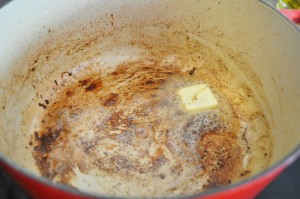 Add the chopped onion and garlic.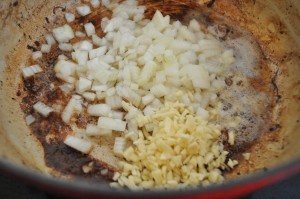 And cook until tender, add flour.
Cook for two more minutes.  While that cooks, move the mushrooms to another plate and melt yes, another 1 tbs of butter.
Add the baby carrots.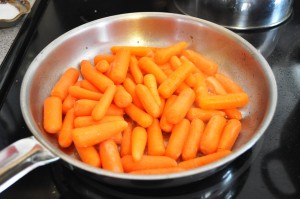 While the carrots cook, slowly add wine to the onion, garlic, flour mixture.
Add the tomato paste.  I absolutely love this concentrated tomato paste.  It sure beats multiple cans of tomato paste open with only 1 or tbs missing.
Then add the bouquet garni, which is just a bunch of herbs like thyme, rosemary and parsley tied together.
When the carrots are done, remove them from the heat and set aside.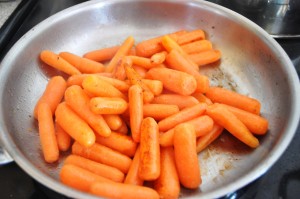 Finally, time to start throughing it all together.  Add salt pork and meat.
Add some salt and pepper.
I added this, just because I had it.  It came from France, really.  We bought, well, a while ago.  We bought it in France, and we haven't been there since we got married.  I doubt if it has any flavor left, but it is sooo French and sooo  is this dish so I threw some in there.
Add the carrots.
Dissolve the beef bouillion in 2 cups hot water and add it to the rest of the pot.
Here's the hard part.  Cover and let simmer for 3 hours.  Then add the onions and mushrooms.
But wait, 3 hours is not long enough.  You must endure more torture, and simmer for 30 more minutes. 
It is oh so worth it!  Good things come to those who cook and wait!