I love, love, love corned beef and cabbage.  It makes my Irish eyes smile, okay, I'm not exactly Irish.  I am for one day of the year, nothing wrong in a little role playing.  I even wear Kiss me I'm Irish shirts, I figured I can easily pull it off with red hair and hazel eyes. 
What I don't love is over cooked veg.  Soggy cabbage, carrots and potatoes aren't on the top of my list as appealing.  I cook my cabbage the traditional way, although it could be roasted.  However, I like to pour some of the broth over my roasted veg and save the remainder of the broth for soup the next day.
Here we laddies and lassie, Corned Beef and Cabbage Kitchen Witch style, just in time for St. Patrick's Day.
Ingredients

1 Corned Beef, cooked according to package instructions
1/2 head cabbage, cut into wedges
4 med potatoes, cut into wedges
8 oz baby carrots
Canola Oil
Salt and Fresh Ground Pepper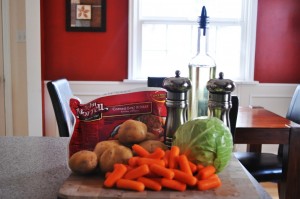 Directions

If you plan on being out of the house all day, you can cook your corned beef in a crock pot.  I like to put my spices in a tea ball or mulling bag, you'll get all the flavor and not have to strain out the whole spices.
Place corned beef in a pot, cover with water and add spice mix, bring the corned beef to a boil and reduce to a simmer for 2 1/2 to 3 hours.
About 30 – 45 minutes before the corned beef is done, pre-heat the oven to 450°.
Drizzle oil on a rimmed baking sheet.
Cut the cabbage into wedges.  And place on the oiled baking sheet.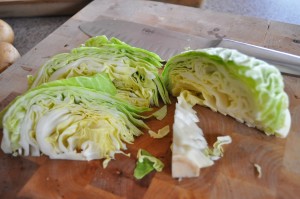 Cut the taters into wedges.  Add the wedged potatoes and carrots to the oiled baking sheet.
Drizzle with a little more oil.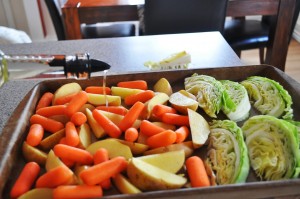 Add Salt and Pepper.  Like the cabbage core in the background.  Apple Cabbage core; Baltimore; who's your friend? You are!  I never really got that, does anyone know what the meaning of it is?
Roast in the oven for 40 – 45 minutes, turning occasionally.  If you notice the cabbage is cooking faster then the potatoes or carrots, you can remove it and then return it back to the bsking sheet for the last few minutes of cooking.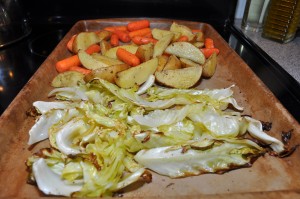 When the corned beef is fork tender (about 2 1/2 to 3 hours) remove the corned beef and let rest for approximately 15 minutes.  Then slice on the bias.
To serve place some sliced corned beef in a shallow dish, add cabbage wedge, carrots and potatoes.  Ladle some broth over the top and serve with bread.