I love corned beef and cabbage, and I would eat them again just as is the next day except I love reinventing leftovers even more then I love eating them.  It always seems there is plentysome left overs.  March is still soup weather so I combined one of my favorite soups, potato soup with the leftovers and wowser, what a great soup.  Depending on how much I have left over, I have to supplement with more fresh ingredients.  I must warn you that my measurements are approximate.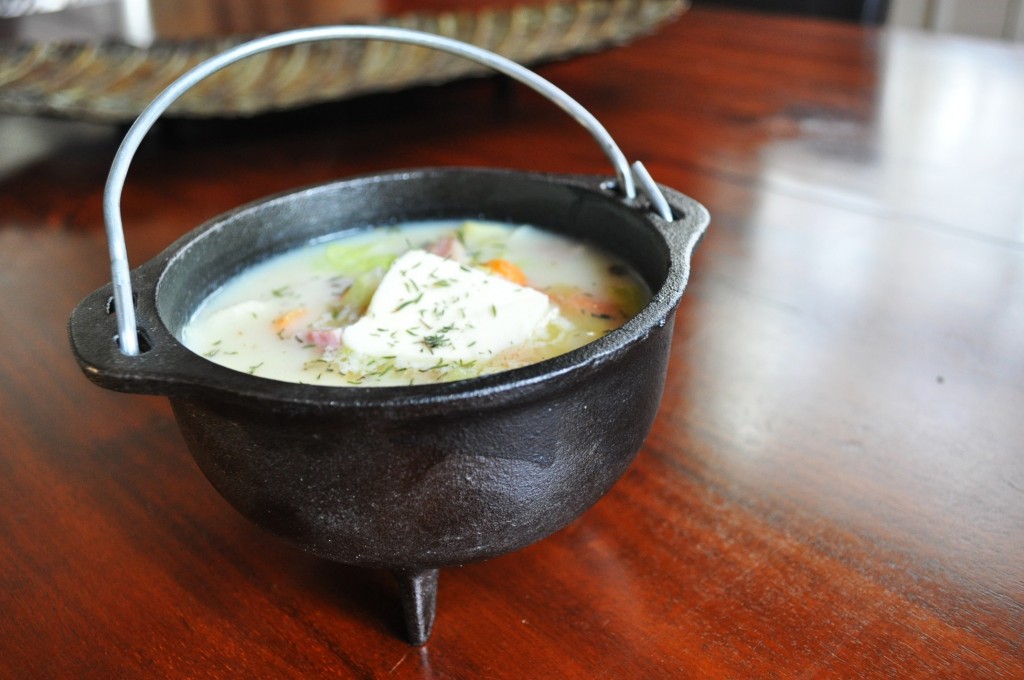 Ingredients
Left over corned beef, cabbage, potatoes and carrots
8 cups leftover broth or 4 cups chicken broth and 4 cups beef broth
3 or 4 extra medium potatoes
1/2 head of cabbage (or just leftovers)
1 cup sliced carrots (fresh and/or leftover)
1 cup milk, cream or half and half
Salt and pepper
Butter
Flour if needed for thickening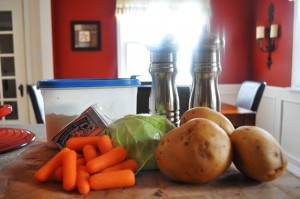 Directions
Skim any fat off of your leftover broth.  I stored my meat and veg in the broth, so I separated them out and left the broth in the pot.
Side note….Baby Boy loves it when I save dishes and by storing my leftovers in the pot.  Then reusing the pot the next day, just made his day!
Return pot with broth to stove and and 3 cups diced raw potatoes.
Bring to a boil and cook until potatoes are tender.  Meanwhile cut up the the corned beef, cabbage, carrots and leftover potatoes. 
Once the potatoes are tender use an immersion blender to puree the potatoes and broth.  If you didn't have leftover potatoes you may want to remove some so you have some bite size pieces.  Alternatively you can use a blender or food processor to puree the potatoes and broth.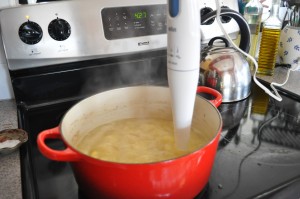 Add cabbage, potatoes, carrots and corned beef.  Cook until cabbage is tender.
Add milk and season with salt and lots of pepper.  If you like a thicker soup, shake up a couple of tbs of flour with the milk, slowly add to the soup and bring to a boil.  Boil for one minute, then simmer.
Serve with a pat of butter.