I really don't know why/what happened with my site.  I do know that I am having trouble with adding posts to my pages.  As a result I will be deleting my "Ramblings" page and combining it with my home page.  It will be "Recipes and Ramblings", you'll never know what you'll get.  I've moved my most recent Rambling post over so I can add the pictures (this time without crashing my computer…I hope).  Thanks for bearing with me as I work through developing this site.
Romantic Weekend/Mountain Escapade
Part 1 of 2
March 20, 2010
It's been a long time since McGyver and I had some real alone time.  For Valentine's Day I bought a romantic night package from Fairmont Hot Springs Resort.  This was the first weekend we had available to go.  It was also a Valentine's Day present for the Baby Boy.  It was to be his first night spent alone without the parents.  He had only two rules: 1. No one was allowed over and 2. Take care of the dogs.
With all that settled we left fairly late on Saturday, McGyver was working with the Scouts collecting food for "Scouting with food".  They collect over 640 lbs of food.  All that work meant we didn't get to head out until nearly 1:00 pm.  Fairmont was nearly a three hour drive.
While the boys were gone, I packed what we needed.  This included a basic picnic lunch for two, sandwich, fruit, trail mix and a bottle of wine.  We couldn't have been luckier, it was a beautiful day, we live in Montana and we were headed to a hot springs resort.  Our romantic package included champagne, chocolate covered strawberries and breakfast in bed.  What could be better?
After driving about an hour or so, we thought we should stop for lunch, only there isn't any place to stop.  I mean NO place to stop.  Not a rest stop anywhere.  We finally saw a sign for one just past Helena and we thought "perfect", the problem is, we get there and it's CLOSED.  First of all Montana for its vastness has very few rest stops.  Really, a place that has less the one million in population and not very many towns, many without services really should have more rest stops then someplace that has gas stations and eateries.
But no, here we are in Big Sky Country, and we got nottin.  McGyver asks me, "should I just pull over when I can?"  I'm starving; I don't care at this point.  We pull off the freeway and onto a little area by the overpass.  It's so romantic….
We get into my nice basket, eat the sandwiches and fruit along the way.  Forget the wine and decide to save the trail mix for later.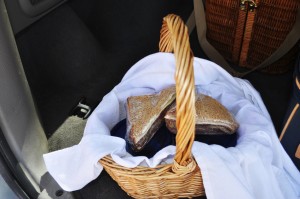 Before you know it, we are turning onto Crackerville road.  This is funny to me, so I take a picture.  Really?  If we lived down south, crackerville is probably a name you wouldn't see.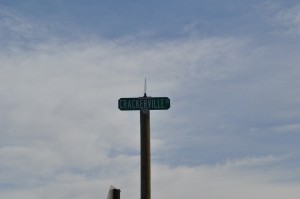 Us crackers headed on down the road and landed at the beautiful hot springs of Fairmont (located in Anaconda, MT).  We checked in then checked out the place. Well first we decided to have some of the wine that we were supposed to have with lunch, then we checked out the place.
How awesome is this wine basket!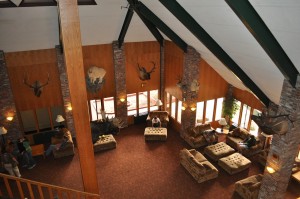 and a close up of a dead animal, because this is what we like in Montana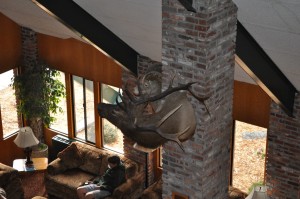 Views from the room…
I pegged the archithecture right away, it reminded me of the 70's.   McGyver wasn't so sure but our room guide said the place was rebuilt in 1972…Yes, I am good!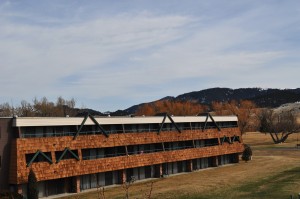 and the best view, my iron horse cowboy.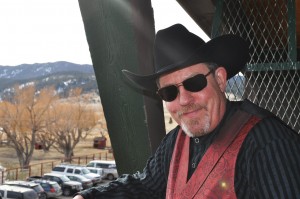 I couldn't resist checking out the animals.
After getting the feel for the place, we asked for our Strawberries and Champagne. When they still hadn't arrived 45 minutes later, we called the desk who said "we are very busy".  We knew they were since there was a senior church meeting, a family reunion and at least six other things listed on their welcome board, so we just said "leave it in the room we are going to the pool".
We changed into our suits and headed out, as we headed to the elevator we saw our chocolate covered strawberries and champagne being delivered to our room.  Ain't that always the way?  I couldn't believe how warm the water was, my friend Lulu, calls it people stew, McGyver calls it the lobster pot.  Whatever you call it, it was wonderful to have it approximately 50 degrees out and you are soaking in uber warm water.
After our quick dip, we headed to the room (very quickly cause it was now super cold after being so warm).  We enjoyed a bit of not champagne, but Asti Spumanti, and some very delicious chocolate covered strawberries so hurriedly, that I forgot to take a picture until after a few were devoured. 
We hurriedly got ready and headed down to the Mile High dining room (Fairmont is located over a mile higher then sea level).
We promptly arrived at 7:00 pm for our reservations and they had a nice two top table in the corner for us.  Me no likey. So I spot some tables next to windows and I ask if we can have one of those.  The one table with the big window someone was waiting for, but the table with the smaller window would be available soon if we liked.  I like, so we waited.  McGyver fetched us a couple of cocktails for the wait.
We were seated without much a wait.  Even though the window was smaller, it was a decent view. 
We (I) ordered some wine.  I ordered a Mosel Riesling; trying to be romantic and all (which I'm not very good at).  See, McGyver and I used to leave near the Mosel River in Germany, our 3rd, and might I add pivotal date; it was on a Harley ride along the Mosel River.  We did some wine tasting and had some federwein and zwiebelkuchen, well; I just started falling….but that's an entirely different post.
Ashley, our, oh so young waitress; with an even younger voice, brings us our bread and then wine.  Only it's a Rhine River Riesling.  I mentioned that we ordered a Mosel River Riesling and she says "It's the same thing, my boss told me so".  Now McGyver and I are not wine snobs, someone would have to know something about wines to be wine snobs, but McGyver and I know that there is a difference in Mosel and Rhine River wines.  So we take time out of our romantic weekend to educate poor Ashley on how Rhine and Mosel River wines are not the same.
Not to spoil a romantic night, we decide that a German Rhine wine would still fit the bill.  We get our meals: McGyver ordered the stuffed rainbow trout with rice pilaf.  And I ordered the char broiled Muscovy duck in an orange sauce.  OMG, very, very good!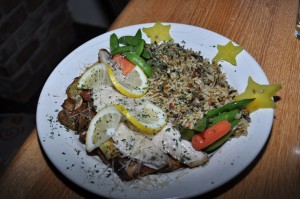 not sure why all the parsley, even though a little over decorated, it was good.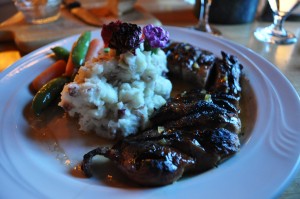 yes, that is dead carnations on my garlic mashers.  A closer look: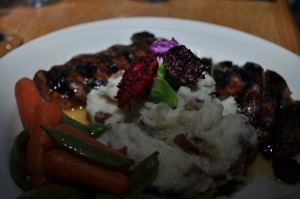 Given that we had some wine (maybe the whole bottle)when we first arrived, a little of champagne Asti, and a cocktail, we really couldn't finish the wine.  No doggy bags, but we screwed that cap back on the wine and took it back to our room!
We changed back into our nice cold swimsuits and hit the hot springs again.  Even better in the freezing night, seriously, it was really awesome.  We are hanging out in the pool and watching the steam rise.  Good stuff, everyone should do it.
After getting our fill of "Medicinal Waters", we headed back up to our room.  Got out of those wet suits and ………………………………..cut to next morning (you don't want to really know the rest of the details).
Breakfast in bed; I ordered our breakfast, we hung out in bed and at the most in opportune moment……breakfast arrived. 
I think the server was a bit unnerved, she spilled our coffee on the bed.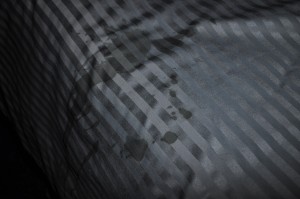 It was quite a breakfast!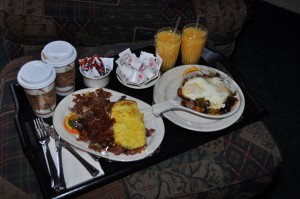 We still had leftover champagne Asti, so I mixed it with our OJ and made mimosas.  We ate, we frolicked, we showered, we packed, we checked out. 
We also decided, hey, we aren't that far from our cabin and snow pack this year was minimal, so maybe we should see if we can head up there.  After all, we have all day.  Another adventure begins.
Stay tuned for Part II, the Mountain Debacle.