Some things are just worth it!  If you've never tried rack of lamb put it on your bucket list because it's a must do!  I didn't get my lamb from an organic store or from a butcher or local sheep farmer, I just bought it from Sam's Club.  It's New Zealand lamb and it was already frenched.  Convenient and easy.  I originally bought it to make a romantic meal for McGyver and I, then plans changed and the Baby Boy was included.  I only had the one package so I went back to Sam's to pick up another, they were $13 or each, expensive for an everyday meal but nice for a special occasion.  Much to my surprise, when I opened the package there were two racks in each package, enough for eight people.  Ooops, but what a deal, main course for 4 at $13?  I was pleasantly surprised and wished that I had planned for guests. 
At first I was planning on a classic French preperation with mustard, but that very morning I was cleaning out my bursting magazine (read junk) rack and ran across the October 2009 issue of Saveurmagazine.  A much simpler recipe that required lots of garlic.  Bonus, I had lots of already peeled garlic that desperately needed to be used.  Since I had quadruple the amount of lamb then the recipe called for, I would need copious amounts of garlic.  Perfect, perfect, perfect….make this, don't wait for a special occasion, make it soon.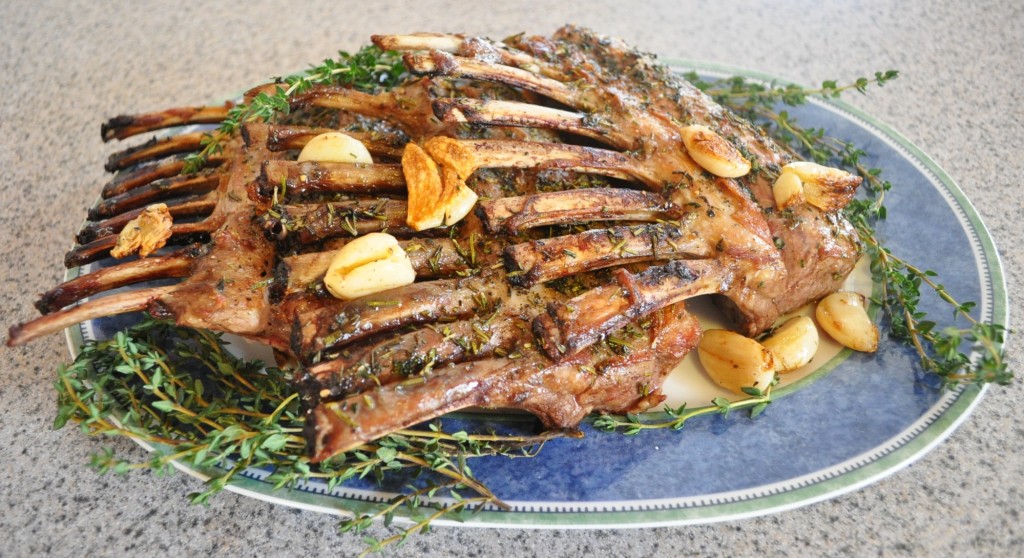 Ingredients

 This is the original remember I more then doubled it. 
1 1 3/4 pound frenched rack of lamb 
2 Tbs extra virgin olive oil 
2 tbs roughly chopped fresh rosemary 
1 tbs chopped fresh thyme, plus extra sprigs for garnish 
10 cloves garlic, smashed 
Directions
First preheat your oven to 450°. 
Heat oil in a cast iron pan.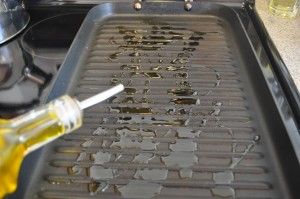 Chop the herbs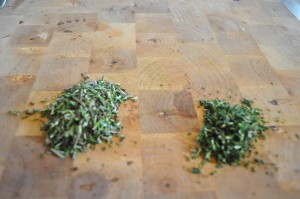 smash the garlic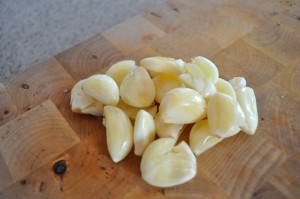 Add lamb fat side down on hot pan and cook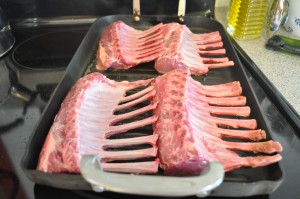 Use tongs to flip and sear the bottom and sides of the rack (s) until browned, about 10 minutes.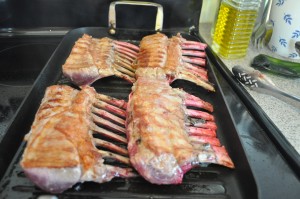 Turn lamb fat side up and scatter herbs ove the top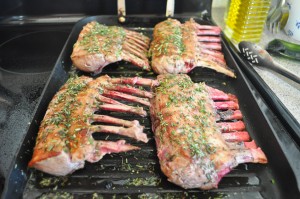 Add garlic to skillet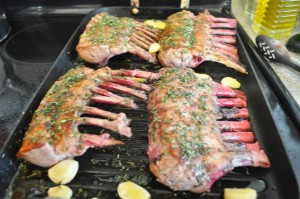 add salt and pepper 
Pop it in the oven and roast until an instant-read thermometer inserted into center of the meat reads 130° for medium rare, about 10 minutes.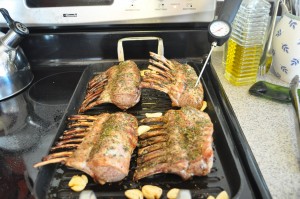 Let cool for 5 minutes before slicing into chops and serving.