First let me start off showing you what a spring day in Montana looks like.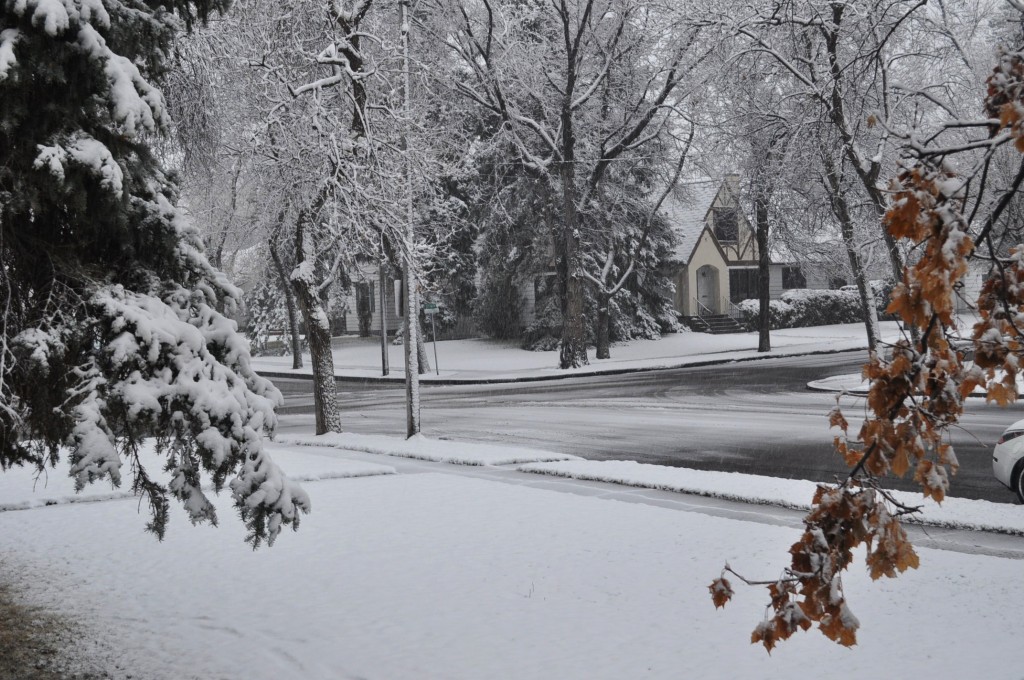 Don't cha wish you lived here too?  That's the thing about the Northern Tundra, you could get snow in any month of the year.  But when summer does come, and it's not to hot and not to cold and there is no humidity; you'll be jealous, mark my words!
Now on to my regularly scheduled post.
Everyone needs a basic marinara recipe in their repertoire.  With a nice marinara the food possibilities are endless, from fancy to simple.
Plain ol' spaghetti is usually a good start. Kids love it, even grown-ups love it.  And hidden inside all that tomato goodness….vegetables.  Yep, this is actually a good way to sneak in some veggies.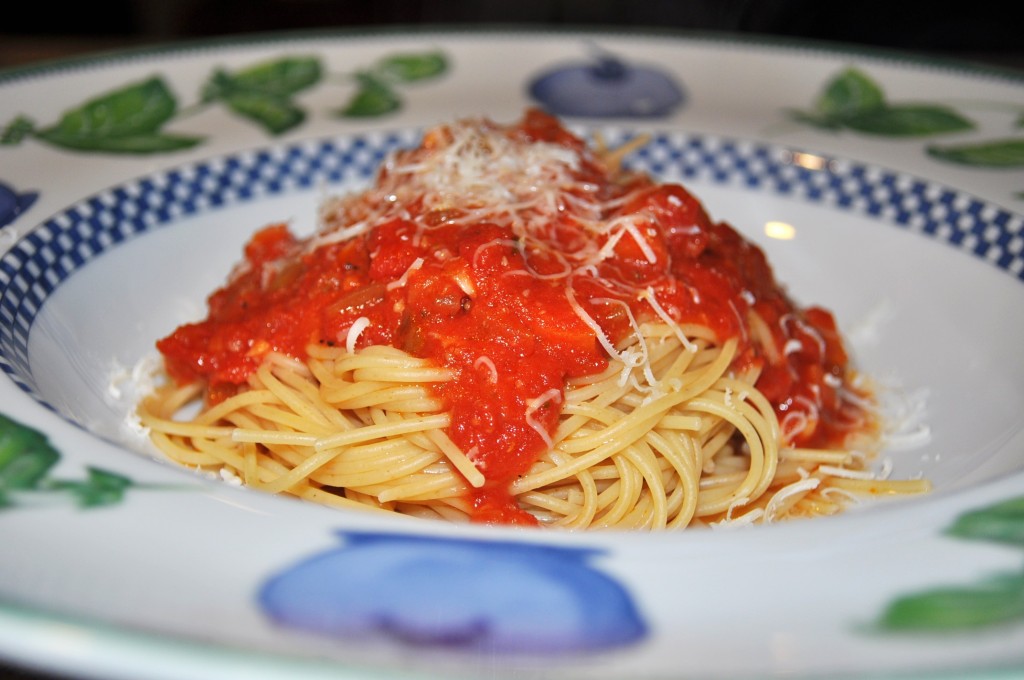 Ingredients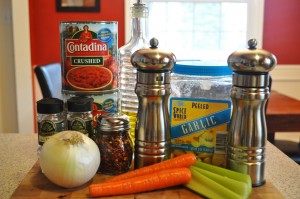 1/2 c extra-virgin olive oil
1 large onion
3 to 4 garlic cloves
2 to 3 stalks celery
2 to 3 carrots
1/2 tsp sea salt
1/2 fresh ground pepper
2 (32 oz) cans crushed tomatoes
2 dried bay leaves
1 tbs dried oregano
1/2 tsp crushed red pepper
Directions
Heat up 1/2 cup olive oil over medium.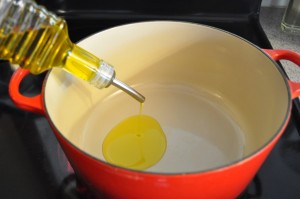 Dice up your onion.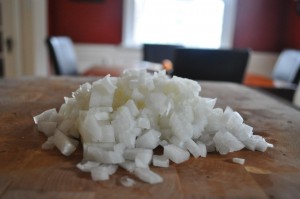 Have you found a lost love?  I have a lot of kitchen geegaws and sometimes certain items get lost in the, well, clutter.
Then one day I dig around and I find something, it's like Christmas.  I wonder how could I have forgotten you my cool little accessory.
One of those items, recently rediscovered, is this handy little tool.
I'm not sure what you call it but it's great for scooping and dropping and it's also great for cutting dough or scrapping stuck on dough off your counter.
Whatever it's called, I'm in love all over again.
Scoop up that diced onion and add it to the oil.
Mince some garlic, scoop and drop.
Cook until the onion is translucent.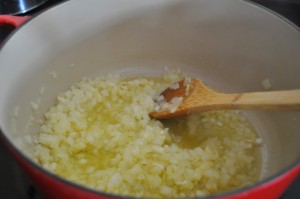 Dice the celery, scoop and drop.
Then the carrots.
Are you getting the picture.  I'm telling you, this is one handy device.
Add the salt & pepper.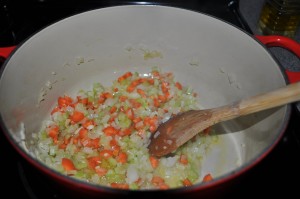 Then add the crushed tomatoes.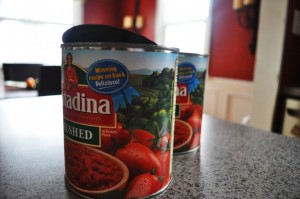 The bay leaves.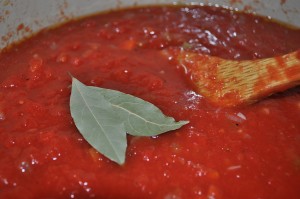 Next the oregano….as you can tell I'm into precise measurements.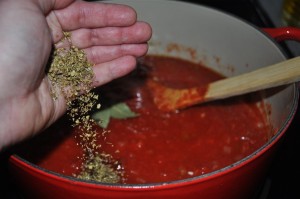 If you like add some crushed red pepper…I like, oh yes, I like!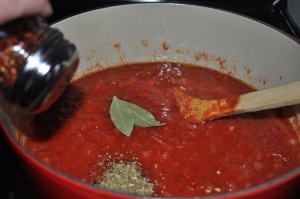 Cover and simmer for at least one hour.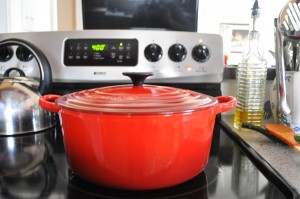 Mmmmm, marinara!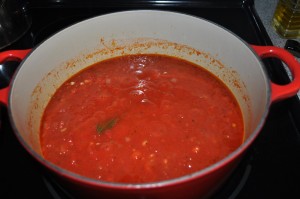 Make sure you remove the bay leaves before serving.
If you are a plan ahead person, you can double the recipe and freeze it for up to 3 months.
We got two meals out of this deal, spaghetti night one and stuffed manicotti night two.
The baby boy is demonstrating how to stuff the manicotti.
FYI, I'm (we're) lazy, so we don't pre-cook the pasta and we put the filling into a gallon bag with the tip cut off to fill the noodles.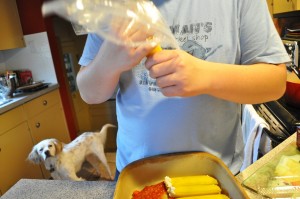 Summer puppy is supervising, she has raised her nose in disapproval of baby boys technique (the bag is interfering with the demonstration).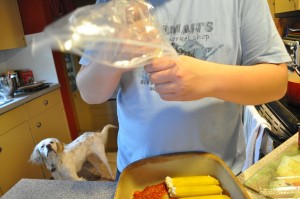 Much better.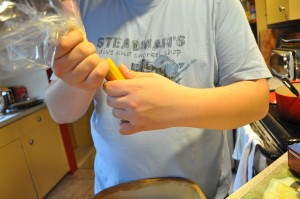 Voila! If a teenage boy can do it, so can you!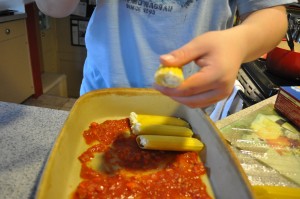 Baked cheesy goodness….don't worry Ma, I'm still getting my veggies.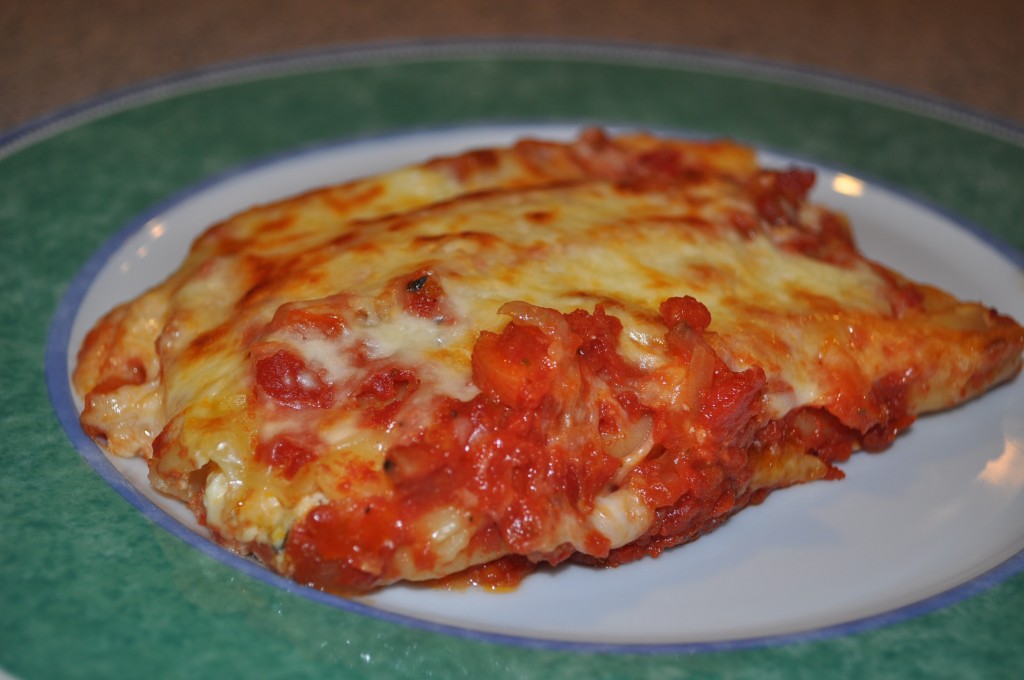 If you prefer a smoother sauce you can use a food processor to mince the veggies or after you cook the marinara you can puree it.
I better be off to do some snow shoveling…yeah right….I better be off to get the baby boy to shovel.