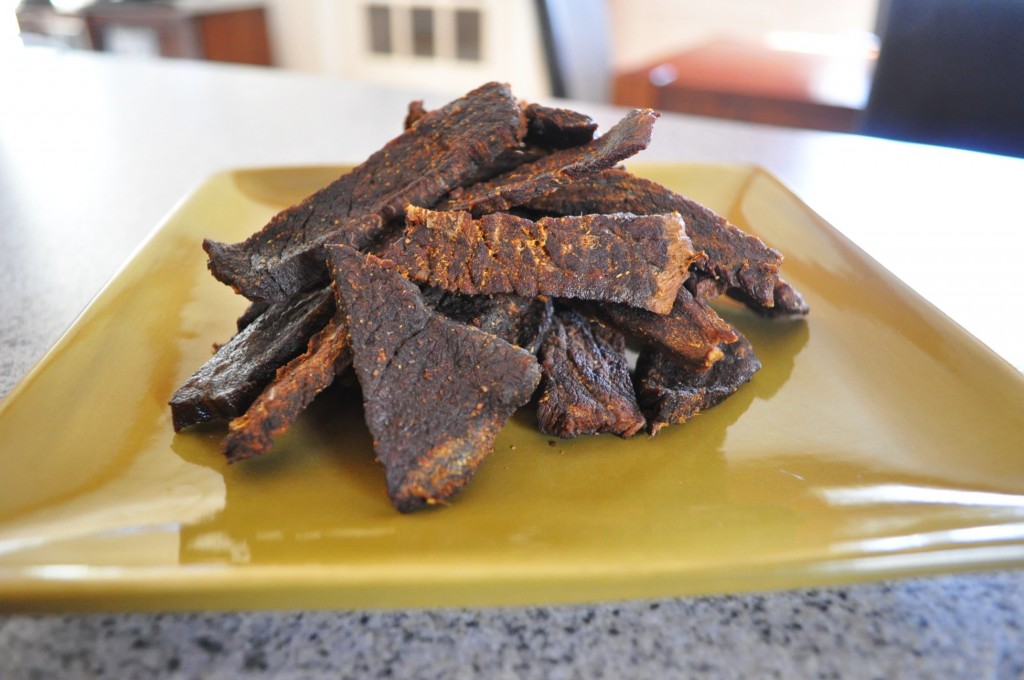 I'm the head cook in the family, but that doesn't mean I'm the only cook.  When McGyver and I were dating, he was a self-sustaining bachelor.  I don't mean he would pick up pre-made dishes or do take out, he could actually cook.  Not gourmet but well enough.  My all time favorite recipe of his, is a manly one, his jerky.
Through trial and error he has tweaked, and tweaked his marinade and come out with a winner.  It is hands down the best ever!  It's so good that we have to ration it out or it'll disappear in an instant!  Something about that carnivorous food that makes you crave it every waking moment. You want just a small piece of that salty, chewy, slightly spicy, jerky to tie you over.  Then the flavor in your mouth starts to dissipate and you go back for just one more small piece of that salty, chewy, slightly spicy, jerky to tie you over.
It's addictive, I'm just warning you!
Ingredients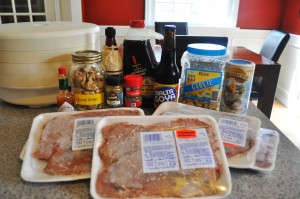 4 – 5 lbs Rouladen style beef (also known as minute steak)
As you can tell I like to buy mine when it is reduced for quick sale.  We keep it in the freezer until we have enough.
Luckily it doesn't seem to matter if the meat is a teensy bit freezer burned (some was buried in the deep freeze for an unknown amount of time).
2 1/2 tbs ground ginger
1 tsp black pepper
2 1/2 tbs curry powder
2 tsp salt
4-6 cloves of garlic
2 tbs tomato paste (not in photo again!)
10 tbs Worcestershire sauce
8 tbs soy sauce
8 tbs hot sauce of your choice
1 bottle Malta (can be found in Hispanic section of the grocery store)
If you can't find Malta, a beer or coke will do just fine.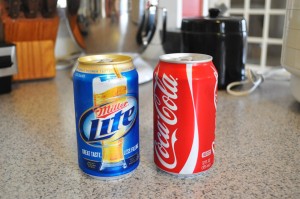 Directions
Let's start off with the dry ingredients.  As you know McGyver brought me some whole dried ginger so we start with that.
We like to mix everything in the largest measuring cup/bowl with a spout that we can.
I've had this one for about 20 years!
Next the black pepper.  We use some pre-ground coarse pepper, it's easier and fresh ground doesn't really make a huge difference for this recipe.
Next the curry powder.
Then the salt.  McGyver is using sea salt, but any salt will do.  There is a lot of sodium in the recipe, but you need it to help preserve and dry the meat.
Lots of pressed fresh garlic.  If you like mild garlic flavor, lightly crush the whole clove and use in the marinade.  Mincing it also works.
Here's that durn tomato paste that we also forget to invite to the photo shoot.
Now for the liquids, some Worcestershire sauce.
Some Soy Sauce.
And hot sauce.  McGyver used Tabasco and Frank's Red Hot, because we didn't have enough Tabasco.
As you can tell this is not exactly an exact science.
Lastly, McGyver likes to rinse out all the measuring devices with the Malta.  Add to the rest of the ingredients and mix.
Pour into a gallon sealable bag.
While meat is partially frozen slice it up.
Use your big man hands and grab a giant handful of the sliced meat at one time and shove it into the bag.
Repeat until it's all in there.
Next mix it around.  McGyver recommend doing this over a sink in case it isn't sealed properly.
Make sure to do it over the pan soaking in the sink so everyone can see that you haven't finished the breakfast dishes yet, sheesh!
Place it in a pan (just in case of leakage) and refrigerate over night.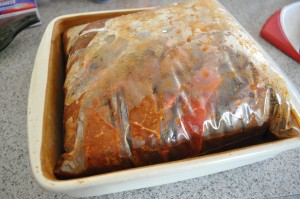 Next morning, in your comfy sweats or PJs, layer the marinated meat in the dehydrator. Make sure there is space between the pieces so the air can circulate.
If you don't have a dehydrator you can use the oven method.
We like to park ours outside since it's noisy and smells so good that we would be constantly hungry.
Set your dehydrator for 145 degrees.
And wait 4-6 hours.
Does that smell good Summer puppy.  Too bad it's not for you.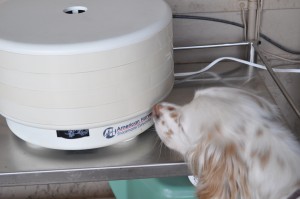 After 4 hours we checked on it, as demonstrated by McGyver, it's still a little soft.
We waited another hour and, perfection.
Can you see the fibers of the meat?  See the difference in color?
We package about 5 per snack bag.  Then store in the freezer.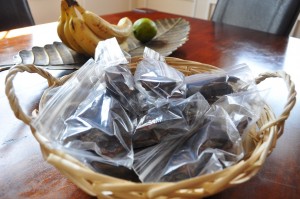 Then after that, I dusted off my riding boots for the first time this year.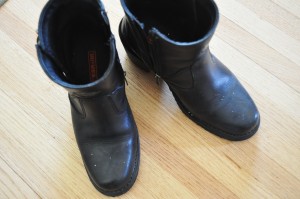 McGyver was waiting to take me on nice (late) afternoon ride.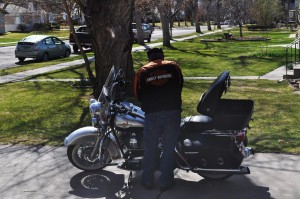 Drove 20 miles out of town to Belt, and stopped for a cold one.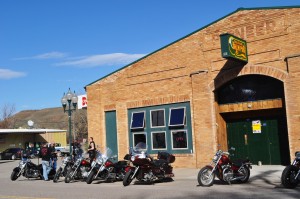 Then we headed back, the sun and/or wind caused my eyes to tear up, I lost my Sturgis head bandana, we turned around but couldn't find it, then made it home.
I loved every minute of it!
Happy trails to you……

Click to Print a Recipe Card