The weather has finally turned nice enough to start grilling.  With grilling and outdoor eating usually means salad sides.  Something about nice weather that makes you want to eat salad.  Love, love, love the traditional coleslaw, pasta, and potato salads but I like a variety once in awhile.  Even better then that, I like it when it's nice and easy.
If it's a beautiful day out, who wants to be inside?  Okay, me, I'd still be inside to cook or make jewelry, but normal people want to be outside as much as possible when the weather is nice.  I have to admit, on the first early days when it's nice, I too crave to be outdoors.  Dinner al fresco is the best.
Here's a simple slaw recipe that takes no time in the kitchen, 5 minutes if you have the dressing made or you use store bought.  Perfect for a beautiful day that you'd rather be spending out then in.
Ingredients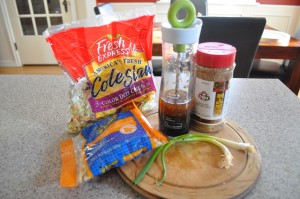 1 bag tri-color coleslaw
1/2 cup Asain Dressing homemade or purchased
2 green onions
2 tbs toasted sesame seeds
1/4 c toasted slivered almonds
Directions
Stick with me folks because this is tough….
Open the bag of slaw and put it in a med/large bowl (my bowl looks small but it'll compress, you'll see)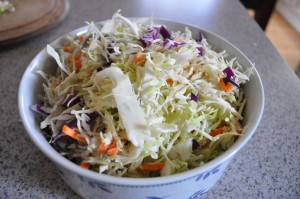 Thinly slice the green onions and add to the slaw.
Pour over the dressing.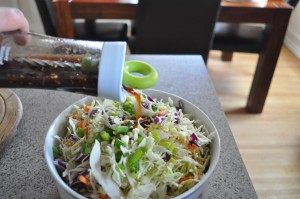 Add the sesame seeds.
Then add the toasted almonds.
Note: to make toasted almonds, in a small pan over medium heat cook the almonds until the turn a light tan color.  Let cool prior to adding.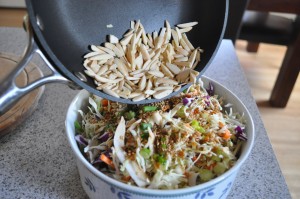 Mix it up and let sit 30 minutes prior to serving.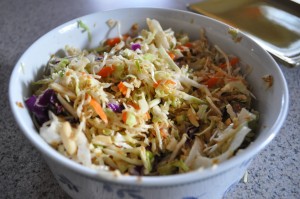 I hope you hung in there with me.  The cabbage, the dressing and the nuttiness of this salad is soooooo good.  Try it real soon!