Almost 2 years ago when I found out I was moving to Great Falls, MT to follow the F-15 fighter-jets and McGyver's paycheck (they went hand in hand).  I was excited to move closer to home (Washington State) and live someplace a lot less populated then the St. Louis area.  Montana has a population of less than 1 million people, matter fact there are 3 head of cattle to every person in Montana.  St. Louis has a population of over 2 million, more than twice the population of our entire state!
With large populations comes many amenities (and some not good things like crime).  My favorite amenity, of course, is food!  Not just the eating out on The Hill (Italian district), going out for Dim Sum in the Asian district, but also having a variety of specialty items that could easily be picked up.  A foodies dream.  I knew moving to Montana would be a culture and lifestyle change.  I wouldn't be heading to Whole Foods on the weekends or going to Volpi to pick up some salami or guanciale.  I wouldn't be going out to eat for specialty foods either, at least I didn't think so.
When we moved to Great Falls it was mostly studded with the typical fast food chains, a couple of Mexican resturaunts, typical diners, and some seriously good steakhouses!  I expected great steak houses, what with all that cattle and all!  What Great Falls didn't have was a Sushi resturaunt.  A resturaunt or two would sometimes run a special and have sushi available.  They didn't even sell it in the grocery stores.  Occasionally I would make it myself (no raw ingredients),  but nothing quite matches going out for it.
Truthfully I never expected Great Falls to open a Sushi restaurant, after all, we are a land locked state.  Montana is beef and wild game country so I wasn't sure if there would be a high enough demand for it.  Fortunately for me someone thought to open the first ever Sushi/Thai restaurant.  I was so excited, I waited and waited.  They opened and I waited some more (I never like to go to a place right after they open…let them work out the 'bugs' before I judge…).  Every time I drove by and I saw vehicles there I was ecstatic, my greatest fear was that the people of Great Falls would not embrace sushi.
Sorry to misjudge the people of Great Falls, it turns out that it is a very popular place to eat!  Last night there were only a few tables open, I'm so happy!  Last night was my third time eating there and I haven't been disappointed yet.  We were greeted immediately when we walked in and told to seat ourselves (which I prefer).  The second we were settled, drink orders were taken and brought and then our food order was taken.   
The decor is tastefully done, in warm colors and low lighting.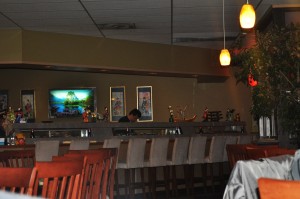 Modern, Asian and comfortable with plenty of room.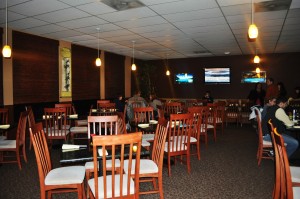 Not to disappoint, it had the proverbial lighted scenery pictures hanging around.
I don't know why, but I just expect it.  Somehow it makes me feel comfortable…or maybe it's the sake?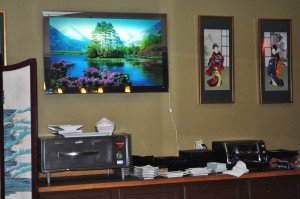 The menu is a laminated and probably locally bound.
A little bit on the cheesy side, but practical.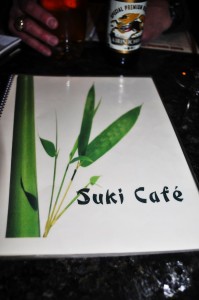 There was only one problem with the menu,
can you figure it out?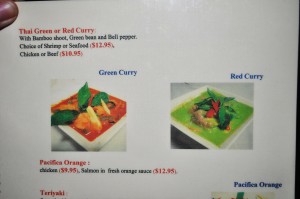 McGyver is somewhat of a beer connoisseur and enjoys all, I mean, all varieties.
I opted for the white wine.
A pot of green tea.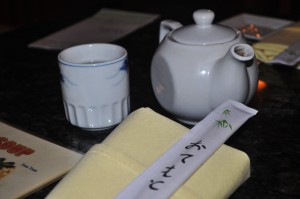 McGyver started with the Miso soup.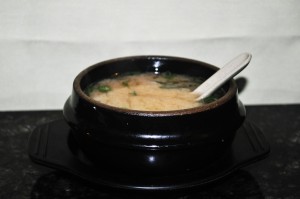 I choose the salad, this one is pictured with the peanut dressing.
I've also had the ginger dressing and I love both!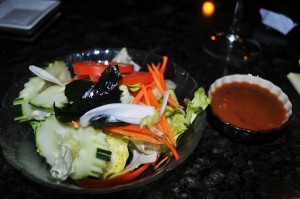 Peek-a-boo, I'm making your dinner!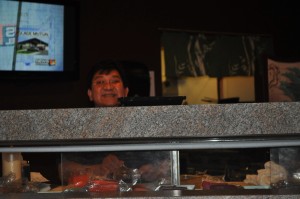 I love the fact that you can watch your food being prepared.
The Baby boy ordered the udon noodles with the tempura fried shrimp. 
It only cost $6.95 and was a complete meal in itself.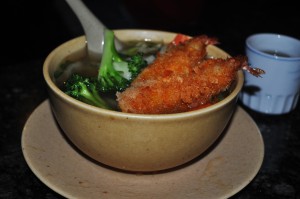 McGyver just had to give it a try too.
Nom, nom, nom….
We ordered the combination Sushi and Sashimi double platter for $35.00.
The chef chooses a selection of sushi and sashimi for you, special requests are taken.
There was plenty enough food for the whole table.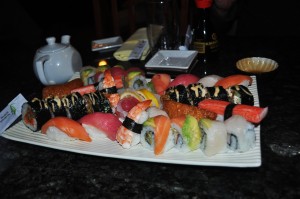 Not pictured…we also ordered a Dim Sum appetizer, delish!
My only complaint, which really isn't a complaint is that the Dim Sum didn't come out as an appetizer, it came as part of the meal.
I love, love, love, the Suki Cafe…will you marry me?  Wait never-mind, I'm already taken…how about an affair?
If you live in Great Falls and haven't been to the Suki Cafe, go now!  I mean it, get in your car and go, you won't regret it!