Mcgyver and the Baby boy asked me what I wanted to do for Mother's Day.  Zillions of possibilities flowed through my mind, okay, maybe not zillions, I don't think I have the capacity for zillions of thoughts.  But I did have a few, like visit Giant Springs, have a picnic, or go for a motorcycle ride and then I look outside at the snow and realize that's not going to happen anytime soon.  Maybe an indoor activity, I have yet to go to the Paris Gibson Square, maybe a Sunday brunch and a movie would be nice, or I could drag them to the Mall and have them carry all my bags while I shop? 
Then I thought about it again.  What they should have asked me for Mother's Day is what I don't want to do.  I don't want to do the laundry…hmmm…McGyver usually does that anyways, never mind about that.  I don't want to clean the bathrooms, I don't want to vacuum, or dust, make the bed or get up early, or cook or think.  It's not about what you get to do that makes it special, it's about what you don't have to do that makes it special.  Better yet, if all the chores are done on Saturday then I can wake up when ever to a clean house and do nothing, except maybe read, watch a movie, make some jewelry, you know, fun stuff. 
So that's what I don't want and do want, or is it don't want, sheesh, I'm confusing myself.
If you want to give you Mom the Perfect Mother's Day of not doing anything, start with a perfect breakfast.  You could go to the local bakery or Starbucks to buy them but why, when they are a snap to make?  Truth is, Mom's are a sucker for homemade stuff, just check out our macaroni necklaces we still have.
Scones 
minimally adapted from Alton Brown's Recipe
Ingredients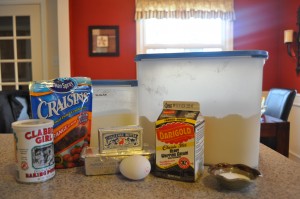 2 cups flour
4 teaspoons baking powder
3/4 teaspoon salt
1/3 cup sugar
4 tablespoons butter
2 tablespoons shortening
3/4 cup cream
1 egg
Handful dried currants or dried cranberries (orange flavored) 
Directions
Heat oven to 375°.
In a food processor add the flour,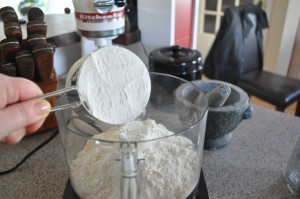 Baking powder,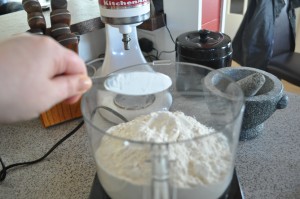 salt,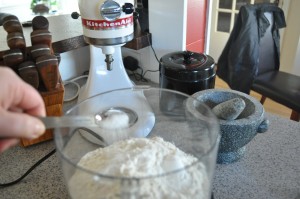 and sugar.
(please ignore my jacket hanging on the chair in the background, why did I not notice this before I went public?)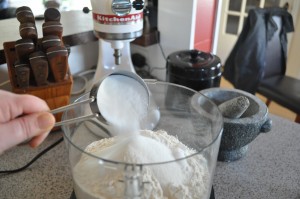 Plus a few times to mix it up.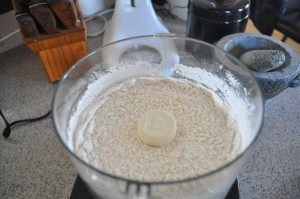 Dice the butter and shortening.
Can I just say that shortening cubes are one of the coolest inventions!
Add to the flour mixture.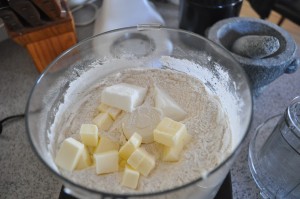 Pulse until you get a nice crumbly mixture.
Way easier then doing it by hand.  Another great invention!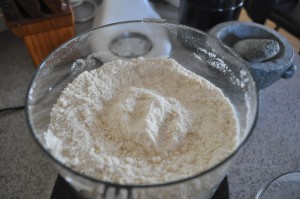 Place the egg in a seperate large bowl.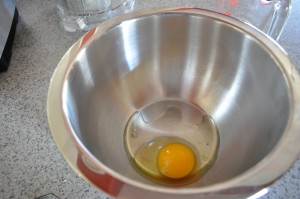 Add the cream.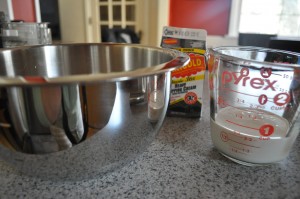 Blend well.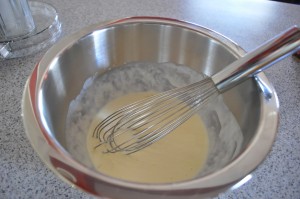 Add the flour and mix until well incorporated.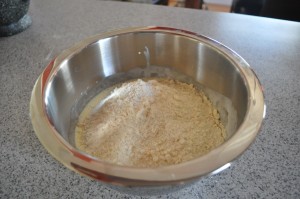 Add the current or my case orange flavored craisins…why?  Because that's what I had on hand.
Stir them in.  The dough will be a little crumbly.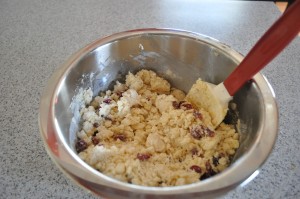 Lightly flour your working surface.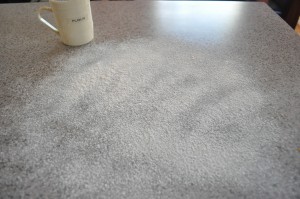 Put the dough on the floured surface and lightly flour the top.
Split dough into two and press into 1/2″ thick circles.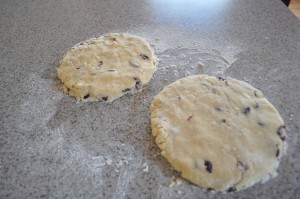 With a knife cut the circles into wedges (6 wedges each).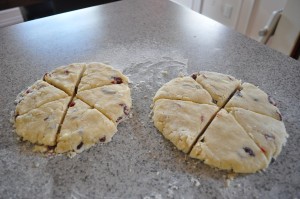 Place them on an ungreased baking pan.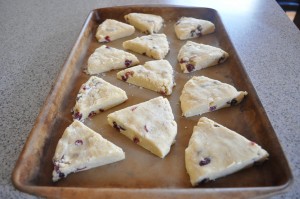 Bake for 15 minutes.  They will be lightly brown.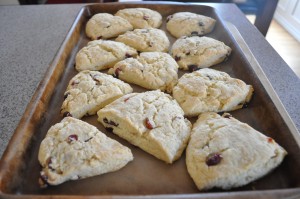 Serve them with butter, jam or Lemon Curd.
Serve them to Mom in bed and do the dishes while she eats them.  It's just what she doesn't want.