Some of you know that we have 40 acres of land in the Rocky Mountains and that we are building a small cabin.  The plan, if it ever gets finished, is try and spend as many weekends up there as possible.  This ain't no fancy cabin, it's not a 'house' in the woods.  It's going to be (at least for awhile) a 'dry' cabin, that means no running water!  It will not have power either, however, we will have a small generator to use as needed.  Basically it's camping in a hardened facility.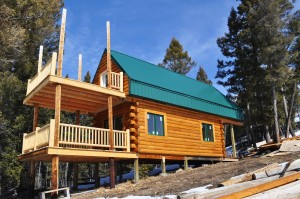 Work in progress…
I'm okay with not having a shower for the weekend (some other people may not be okay with me) and I'm okay with using a composting toilet.  But I'm not okay with hamburgers and hot dogs or cold sandwiches every  time we go to the cabin.  I'm not a bad camp cook, and I am fairly decent with the grill, but I'm fancying myself to a mountain woman when I'm up there, you know doing some cowboy/mountaineering type cooking.  Not just moving my grill to the cabin.  Can't you just picture me in my plaid shirt, with a fire going and a nice dutch oven filled with something that'll stick to your ribs?  Me either.
I don't think I could just serve cowboy beans, stew or chili every weekend either.  But I do love  the idea of cooking in a dutch oven, and I don't mean my nice Le Creuset that goes from stove top to oven.  I mean real no kidding, get the cast iron dutch oven out, and using coals or wood to cook.
Problem is, I never have had any real success at cooking camp style with a dutch oven.  I've done okay with a few soups/stews, but then again, feeding hungry Boy Scouts isn't much of a challenge.  Boy Scouts will get anything after being outdoors and active all day!
McGyver had told me that he knew someone through Scouting that was an avid Dutch Oven cooker, Mr Robert (Bob) Dowdy.  It just so happens that Mr. Dowdy was going to be doing some Dutch oven cooking at the Big Bear Sporting goods store this weekend.  I can't think of a better way to spend my time then hanging around someone cooking food!  With Camera in hand, I eagerly headed to Big Bear to see what Mr. Dowdy could show me.  Turns out Bob wasn't the only one there, his partner in cooking Scott Woodland and his wife Lucinda and their son Perry were all in front of Big Bear with the most amazing set ups I'd ever seen.
You see Bob and Scott aren't just a couple of men cooking with Dutch Oven's, these men are serious about cooking with Dutch Ovens.  Too say it is a passion, is putting it mildly.  Both Bob and Scott are members of the Montana IDOS and the IDOS (International Dutch Oven Society). Shoot, I didn't even know there was such a thing!  What these men do with a dutch oven can put a home cook to shame!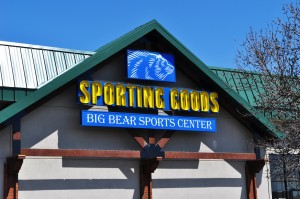 How could you not love a store called Big Bear?
I don't think I've ever seen this much cast iron 'cept when I was at the Lodge store in Tennessee.
Bob's menu for the day:
Jambalaya
Cheddar Biscuits
Black Forest Cream Cheese Pound Cake
Here's some jambalaya shots for you:
Bob says the Arizona Gunslinger sauce is his secret ingredient, but use sparingly!
Cheddar biscuits, incredible!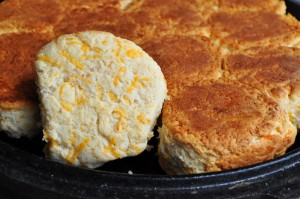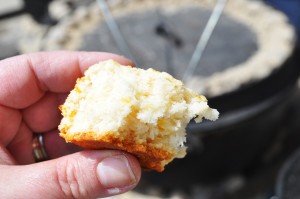 Perfectly browned, light and fluffy with a little crispiness, amazing!
Bob's Black Forest Cream Cheese Pound Cake was much anticipated with the crowd.
People stopped by and then came back later just to try.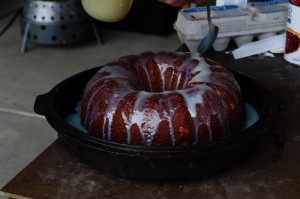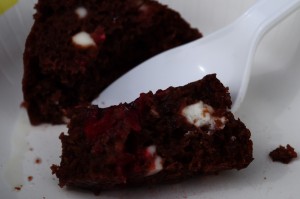 Look at those little bits of cream cheese and the moist cherry filling all surrounded by chocolaty goodness
and topped with a white chocolate sauce, somebody pinch me please, this couldn't have been made over coals!
While Bob was busy on his side using a combination of propane and coals to cook,
Scott and his family were going straight up coals, using a metal work table that Scott made himself.
Both bob and Scott says bending down to ground to cook is for the birds!  I agree men!
Scott's menu for the day:
Chili Cornbread
Rolls
Apple Crisp
Peach Cobbler
Scott with his table set up and  his trailer that houses their cast iron and provides portable, potable water.
The Chili Cornbread is the western man's Shepherd's Pie.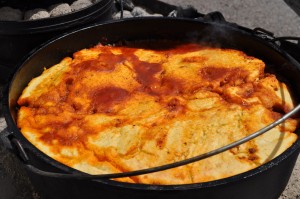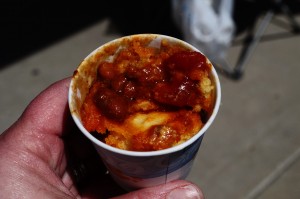 Look at that, red, slightly spicey and perfectly done cornbread on top.
Perfect for a chilly day up on a mountain top!
Fruit desserts are one of my favorites, and crisps and cobblers top the list of favorite fruit desserts.
To cook them in a dutch oven, heaven on earth!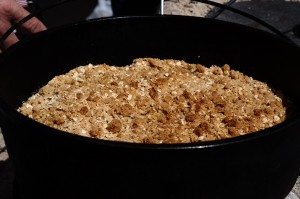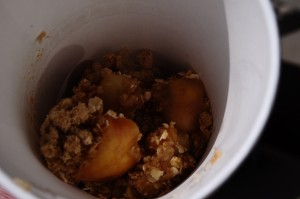 By this time I was stuffed from sampling so much, but there were still rolls to try and I couldn't leave anything out.
Bob and Scott both have these gigormous Dutch Oven's, 22 inchers in fact.
They use them truly as an oven.  They tell me that they bake pizza, roast turkeys and cook prime rib even!
In order to make that work that place a small stand in the bottom and then put a grill part (from Weber) on top of it to act as an oven rack.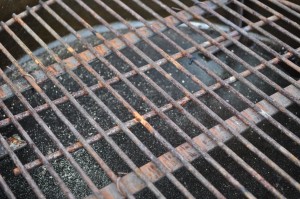 In this case, Scott is using a pie pan for Lucinda's rolls.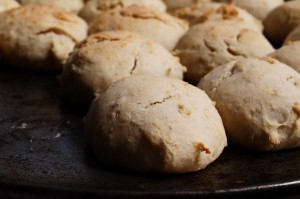 Perfection!
I'm leaving you with Bob's recipe for Black Forest Cream Cheese Pound Cake with a few liberties from me. 
You don't have to use a Dutch oven to cook it in, but it might take all the fun out of it, if you don't.
Black Forest Cream Cheese Pound Cake
4 eggs
1/2 c milk
8 oz cream cheese, softend
1 box SuperMoist chocolate cake mix
1 tsp almond extract
3/4 c cherry pie filling
Mix eggs, milk and cream cheese until smooth.  Add cake mix and almond extract, mix well.  Pour half the batter into a well-greased and floured 10 inch bundt pan.  Add a layer of pie filling then top with remaining batter.  Place pan on a cooling rack in a 12 inch deep Dutch oven.  Bake at 350° for 50 minutes.  Let cool for about 10 minutes then invert onto a serving dish.  Let cool completely then top with the White Chocolate sauce if desired.
White Chocolate Sauce
1 12 oz bag white chocolate chips
Heavy whipping cream, up to 1/2 cup
Preheat a small cast iron pot over medium low heat, add the white chocolate chips and 1/4 c of the cream.  Stir frequently, add more cream as needed.  Once all the chocolate has melted and you have a good consitancy (the sauce should cling to the spoon), remove from heat and let cool slightly.  Drizzle on top of cake.
Thanks Bob, I'll be inviting you up to our cabin to learn me some more cooking in a Dutch oven!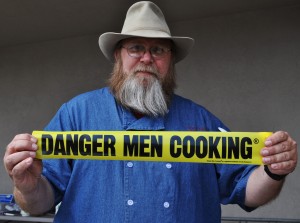 You can contact Bob at bobscouter@bresnan.net or Scott at woodyswoodenwonders@gmail.com.
They're happy to let you know what's going on or give advice on Dutch Oven cooking.