And now for something completely different.  I find myself alone for a week, once again the men have gone off on a Scout venture.  This time to Glacier National Park.  I find myself looking forward to some quiet time where I can putz around if I want to, be lazy, watch TV or chick flicks, maybe make some jewelry.  And then a few days go by and I'm ready for them to come home and mess up the house, mow the lawn, take out the garbage, keep me company, rub my feet, bring healthy chaos back to the house and give me someone to cook for.
What also happens when they leave, is I'm left with a fridge full of food, leftovers and otherwise, so I thought I'd reach out to the blogosphere and see if anyone has menu suggestions based on what I have to consume.  My goal is not purchase anything, but I may make exceptions for 1 or more items if it'll make or break a dish.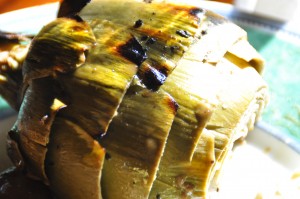 Here's my lofty goal….I am going to try and take a photo journal of what I am eating this week and how I'm utilizing what I have in my larder.  My daughter's blog is based on this whole concept of food journaling and using her leftovers.  So for this week only, I'm stepping into my daughters shoes, we'll see if I can handle it!
Now done to business, here is what I have to work with this week (which is way more then 1 person needs):
Proteins
Starch
Fruit & Vegetables
Other

2

 1 Lemon Rosemary Pork chop

1

 1/2 c leftover mashers
½ cantaloupe
3 oz Antipasti mix (mozzarella, olives, tomatoes, etc)
12 oz grilled T-bone steak
2 lbs russet potatoes
1 lime
1 ½ Tbs roasted garlic paste
5 eggs
4 large flour tortillas
6 oz pkg baby spinach
½ c plain Greek yogurt
½ c egg beaters
 
½ head leaf lettuce
3 4oz serv. Lime yogurt
1 lb sharp cheddar
 
½ head radicchio
8 oz sour cream
¾ lb pepper jack cheese
 
1 jalapeno
2 c Fat Free ½ & ½
3 oz feta cheese
 
6 oz  mushrooms
2 Tbs cilantro compound butter
2 oz Pecorino Romano
 

½  grilled artichoke

½ c lemon juice
 
 
3 ½ tomatoes
 Single serving packaged guacamole
 
 
2 carrots
 
 
 
7 celery stalks
 
 
 
2 sweet onions
 
 
 
12 radishes (apprx.)
 
 
 
4 lg green onions
 
 
 
2 cobs grilled corn
 
Obviously I have regular condiment type items (Dijon and yellow mustard, ketchup, mayo, jams, dressings, pickles, horseradish, olives, pepperoncini, etc.) and my cabinets are well stocked with a variety of oils, vinegars, hot sauces, and spices.  I also have some fresh herbs like parsley, rosemary, dill, a little basil, marjoram, and oregano.
Any ideas out there?
My dinner tonight, I didn't reinvent anything other then I fried the mashed potatoes.  The pork chop was made by my baby boy, so were the mashed potatoes, ain't he sweet!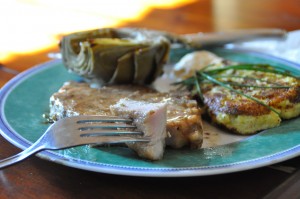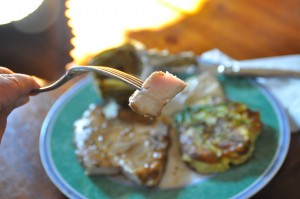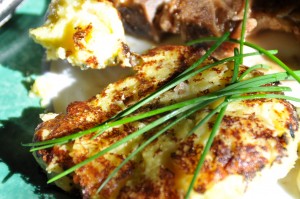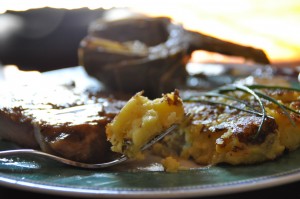 Can't wait to read your ideas!