My morning started off with puppy who decided to replace a teenager.  Normally the Summer dog gets up and goes outside first thing in the morning.  Not this morning, not at all.  I went downstairs to let her out of her kennel and she didn't budge.  I let her be.  I came back 30 minutes later, a nice snooze time I thought, and still a no go.  This time I waited an hour and she reluctantly came out.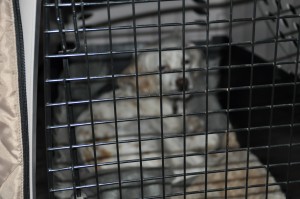 A stretch and shake and another stretch and I thought she was ready to go.
I mean really, she just snoozed an extra 90 minutes!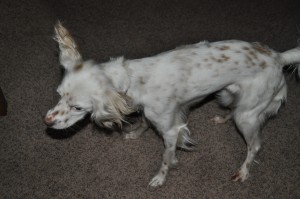 And still she required cajoling.
I'm behind the coffee table, you can't get me.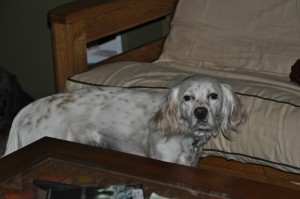 Once outside, business was takin care of.
 Hey be glad I didn't publish her other "duty".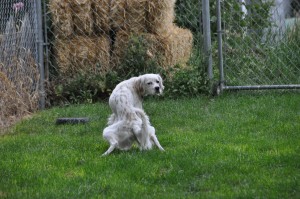 In my effort to use up my leftovers and food that I already have, I decided on an egg beater omelet.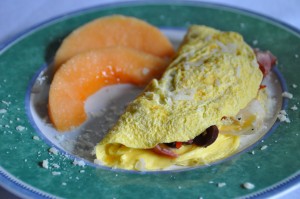 With a couple of cantaloupe slices.
The omelet used the rest of my egg beater and 1/2 my antipasti mix and a little of the pecorino romano cheese.
Hello winner!  Wow what a great omelet.  I will definitly do this again on purpose.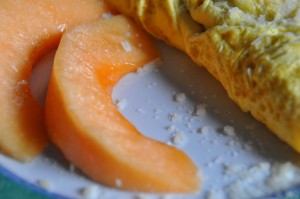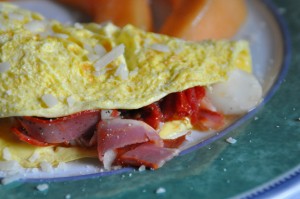 For lunch it was turkey noodle casserole and celery sticks with peanut butter/honey mix.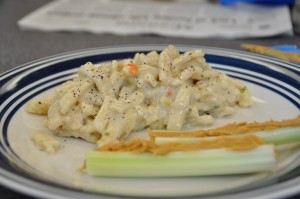 Can I interject here?
Of course I can, who's going to stop me.
I had a busy day at work, a really busy day.
Our boilers went down, again….
The phone system went down, again…..
We had 4 support personnel show up who needed orientation.
I had to spend 3 hours on my cell phone with I.T. because of our phone problem (which still isn't fixed).
We had major changes to our operating instructions come out today…..changing our daily work practice/forms, etc.
Wah, wah, wah…poor me.
Okay that out of my system (usually McGyver gets to hear it, he can thank me later for whining to my one reader).
For dinner I decided to make a "Big Salad".
Everytime I have a "Big Salad" I am reminded of the a show, you can view a snippet here:  Jerry Seinfeld and the Big Salad on YouTube
My big salad was a twisted cesar salad, with pork chop, green onion, radish, leaf lettuce, cheese and a frozen bagel I found in the fridge and turned into croutons.
As for part of my lime, I couldn't think of a better additions to my day then having a Cuba Libre!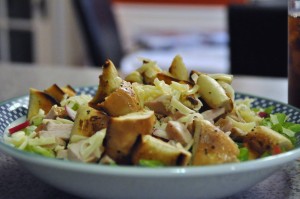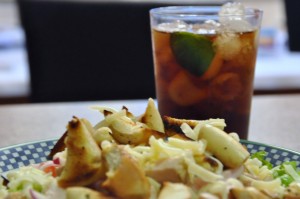 My standings so far…..boy do I have a long ways to go…..
Proteins
Starch
Fruit & Vegetables
Other

2

 1 Lemon Rosemary Pork chop

1

 1/2 c leftover mashers
½ cantaloupe

3

 1.5 oz Antipasti mix (mozzarella, olives, tomatoes, etc)
12 oz grilled T-bone steak
2 lbs russet potatoes

1

  3/4 lime
1 ½ Tbs roasted garlic paste
5 eggs
4 large flour tortillas
6 oz pkg baby spinach
½ c plain Greek yogurt

½ c egg beaters

 

½

  1/4 head leaf lettuce
3 4oz serv. Lime yogurt
1 lb sharp cheddar
 
½ head radicchio
8 oz sour cream
¾ lb pepper jack cheese
 
1 jalapeno
2 c Fat Free ½ & ½
3 oz feta cheese
 
6 oz  mushrooms
2 Tbs cilantro compound butter
2 oz Pecorino Romano
 

½  grilled artichoke

½ c lemon juice
 
 

3

2 ½ tomatoes
 Single serving packaged guacamole
 
 
2 carrots
 
 
 

7

4 celery stalks
 
 
 
2 sweet onions
 
 
 

12

11 radishes (apprx.)
 
 
 

4

3 lg green onions
 
 
 
2 cobs grilled corn