Today was a better day, the puppy got up and went straight out, and I started out with a great, although slightly less than perfect breakfast.  Breakfast was a nostalgic trip back to when I lived in England and I was introduced to soft boiled eggs and toast soldiers.  Toast soldiers are pieces of toast cut into long rectangles so you can dip them into yummy, ooey, gooey, yolk.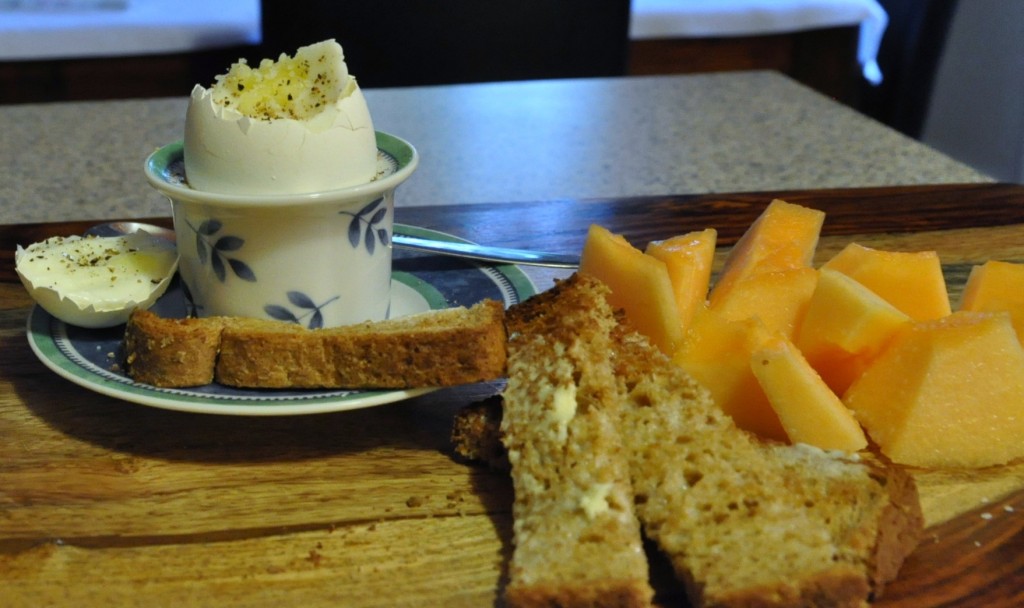 Unfortunately I did not pay enough attention to the time and my should be soft boiled egg came out a hard boiled egg.
Ce la vie!
Today is a better day.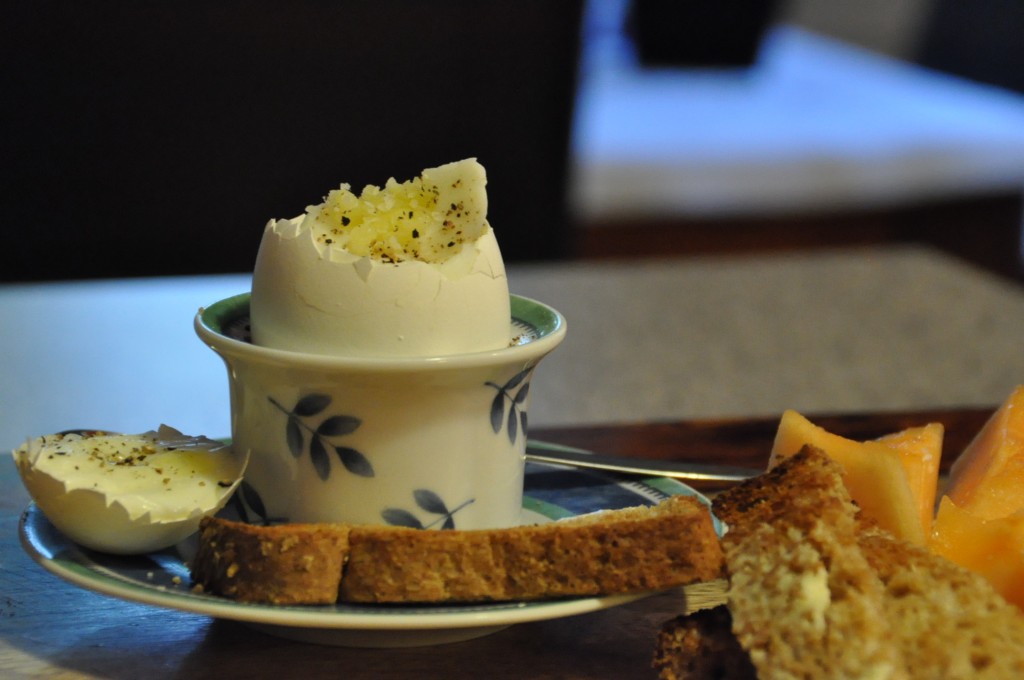 Cantaloupe makes a repeat appearance.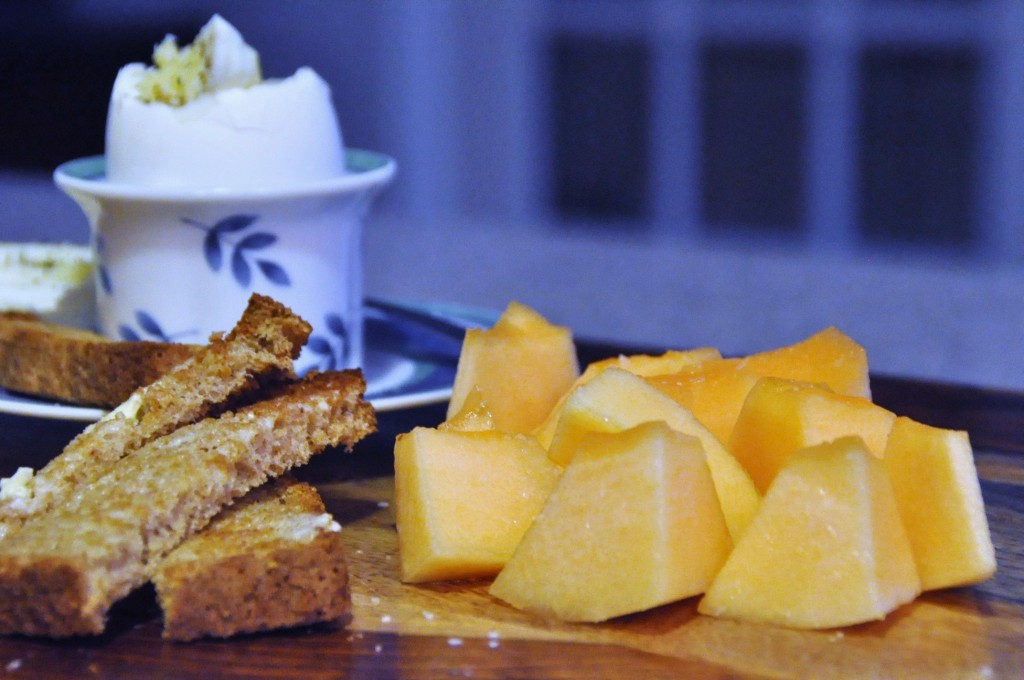 Lunch was a spinach salad made with the rest of the antipasti mix, some pecorino romano, and an oil and vinegar dressing topped with a peperoncini.
The salad was spectacular and filling.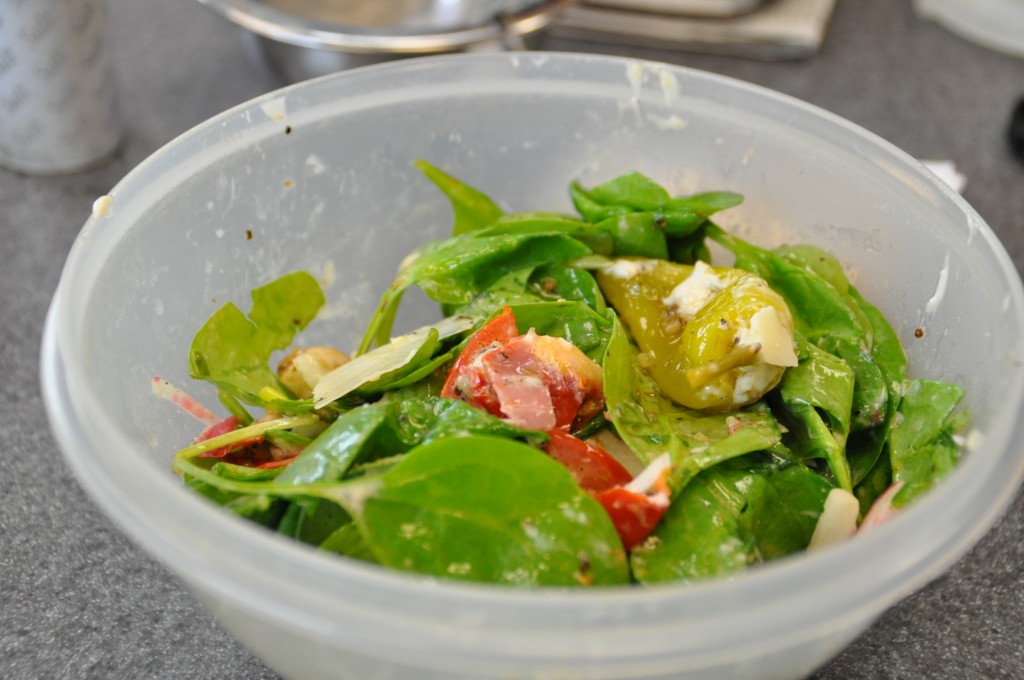 The phones finally got fixed (a plus/minus deal).
And work went on just like any other typical day.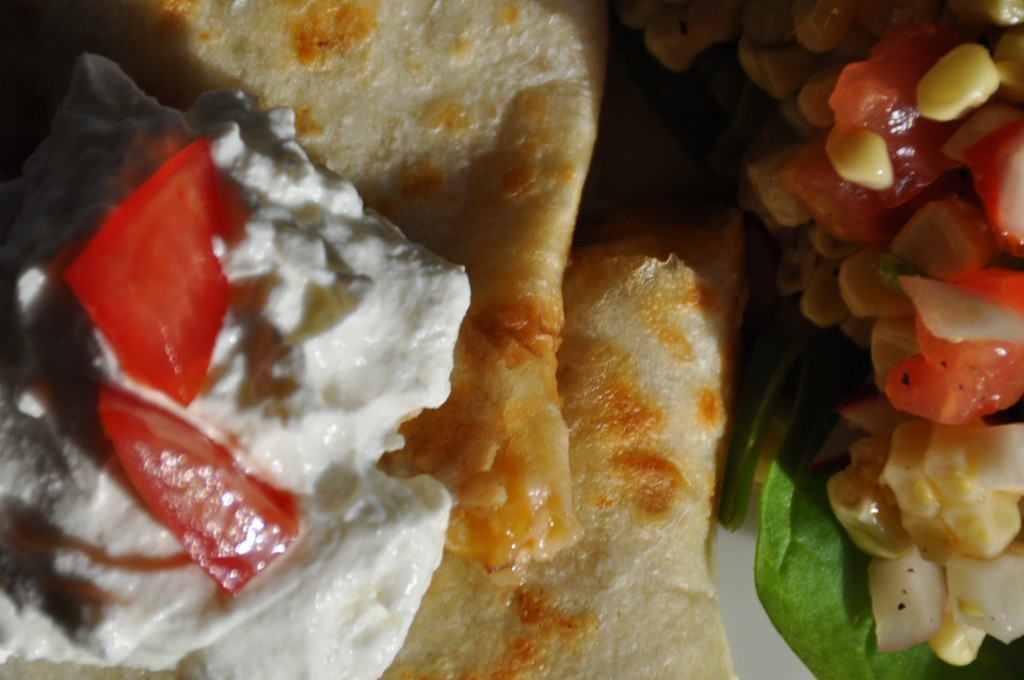 I had more time and more energy to create a dinner for one.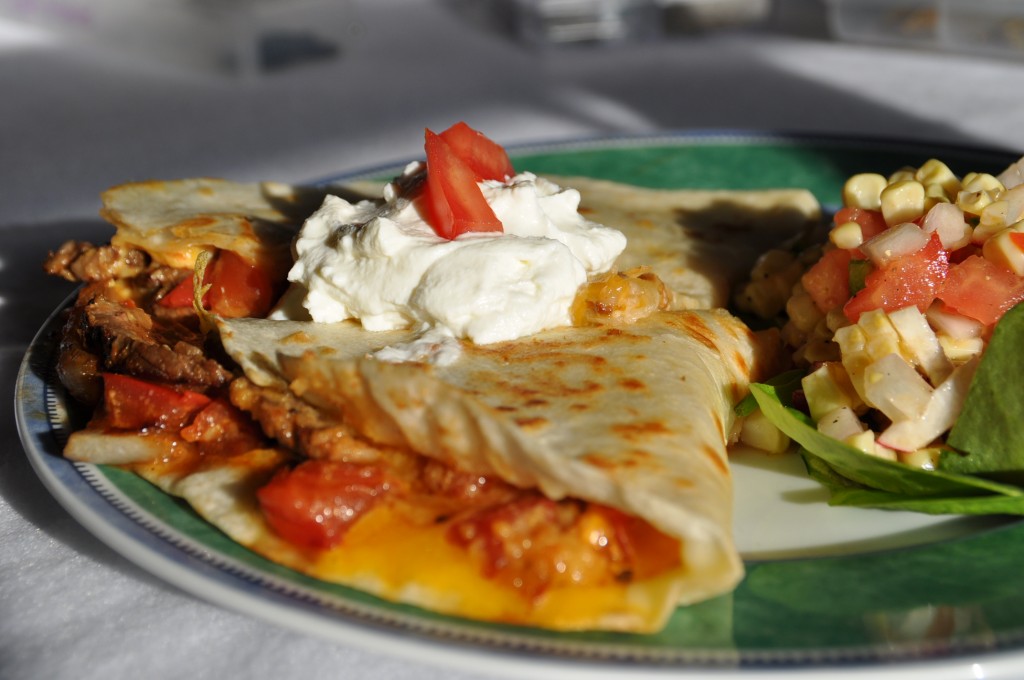 Steak and cheese quesadilla with onion and tomato, topped with sour cream.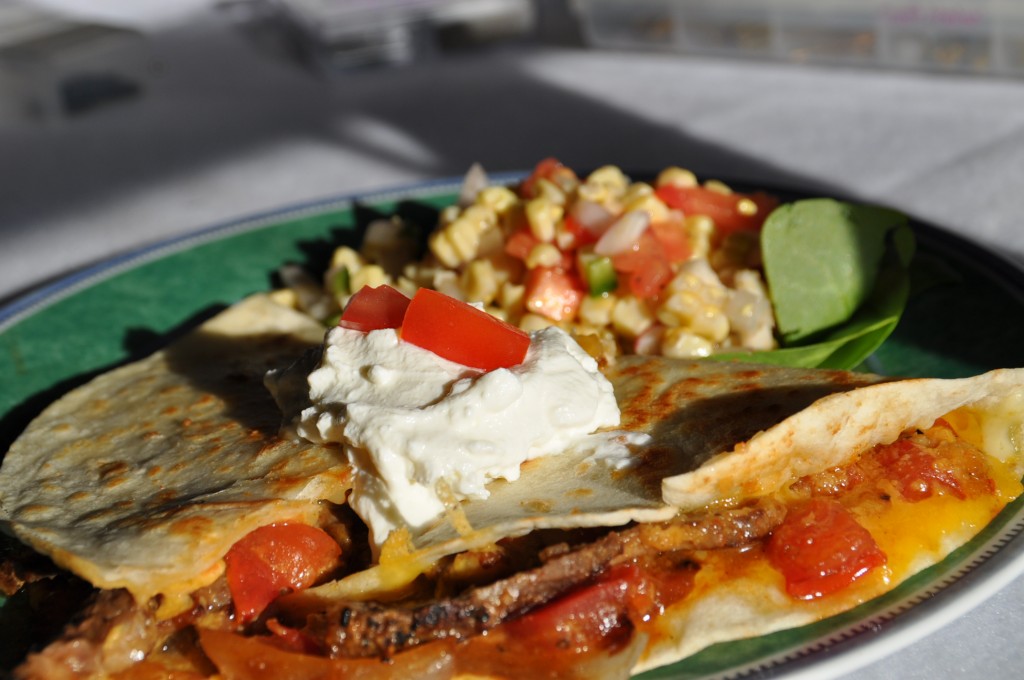 Corn salad with tomato, onion, jalapeno, radish and a dressing of olive oil, red wine vinegar and salt and pepper.
On top of a bed of spinach.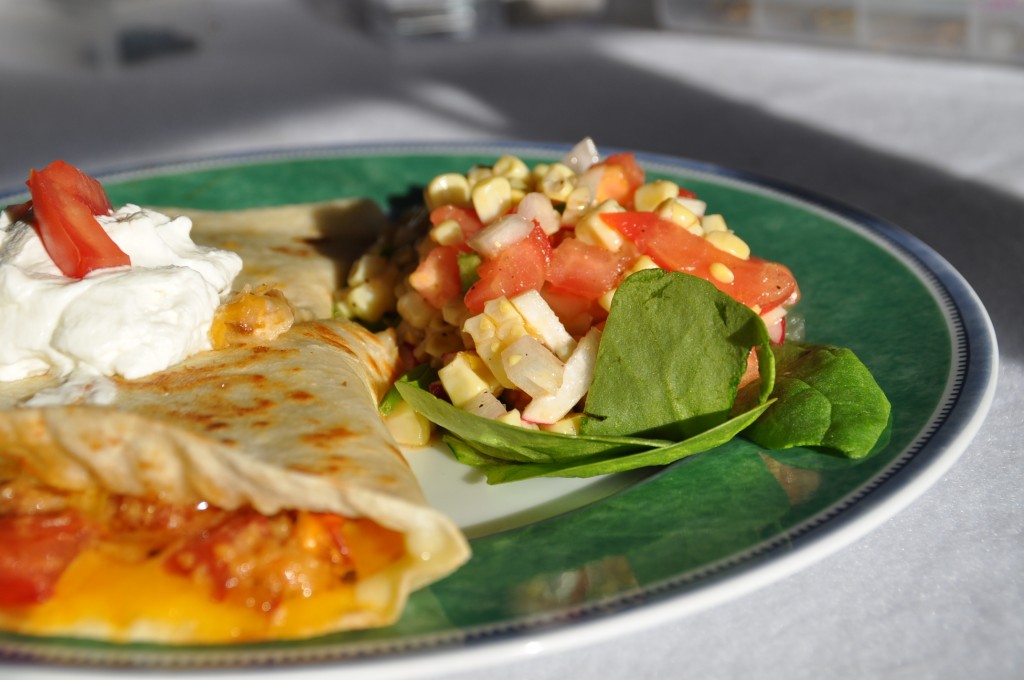 A little too much for one, I had plenty of corn salad left over…..lunch tomorrow?
Proteins
Starch
Fruit & Vegetables
Other

2

 1 Lemon Rosemary Pork chop

1

 1/2 c leftover mashers

½

1/4 cantaloupe

3

 

1.5 oz Antipasti mix (mozzarella, olives, tomatoes, etc)

12

10 oz grilled T-bone steak
2 lbs russet potatoes

1

 

3/4 lime

1

½

Tbs roasted garlic paste

5

4 eggs

4

3 large flour tortillas

6

3 oz pkg baby spinach
½ c plain Greek yogurt

½ c egg beaters

 

½

  1/4 head leaf lettuce
3 4oz serv. Lime yogurt

1

3/4 lb sharp cheddar
 
½ head radicchio

8

7 oz sour cream
¾ lb pepper jack cheese
 

1

1/2 jalapeno
2 c Fat Free ½ & ½
3 oz feta cheese
 
6 oz  mushrooms
2 Tbs cilantro compound butter

2

1 oz Pecorino Romano
 

½  grilled artichoke

½ c lemon juice
 
 

3

2

1 ½ tomatoes
 Single serving packaged guacamole
 
 
2 carrots
 
 
 

7

4 celery stalks
 
 
 

2

1 1/2 sweet onions
 
 
 

1211

9 radishes (apprx.)
 
 
 

4

3

2 1/2 lg green onions
 
 
 

2 cobs grilled corn 

  Corn Relish
 
Slowly the food is diminishing, although my waist is not :o)