4:10 am the alarm goes off.  I hit snooze, 5 minutes later the alarm goes off again.  I snooze, just 5 more minutes and I'll be good.  5:10 am I wake up look at the clock.  PANIC!  I have to be to work by 5:30 am. 
Being prepared pays off big time.  I had laid out my clothes the night before.  Made my breakfast/lunch and had it packed.  I even had all my jewelry ready to go.
I didn't shower, I didn't brush my teeth, I didn't put on any make-up.  I got dressed, let the dogs out, fed them, grabbed my stuff and left.  I arrived at 5:28 am.  We won't discuss my speed getting to work, but I made.
After 22 years in the military I know how to be prepared.  I keep in my drawer at work, toothpaste, toothbrush, hair brush and make-up.  After taking care of my opening management duties, 10 more minutes and I looked polished.
That was it, that was the worst of my day.  I was off by 2:00 pm.  I actually left work on time.  I came home and did a little yard work, worked on my jewelry making, played with the dogs and made myself dinner.
The great thing about starting your day so rough, it can only get better!
I was busy at work, a nice busy, a just right busy.  The kind that makes time fly and before you know it….I forgot to get my breakfast, so I had it for lunch, brunch or whatever you want to call it. 
A breakfast burrito stuffed with eggs, a little fat free half and half, onion, mushroom, tomato and a little jalapeno pepper.  Can't forget the cheese and topped with some taco sauce.  On the side, leftover corn salad.  I couldn't get all the corn salad, fortunately I found a hungry co-worker willing to help me out.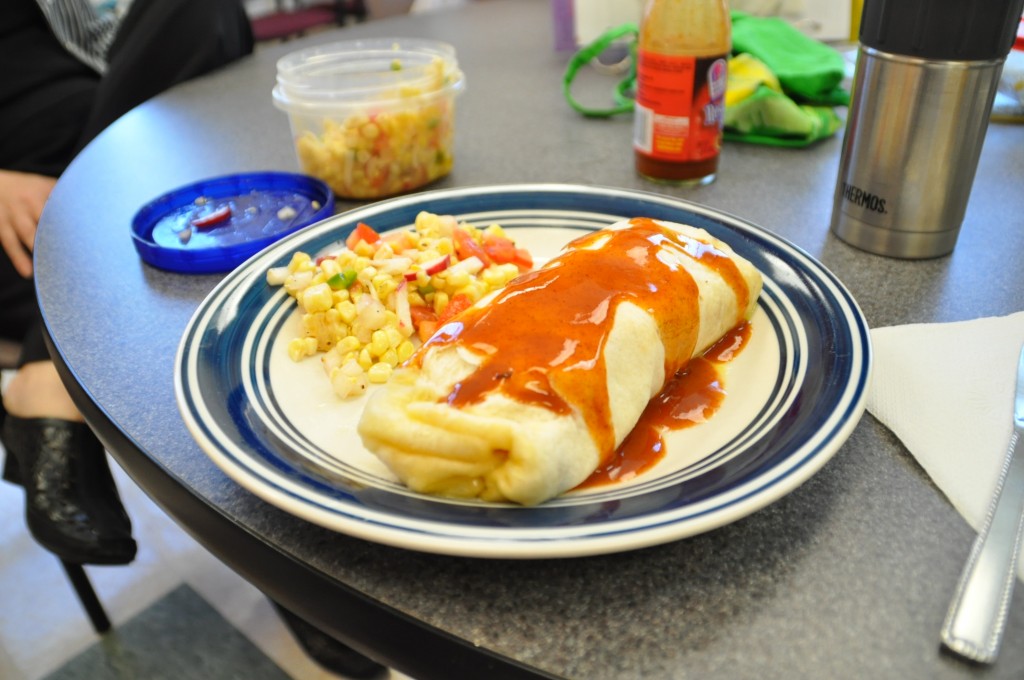 Want to make a lot of spinach into a little bit of spinach?  Cook it!  For dinner I made some creamed spinach cooked in some of the leftover cilantro compound butter.
I cooked a piece of steak and topped it with mushrooms and onion.
The steak was glazed with a special ingredient.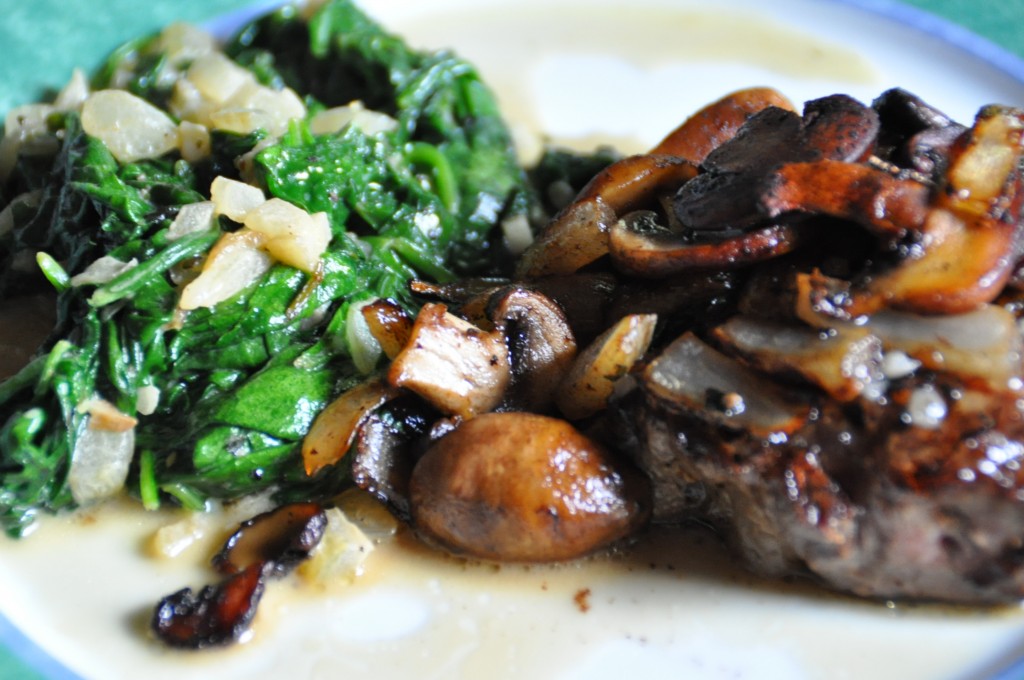 Over the 4th of July weekend in Westport, WA, my favorite Jam lady had her booth set up.
Her jams are amazing!  I mean seriously good!  She works full time and does this on the side.
I found myself seriously drawn not to the sweet jams but to the savory jams.
Especially the garlic based jams.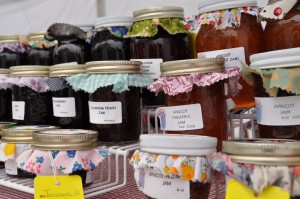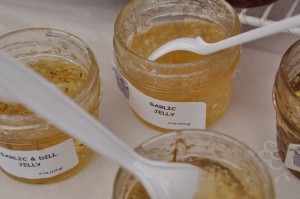 On my steak a used a rosemay garlic jelly.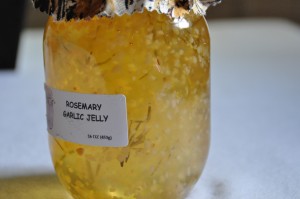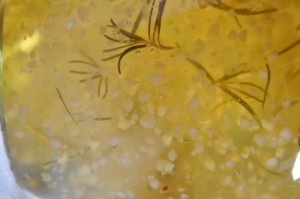 Heaven, I tell you, pure heaven!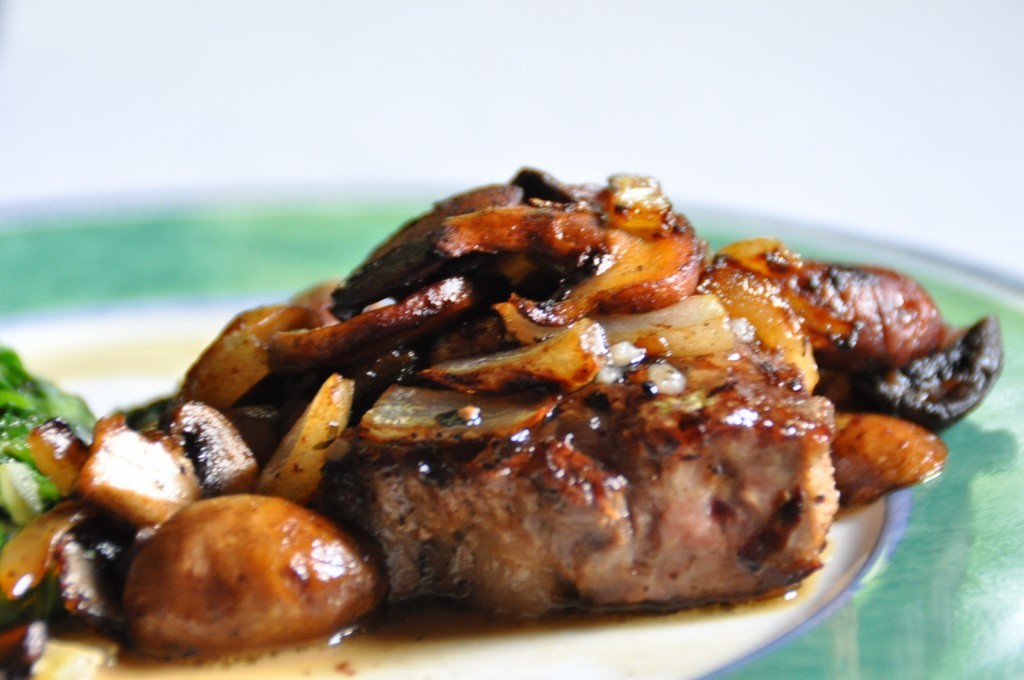 The creamed spinach?  The cilantro butter sounded like it would work well, but in actuality, not the best thing I've ever made.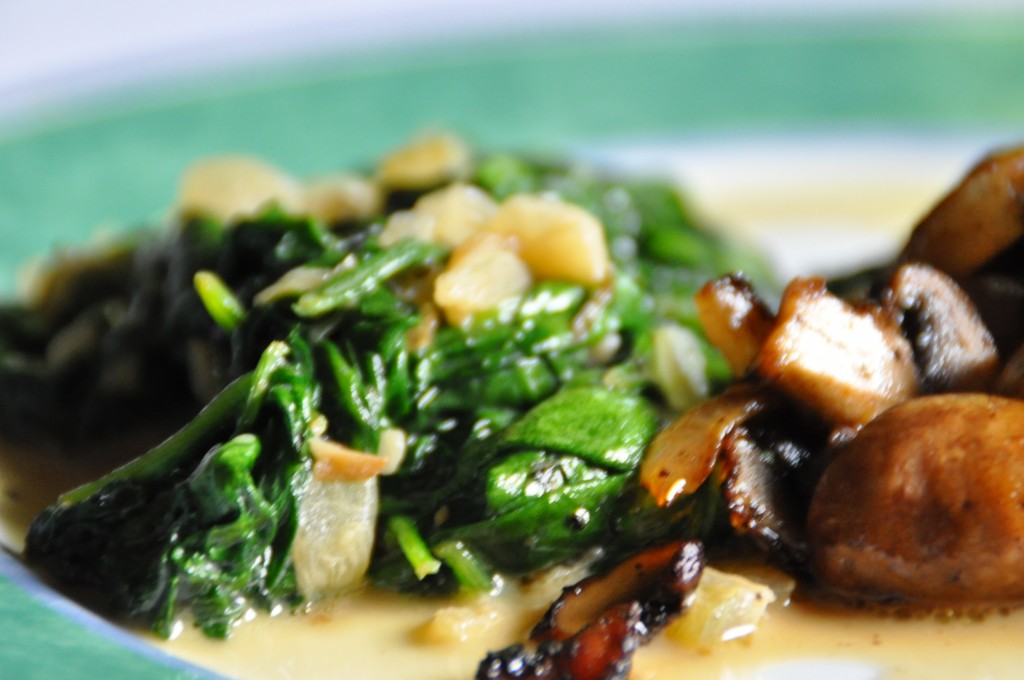 Good news, it was only for me, and I was using up what I had, so NO guilt!
Proteins
Starch
Fruit & Vegetables
Other

2

 1 Lemon Rosemary Pork chop

1

 1/2 c leftover mashers

½

1/4 cantaloupe

3

 

1.5 oz Antipasti mix (mozzarella, olives, tomatoes, etc)

12 10

6 oz grilled T-bone steak
2 lbs russet potatoes

1

 

3/4 lime

1

½

Tbs roasted garlic paste

5

4

2 eggs

4

3

2 large flour tortillas

6 3 oz pkg baby spinach

½ c plain Greek yogurt

½ c egg beaters

 

½

  1/4 head leaf lettuce
3 4oz serv. Lime yogurt

1

3/4

1/2 lb sharp cheddar
 
½ head radicchio

8

7 oz sour cream
¾ lb pepper jack cheese
 

1

1/2 jalapeno
2 c Fat Free ½ & ½
3 oz feta cheese
 
6 oz  mushrooms

2

1 Tbs cilantro compound butter

2

1 oz Pecorino Romano
 

½  grilled artichoke

½ c lemon juice
 
 

3

2

1 ½ tomatoes
 Single serving packaged guacamole
 
 
2 carrots
 
 
 

7

4 celery stalks
 
 
 

2

1 1/2 sweet onions
 
 
 

1211

9 radishes (apprx.)
 
 
 

4

3

2 1/2 lg green onions
 
 
 

2 cobs grilled corn 

 

Corn Relish