I knew Mcgyver for 2 years before we ever went  on our first date.  We rode around in the same motorcycle group.  I was dating another fellow but McGyver claims he had his eye on me the whole time.  I enjoyed McGyvers company even though he was the oldest member of our group.  He also turned into a pumpkin at midnight.  You could always count on McGyver to look at his watch at midnight and say his farewells to everyone.  One of his most famous quotes was "nothing good ever happens after midnight".
McGyver got his nickname after the TV show MacGyver because he could always fix anything with whatever he had on hand or with whatever he could rustle up.  He also had a penchant for gadgets.  Even at the roughest motorcycle rally camp out, McGyver would whip out a mini espresso maker and cooker, he saved many of us from a bad hangover (he also seemed to have an endless supply of Motrin).
My other relationship ended after 2 years and McGyver waited a bit then asked me out.  I wasn't keen on the idea at all.  I mean, it was McGyver.  But my teenage daughter said "Mom, go ahead, it's a free dinner".  So I accepted his offer.  He took me out to dinner at the restaurant his landlord owned.  It was a nice meal, awkward though.  McGyver was  a perfect gentleman, thanked me for having dinner with him and dropped me off at home.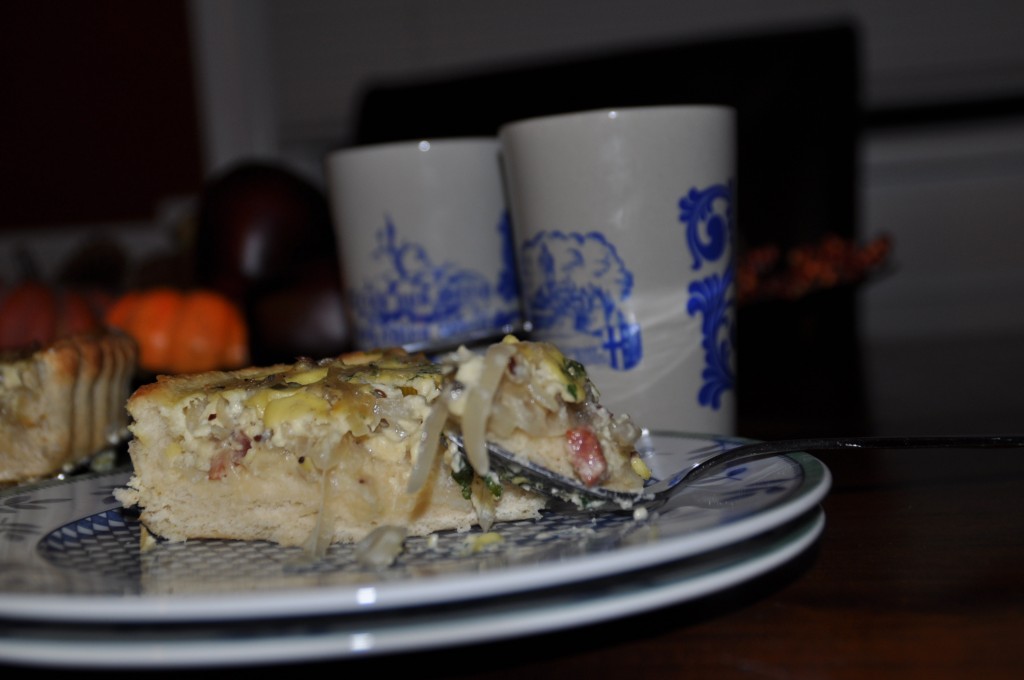 I wasn't sure I would go out with him again.  He called and asked me to go to the movies in Luxembourg.  I told him I couldn't go because I didn't have a babysitter for the Baby Boy.  He stepped right up and said bring him along, we'll go see A Knight's Tale.  Now I couldn't refuse, oh well its a free trip to the movies, so why not?  I enjoyed the movie, I mean really…a movie in Luxembourg…could it be bad?  Before the movie, we had a little time to kill so we went to a restaurant at the theater, got a couple of beers and order the Baby Boy some mac n cheese.  I was mortified…the Baby Boy immediately announced he didn't like the mac n cheese and promptly asked McGyver for change so he could play a video game (this was just the beginning of a pattern to come…).  Embarrassed, I decided to taste the mac n cheese for myself.  He was right, it was awful!  Basically, it was boiled noodles with warm milk poured over it and a small sprinkling of some kind of cheese.  McGyver tasted it and agreed, now I didn't feel as bad.
Again McGyver was the perfect gentleman, he took us both home and said good-bye.  It wasn't a bad date, but I still wasn't feeling it.  It didn't take long and McGyver called me and asked me out again, only this time it was for a Saturday Harley ride along the Mosel river.  Since my previous boyfriend and I broke up I hadn't been on a bike for months and it was killing me.  Despite my reservations about dating McGyver, I couldn't refuse a ride on his Harley so I said, yes…again.  I was sharing my weekend plans with one of our German dental assistants and she suggested that we try the Zwiebelkuchen and Federweiβer.  I'm not too smart, but I have learned a few things.  One of the most important is that you listen to the locals!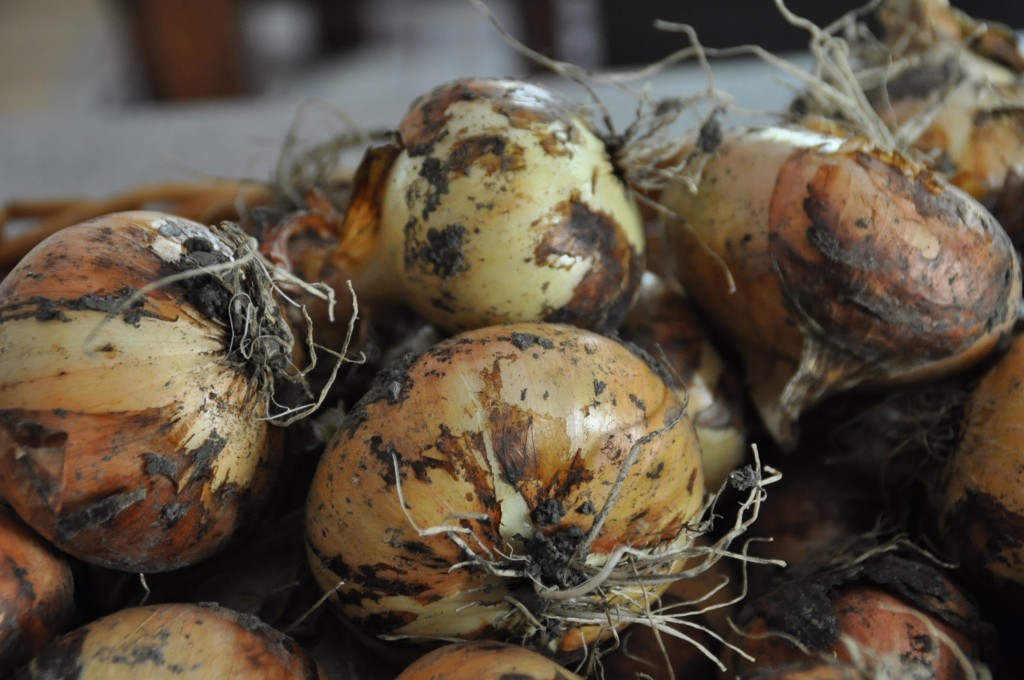 I mentioned it to McGyver before we set out on our ride and he was all for it.  It was a beautiful fall day and we headed off to ride along the Mosel river, we stopped at a little local winery and ordered us some zweibelkuchen and Federweiβer.  It was marvelous!  Zweibelkuchen which is literally translated to onion cake, it more of a savory tart with a yeasty crust and the most luscious onions.  The Federweiβer is called "new wine".   It was at once sweet and dry.  Because it has something to do with the first fermentation process, it was also bubbly, similar to a sparkling cider with a kick.  Most Federweiβer have anywhere from 4% to 11% alcohol.  Because it's so bubbly the bottle are not corked and have to be transported upright.  We bought a couple of bottles and hoped they wouldn't explode in the saddle bags!
McGyver rode along the Mosel and we stopped at all these little places where we continued to do some wine sampling and enjoy the sites.  This is when I started to fall in love with him.  It couldn't be more perfect for me, a Harley, food and wine with a biker who turned out to be romantic and intelligent.  The trip didn't end there, he took me to visit Cochem Castle.
This is when I found out that this previous Helicopter pilot was afraid of heights.  I was walking on the wall of the castle and about gave poor McGyver a heart attack!  Once again McGyver, the perfect biker gentleman took me home, only this time, we hung out and finished off the bottles of Federveiβer.  A perfect day to fall in love!
Originally this post was for the second challenge of Project Foodbuzz, which challenged the contestants to tackle a classic dish from another culture: "Challenge Prompt: Ready to tackle a classic dish from another culture? Pick an ethnic classic that is outside your comfort zone or are not as familiar with. You should include how you arrived at this decision in your post. Do your research then try to pull off successfully creating this challenge. Try to keep the dish as authentic as the real deal, and document your experience through a compelling post."
I didn't make it to the second round (but my daughter did…so please, please vote for her).  I decided to do the challenge for myself.  I haven't had Zweibelkuchen or Federweiβer since that date.  I thought it would be a lovely romantic gesture for McGyver (he's the romantic, not me).  I make very few German dishes, knowing that it'll never be same as dining in Germany.  For the sake of love and a challenge, I will do it.  I had to search the internet to find a recipe and after much review I decided to make one from a fellow foodbuzzer.  The recipe comes from Steffen's Dinners.  Federweiβer is impossible to get here so I decided to make a mock Federweiβer.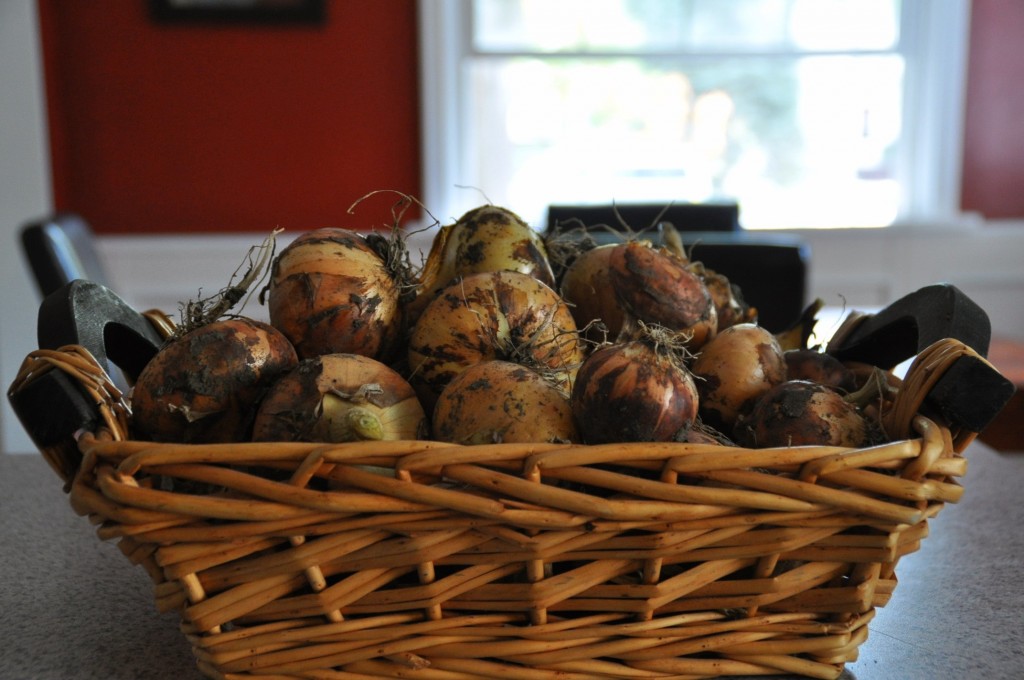 Ingredients—Kuchen part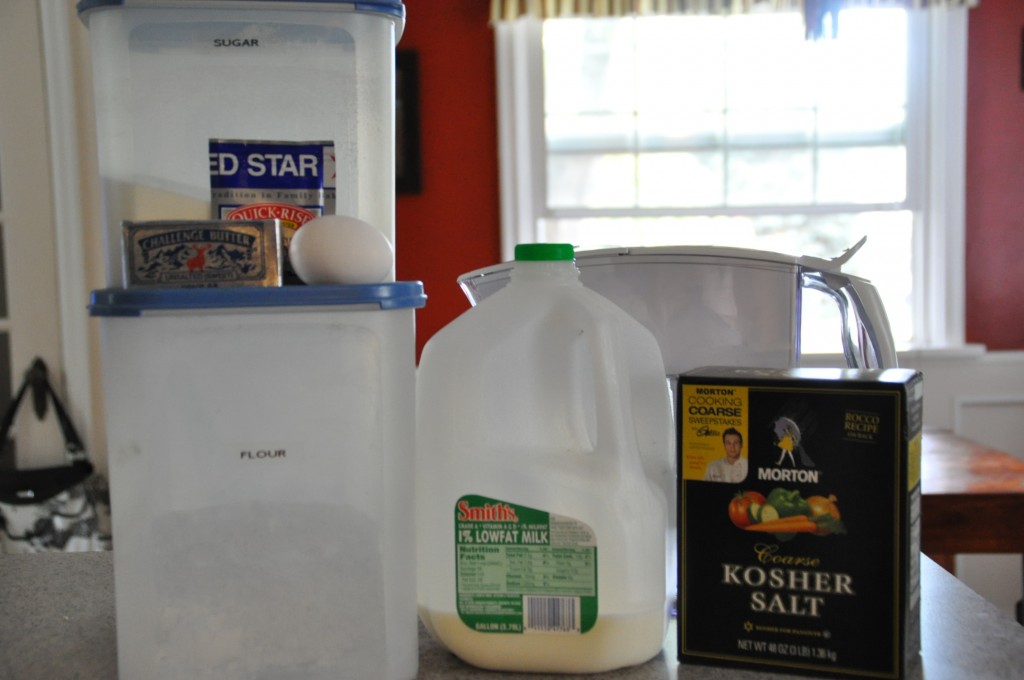 1 lb 8 oz flour

5 tbsp butter, melted

1 egg

1 packet of active dry yeast

1 tsp salt

1 tsp sugar

1/2 cup water

1/2 cup milk (divided)

2 tbs softened butter (to grease pans)
Directions
If any of you follow my blog at all, you know I'm not a big fan of baking.  I especially avoid anything that requires the use of yeast.  It's so intimidating. That being said, I struggled a bit making this dough.  Steffen gave only 3 steps:
Dough for the crust
Dissolve yeast in half of the milk.
Combine flour, yeast (or sourdough starter), 1 egg, sugar, salt, milk, milk with yeast, water and melted butter. Knead until the dough is smooth and elastic.
Form a ball, coat thinly with oil, let rise in a warm place until volume has about doubled.
So, I followed my limited instincts and ventured forward.  I chose to use my Kitchen Aid blender.  I started with the egg, and beat it lightly.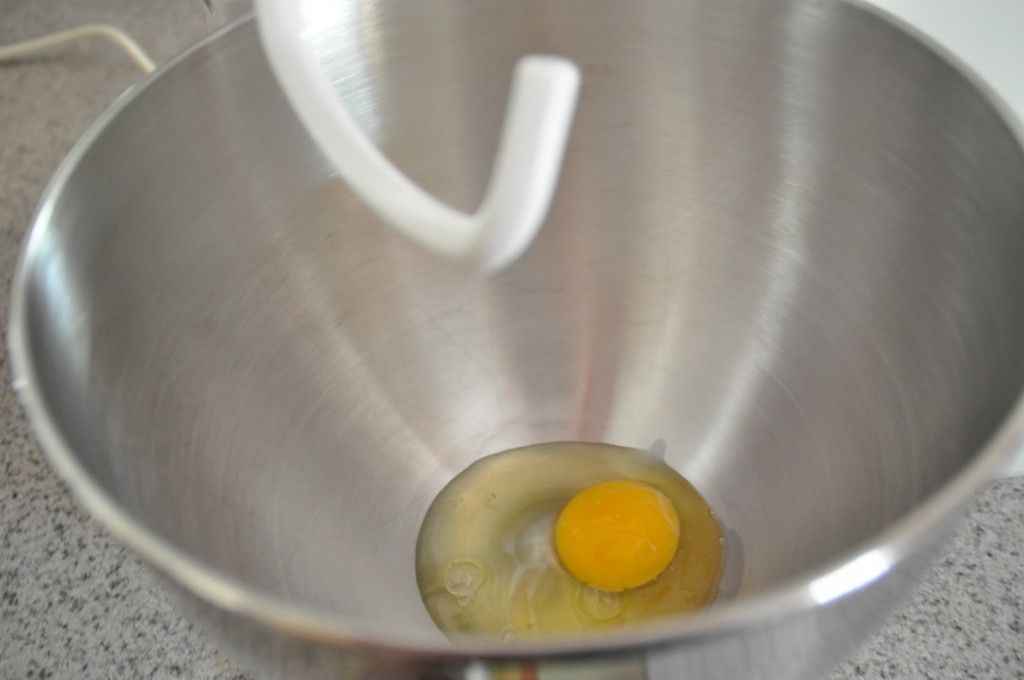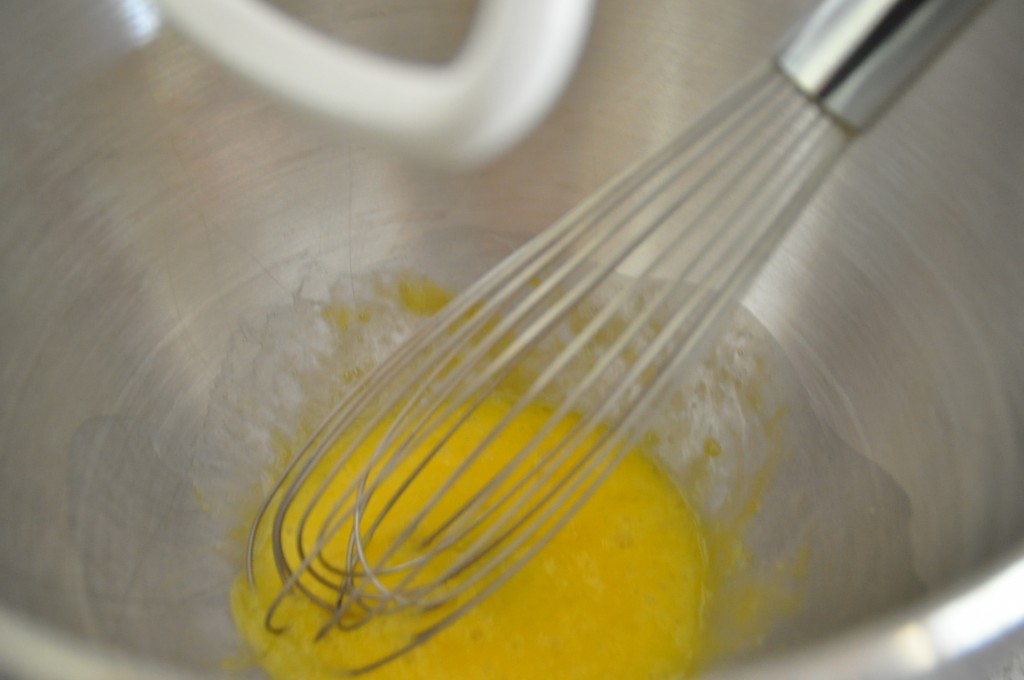 Per Steffen's instructions i dissolved the yeast in 1/2 the milk, but I decided to warm the milk in the microwave first.  I think that's what you are supposed to do.  I really should have looked it up on some baking site, but that would take time and it was 3:00 pm already and I knew I was on limited time.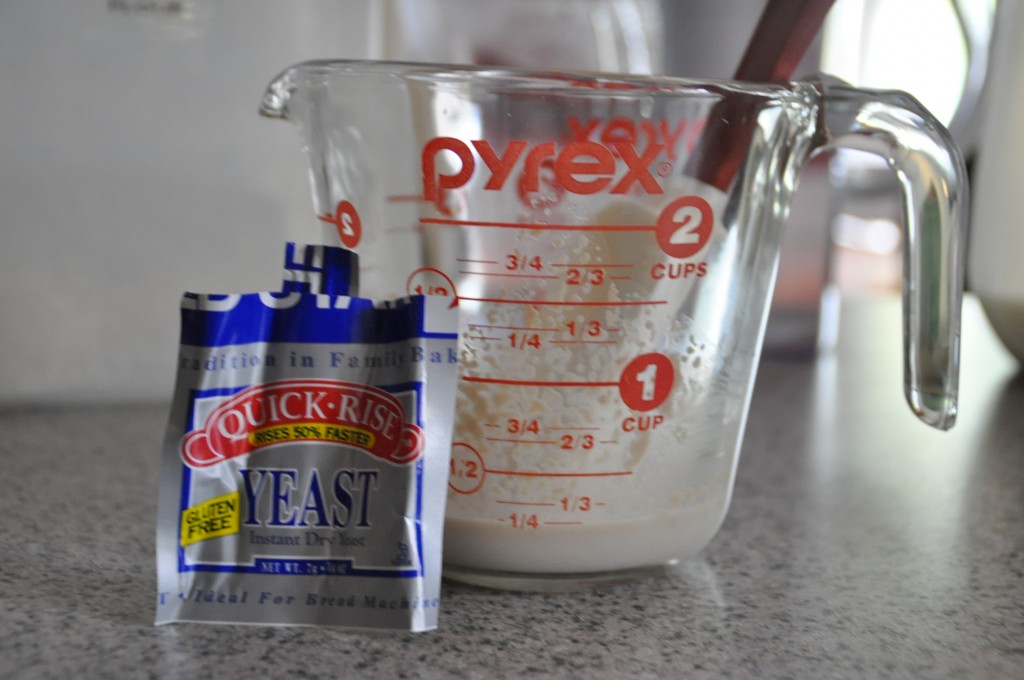 I added the melted butter to the egg.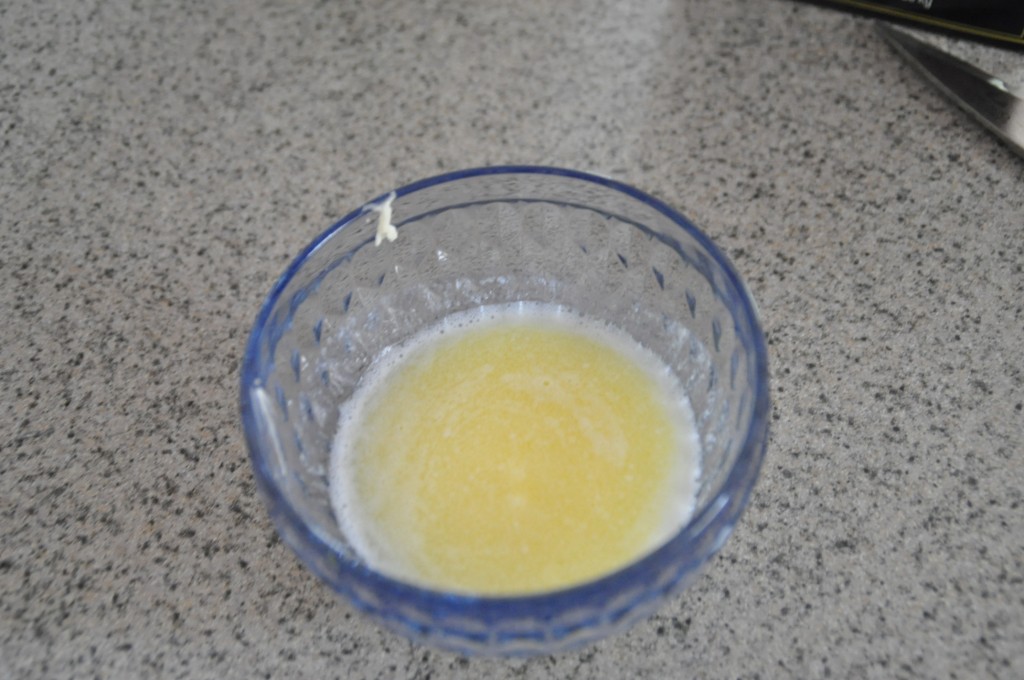 Then measured out the remainder of the milk and the 1/2 cup water.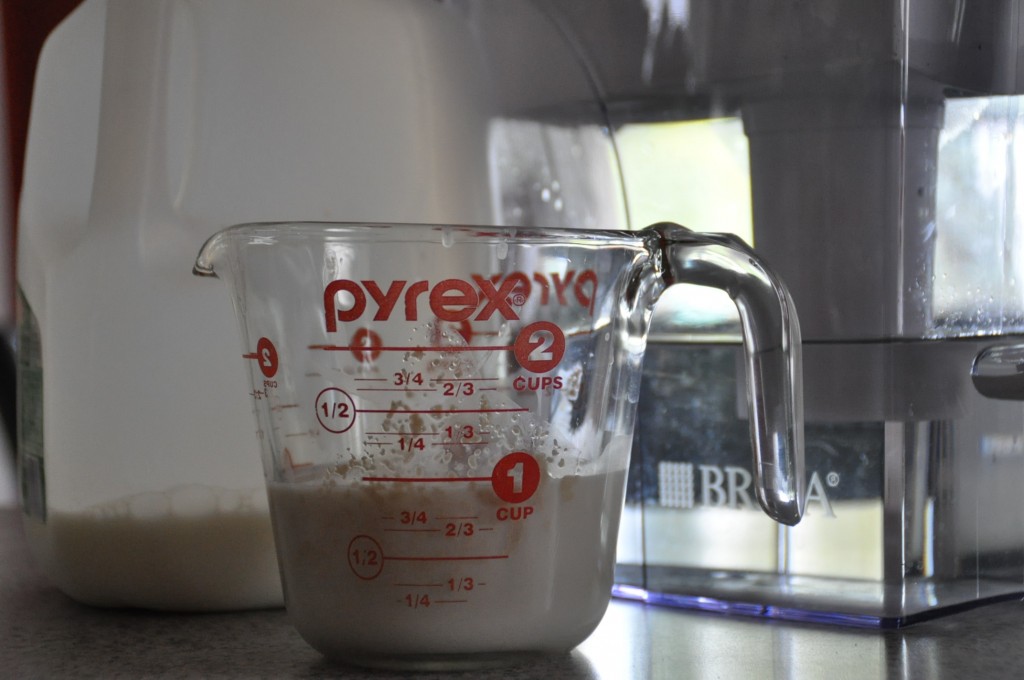 Into the bowl it went along with 1 tsp of sugar.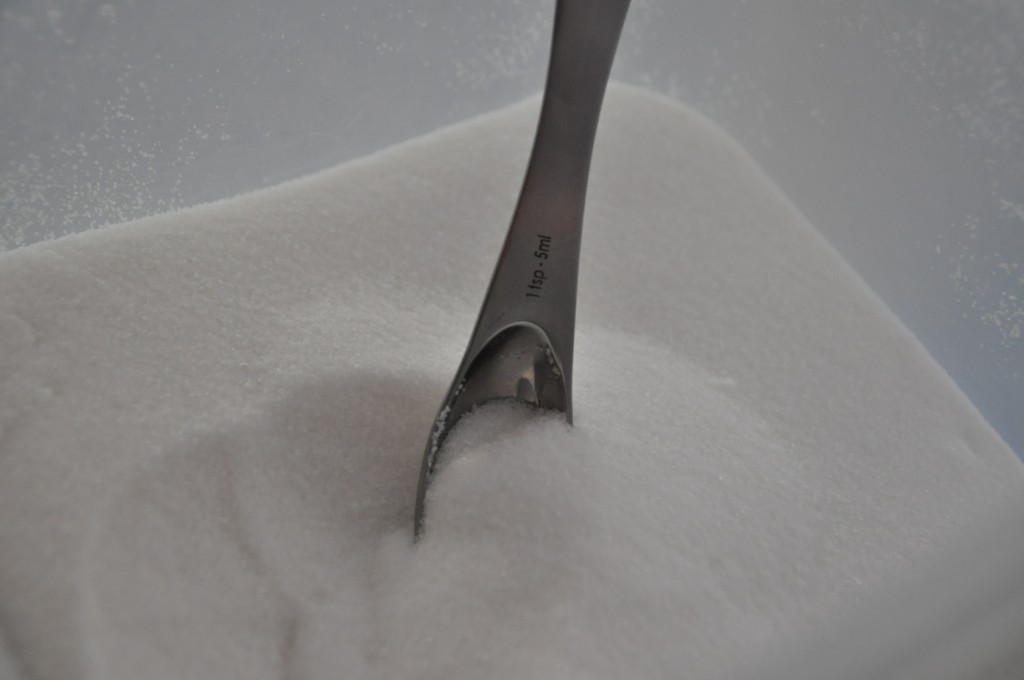 And a tsp of salt.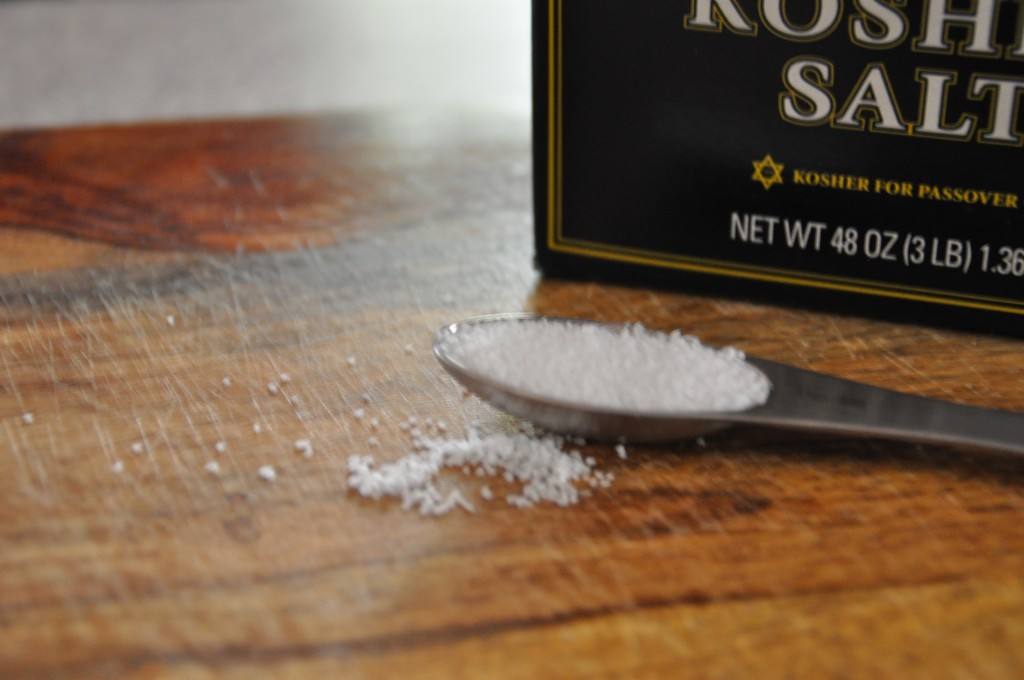 When I had checked my flour bin, I knew I wouldn't have enough…fortunately the Baby Boy had just rung me from Wal-Mart.  "Mom, do you need anything?"
Flour!  Remember, I don't do much baking and what does the Baby Boy bring me?  A gargantuan bag of flour "it was on sale".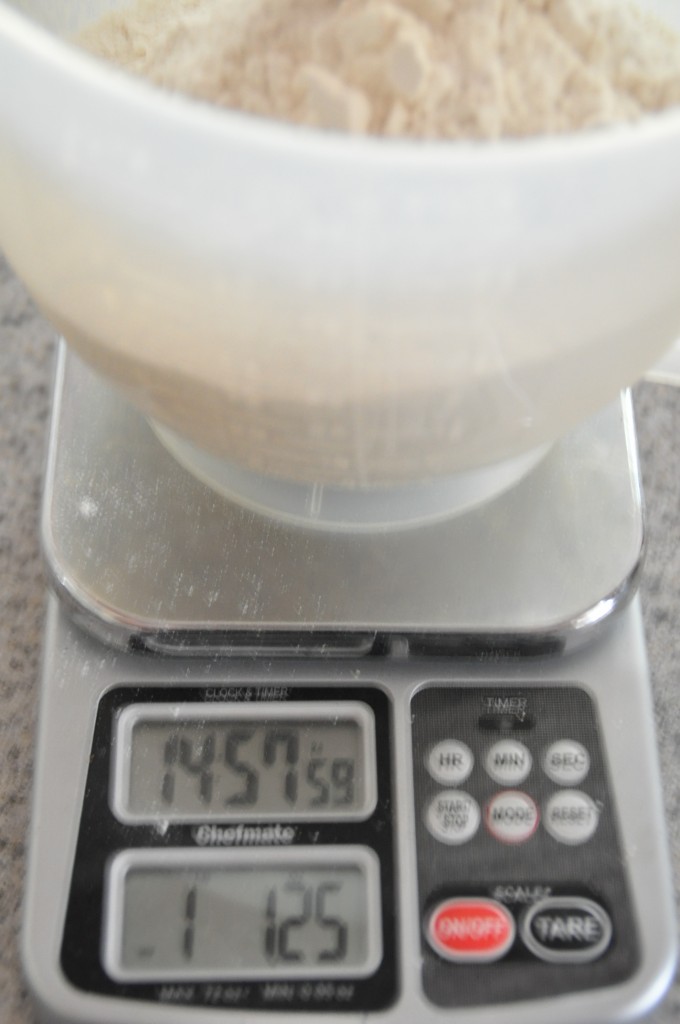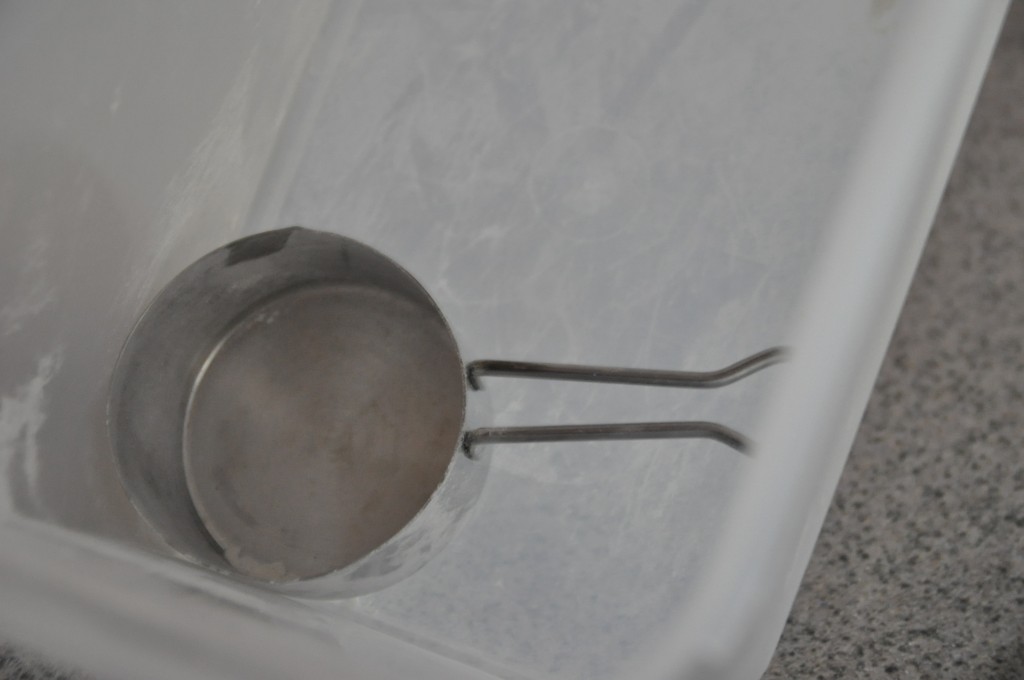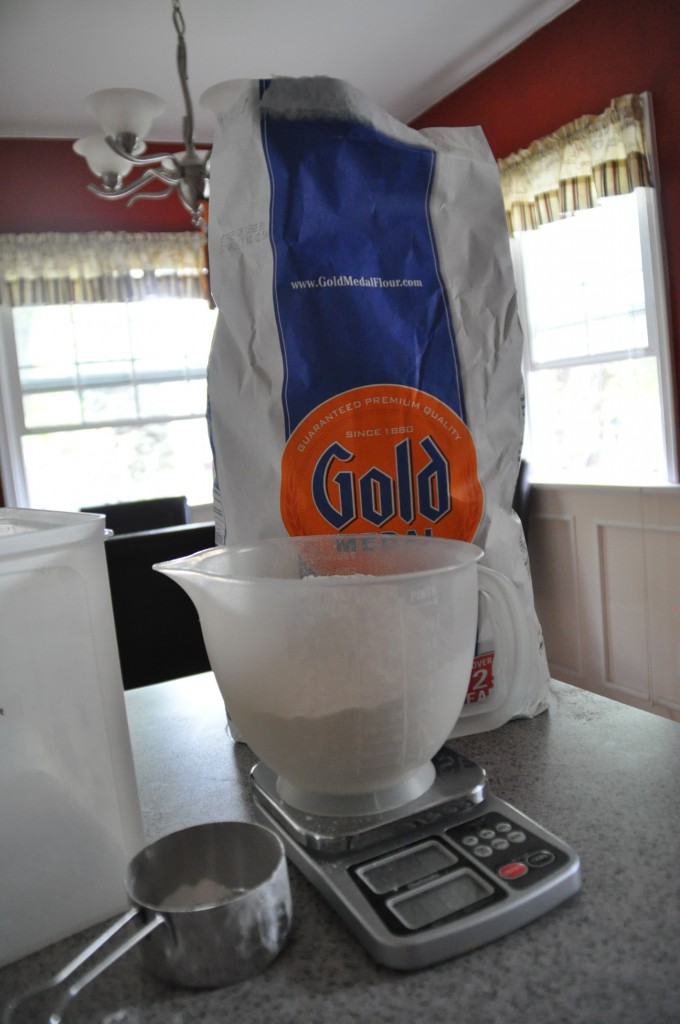 Thank you, Baby….now I'll have to do some baking.  Was this part of his evil plan to get homemade cookies?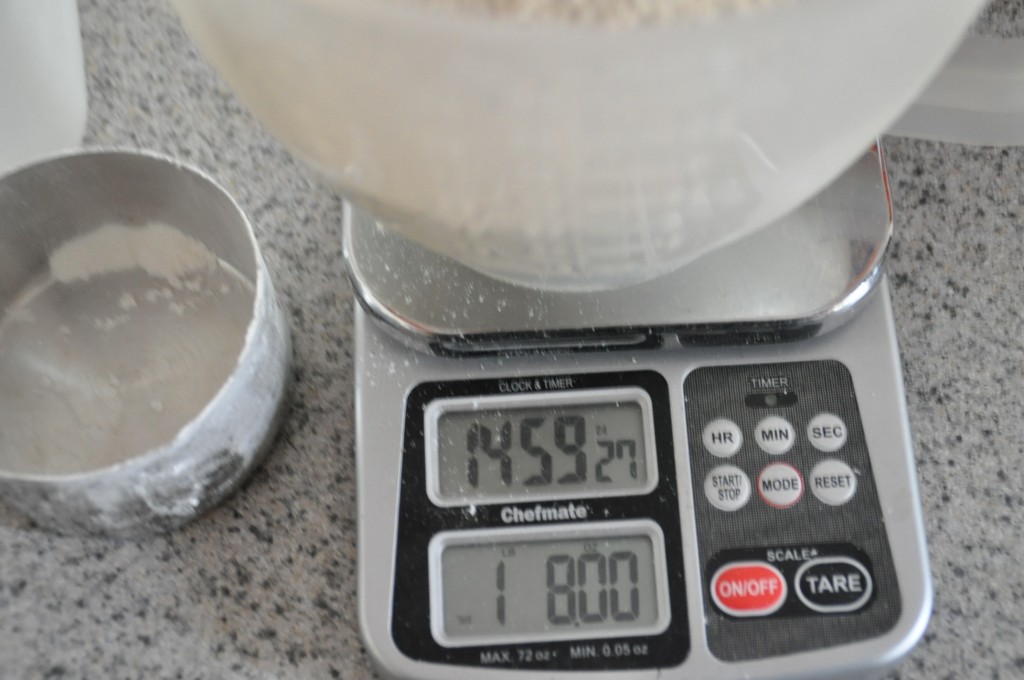 I added the flour to the liquid mixture 1 cup at a time.
My dough wasn't looking promising.  I had expected it to form a ball or something like that.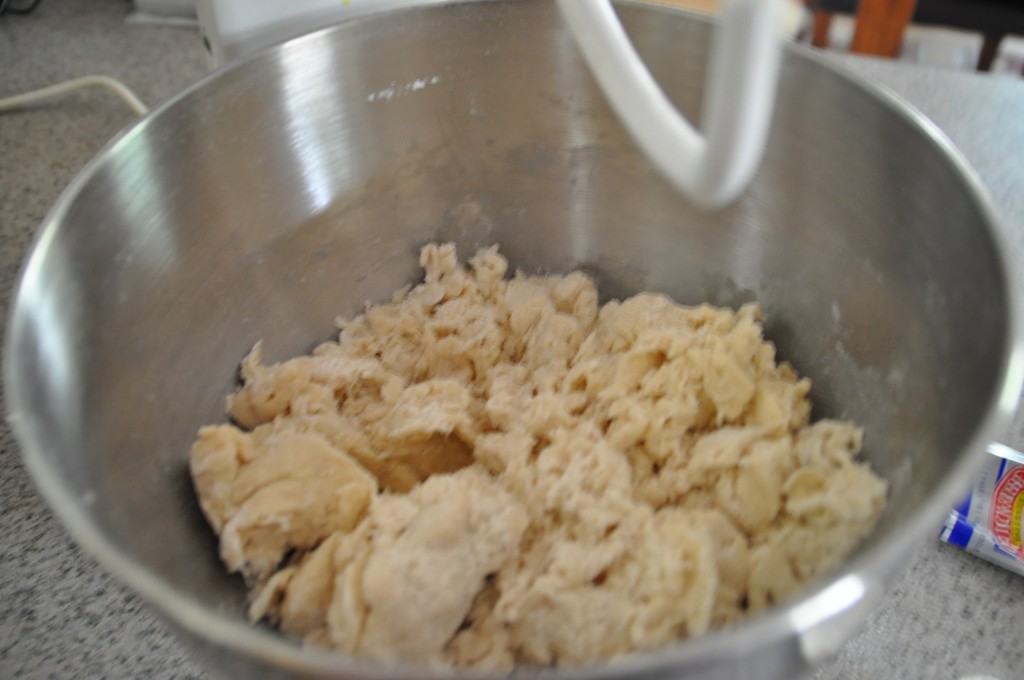 I ended up not adding all the flour, the dough already seemed dry.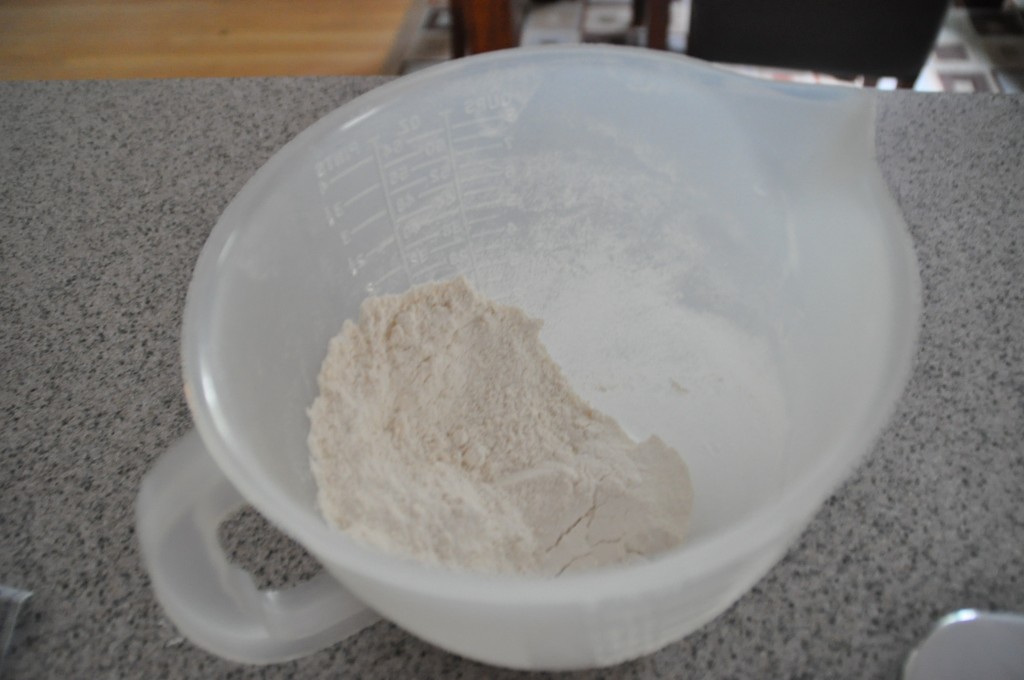 So I used it to flour my counter.  I kneaded the dough…it never got that nice elastic look but I was in to deep to stop.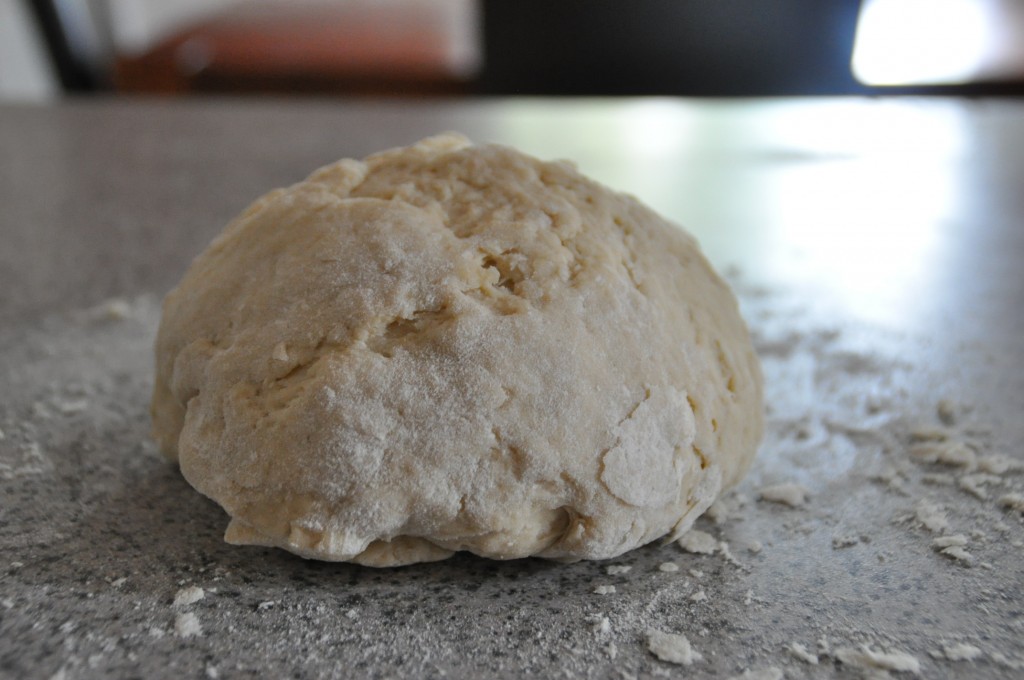 I sprayed a bowl and plastic wrap with Pam and set it in a warm place to rise until doubled.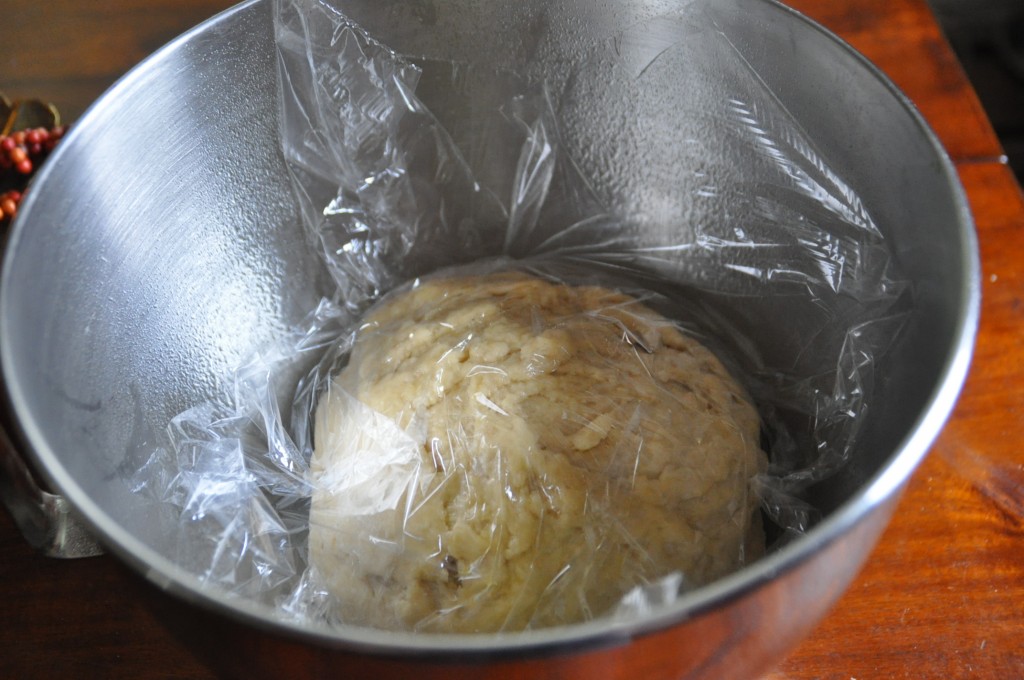 Rather then using pizza pans, I had bought some tart pans just for this recipe.  Any excuse to go to the kitchen store!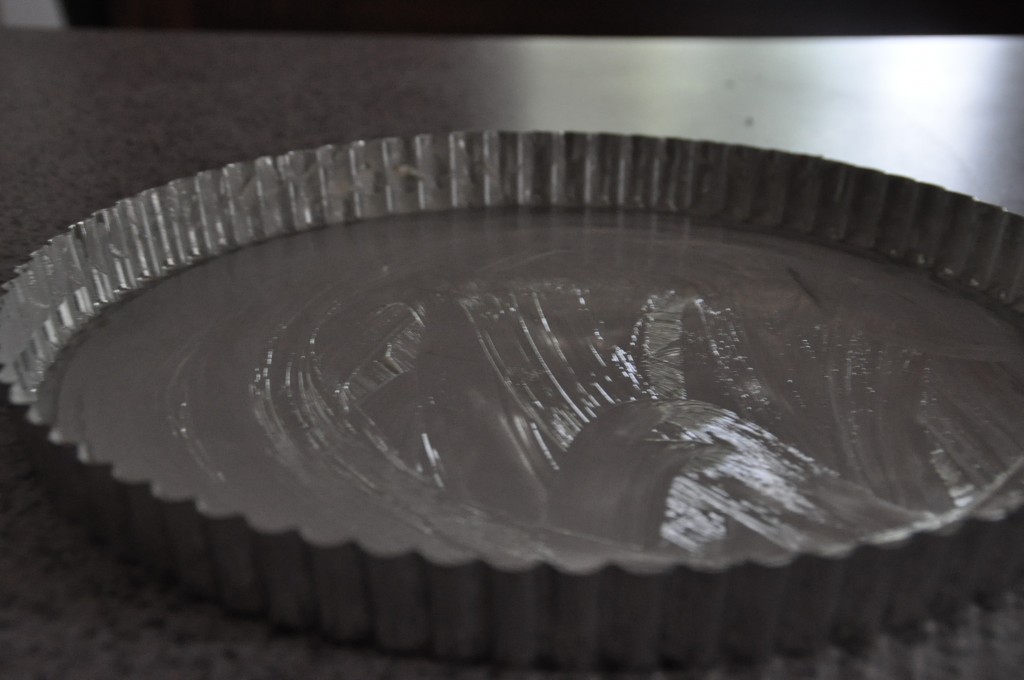 While the dough hopefully rises…on with the zwiebel part of this dish.
Ingredients–Zwiebel part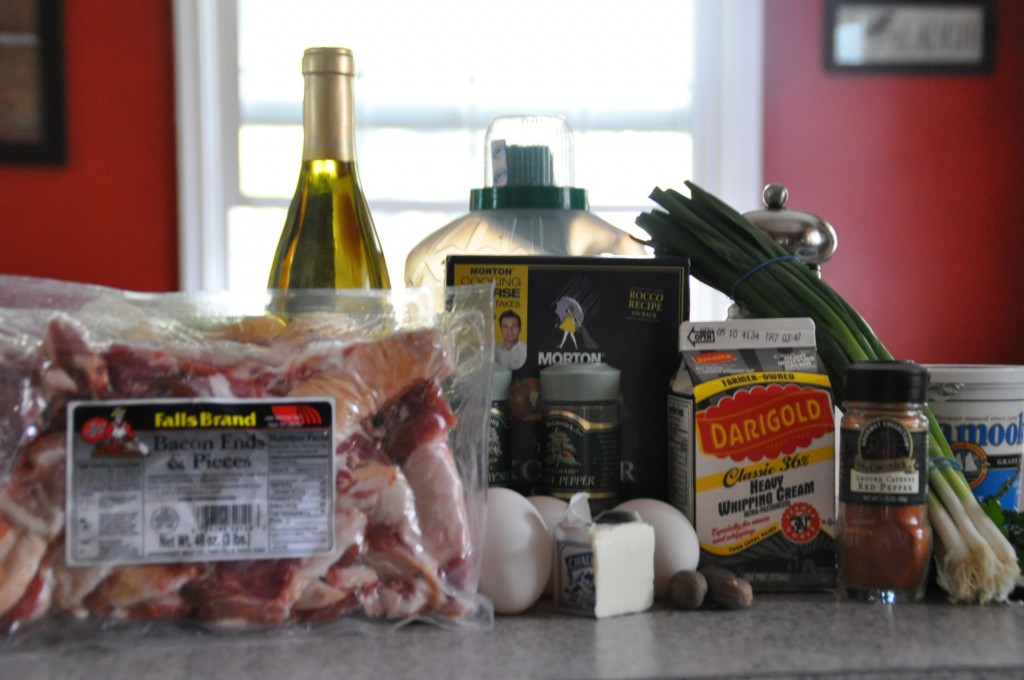 For the topping
3 lbs/ 1.5kg onions, sliced or coarsely chopped
1 tbsp butter
1 tbsp

vegetable oil

Bacon grease
1 tsp salt
2 tsp caraway seeds
½ – 1 tsp freshly ground pepper
½ cup dry white wine
1 cup / 250ml heavy whipping cream
½ cup / 125ml sour cream
5 eggs
4 oz / 125g bacon, diced
4 stalks of green onions, chopped
½ cup / 125ml milk
½ tsp white pepper,

freshly

ground
½ tsp salt
¼ tsp nutmeg, freshly grated
pinch of cayenne pepper
2 tbsp parsley, chopped
Directions–per Steffen
Topping
In the meanwhile, heat butter and oil in a large heavy pan over high heat. Add caraway seeds. Add onions, 1 tsp salt and 1 tsp of pepper. Cook for about 15 minutes, stirring frequently and making sure the onions don't brown (turn down heat if necessary).
Add wine, cook for another 10 minutes until the liquid has evaporated. Set aside.
Whisk together cream, sour cream, eggs, pepper, nutmeg and salt. Add cayenne pepper and stir in chopped parsley. Set aside.
The Onion Cakes
Generously butter 2 large pizza pans, 1 tbsp of butter per pan.
Preheat oven to 375°F / 190°C
Divide dough into two equal parts. Stretch or roll out each part and put on a pizza pan. Spray with a bit of water or cover with damp cloth and let rise for another 15 minutes.
Top each pan with the onions, pour half of the egg-cream mixture on top and add the green onions and bacon.
Bake for ca. 30 minutes until the crust is golden brown and the egg-mixture has set. (It is easiest to bake both pans at the same time in an air circulation oven, alternatively, swap the pans from time to time between upper and lower rack.
Directions–Step by Step
I couldn't find anywhere in Steffen's instructions about cooking the bacon, but I thought it would be best to render some of the fat.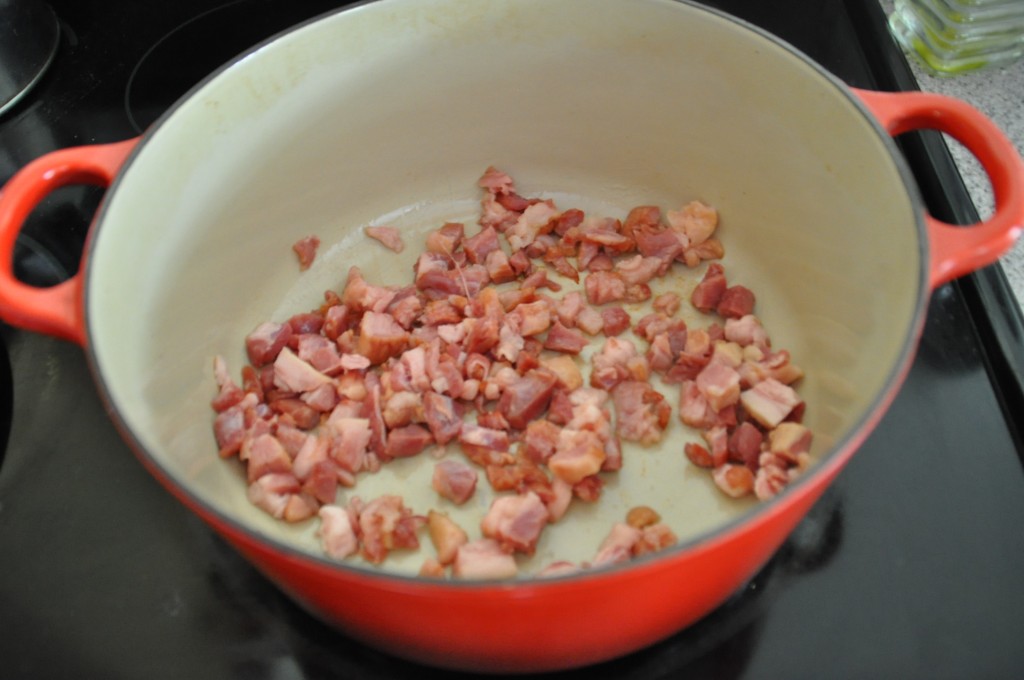 I cooked the bacon, till it was lightly browned.  Drained it on paper towels.  Poured off the fat leaving 1 tbs of grease.  I used this versus the vegetable oil called for in the original recipe.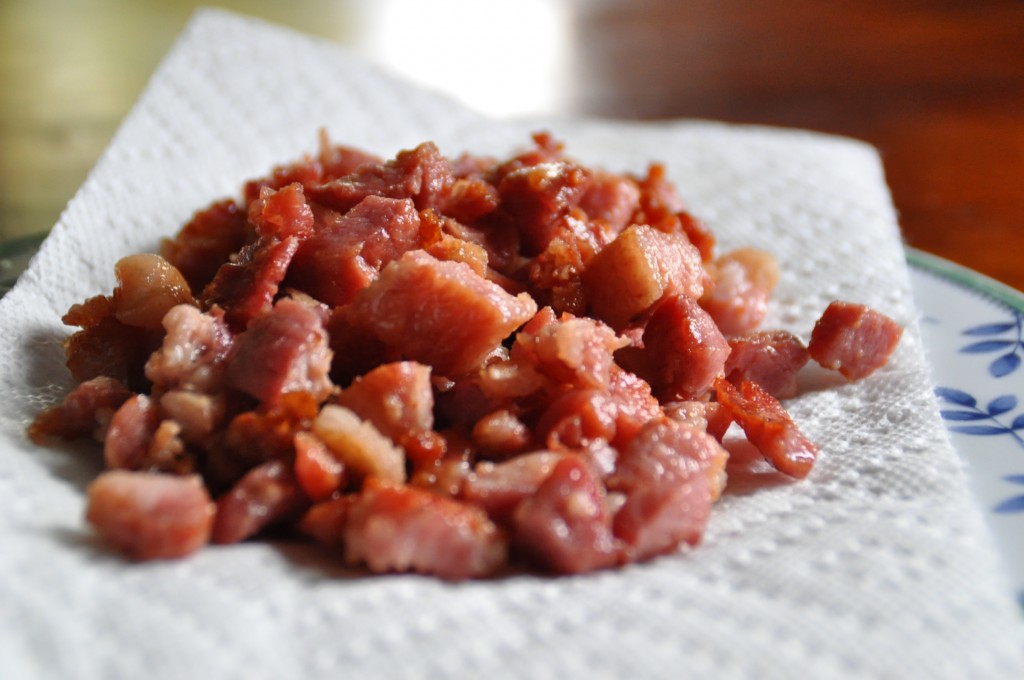 While the bacon was cooking I got to work on the onions.  I was fortunate enough to have my friend Samantha share her parent's bountiful garden with me.  I ended up bringing about 6 lbs of onions home.  Which was part of my inspiration for making this dish.  I peeled and sliced and cried…
I could have used a food processor.  Come to think of it, why didn't I use a food processor?
Next up, the green onions.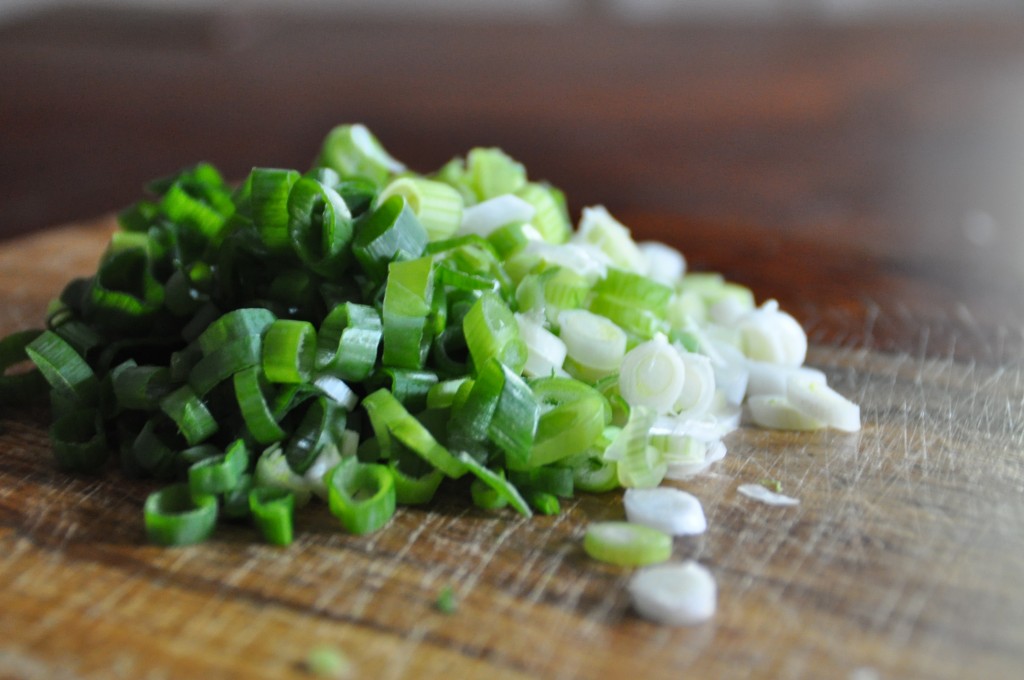 Followed by the parsley (home grown by your truly).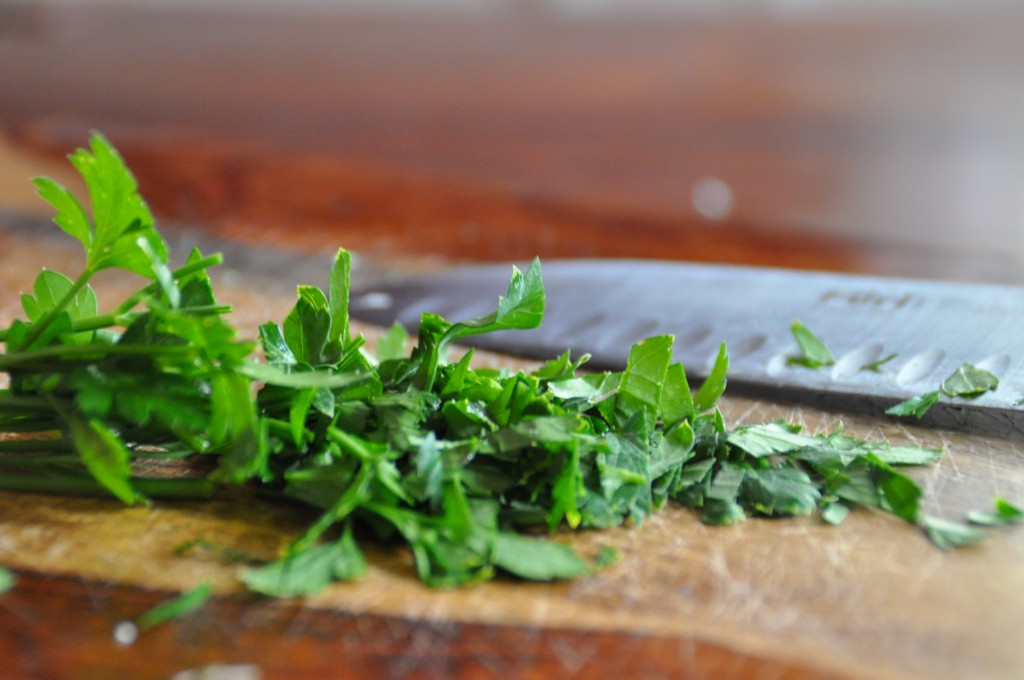 I added the tablespoon of butter to bacon grease.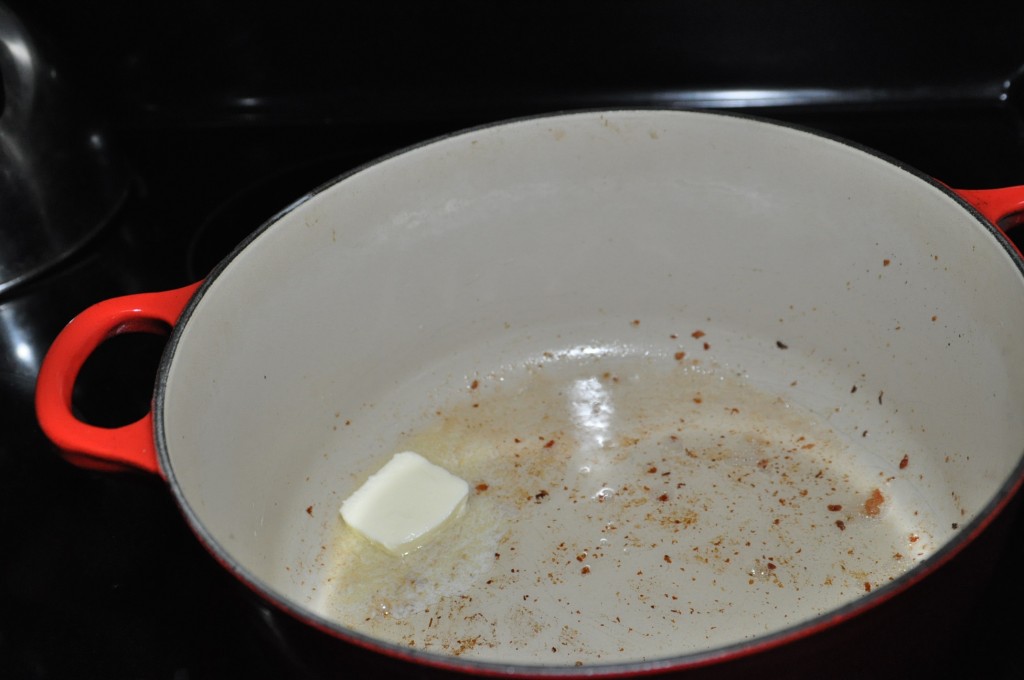 Then I cooked on a med hi setting the caraway seeds for about 30 seconds…very aromatic.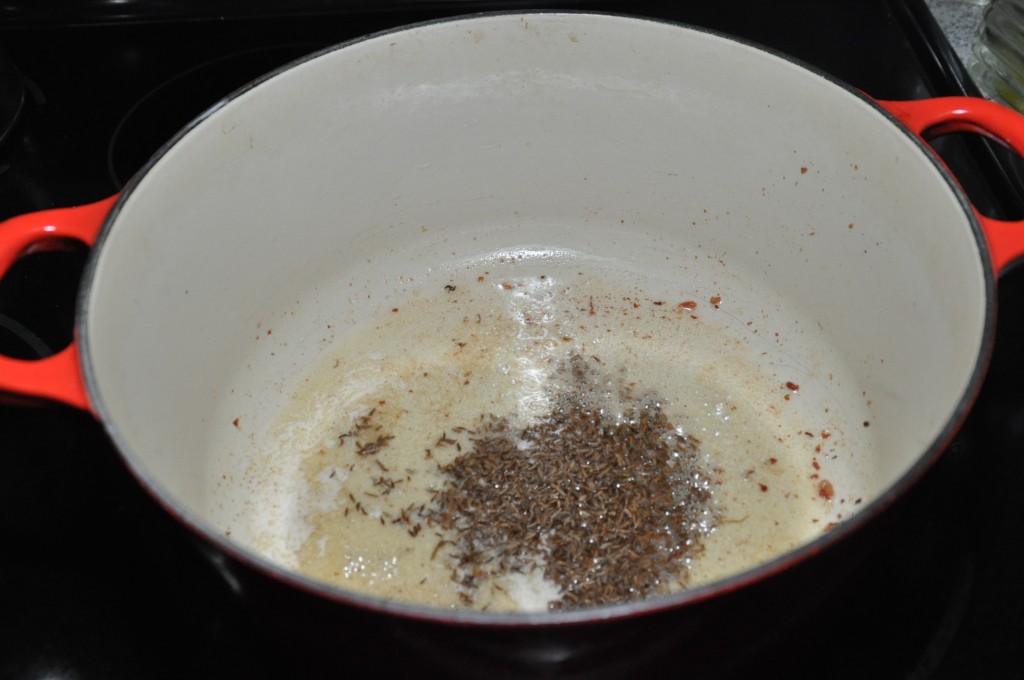 In goes all the onion.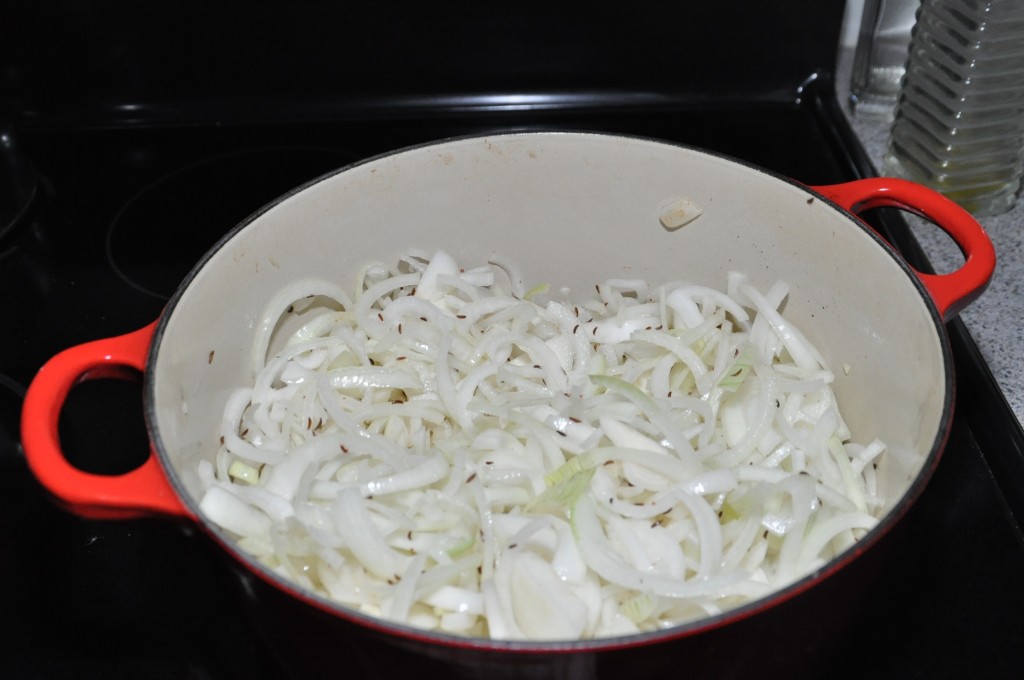 And salt and pepper.
Steffen instructed to cook for about 15 minutes, stirring frequently and making sure the onions don't brown (turn down heat if necessar).
I used a method that I just recently saw on America's Test Kitchen.
Put a lid on it, it'll help cook the onions down without browning them….brilliant….worked like a charm!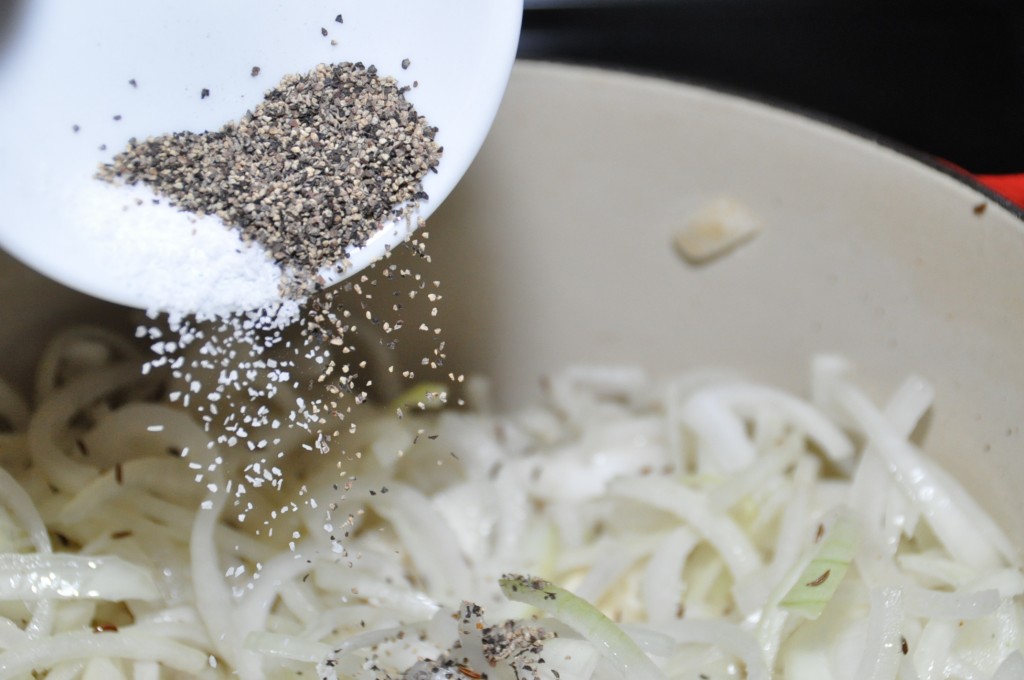 While the onions were cooking, I started to clean up a bit.  I tried to grind up the onion skins and, well, my disposal clogged up.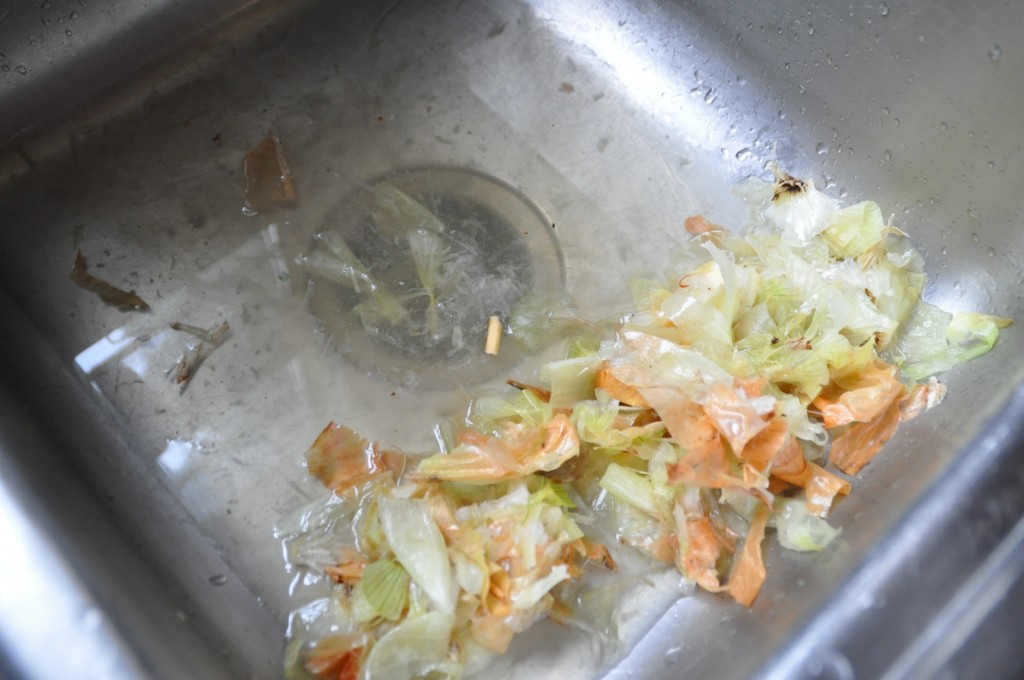 Fortunately, McGyver had just come home from staying up at the cabin and hunting. " Hi honey, I've planned a romantic evening for you, as soon as you are done fixing the garbage disposal".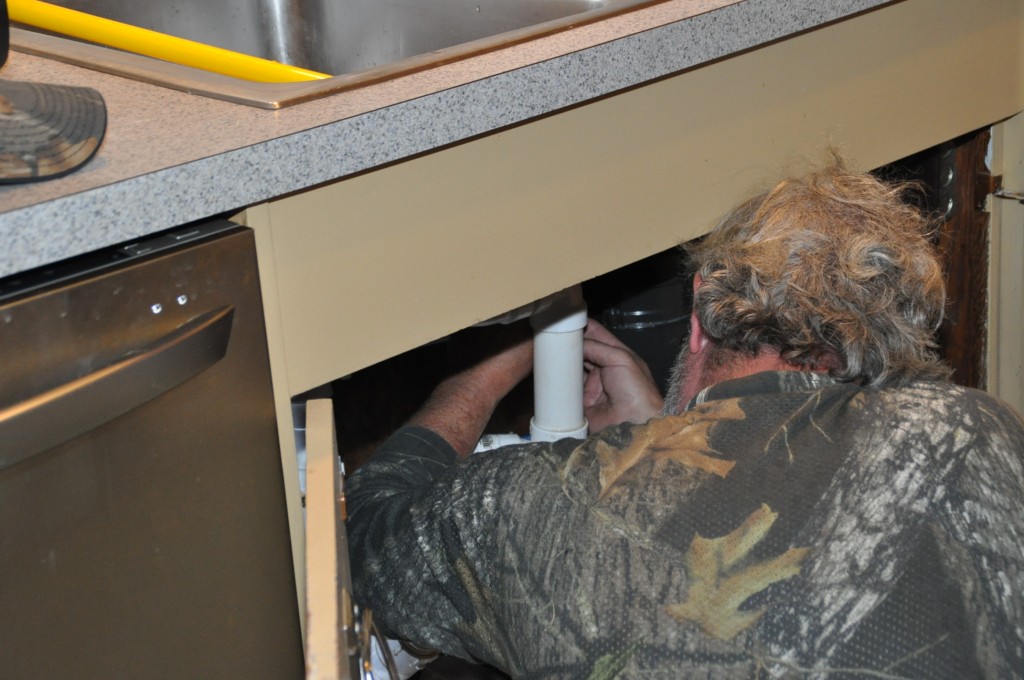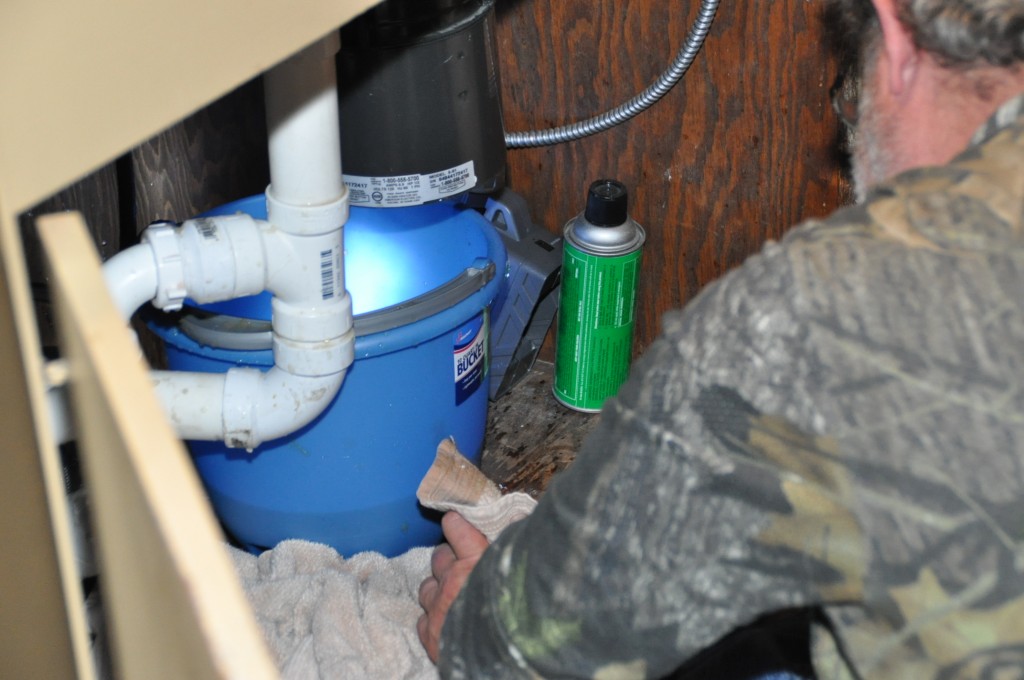 I couldn't do anything in the kitchen.  I had already cracked open a bottle of white wine, so I thought why not enjoy a cuppa while he works.
I had found a couple of wine glasses that we had picked up from a medieval dinner party in Germany and thought, hey this is perfect!  I left them out in the garage and when I went to retrieve them I found a surprise.
Ewwwww, after I washed, decontaminated and sterilized the cup, I enjoyed myself a nice glass of wine.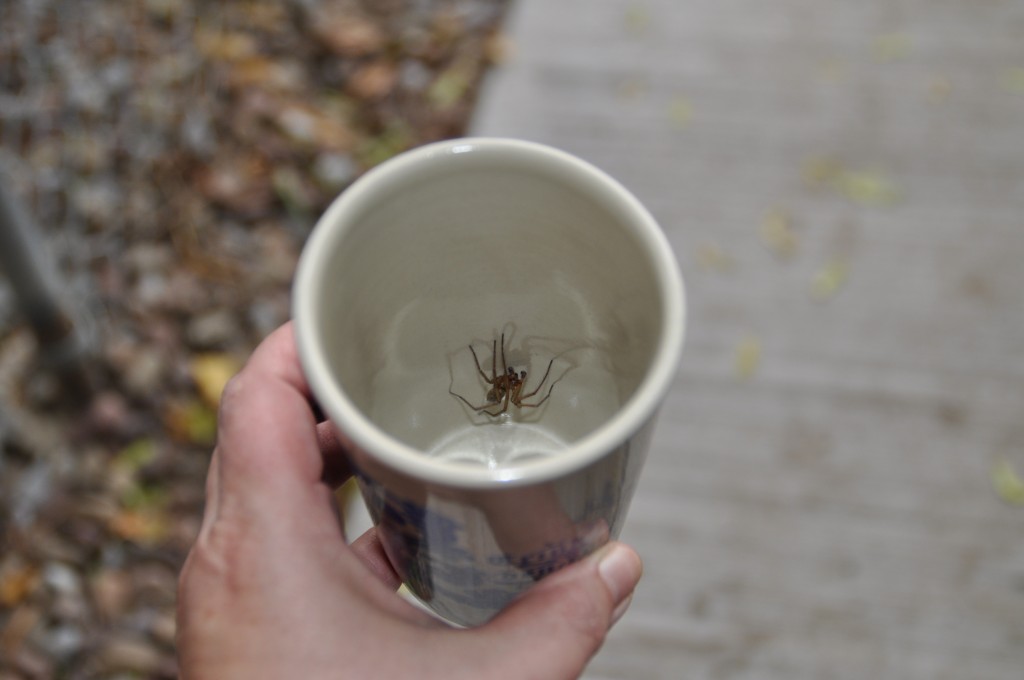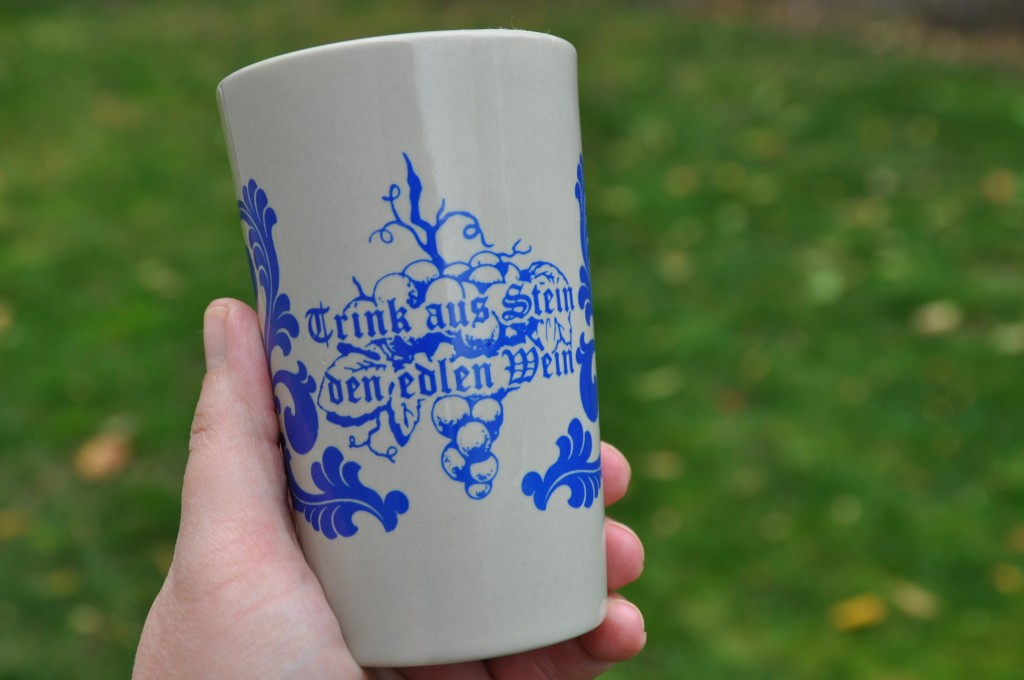 I added the wine and let it cook until it evaporated.  Then I added the bacon back in.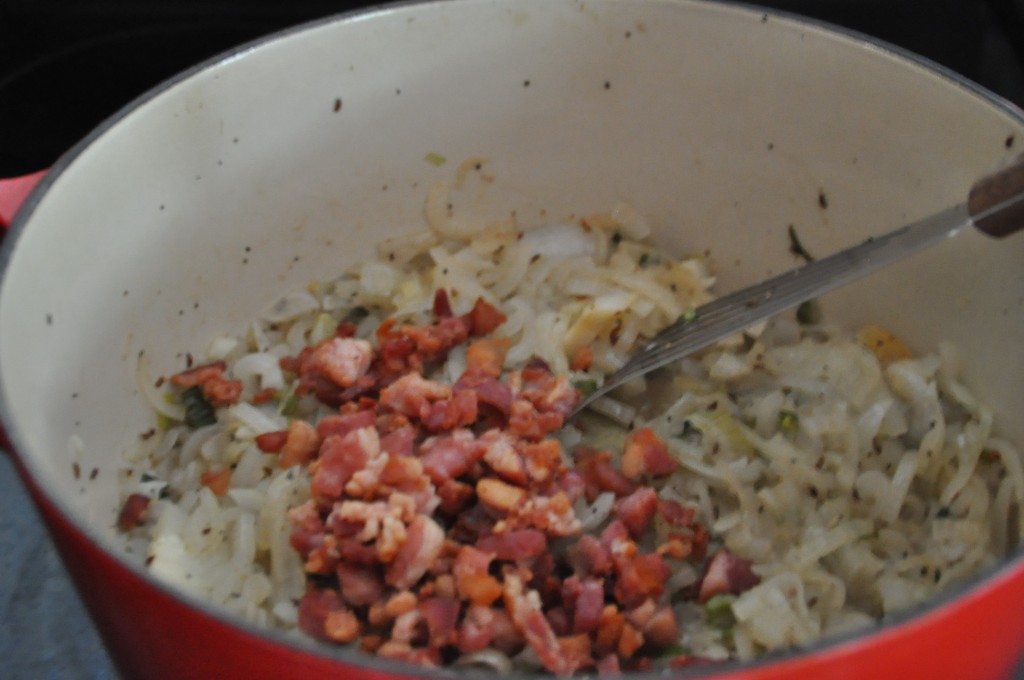 Next I whisked together, the whipping cream, milk, sour cream, eggs and the remainder of the seasoning.
Note:  I used 4 duck eggs instead of 5 chicken eggs because my dear Brad raises ducks and gave me the eggs, yeah for free food.  Also in Steffen's instructions he didn't mention adding the milk but it was in the ingredient list for the topping.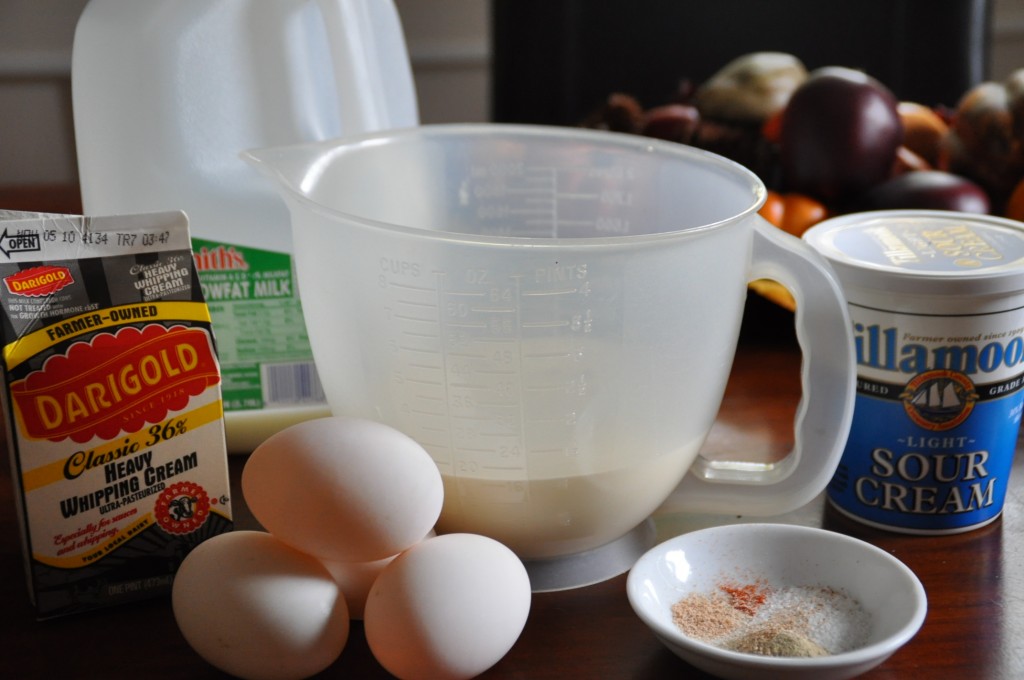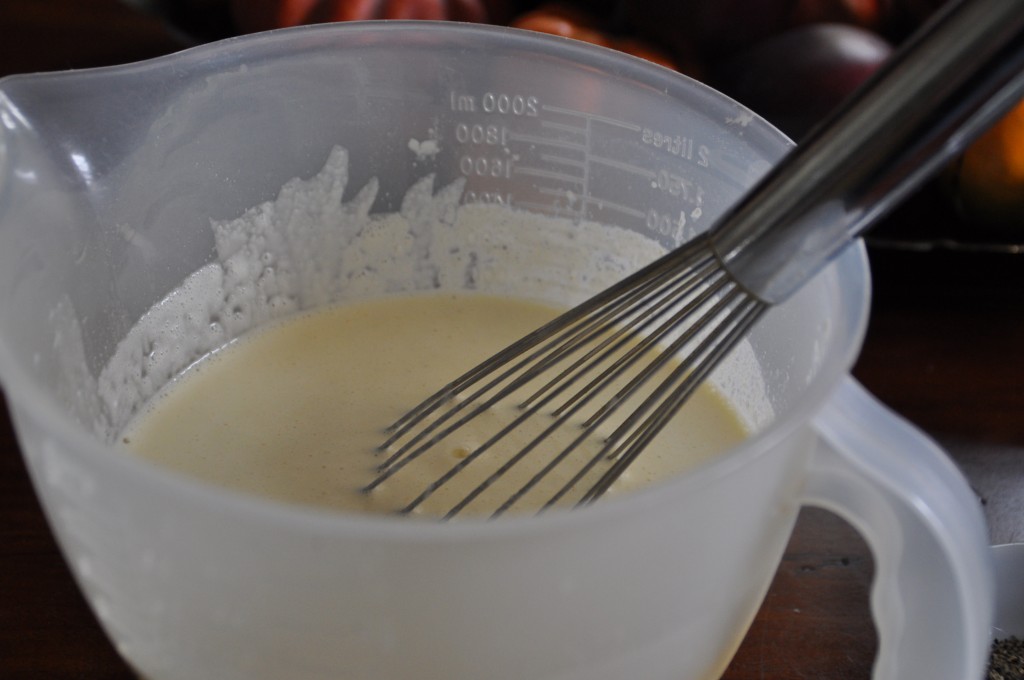 It took forever to get the dough to rise.  told you I wasn't good at this.  I divided the dough into one 2/3 part and one 1/3 part because I was using a large and medium tart pan.
I apologize for the next pictures, by the time I got to this step (after the disposal rescue) it was dark and light was baaad.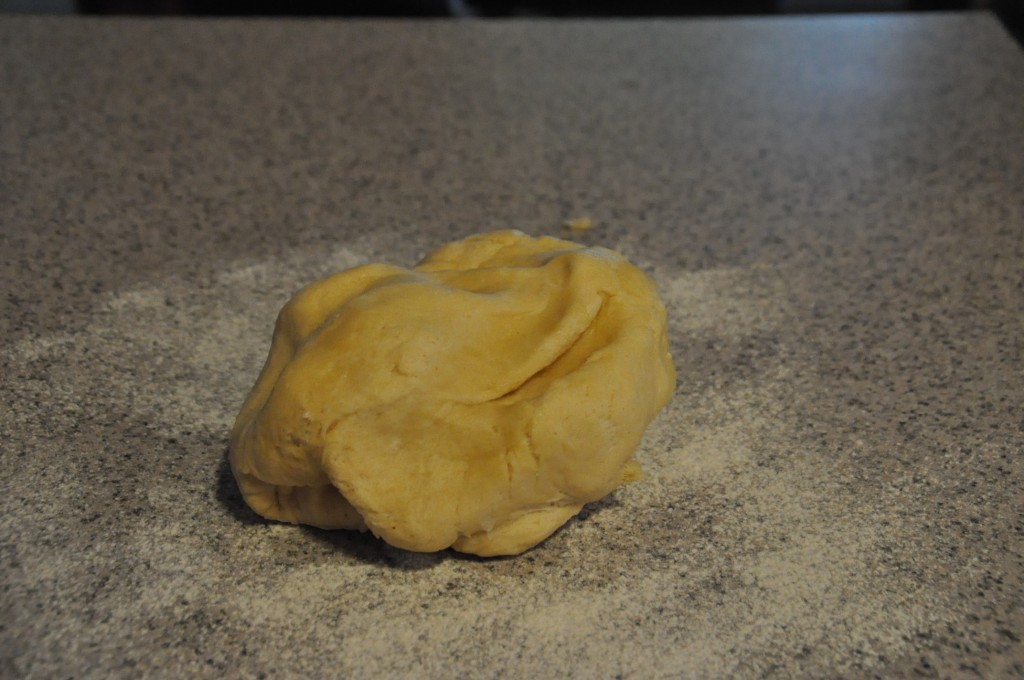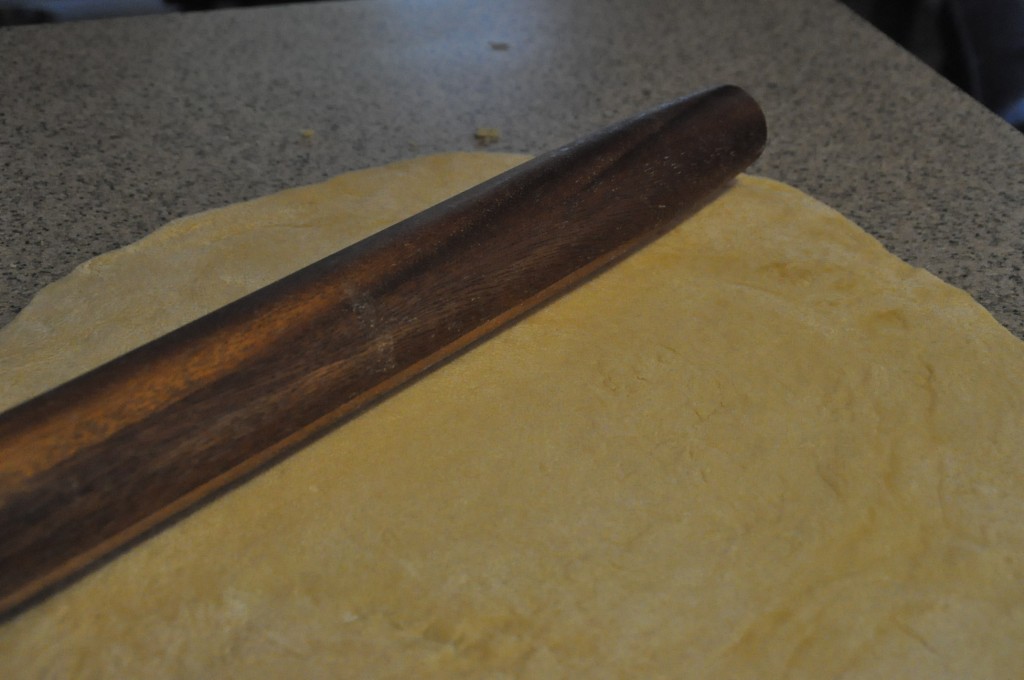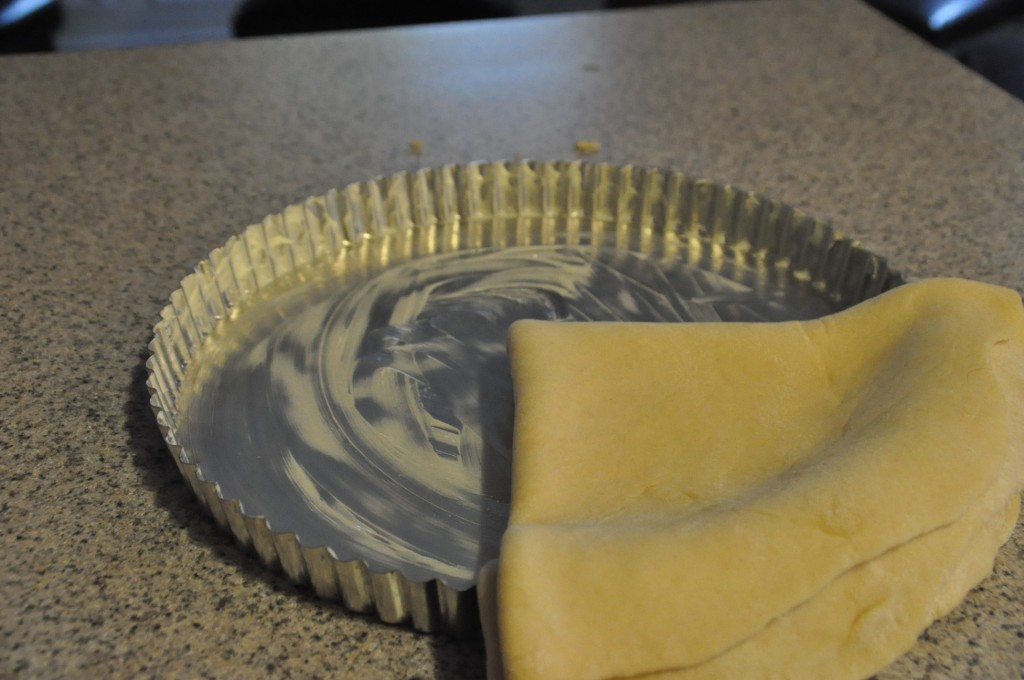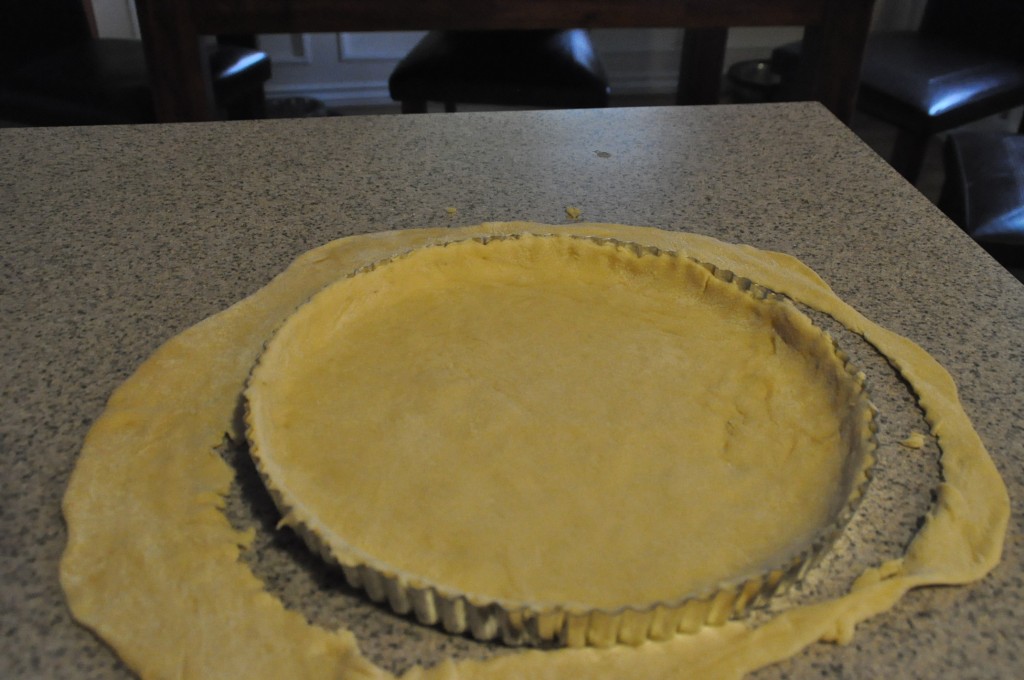 Before I put the onion mixture in the tart pans, I added the green onions.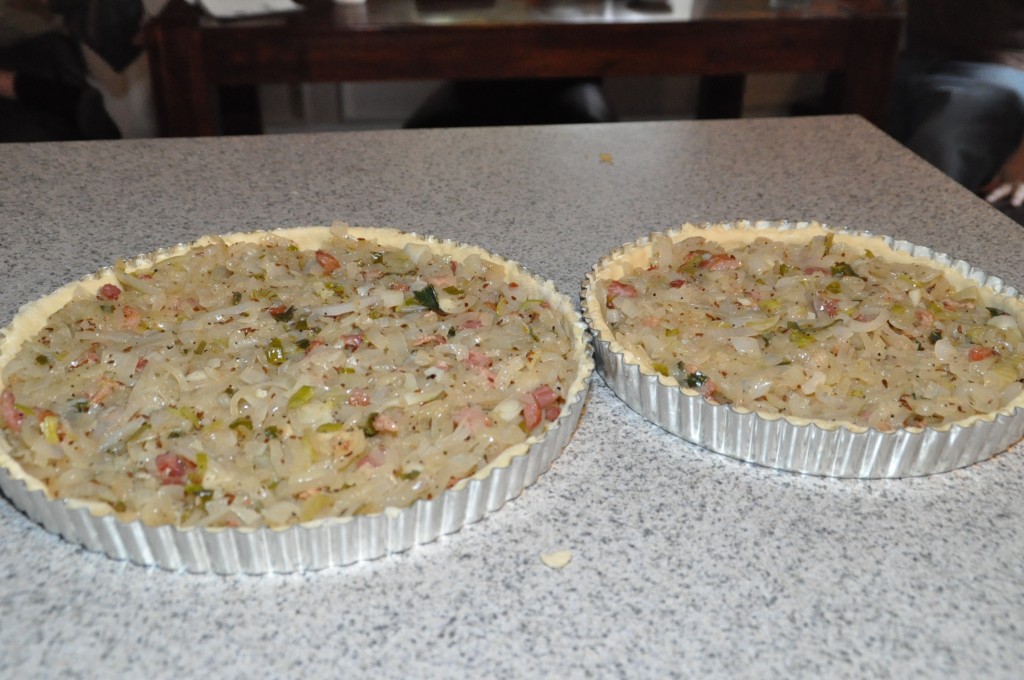 Then I whisked the parsley into the cream mixture.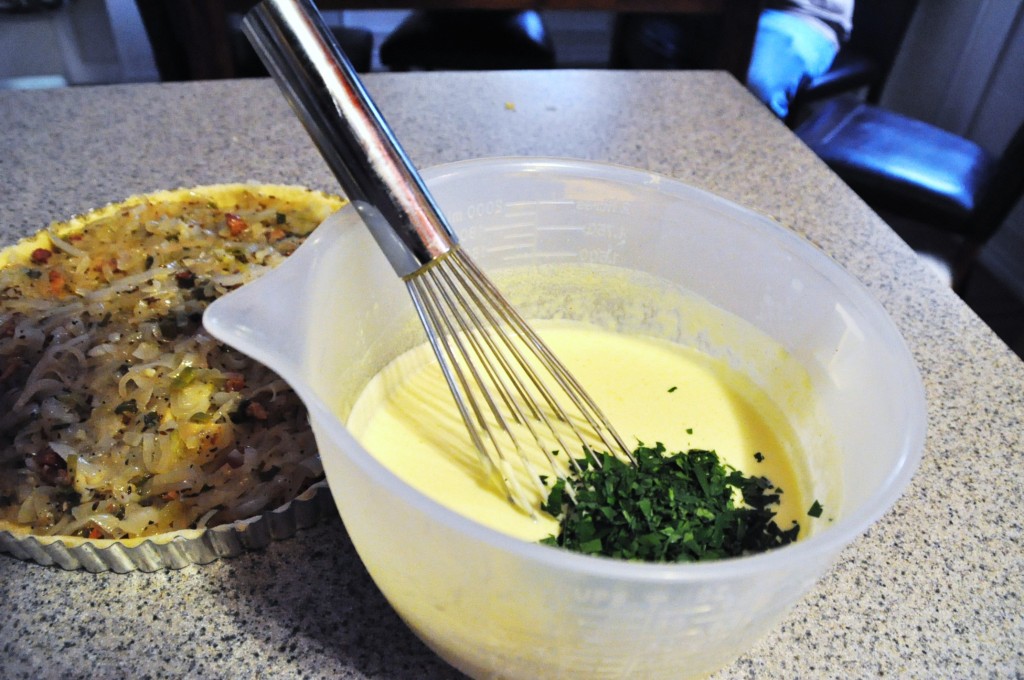 And poured it into the pans.  I had some left over as you can see in the background, right side.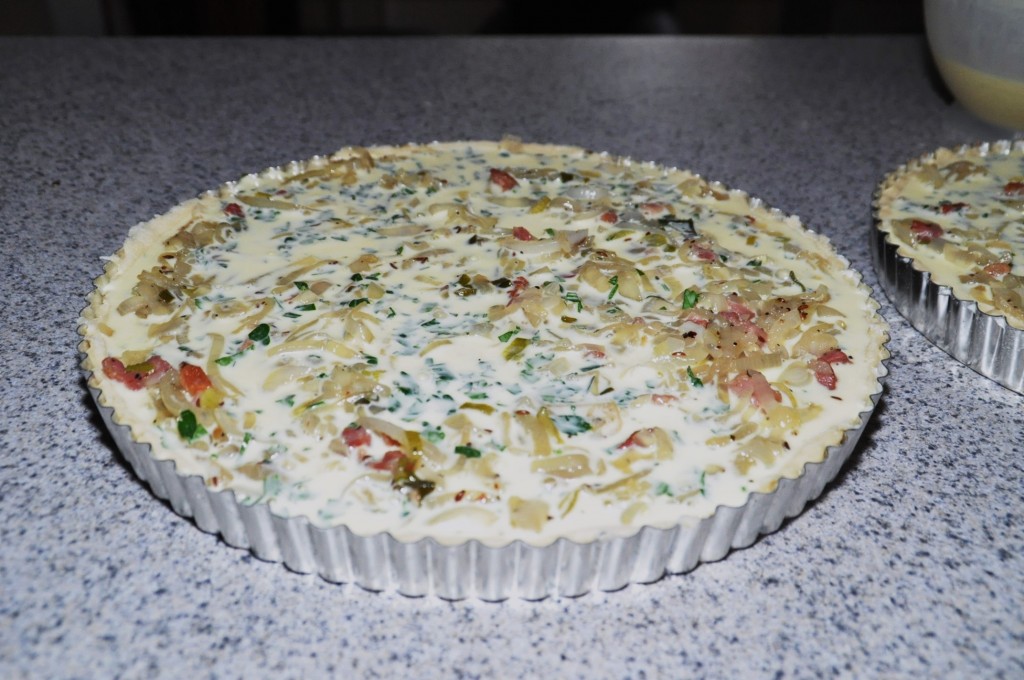 I baked them one at time in a 375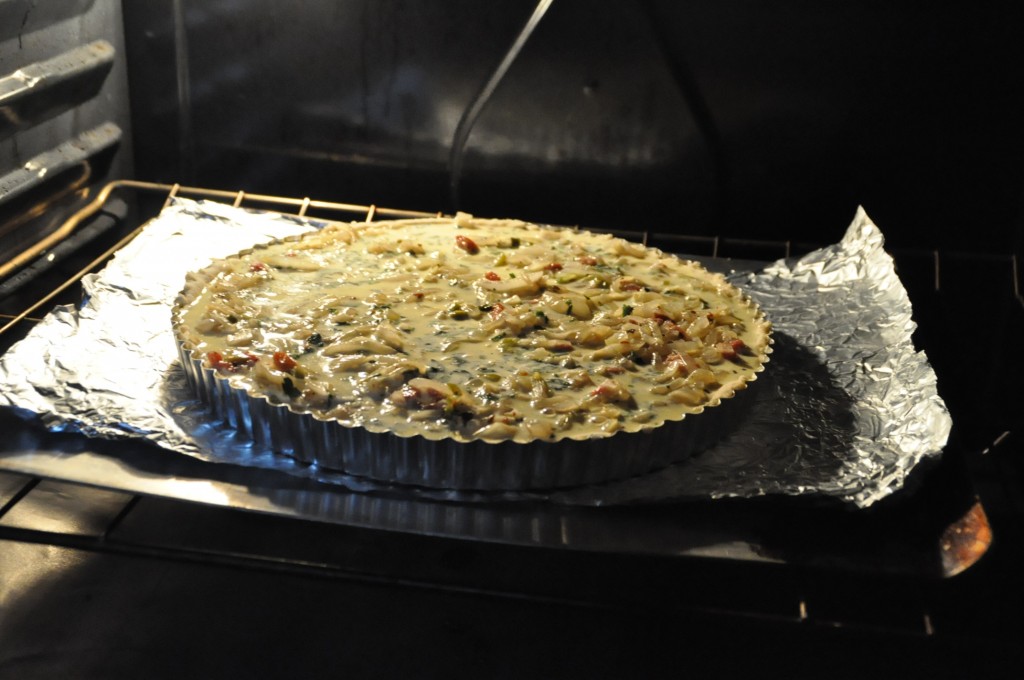 Fresh out of the oven, it looks perfect.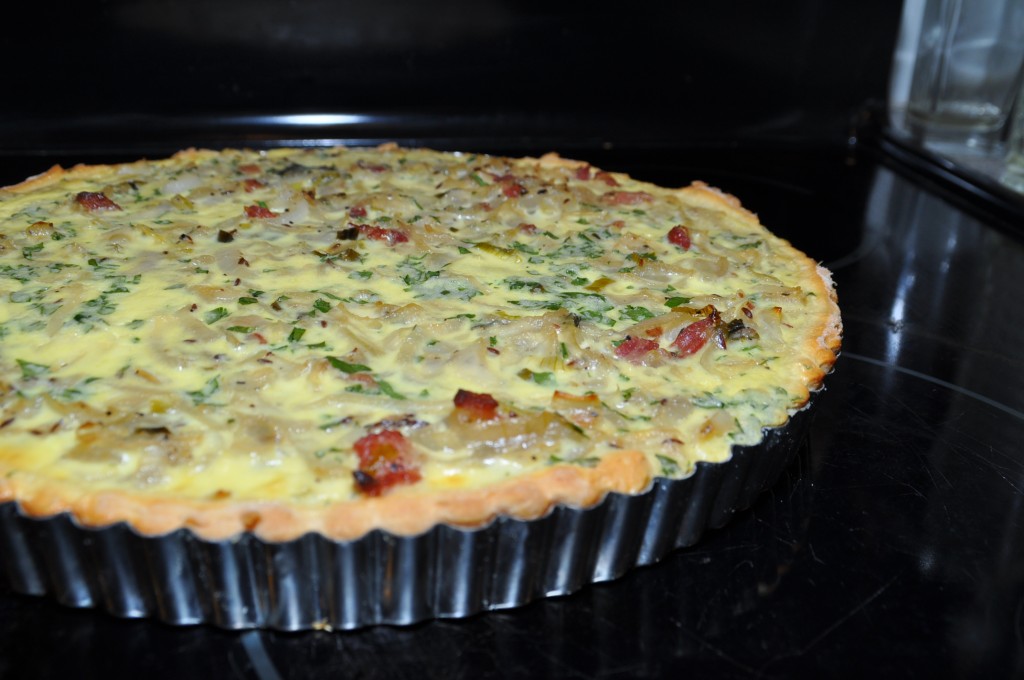 I actually thought this tasted better than what we had on the very romantic day!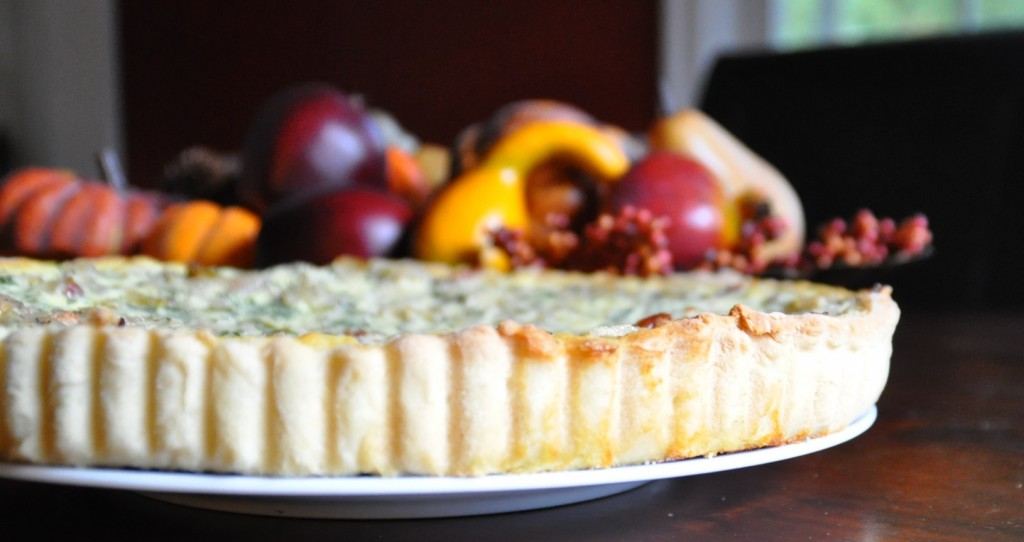 Mock Federweiβer
Federweiβer as I remembered it, was bubbly and dry yet slightly sweet.   What is dry and bubbly?  Champagne.  Of course federweiβer is made from green grapes, so white grape juice seemed the natural "sweet" part.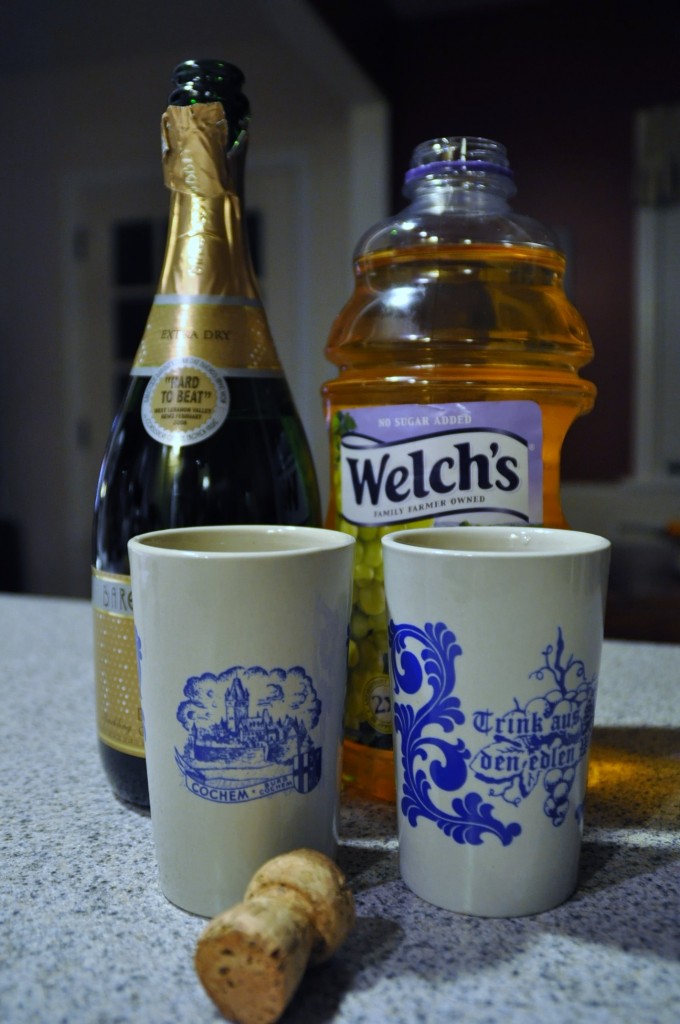 So I mixed, and tasted, and mixed and tasted until I hit upon the right combo.
Simply mix 3 parts champagne to 1 part white grape juice.
Not the real thing, but it filled the bill!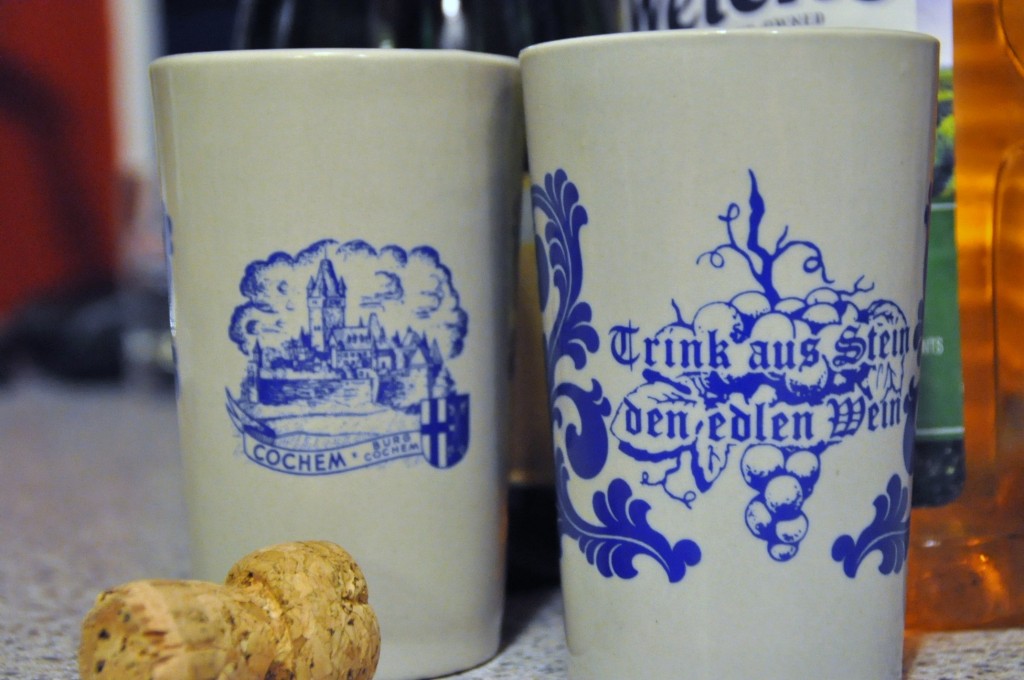 Did you notice the glasses came from Cochem castle?  The very same castle that McGyver took me to on the date that I started to fall in love with him.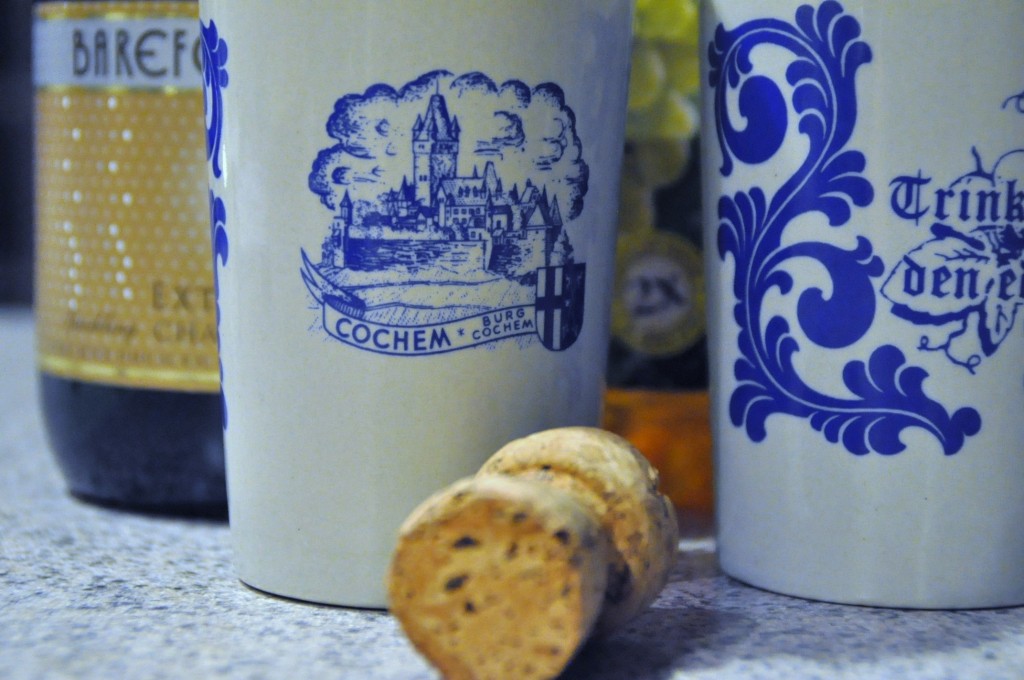 Vielen dank, Steffen for letting me relive a special day in my life.