Life is an amazing thing.  So many things happen in life time, some good, some not so good.  And sometimes the unexpected happens, sometimes it's good, and sometimes not so good.  Last weekend my boss found out that her husband of 32 years had cancer, his only symptoms were recent migraines.  By Tuesday night he was gone.  Times like this can't help but make you reflect of the fragility of life, how sweet it is to be alive and how lucky you are not to have to suffer something so unexpectedly bad.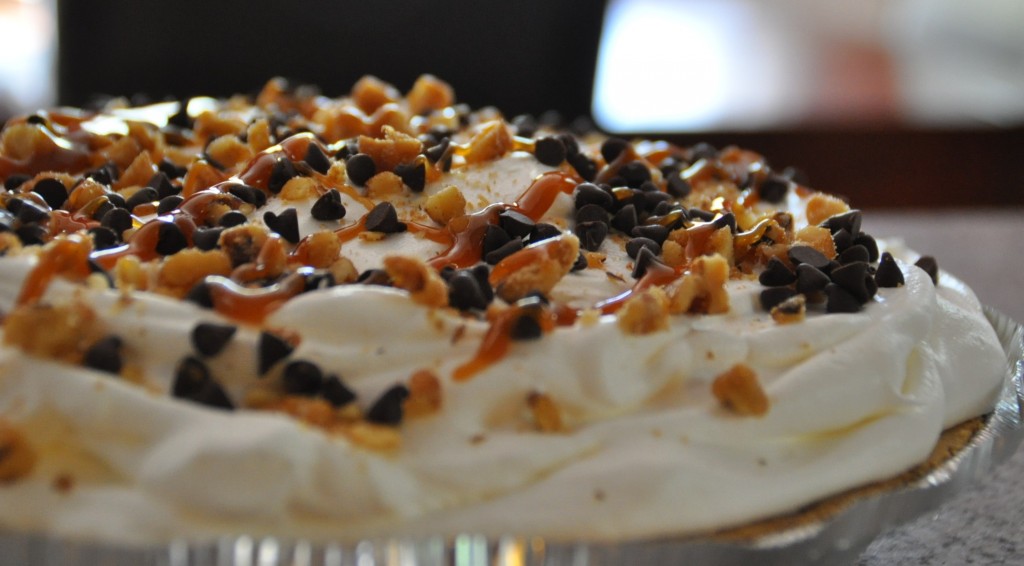 In difficult times, friends, family, neighbors, co-workers and sometimes people you don't even know that well, rally together to support the ones hurting.  Food and flowers are the iconic show of support and sorrow.  For cooks, we jump in with both feet and get to immediate work.  We know the ones hurting don't feel like doing anything, it's all they can do to just cope.  For me, I couldn't make just another casserole or crock pot meal.  I knew it had to comfort food, if nothing else but to help a small part of the soul be soothed.  Maybe just for a moment, the soul could be lost in the bliss of enjoying food, lost in the kind of comfort that only certain foods can bring.
I planned homemade macaroni and cheese, green bean casserole, garlic rosemary roasted chicken, dinner rolls and a garden salad, plus some kind of dessert.  With my lofty menu, I needed a dessert that required no cooking.  Like holidays, when you prepare a big feast for a crowd, stove top and oven become prime property.  I wandered the grocery store looking for inspiration.  I found it in the frozen section, as in, buy a frozen dessert and call it good.  But I just couldn't do it.  I'm not a dessert/baker person but I knew there wasn't a lot of comfort in Mrs. Smiths.
Across from the frozen pies, was the ice cream.  That's when it came to me.  Ice Cream Pie.  Bette is a choco-holic, no brainer here, let's go with chocolate.  When I think of yummy chocolate favorites, Turtles, come to mind.  Something about chocolate, nuts and caramel that just seem to work!  Speaking of work, I really needed my pie to have minimal work with maximum comfort impact.  Amazingly enough, just a walk down a couple isles and I was able to assemble an awesome pie that required almost no work.
Ingredients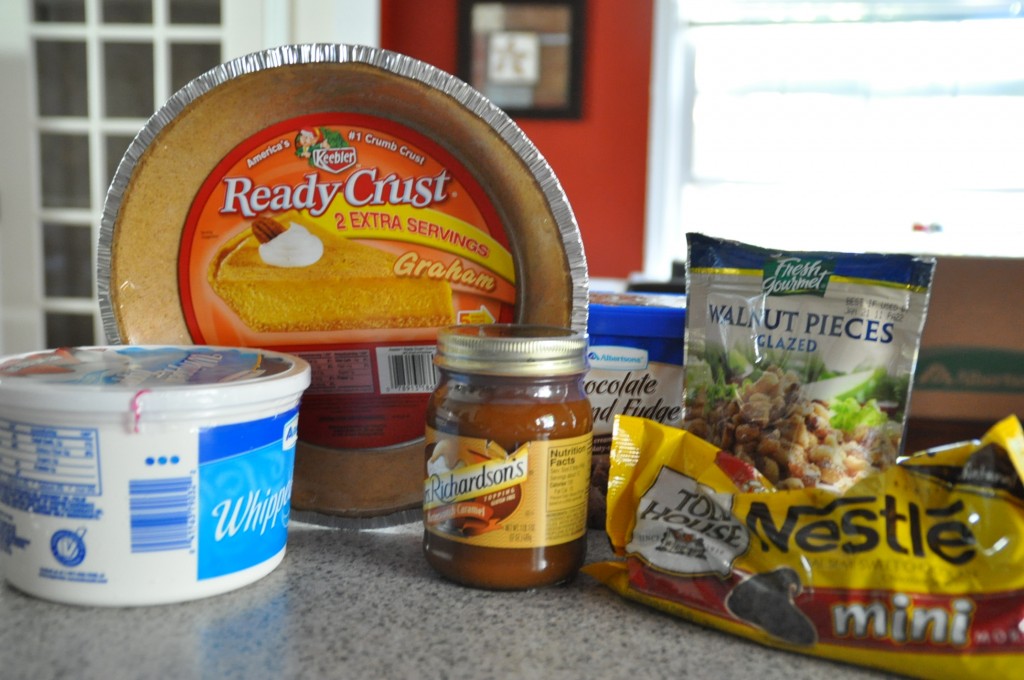 1 Graham Cracker Crust, I used the deep dish version.

1/4 c caramel sauce, plus extra for drizzling

1 quart Chocolate Almond Fudge ice cream (or another of your choice)

1 120z container, non-dairy whipped topping

1/4 c glazed walnut or pecan pieces, chopped

1/4 c mini chocolate chips or chocolate shavings
Directions
Pour 1/4 cup caramel sauce over the bottom of a graham cracker crust.  Gentle spread it to cover the bottom of the crust.  Warning, the bottom of the crust sticks to the caramel sauce so it's very easy to disturb the crust….hence the carefully placed spoon for the photo!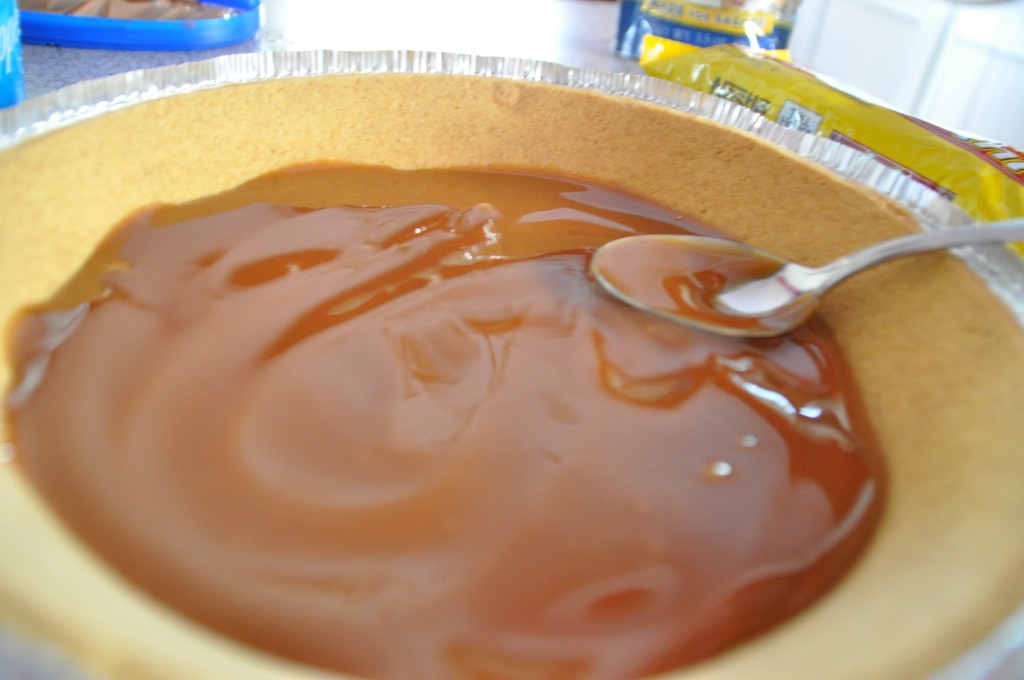 While, you run around like a chicken with it's head cut off preparing multiple dishes, your ice cream should be softened.  I think mine set out about an hour.  Spread the ice cream over the top of the caramel sauce, filling the pie crust 2/3 to 3/4 of the way up.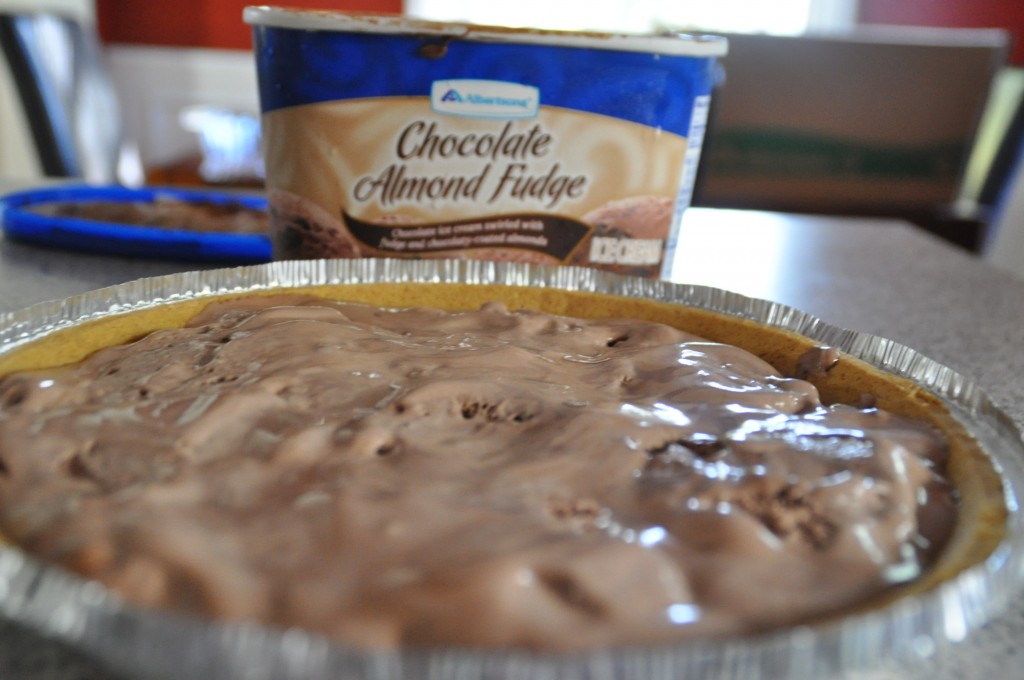 Place it in the freezer and leave it for about in hour.  This will give you more time to frantically work on other dishes.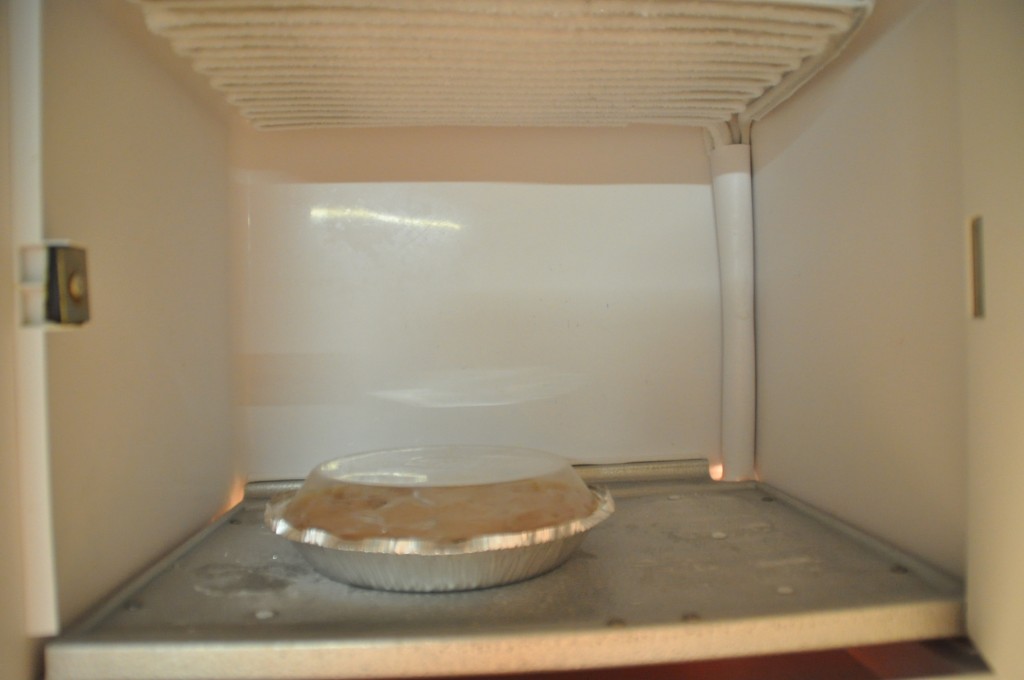 Once it is nice and firm, spread the non-dairy whipped cream over the top.  I didn't bother making the topping smooth, I wanted it have a homey feel to it.  Plus have you ever tried to make this stuff smooth, I don't have the patience for it anyways.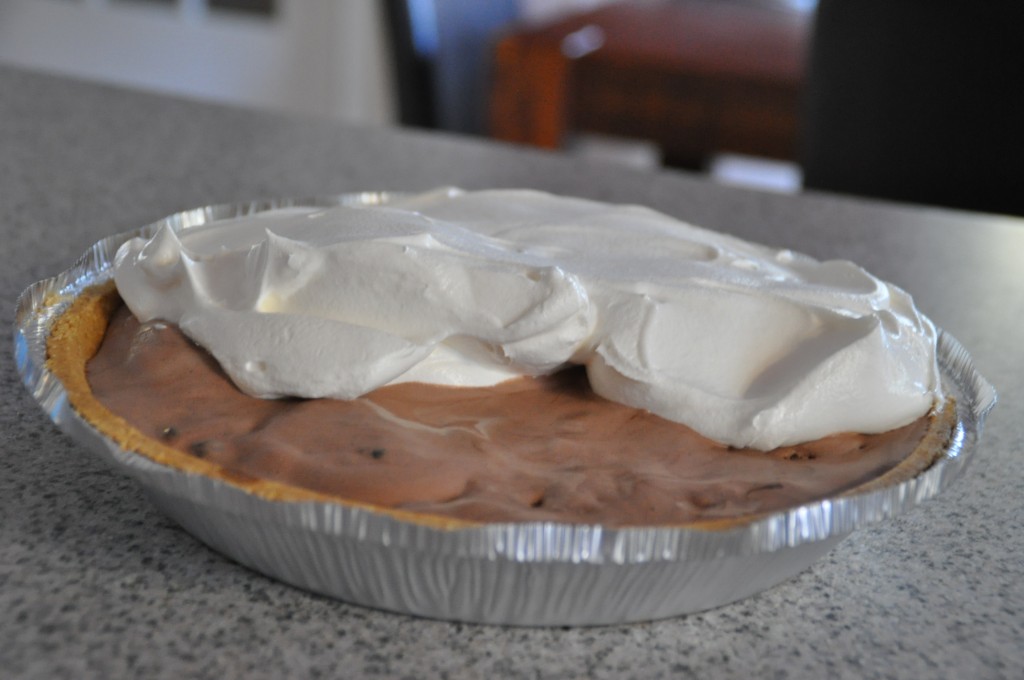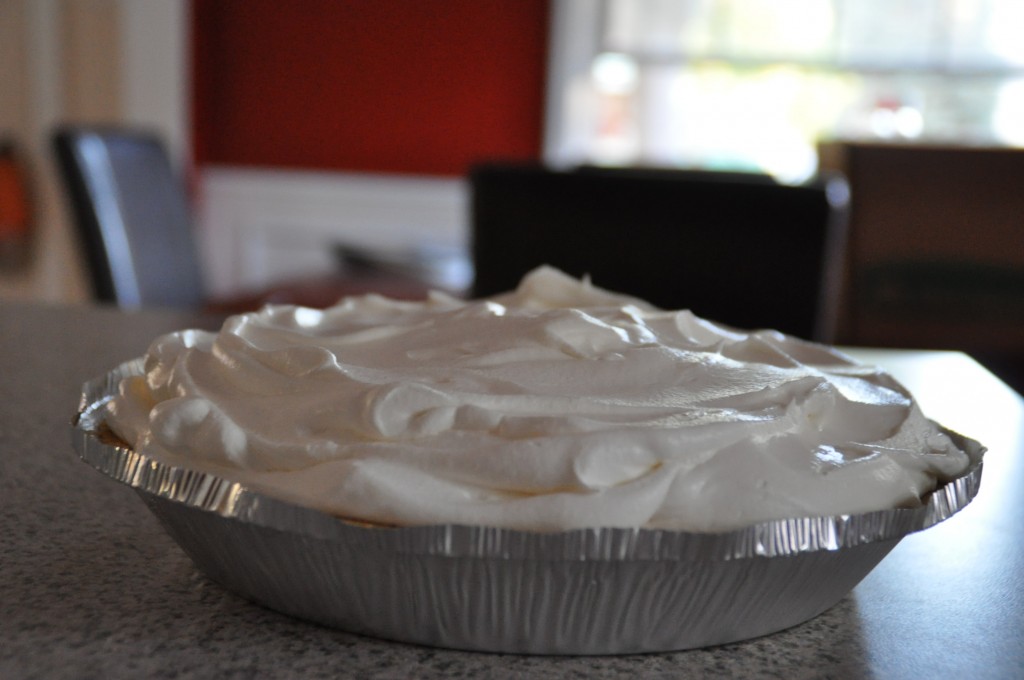 I popped it back in the freezer so it wouldn't lose it's fluffiness once I put the caramel sauce on.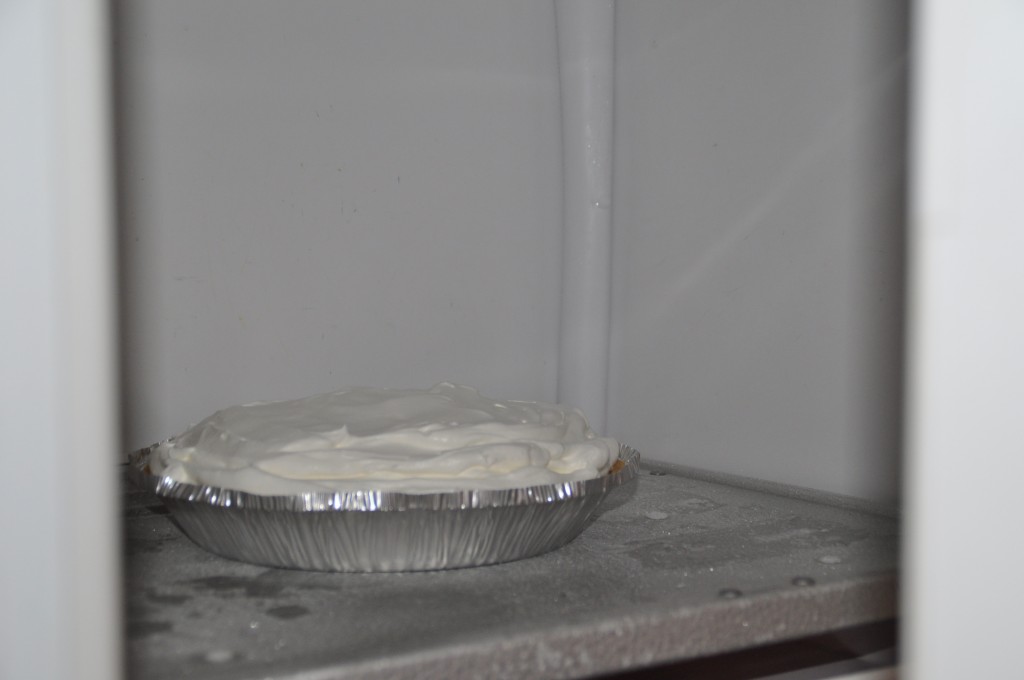 When I took it out of the freezer, I realized the top was too firm for my nuts and chocolate chips.  They would just roll off.  In retrospect I would have added my nuts and chocolate chips and then refroze.  Instead, a few minutes out in my hot kitchen and I felt like I could add some toppings.
A healthy sprinkling of glazed nuts and super adorable chocolate chips and this pie was almost ready.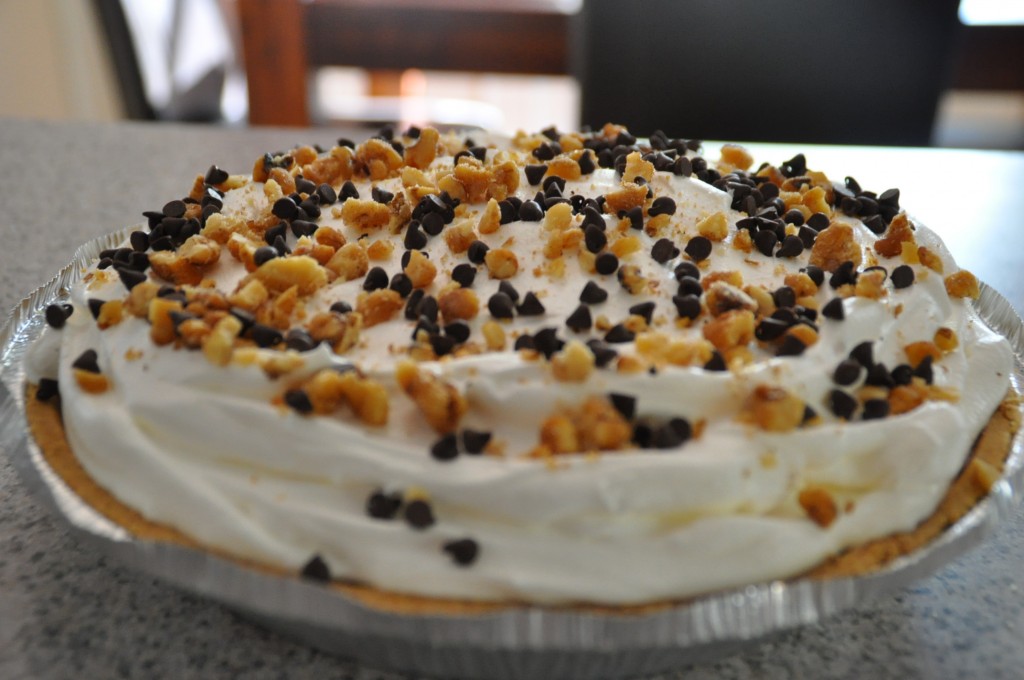 Next I drizzed the top with caramel sauce in a lattice fashion.  I discovered I'm not a good drizzler….drooler yes, drizzler, no.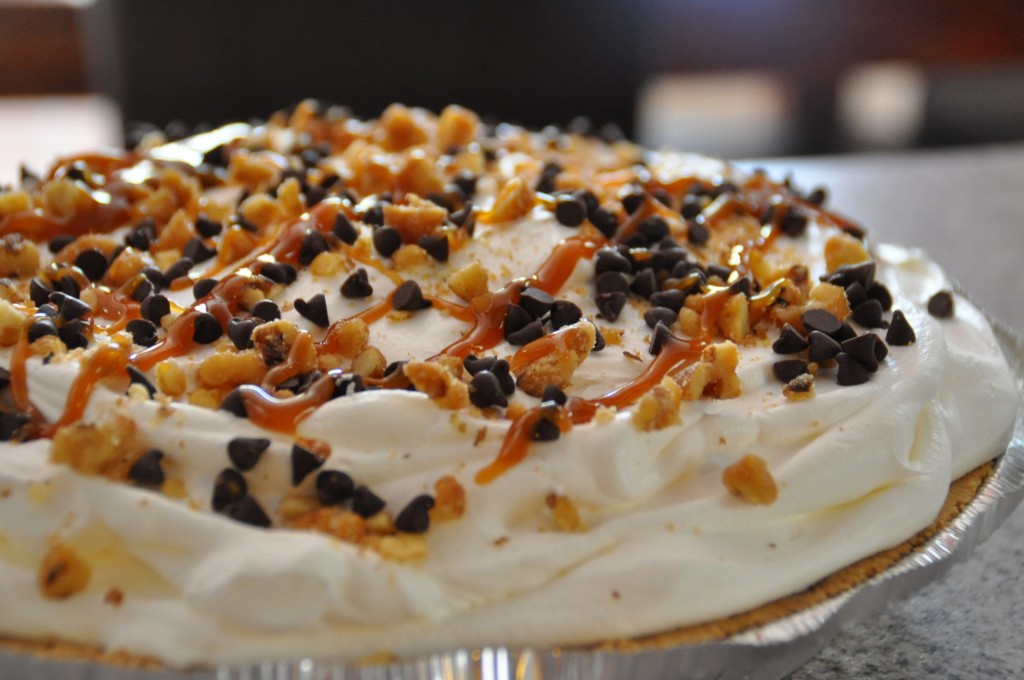 The pie is a stunner, if I do say so myself (even with my uneven drizzling).  I've got it on good authority that the pie taste wonderful too.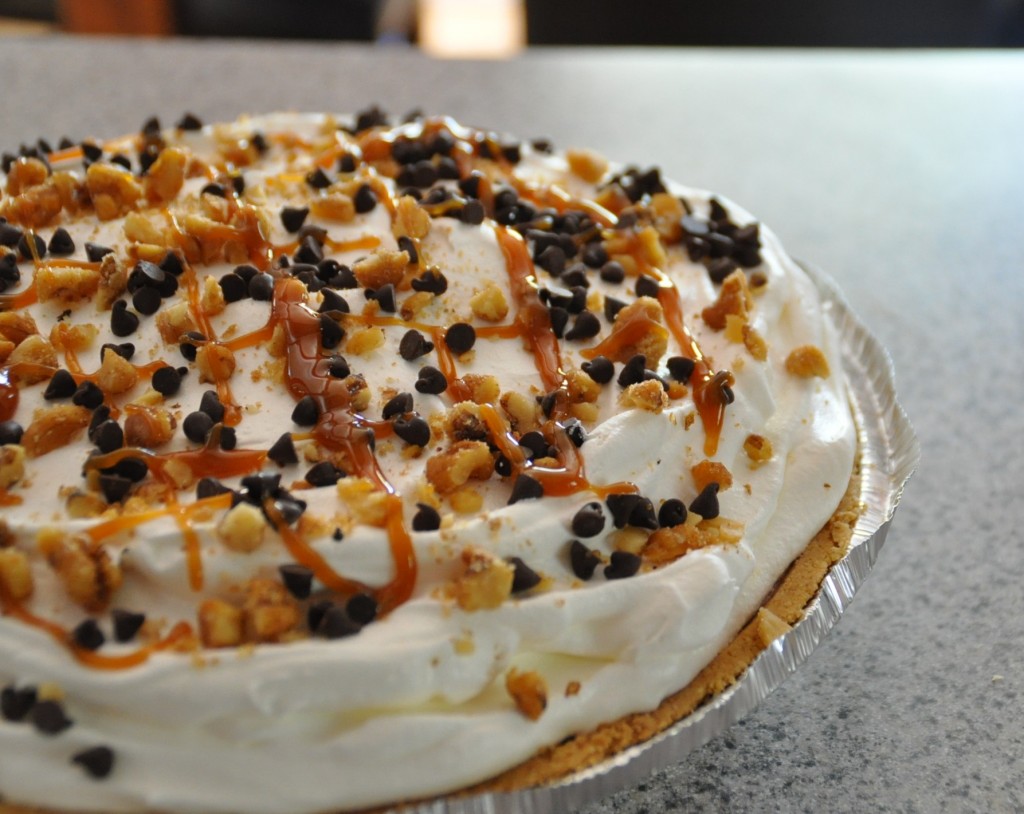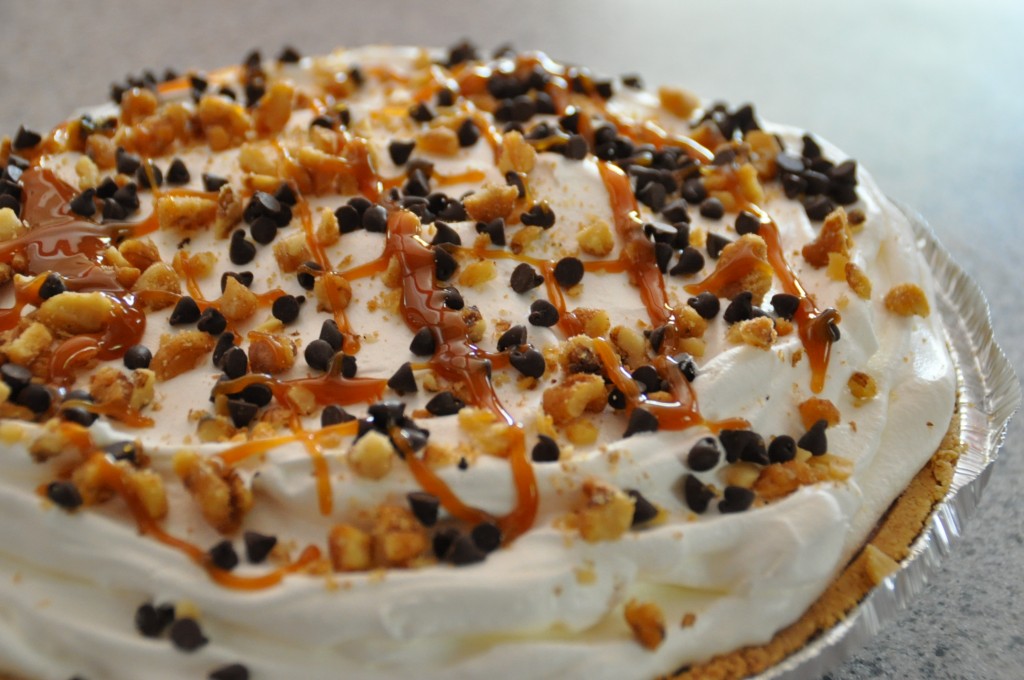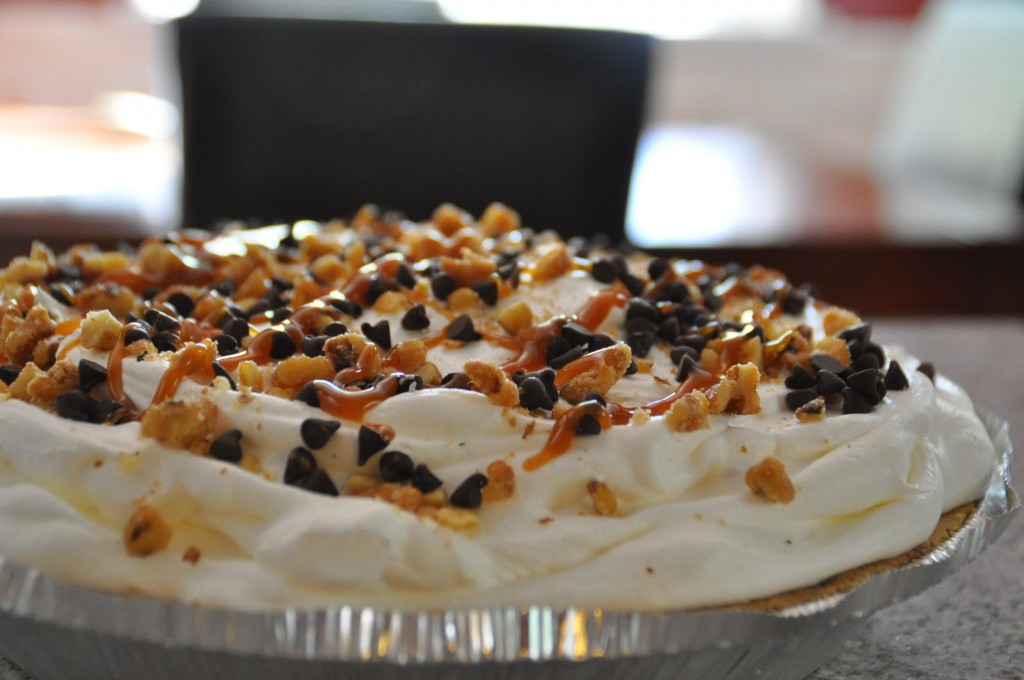 Dedicated to Gale Miller and the Sweet Life here on Earth and the Sweet Life afterwards.