As part of the Foodbuzz Tastemaker Program, I received coupons for free Fresh Express salad. I was so excited to get free salad, a side benefit of being a food blogger. I wasn't excited just because the salad was free, it's also my favorite brand (shameless plug), seriously, it is. Getting certain fresh greens in Montana is not usually possible, especially things like baby romaine and tango. My life would be a boring mix or romaine, iceberg and leaf lettuce.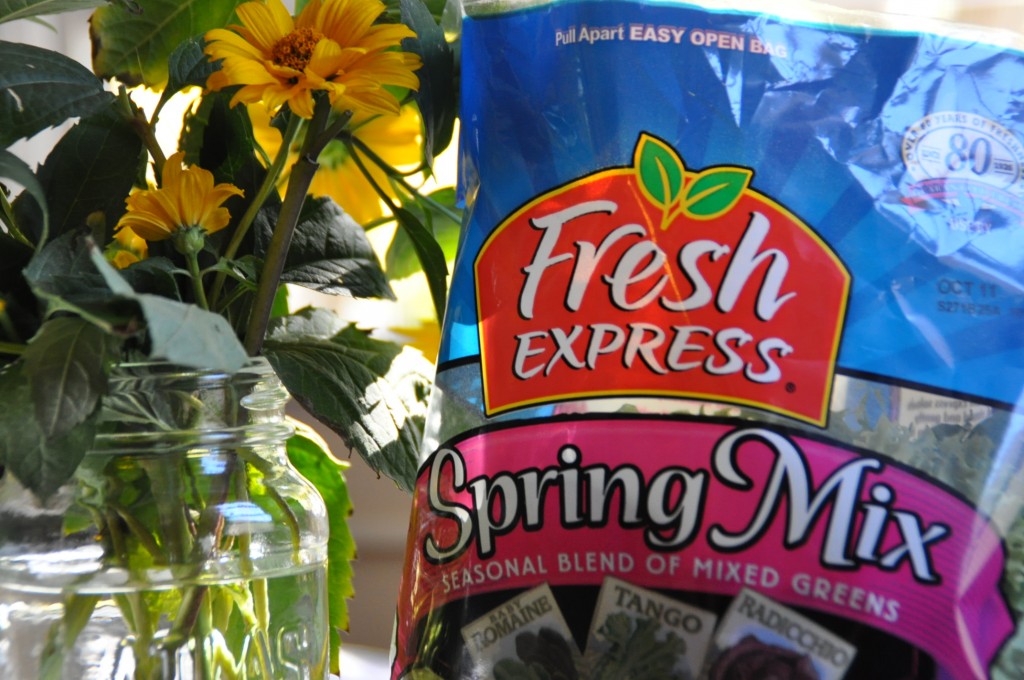 I really enjoy salad with fruit in it, but I don't like my salad to be cloyingly sweet. Although my favorite dressings are usually creamy (read Blue Cheese, creamy Caesar, etc) they are too heavy for fruit. Typically most salads with fruit have dressings that are too sweet or to vinegary. I'm so picky, I know. Actually I'm not, but I do know what I like and don't like. If you can't get what you like, than make it yourself. I surfed the net and cookbooks and didn't come up with anything that seemed to be what I was looking for. A little experimenting and I finally came up with a slightly sweet and somewhat creamy dressing. Using all fruit seedless preserves and balancing it with vinegars, Cabernet wine and mustard gave me exactly what I was looking for. I actually think that this is the best dressing I have ever made. Best non-white and creamy dressing, to be exact!
It was so simple to make. All the dressing ingredients went into my mini processor, a quick whiz and it was ready. I opened a bag of Fresh Express Spring Mix salad, sprinkled it with fresh raspberries and blackberries. Thinly sliced a shallot, crumbled some feta and a drizzle of the Raspberry Cabernet dressing, fresh ground pepper and heaven. Seriously, heaven!
It's a perfect starter. I served it with some prosecco with a blackberry and a raspberry dropped in the glass.
It was only me, myself and I. And it was only 1:00 pm but it was a Sunday, so it's okay.
It is okay isn't it?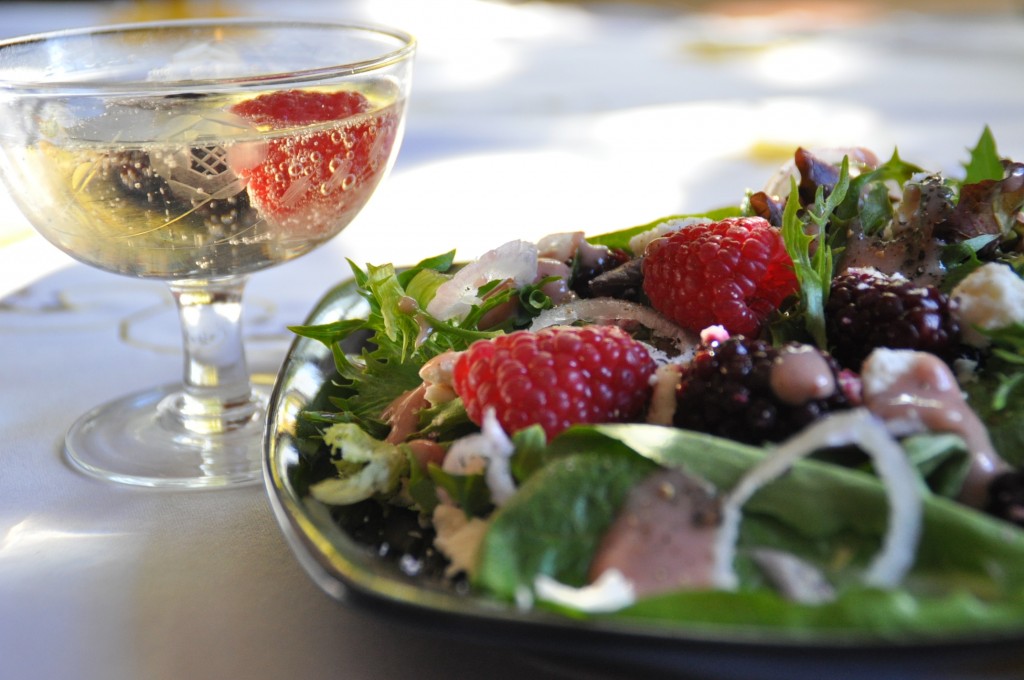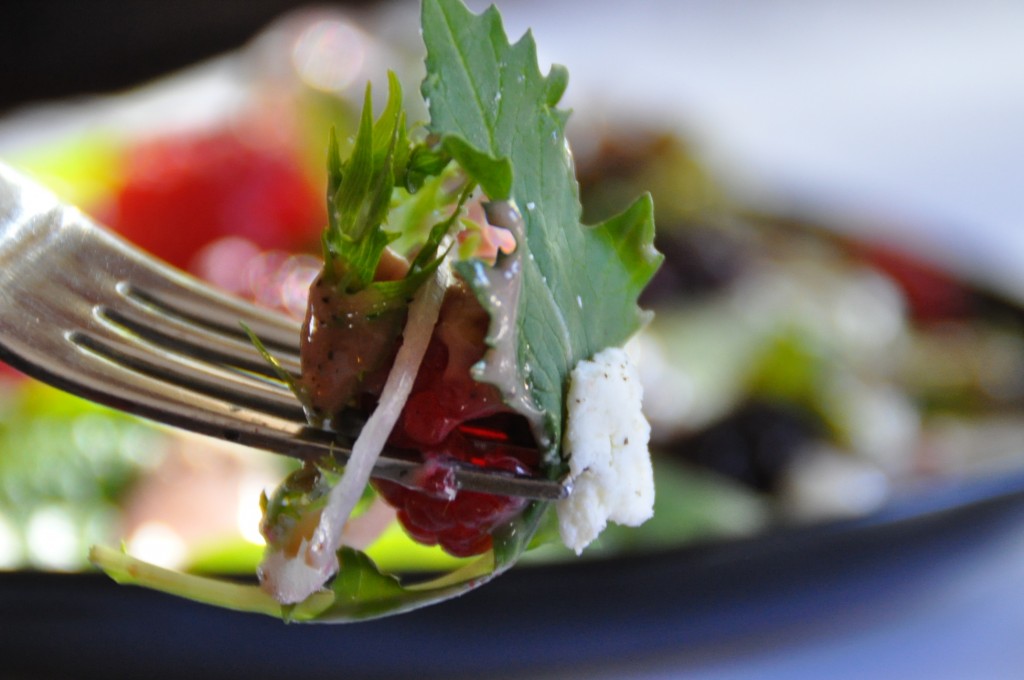 It was so wonderful. Did you know that prosecco isn't good left over? It's a well known fact. I may or may not have had it all before the end of the night….
Wouldn't want to be wasteful.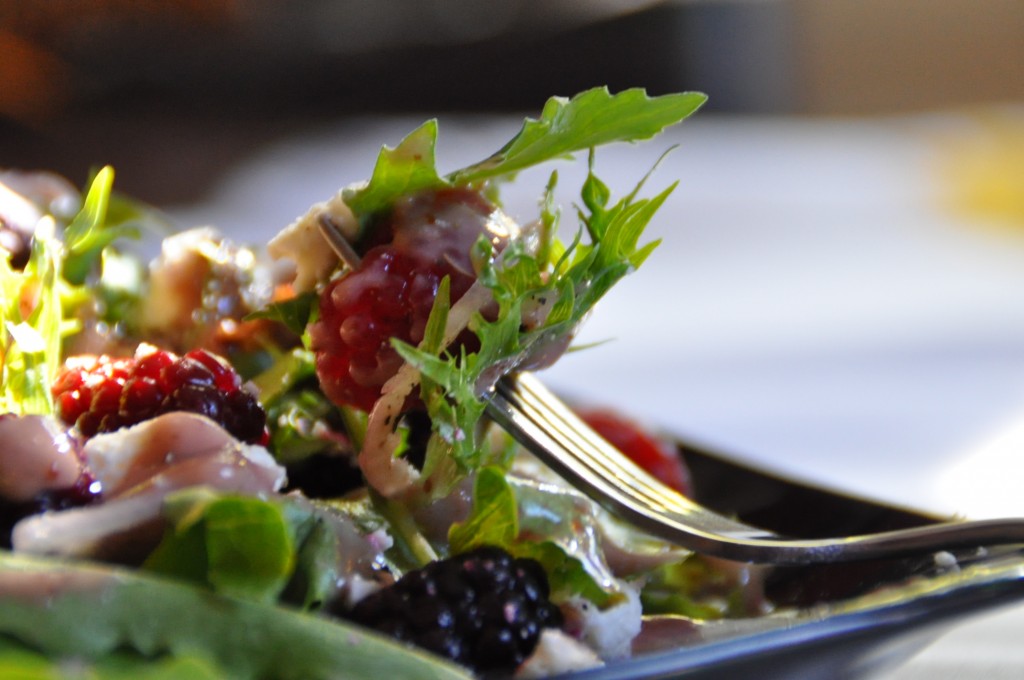 Berry Cabernet Salad with Feta
2016-06-14 11:46:04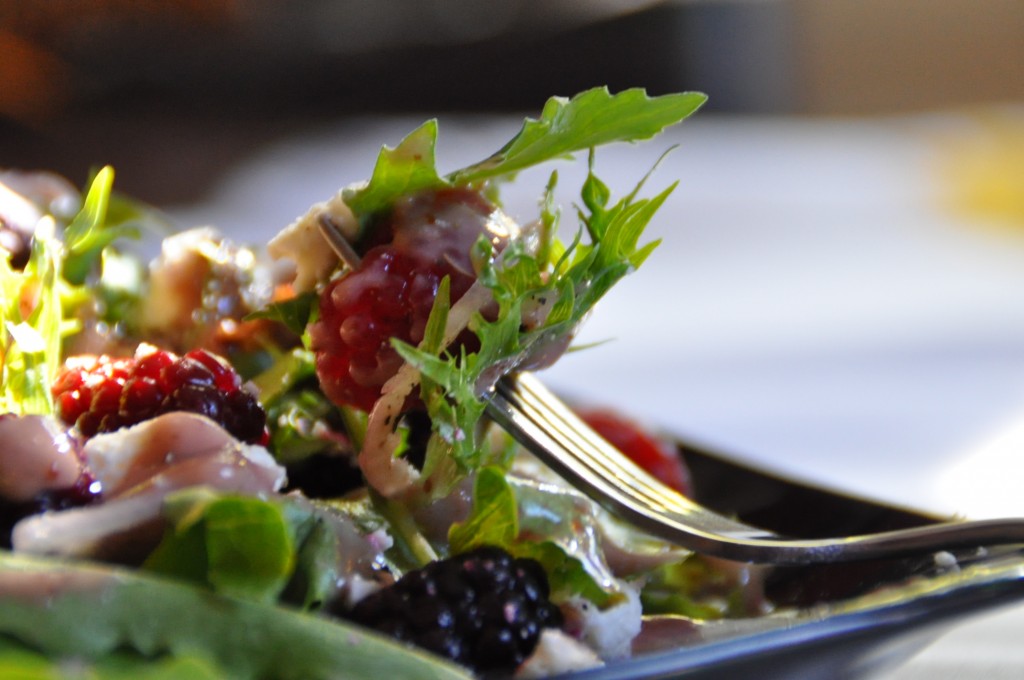 Ingredients
1/3 c seedless raspberry preserves
¼ c canola oil
4 tsp champagne vinegar
4 tsp cider vinegar
1 tbs Cabernet wine
1 tsp dijon mustard
½ tsp oregano
1 5oz Fresh Express Spring Mix salad
1 Shallot, sliced
6 oz raspberries
6 oz blackberries
4 oz feta cheese, crumbled
Fresh ground black pepper
Instructions
In a med bowl, blender or processor add the preserves, oil, vinegars, wine, mustard and oregano. Whisk or blend until all the ingredients are combined and the dressing is emulsified.
Plate your greens, top with raspberries, blackberries, sliced shallot and crumbled feta cheese.  Add fresh ground pepper to taste.
The Kitchen Witch http://www.thekitchenwitchblog.com/