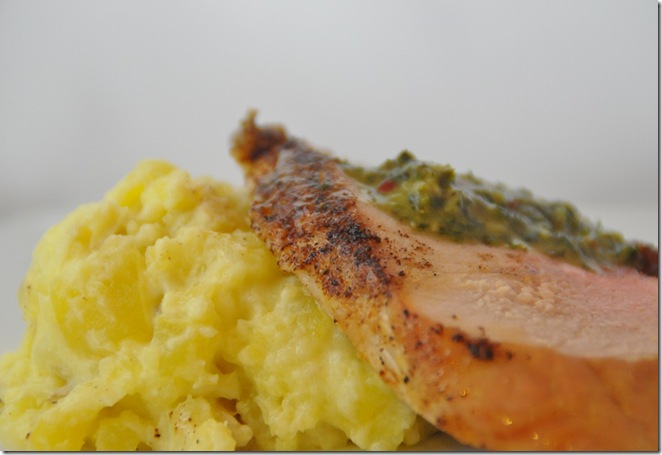 Every now and then you whip up something with out giving it a lot of thought. It always surprises me when it comes out better than expected.  I had scored this 4 lb pork sirloin roast (bone in) for $4.08 (hurray for catching good deals).  It' been in my freezer for awhile just waiting for me to have enough time to cook it.  I had no particular plan but I did have some parsley from my garden that I needed to use before it starts freezing here.  I just hate to waste (as noted by my waist).   A chimichurri sauce seemed like an excellent way to use it and I haven't made it in forever!  Chimichurri originates from Argentina and is traditionally  served over steak.  To help my pork carry the garlicky, vinegary and slightly spicy sauce, I made a mild chili rub which paired perfectly with the sauce.  I served it with Pepper Jack Mashed Potatoes (recipe for next post), a marriage made in heaven.
To understand how good this roast turned out, I will quote the Baby boy "Mom, next time I have friends over, you have to make this".  I thought I would get at least 3 meals from my roast, no dice.  It was so good that my boys couldn't stop picking at, even after my insistence that they would get it again the next night if they left it alone.  Evidently resistance was futile and we didn't have much leftover.  McGyver squeaked out a pork sandwich the next day and left us with so little that I had to incorporate the roast into something else to stretch it. 
The real reason why the roast was such a hit was the cooking method.  Cooking Pork sirloin roast with the bone in is not as simple as sticking a roast in the oven and forgetting about it.  In order to get it between 155° and 165° degrees the pork just dries out.  Dried pork is not tasty.  Something had to be done.  Since I am not cleaver enough to figure it out myself, I used the cooking method from Cook's Illustrated, and let me tell you, it made a $4 pork roast into a spectacular moist and tasty roast!
Let's start with the rub:
Smokey Chili Rub
2 tbsp. Kosher Salt
1 tsp. onion powder
1 tsp. garlic powder
1 tbsp. Chili powder
1/2 to 1 tsps. smoked paprika
Mix the dry ingredients.  Rub all over pork roast.  Marinate up to 24 hours.  If you are me, you don't plan that far ahead and marinate it as long as it takes the oven to get up to temp.
Roast
1 4-5 lb bone-in pork sirloin roast with rub
Meat thermometer
Preheat oven to 475°.  Place roast in a shallow roasting pan with a rack or on a cookie sheet with a cooling rack.  Place on middle rack in oven and cook for 35 minutes.  Remove the roast from the oven and let rest for 35 minutes.  Reduce oven temperature to 325°.  Return the roast to the oven and cook an additional 60 to 90 minutes, the temperature should be at least 145°.  Remove and rest for another 20 minutes, the temperature should reach at least 155°.  I like my pork a little on the pink side, if you prefer yours more done, please adjust times and temps as needed.
Note:  Place the thermometer in the thickest midway part of the meat without touching a bone for the most accurate reading.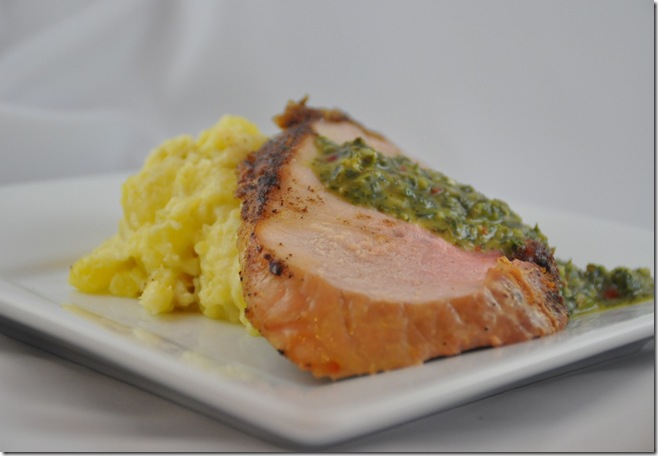 Chimichurri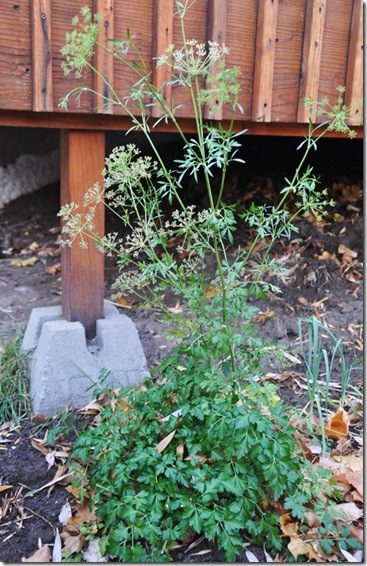 1/2 c chopped parsley (approximately a big handful)
4 garlic cloves, roughly chopped
3 tbsp. red wine vinegar
2 tbsp. fresh oregano leaves or 2 tsp dried
3/4 tsps. salt
1/2 tsps. crushed red pepper
1/4 cup olive oil
Place all ingredients into a food processor or blender and pulse until nicely blended.  If you aren't using a food processor or blender, finely chop the parsley and garlic.  Add the spices and mix well, then slowly whisk in the olive oil.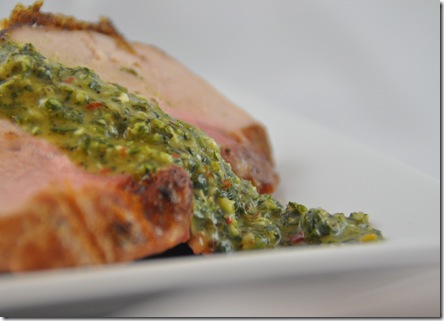 P.S.  It is the dark time of the year so many of my posts will not have the step by step instructions.  If you have any questions please feel free to leave me a comment or email me at thekitchenwitchblog@gmail.com.