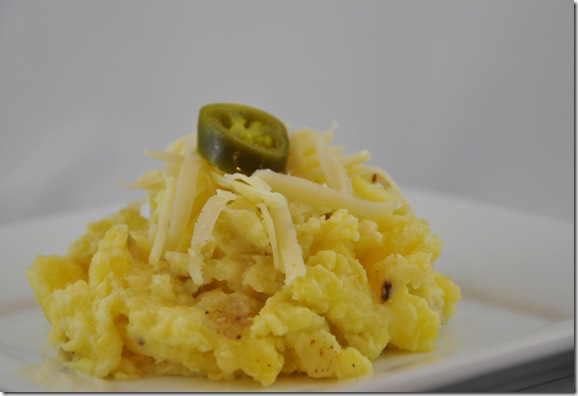 Like my Pork Roast with Chimichurri, my Pepper Jack Mashed potatoes were basically thrown together on a whim. They are so flavorful and stupidly simple to make. I used Yukon Gold potatoes because they have a nice buttery flavor and I am trying to be a bit healthier. I felt like I could reduce the butter and get away with using some fat free half and half and still get a lot of flavor and a nice texture also. Actually they were the only potatoes that I had, but it sounded like I put some thought into it…at least for a moment. I'm not sayin that these potatoes are healthy, I'm just sayin that I reduced the fat by using fat free half and half and using less butter. But I added shredded cheese, so it may be a wash? At least it's not as bad as adding cream, a stick of butter and cheese. What ended up with was some wonderfully flavorful mashed potatoes that didn't require any additional "dressing up" (extra butter, gravy, etc.).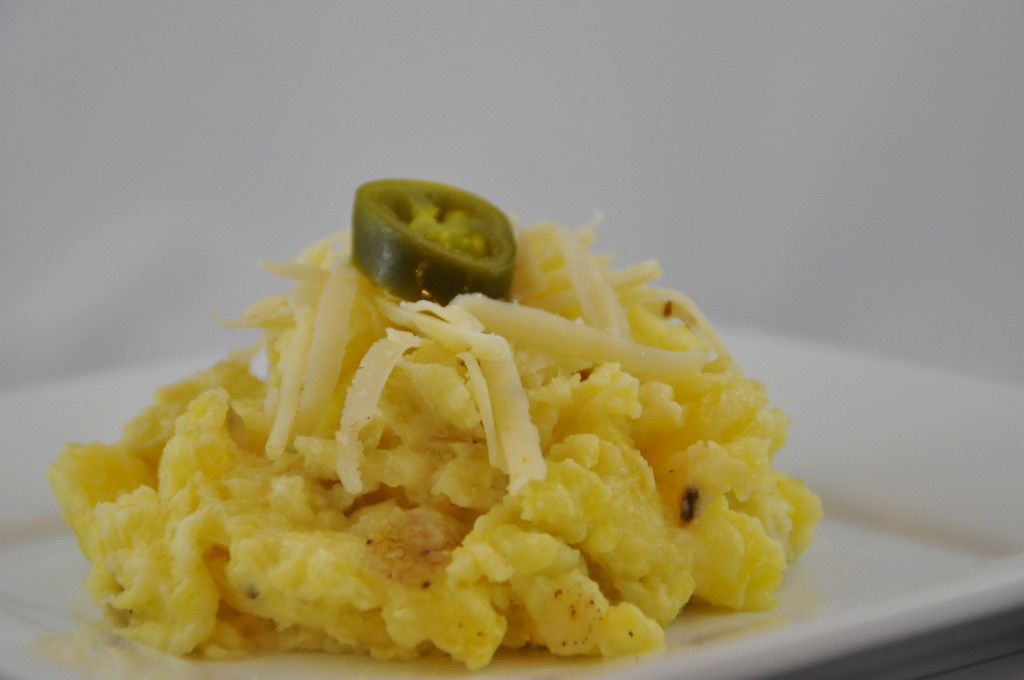 Pepper Jack Mashed Potatoes
2016-06-14 10:48:59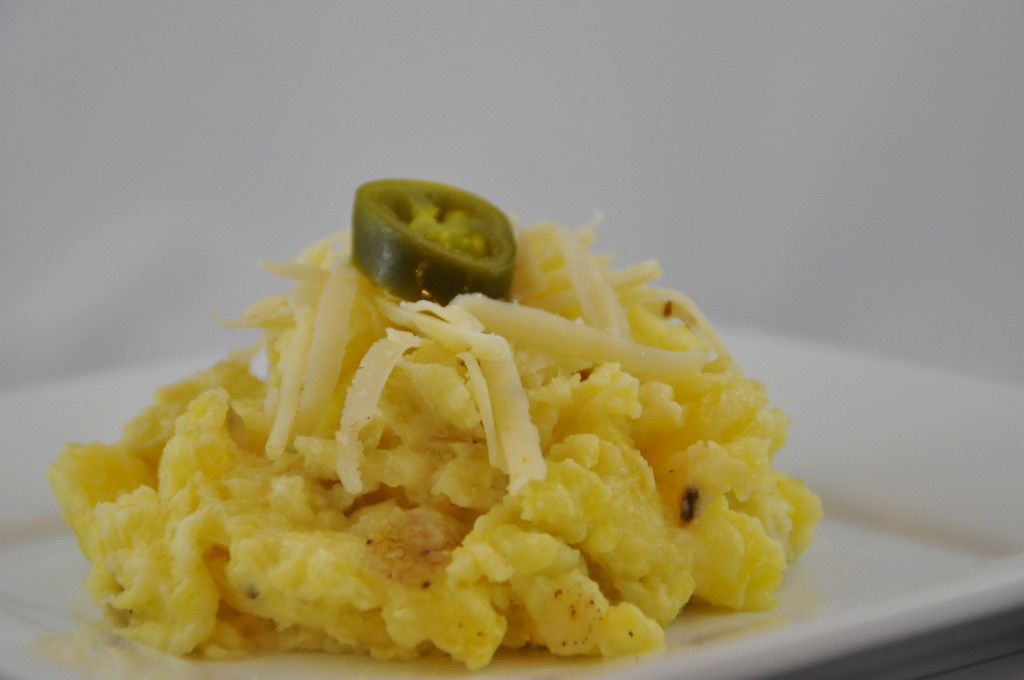 Ingredients
4 large Yukon Gold potatoes, peeled (if desired) and cut into equal sized cubes
1/4 cup unsalted butter
1/4 to 1/3 cup Fat Free half and half (FF evaporated milk is a good substitute)
1 cup shredded Pepper Jack Cheese
Salt to taste
Extra shredded cheese and sliced pickled or fresh jalapeno for garnish if desired
Instructions
Place cubed potatoes in a large pot and fill with water until the potatoes are just covered, salt the water if desired.  Over high heat, bring to a boil, once the water starts to boil turn the heat down to medium high and continue to cook until the potatoes are fork tender.  Drain well and return to the pot, add the butter and 1/4 of the half and half.  Mash the potatoes using a hand masher or whichever method you prefer.  (I always prefer the one that requires the least amount of clean-up which is the main reason why I love lumpy rustic mashed potatoes.)  You'll want your potato mixture to be slightly "loose" or "milky", as in not super thick. Add more half and half if necessary.  Once you add the cheese and the cheese melts your potatoes will thicken up nicely.  If they aren't thick enough for you, no worries, put them over low heat and cook them a bit longer until some of the moisture is cooked out.  Add salt to taste.
The Kitchen Witch http://www.thekitchenwitchblog.com/

I'm thinking the leftovers would make a great potato pancake, or perhaps rolled up in a tortilla with some spicy pork roast (if you have any leftover) or spicy shredded beef?

It feels so strange to me to post recipes without the step by step photos….I'm sure I'll get used to it, maybe I'll like it better, it certainly is less time consuming. I guess it will just take some getting used to. Because I feel guilty about posting only 2 photos and because I find this somewhat humorous I'd like to share with you:
A Boy and a Knife
Remember the Ginsu Knife? Can you believe they still sell it? It's still an "As Seen On TV" product, maybe it's a good thing? At the recent Foodbuzz Festival we received a swag bag full of goodies. One of the items was a cheap Chinese version of the Ginsu knife. Really? There is a cheap version of the Ginsu knife?! The baby boy riffled through my goodie bag and his eyes lit up when he saw a KNIFE. He couldn't wait to try it, will it really live up to it's advertisement?
Fortunately for my baby boy, I had a very solid cardboard tube (not the wimpy Christmas wrapping paper kind), this tube was solid. I wanted it cut into two pieces so I could use it to wrap some fabric around and prevent it from wrinkling. The baby boy set to work on it immediately on my dining room table. I wasn't having any of that, I mean what if it really worked and he cut through it like butter and than sliced my table in half? Not likely, I know, but I relegated him to the garage to do his experimentation.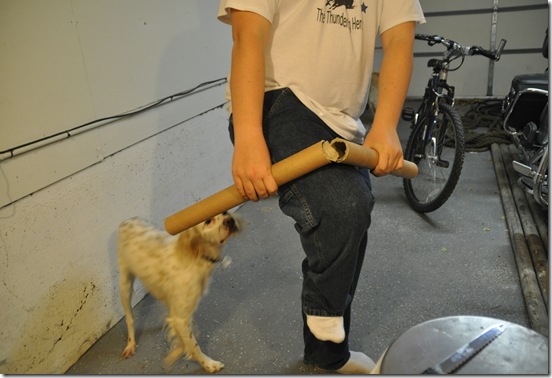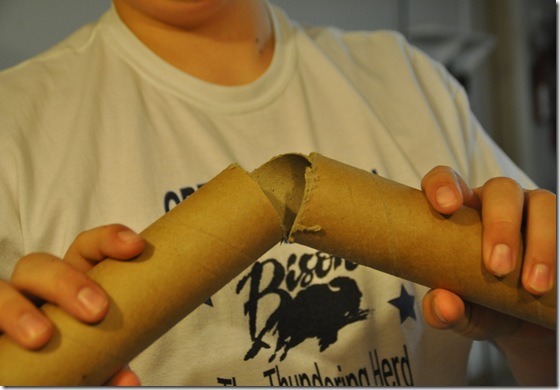 As you can see, the baby boy had to put some effort into it…so much like cutting like it was butter. As you can see, he got somewhat frustrated, impatient, whatever, and decided to break it with his leg (while Summer dog watched). Our cheap Ginsu didn't quite cut through the cardboard, either from the lack of the boys patience, strength or the fact that the knife that isn't quite what it is advertised to be.
I am happy to report that it can cut through an aluminum can (only if you put the spear like end through it first). It will still slice bread or a tomato, but hello! It's a serrated blade. Beyond that, not really all that it's advertised to be. So save your $9.95 (the price of the original) or however much the "cheap" version cost.