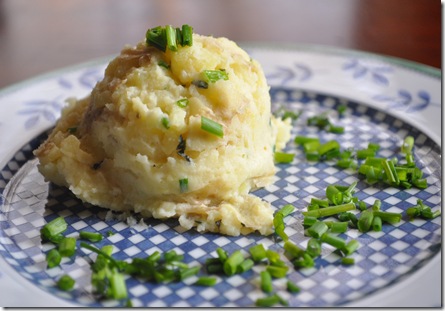 I love mashed potatoes. I am always coming up with different variations. It's so easy to mash some potatoes up and experiment. I love mashed potatoes so much that this is actually my second post within a week about them. Part of it may be the upcoming holiday. My Thanksgiving must always have a turkey, gravy, stuffing, green bean casserole, cranberry sauce, pie, extra large black olives that I can place on each of my fingers and eat on by one and mashed potatoes.
A very traditional menu to be certain. Sounds traditional but I change up the flavors every year (except the green bean casserole…not fond of a revolution in my house on a holiday). I had some leftover buttermilk, like the stem of many of my creations, that needed to used or tossed soon. Knowing I was using the buttermilk, the rest of my inspiration came from the American go to salad topping: Ranch dressing. It's creamy and herby; sounds like a good match for creamy mashed potatoes. Bonus, buttermilk is lower in fat than cream, half and half, and even regular milk.
Start by dicing the Yukon Gold potatoes. A 1 inch dice is what I usually do. Funny dice are usually about 1 inch…coincidence?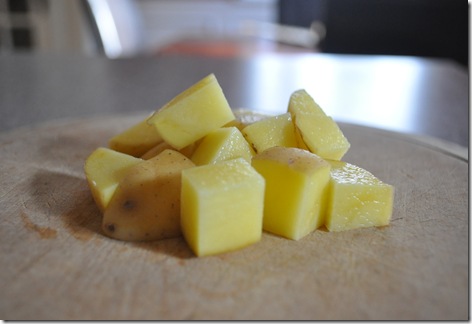 Cover the potatoes with water and add salt.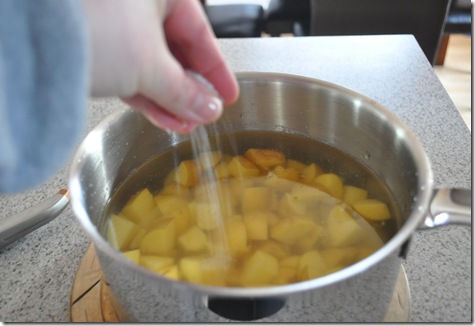 Bring the pot to a boil over high heat. Once it starts to boil turn it down to medium high and cook until the potatoes are 'fork tender'. It took mine about 12 minutes.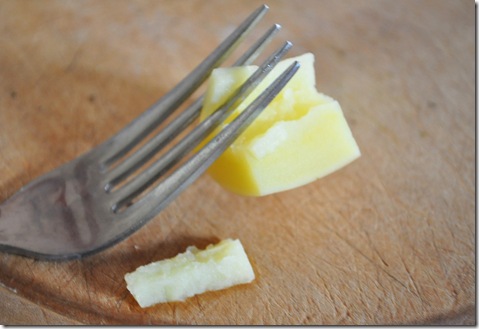 Drain the potatoes and return them to the pot.
Add the butter and mash. I'm quite lazy so my potatoes are always "rustic" (read: lumpy)
Mix in some garlic powder, white pepper and salt to taste. I like to use garlic powder because it distributes evenly through my potatoes without ever biting into a garlic piece. I could mash the garlic with some salt, but we know…I'm lazy!
Warm the buttermilk in the microwave for 30 seconds and add to the potatoes. Start with 1/4 c and add more to get the creamy consistency you prefer.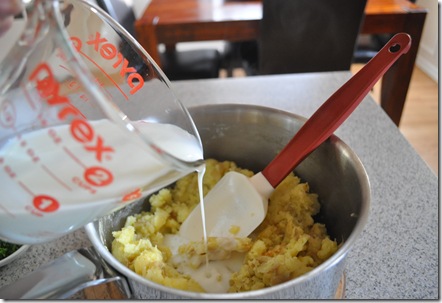 Almost there….Add fresh chives (do not substitute yucky dried chives) and fresh chopped thyme (may substitute dry-thyme dries wonderfully).
If you are looking for a new flavor for your mashed potatoes this holiday, something different but not too far off the traditional, the Herbed Mashed Potatoes will be a big hit.
Pinky swear!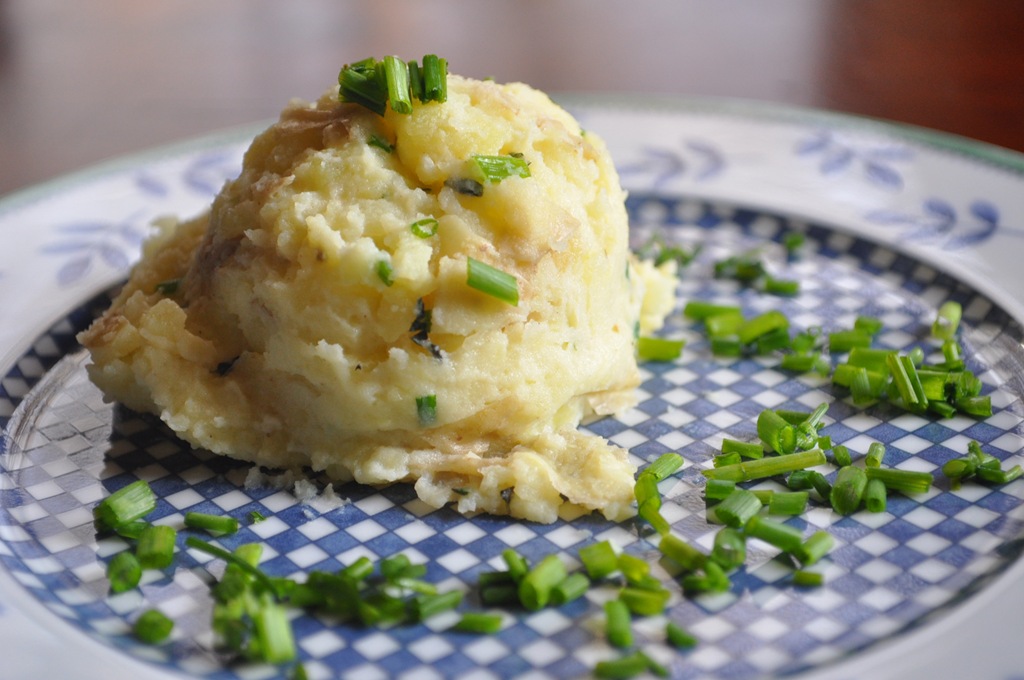 Buttermilk Herbed Mashed Potatoes
2016-06-14 09:44:31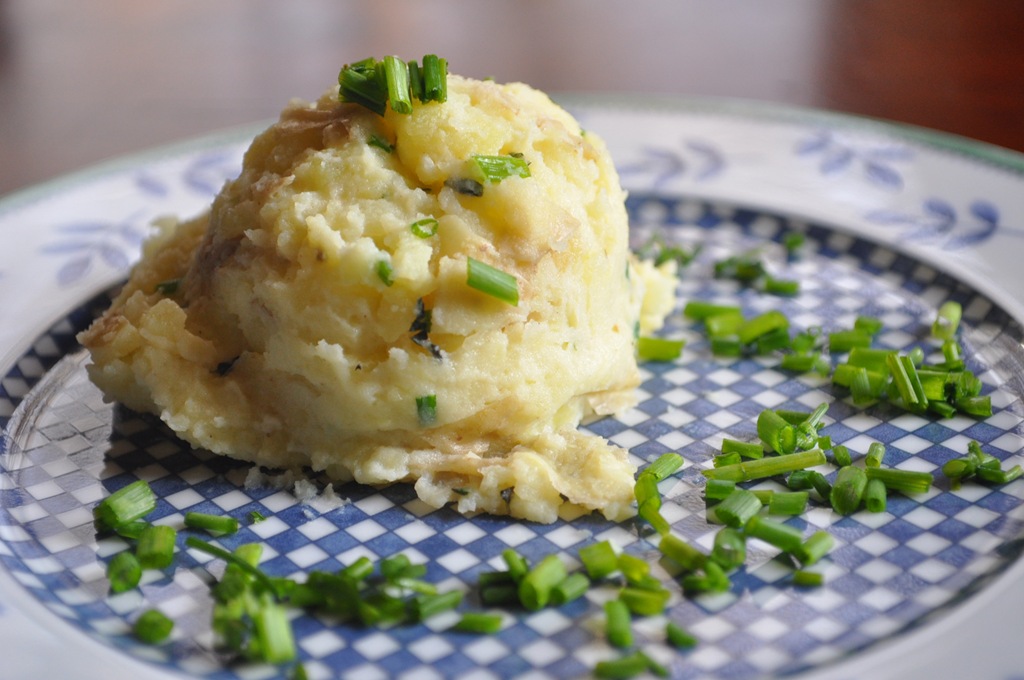 Ingredients
1 to 1/2 lbs. Yukon Gold potatoes, diced to 1" cubes
1/4 c butter
1/2 tsp. garlic powder
1/4 tsp. white pepper
1 1/2 tsp. salt (divided)
1/4 to 1/3 c buttermilk
1/2 tbsp. chives, chopped
1/2 tbsp. fresh thyme, minced
Instructions
Place cubed potatoes in a large pot, cover with water and add 1 tsp. of salt.  Bring to a boil over high heat, reduce heat to medium high and continue cooking until the potatoes are fork tender, about 12 minutes.  Drain the potatoes and return to the pot.  Add butter and mash into the potatoes, mash the potatoes until they are well broken down. Stir in garlic powder, white pepper and 1/2 tsp salt.  Warm the buttermilk in the microwave for 30 seconds.  Add to the potatoes along with the chopped chives and fresh thyme.  Blend completely and serve immediately.
The Kitchen Witch http://www.thekitchenwitchblog.com/