Pies are as important to a Thanksgiving meal as the turkey is. Even for me, the non-baker/dessert maker. Even I feel compelled to make not just one, but at least three pies. The holy trinity of pies is pumpkin, apple and pecan. My usual repertoire is pumpkin, apple and a cran-cherry because I don't much care for pecan pie. I also don't make my own crust, thank heavens for Pillsbury rolled crust.
For those of you who have been following my blog this month, I've made a commitment to eating healthier. Talk about a tough time to make that commitment. Cutting out desserts is an easy way (for me) to be healthier. Don't ask me to give up my wine, cheese, butter or bacon. Dessert is just not that big of deal, except during the holidays. I'm a traditionalist at heart during this time of year. I cannot not serve pie at Thanksgiving and that's that. Part of healthier eating is reducing fat, sugars and overall calorie intake. I pondered on this for awhile. No problem for the pumpkin pie, I'll use fat free evaporated milk, maybe just use a single pie crust on my cran-cherry pie and skip the crumble and caramel toppling on my apple pie. That still leaves me with three pies for three people and leftovers, a lot of leftovers.
Then the light bulb went on. Put your sunglasses on because this idea is brilliant! Combine the holy trinity of pies. I know I'm not the first one to make a pumpple pie, there is even a pumpple cake out there (at 1800 calories per slice). To take my pie to the holy trinity level, I made a gingersnap crust and topped it with a pecan crumble. All the Thanksgiving pie flavors rolled into one. I'm sure it's still not healthy, (afterall it uses a whole stick of butter) but only one pie equals not too much for the three of us. Bonus: more room in my refrigerator and less time in the kitchen.
Start out by making the gingersnap crust. You'll need 1/2 lbs. of packaged gingersnap cookies, butter and sugar. You'll also need a deep dish pie pan and a food processor.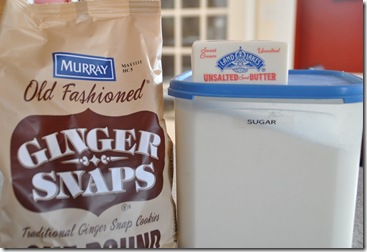 Place the cookies in a food processor and whiz until you have nothing but fine crumbs. This should yield about 1 1/2 cups of crumbs.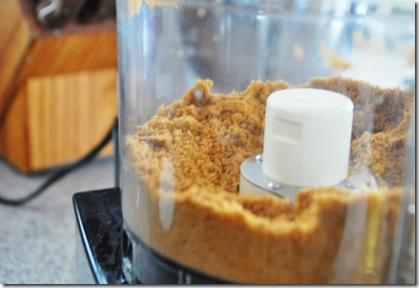 Add the sugar and mix until well blended.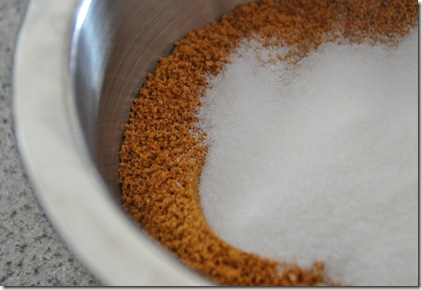 Melt the butter and add to the Gingersnap mixture. Using a fork mix well.
Pour into a deep dish pie pan and press into the pan, working the crumbs up the side. Bake in a 375° oven for 8 to 10 minutes. Remove and let cool.
Meanwhile, let's get the fillings ready. For the apple portion you'll need, doh, apples, flour, sugar, lemon juice and cinnamon.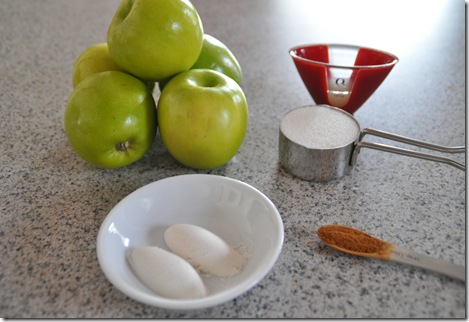 Peel, core and slice the apples. You should end up with approximately 2 cups.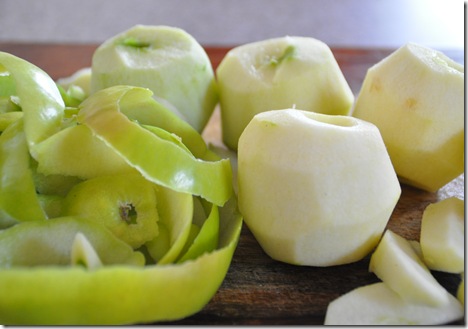 Mix all the apple filling ingredients in a medium bowl and spread evenly into the prepared pie crust. Apple pie, check!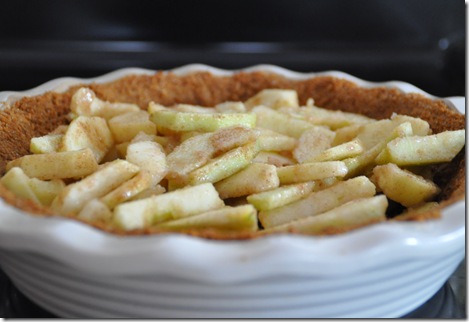 For the pumkin portion, you'll need 1 can prepared pumkin (1 1/2 cups), 2 eggs beaten or 1/2 cup egg substitute, 1 cup fat free evaporated milk, 1/2 cup sugar, 1/2 tbsp. pumkin pie spice and 1/4 tsp salt.
Mix until completely blended and smooth. Pour over apple filling. Pop the pie in the oven at 375° for 30 minutes. Pumpkin pie, check!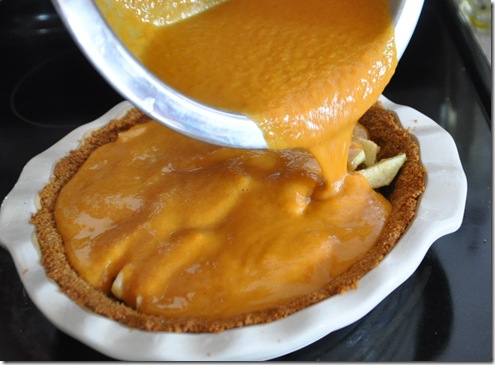 While the pie is cooking, prepare the crumb topping. You'll need 1/3 cup chopped pecans, 1/2 cup flour, 5 tbsp. sugar, and the last of your stick of butter (4 tbsp.) melted.
I love it when things work out like that…no little bits to hang onto until some unforeseen time.
Mix all the ingredients with a fork. It will be nice and crumbly.
Insert brain fart here.
No picture of the mixture, use your imagination if you have one.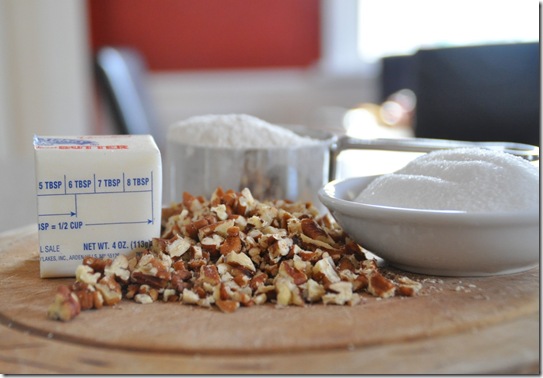 After 30 minutes, take the pumpple pie out of the oven and spread the pecan topping evenly across the top. Bake for another 20 minutes.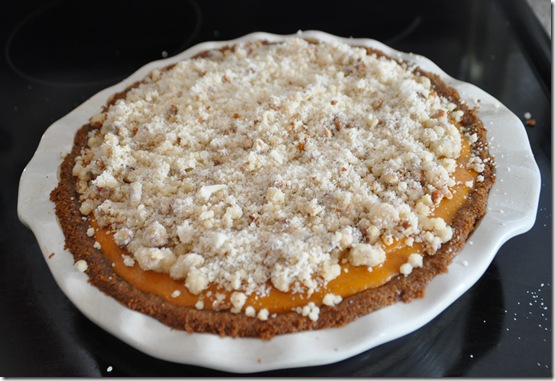 Pecan pie (sort of), check!
Oh my, the holy trinity of pies all in one, could it get better than that. Of course it could…top with whipped cream or some vanilla ice cream, or both…holy quatro/quinto-nity…even the pope himself would submit to gluttony.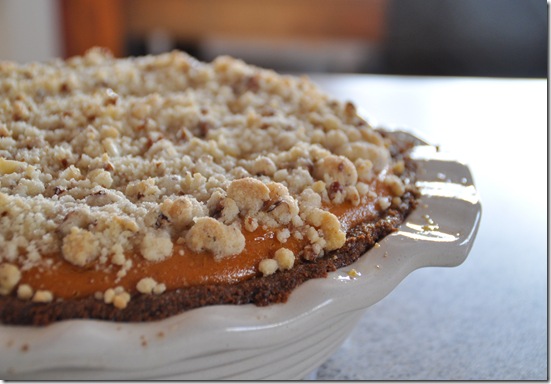 Maybe next year I'll make a sweet potato, mashed potato pie in a cornbread or stuffing crust, drizzled with gravy????? I think I'm on to something.
I had to add a note before I posted this. I took the experment to my guinea pigs at work (willing ones I assure you), and they had a few things to say.
"Oh my God, this is so good, you can taste each pie"
"I don't even like pie but this is amazing"
"It's like the Willy Wonka gumballs, each bite is like a different pie"
"This is so fun to eat"
"When are you posting the recipe, I have to make it"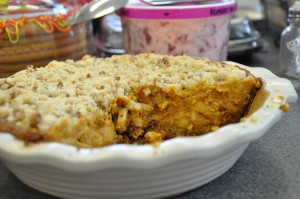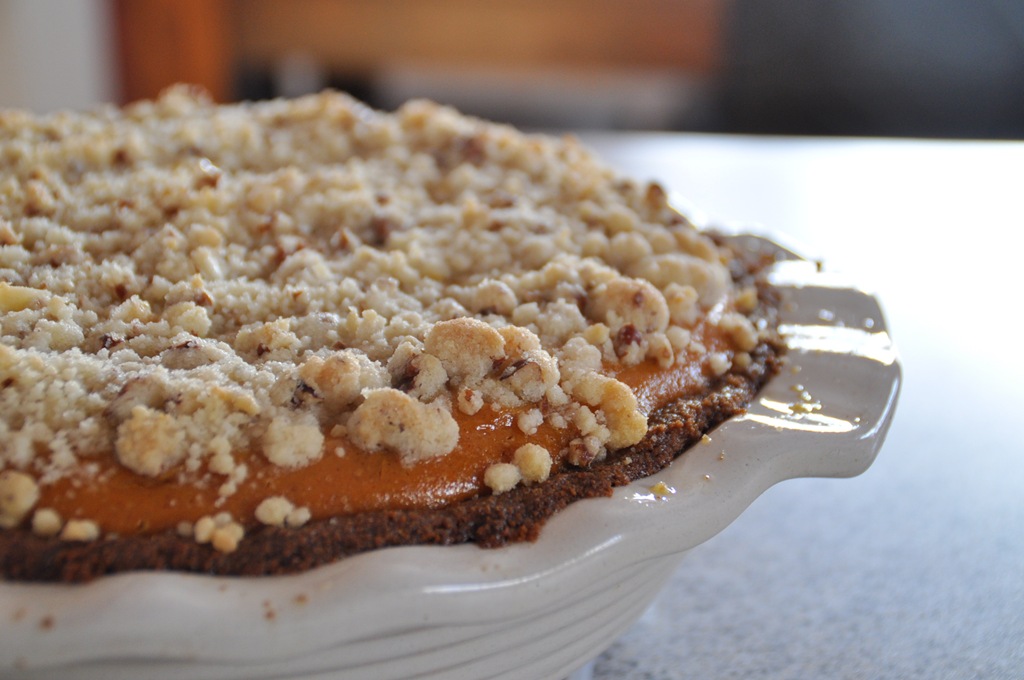 The Holy Trinity Pumpple Pie
2016-06-14 09:40:57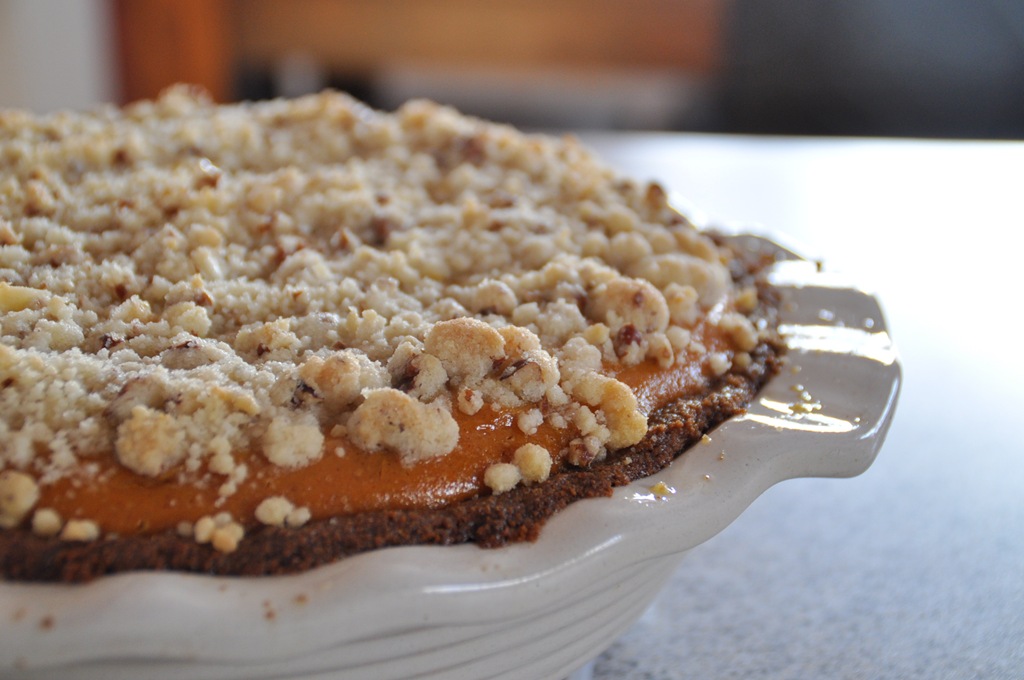 Crust
1 1/2 cups gingersnap cookie crumbs (approximately 1/2 lb. of purchased cookies)
1/4 cup sugar
1/3 cup melted butter
Apple pie filling
2 cups apples (such as granny smith), peeled, cored and sliced
1 tsp. lemon juice
1/4 cup sugar
2 tsp. flour
1/4 tsp cinnamon
Pumpkin Pie filling
1 15 oz can pumpkin, or 1 1/2 cups fresh
1 cup fat free evaporated milk
1/2 cup sugar
1/2 tbsp. pumpkin pie spice
1/4 tsp. salt
Pecan crumb topping
1/3 cup chopped pecans
1/2 cup flour
5 tbsp. sugar
4 tbsp. butter, melted
Instructions
Preheat oven to 375°. Mix the crust ingredients until well blended.  Press into a deep dish pie pan.  Bake in the oven for 8 to 10 minutes.  Let cool.  Meanwhile mix the sliced apples, lemon jice, sugar, flour and cinnamon in a large bowl.  Spread evenly into the prepared crust.  For the pumkin filling, mix the canned pumkin, evaporated milk, sugar, pumkin pie spice and salt until well blended and smooth.  Pour over apple pie filling.  Bake in a 375° oven for 30 minutes.  While the pie is cooking prepare the pecan crumb topping.  Mix the chopped pecans, flour, sugar and melted butter with a fork until well blended, the mixture will be crumbly.   Spread the top of the pie evenly with the pecan crumble mixture and bake for another 20 minutes.  Let cool before serving.
The Kitchen Witch http://www.thekitchenwitchblog.com/