This week has started off very busy. It's been all about the Baby boy. I work 50+ hours a week and I barely have time to make dinner some nights. It really depends on my schedule. When I work the "open" shift I get home early so I can plan a nice meal, when I close I don't get home until late at night, but I have the morning to make a casserole or crockpot meal for the guys. Then I work a "mid" shift. This is my most challenging shift. It gives me enough time to relax and have a cuppa before work, but I get home when it's dark, and I only have a couple of hours before bedtime, which means that I want uncomplicated meals.
That being said, I work the mid-shift this week and I had a couple of band concerts to go to. The Baby boy loves band! He participates in any band he can, that translates to going to not one but two, 2 to 2 1/2 hour concerts in a row (I just wrote "2" 4 times in a row..two, 2, to and 2…weird…just sayin). No problem for the beginning of the week. I planned ahead and made a big batch of enchiladas on Sunday and it got us through Monday and Tuesday.
Then tonight, the Baby boy says "Mom, remember that SCUBA safety meeting that was scheduled in November but had to be rescheduled"
I got a sinking feeling…"Uh, yeah, the note is still posted on the fridge"
"It was rescheduled for tonight" he says.
"What time tonight?" I'm hoping it's like 7:30 pm, you know a couple hours later.
"Like at 6:30" he says like it's no big deal.
"6:30!" That left me 45 minutes before I had to go brave the icy roads and sit and listen to some SCUBA guy tell me all the scary things that the Baby boy would encounter diving in the school swimming pool. Of course he doesn't know that my dad owns a Scuba shop, so I already know what I need to know. But I understand that I have to go or the Baby boy doesn't get to play.
A quickie dinner it had to be. Fortunately I had just the thing.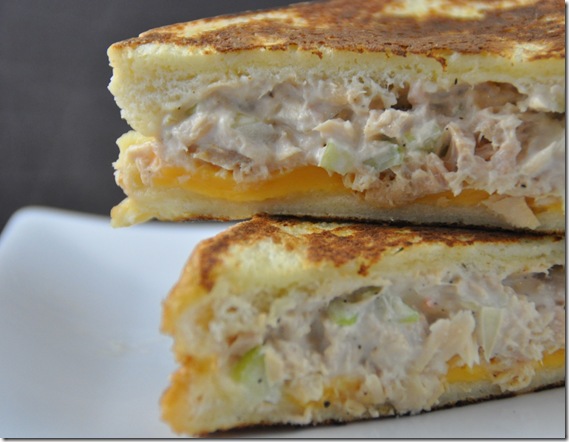 Confession time. Last July I visited my in-Laws in Westport, we stopped at Merino's Seafood Outlet. Where I got all dreamy eyed and remembered the days when seafood was just a few steps away. Now there is a cow pie just a few steps away. Strangely enough they both stink. I really wanted to pack up some fresh seafood and drive it back to Montana, but it really wasn't practical.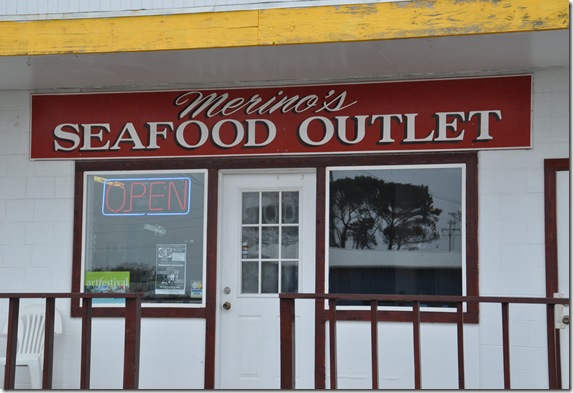 So I admired what else they had to offer. I ended up purchasing some of their Bloody Mary mix and they gave me one of their clean crab tins (this one they use to hold their gloves).
I also purchased a canned six pack of wild caught albacore tuna.
It's the best canned tuna ever. So good in fact that I still had 4 of the six cans left. Say what? You now how you love something so much that you don't want it to go away? That's where I was at. I had 4 cans of the best tuna and I was acting like I would never be able to get more. I got over that, I needed a quick dinner and my tuna was going to go to a good cause..
Enter tuna salad sandwich. Only I wanted to do more than just a regular tuna sandwich. Tuna melt; I haven't had one in decades, perfect quick warm weekday meal. Only I wanted to do more than just a grilled tuna and cheese sandwich. What if I made it the ultimate tuna melt by using Texas Toast bread and dipping it in a egg batter Monte Cristo style?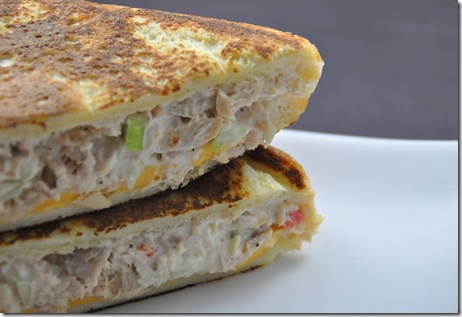 What I ended up with, besides that little piece of celery in the picture that seems so out of place, was a crispy outside and a creamy inside with little burst of crunch (see the 'out of place' celery pictures). I honestly have to say that this is the best tuna melt I've ever had in my life. Maybe if was the quality of tuna? Maybe it was that thick sliced bread dipped into the egg batter just long enough to give it a custardy layer and a crunchy outside. Or maybe, it was just the right combination of all the ingredients that made me feel like I was getting something decadent versus just a tuna salad sandwich. What ever it was, doesn't matter, it was seriously, no the ultimate tuna melt!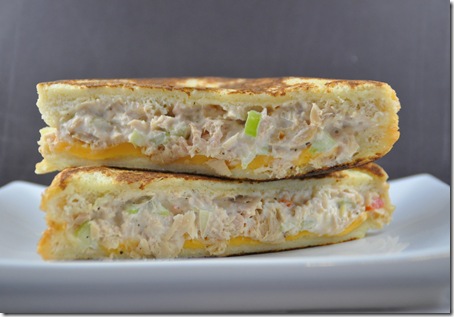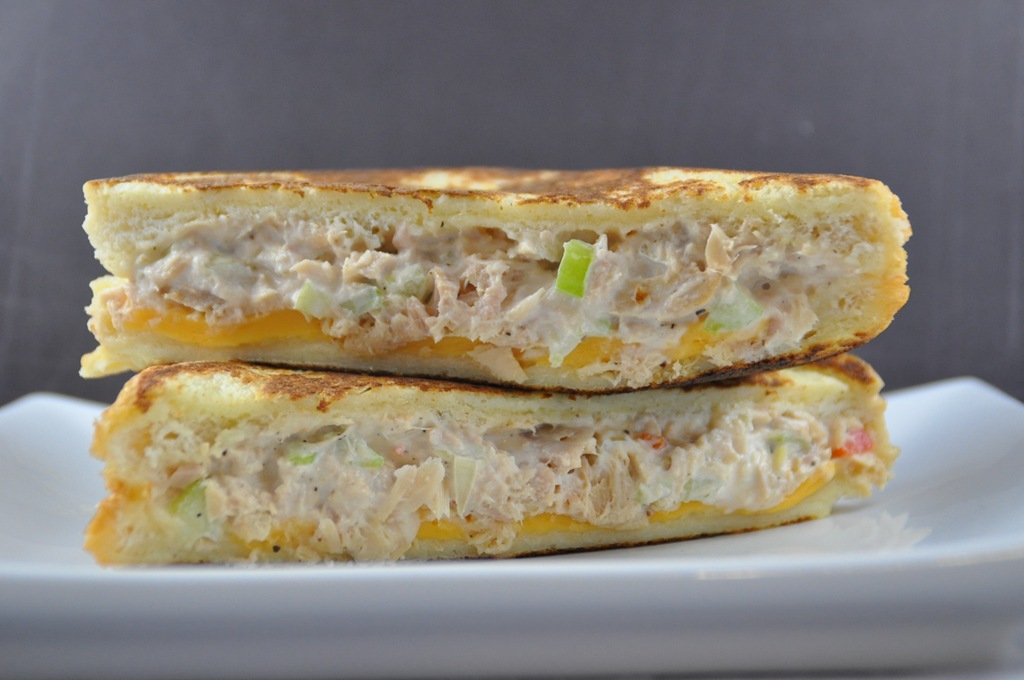 The Ultimate Tuna Melt
2016-06-14 09:26:01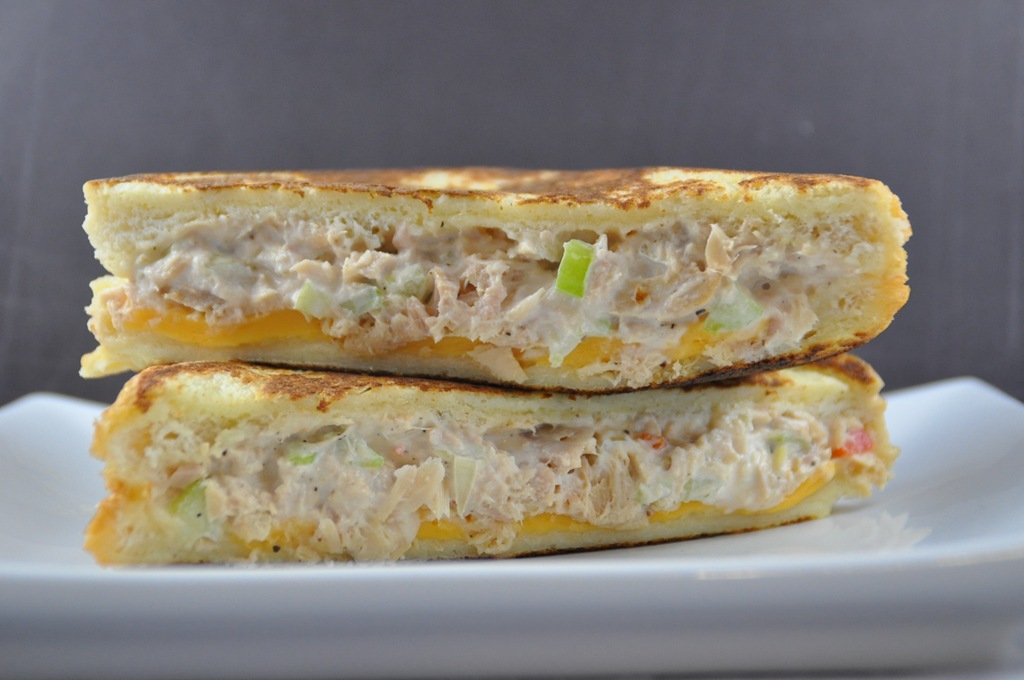 Ingredients
12 slices Texas Toast (extra thick sliced bread)
2 (6 oz.) cans of tuna
1/2 cup mayonnaise
1 rib celery, finely chopped
2 tbsp. onion, finely chopped
2 tbsp. red pepper, finely chopped
salt and pepper to taste
6 slices American cheese
3 eggs
1/3 cup milk
Instructions
Pre-heat griddle or pan over medium heat.  Mix the tuna, mayonnaise, celery, onion and red pepper.  Add salt and pepper to taste.  Spread tuna on a slice of bread, top with a slice of American Cheese and top with another slice of bread.  Repeat until 6 sandwiches are made.
Beat the egg and milk together.  Dip each side of the sandwich in the egg batter, dip for about 10 to 15 seconds but not to long.  Let the excess drip off.  Grill each side until they are a nice golden brown.  Serve hot.
The Kitchen Witch http://www.thekitchenwitchblog.com/