Over a month ago, when I was teaching my California Roll class, Mark had confessed to me that he didn't know how to make chili. I told him perfect, that I had planned on posting my "no" recipe chili that very week. Me and my big mouth, I should never give a date for anything. Obviously it didn't happen, but I do keep my word, even if it's late.
<p$1$2$3$4$5$6>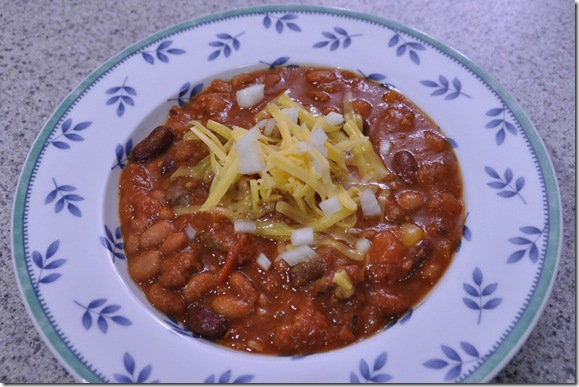 <p$1$2$3$4$5$6>
I can't say this is a recipe per say. More of a guideline. Chili lovers have so many different tastes, from mild to 5 alarm, different types of meats or beans. Frankly chili is a very individual dish.
<p$1$2$3$4$5$6>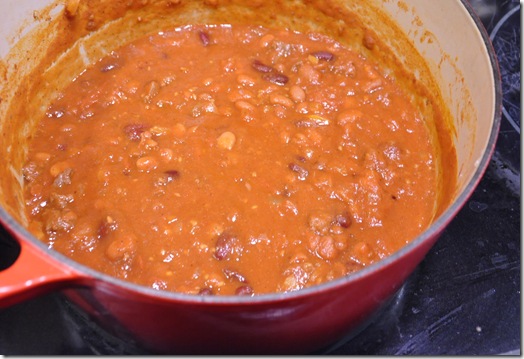 <p$1$2$3$4$5$6>
People are even associated with their "famous" chili's because it is so easy to make a chili recipe your own. Personally I've never been know for my "world famous" chili, I haven't spent years perfecting the ultimate chili recipe.
<p$1$2$3$4$5$6>
I've spent years perfect a base chili recipe. A recipe formula, if you will, that gives the basis for all that recipe creativity that everyone has somewhere inside them.
<p$1$2$3$4$5$6>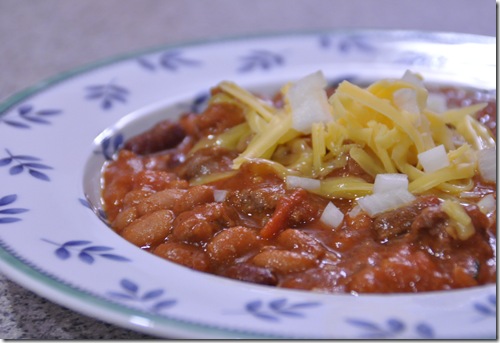 <p$1$2$3$4$5$6>
Get the creative juices flowing or just follow the basic formula, wow your friends and family, enter a chili cook-off.
<p$1$2$3$4$5$6>
Experiment and have fun. Enjoy you own special version of chili, it's easy!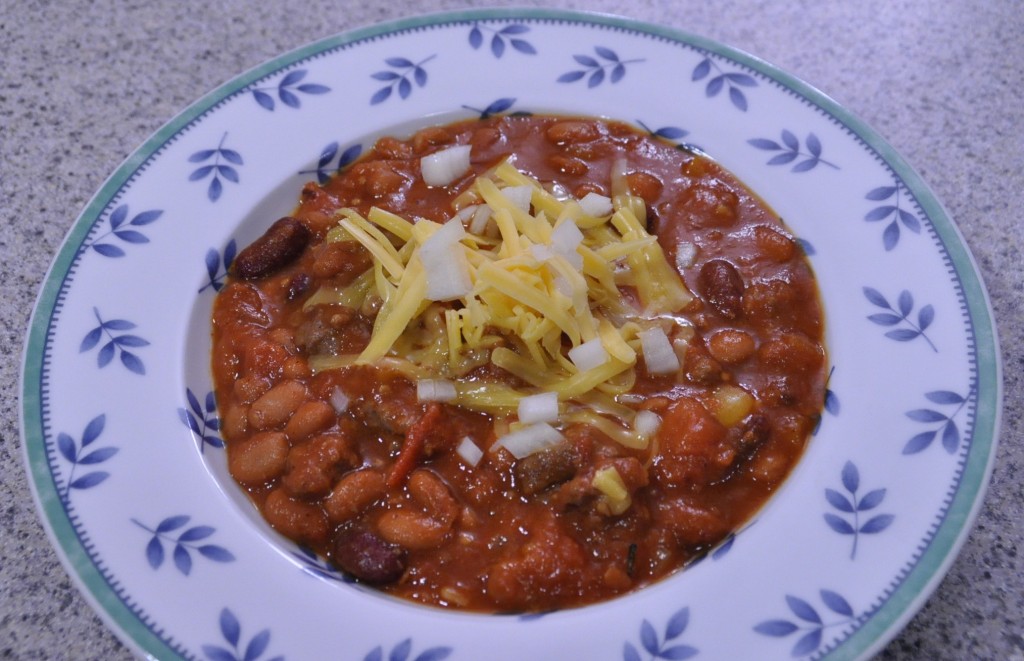 Basic Bowl of Red
2016-06-14 09:16:50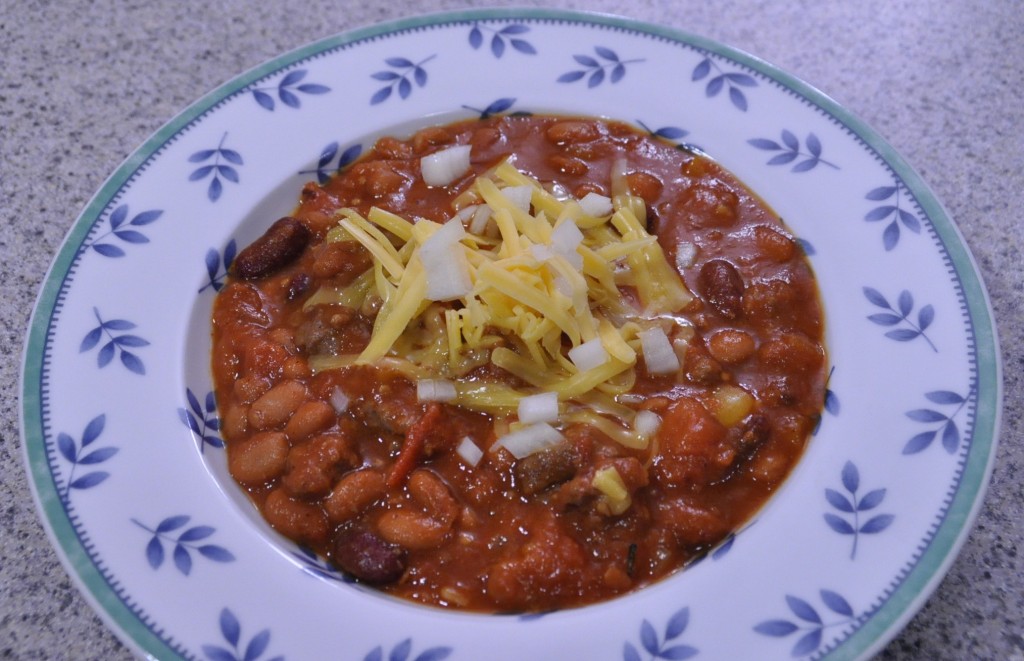 Ingredients
1 lb meat (ground beef, chicken, turkey, lamb, or sausage any type, or stew meat…)
1 bell pepper, any kind, cleaned and diced
1/2 of an onion, diced
3 cans of beans (chili beans, kidney, pinto, black, navy, garbanzo, whatever)
1 can tomatoes (Rotel, diced, stewed, etc.) or 2 cups fresh
1 small can tomato paste
1 tbsp. cumin
1 to tbsp. chili powder (regular, chipotle, ancho or combination)
Topping suggestions
Cheddar cheese
Diced onion
Chopped Cilantro
Sour Cream
Avocados
Pickled jalapenos
Black olives
Whatever else you can think of!
Instructions
In a large dutch oven cook the meat, drain if necessary. Add the pepper and onion, cook until they are tender. Add the remaining ingredients and simmer for an hour.
Notes
Some notes: I used venison breakfast sausage, fresh tomatoes (because they had to be used), 1 can chili beans, 1 can kidney beans and 1 can of pinto beans. I used plain chili powder because the Baby boy likes it mild.
If you like a spicier chili, use Rotel tomatoes either mild, medium or hot. The chipotle chili powder will increase the heat factor and the Ancho chili powder will give it a smoky flavor. You can add jalapenos or other hot peppers if you are looking for that 5 alarm chili.
If you use something besides ground meat such a stew meat you will need to adjust your cooking time accordingly.
The Kitchen Witch http://www.thekitchenwitchblog.com/