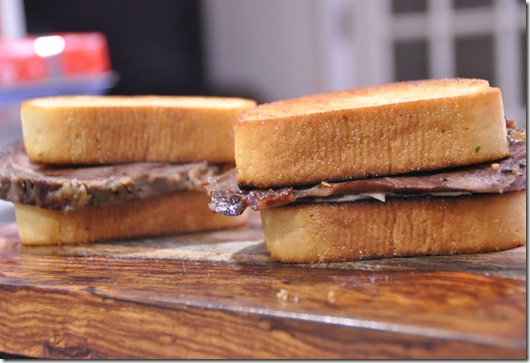 As predicted…a recipe for left over prime rib. I 'm going to make my daughter at Leftovers for Lunch proud. Before I ramble any further; Happy New Years everyone, I think 2011 will be a time for changes…good ones! Back to the Prime rib dip, which I normally make in the French Dip fashion. I take a nice crusty French roll, thinly sliced prime rib, and reheat the prime rib in the au jus. Broil the French roll with butter, then layer it with the prime rib and serve with a dish of au jus for dipping. It's a diner favorite of mine made just a little better with prime rib.
This year, I was ready to try something different, not that I mind tried and true, I guess a New Year calls for a new way sometimes. In this case, the new way is also the easy way, the way easy way. Easy doesn't mean boring, I slapped a big slab of prime rib between two slices of Texas Toast Garlic Bread and served it with the leftover au jus. Really it is more a man-wich prime rib dip then just a sandwich. Based on the way McGyver scarfed it down, I'd say it was a pretty good man-wich.
<p$1$2$3$4$5$6>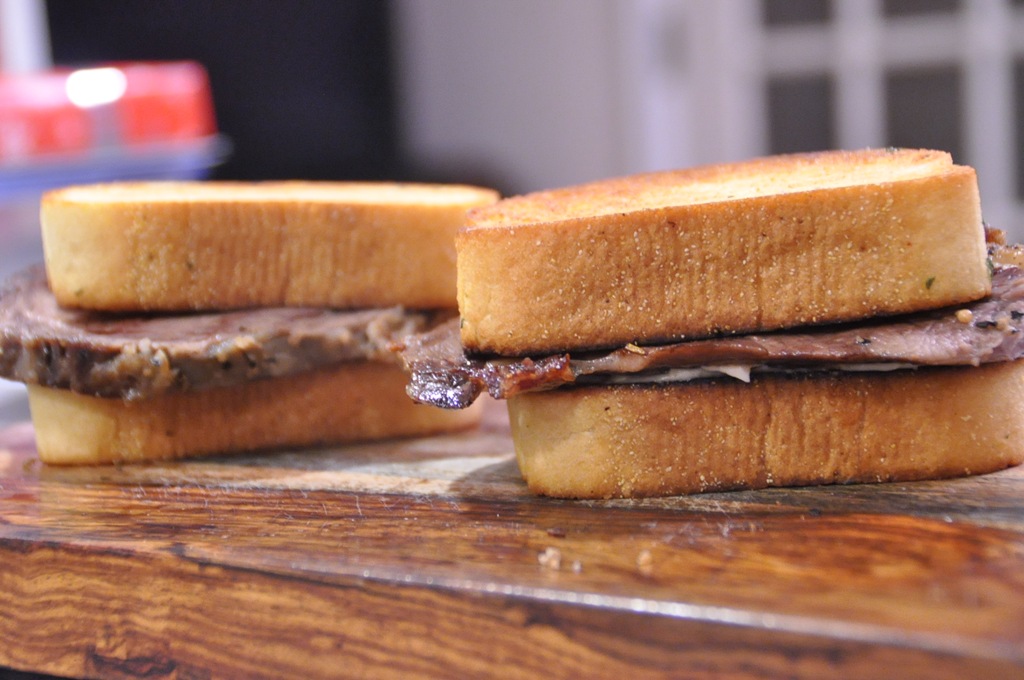 Prime Rib Dip
2016-06-14 09:06:34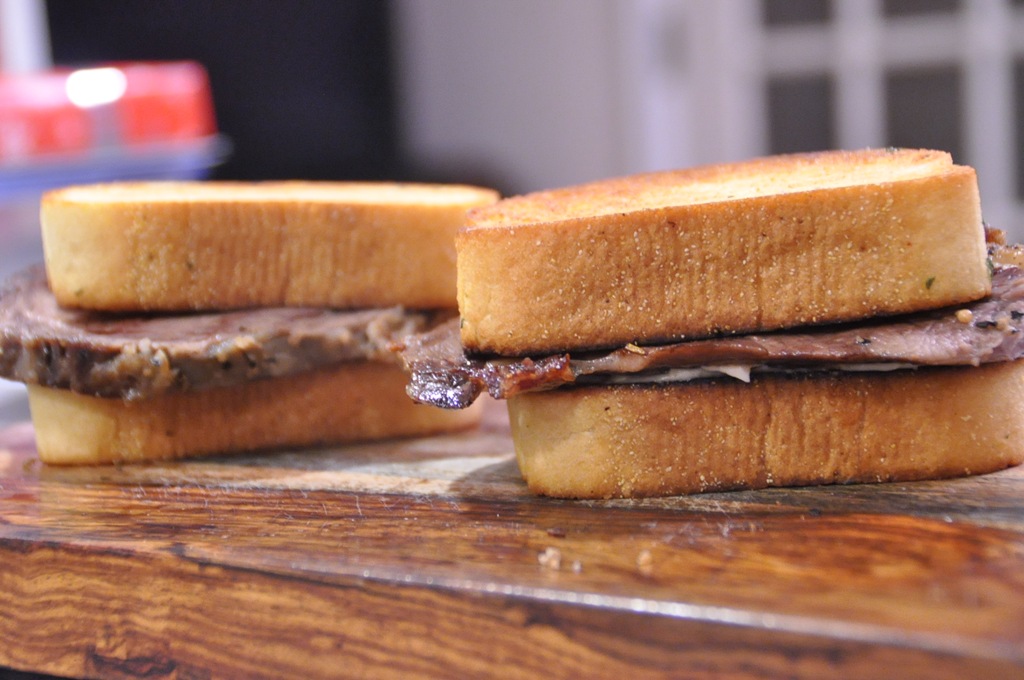 Ingredients
2 slices of Prime Rib, about 1/4" to 1/2" thick each
4 slices of frozen Texas toast garlic bread
2 tbsp. horseradish cream
1 tsp. horseradish
1/2 cup au jus
Instructions
Heat the Texas toast garlic bread according to package directions.  Meanwhile mix the horseradish cream and horseradish.  In a 10" sauté pan, heat the au jus, when warm and the prime rib and keep in the au jus until just heated.  Spread the horseradish mixture onto 2 slices of the Texas toast. Add a slice of prime rib and top with another slice of Texas toast.  Pour au jus into dipping cups.  Serve immediately.
Notes
Sandwiches for 2
The Kitchen Witch http://www.thekitchenwitchblog.com/

I wanted to leave you with some of resolutions for the next year. First off, I 'm not resolving to do anything that is typical, lose weight, exercise, save more money, etc.. I feel that those type of resolutions aren't resolutions, they should just be part of a life change that will happen when you are ready for it to. My resolutions, more like goals, are small but meaningful to me.
I will make sure that I make time for myself everyday and not feel guilty about it.
I will let go…eat out more often and let McGyver cook more often (I'm a kitchen Nazi).
I will learn how to make lefse and rosettes.
I will have some guest bloggers.
I will ride my Harley more.
What are your goals or resolutions for 2011? Or are you a "never make 'em so I can't break 'em" type?