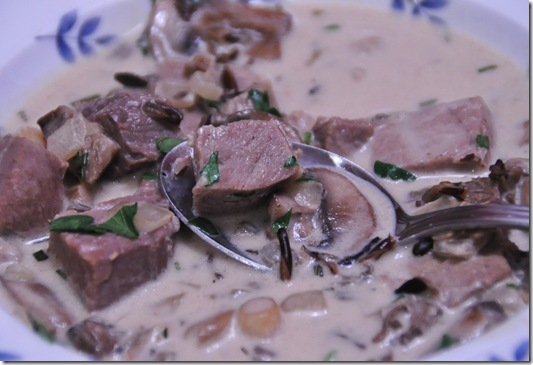 This is it, the last of the Prime Rib. No surprise, when I get down to the last little bit of anything my mind wanders towards soup. I love a "garbage" soup where you take all the odds and ends leftover and through them into a pot and turn them into something delicious. Prime rib hardly seemed like an ingredient to throw into some garbage soup, so I pondered what would I make. My mind was set on soup and I had some wild rice so I thought that would pair nicely. The rest of my inspiration came from my favorite place, the grocery store.
I was just moseying on down in the fresh veg section, thinking about picking up some garlic (which I now can not find any where in my kitchen) and a couple of other odd ball things when I passed by baskets full of mushrooms. That got the ol' hamster wheel running. Mushroom soup! Yes, perfect. I pondered my mushroom choices, button, baby bellas, oyster and shiitake. Then my eyes dropped down and there were some dried morel mushrooms. I've never, ever, in my life prepared or cooked a morel mushroom. After looking at the price, I remembered why. It is the season for indulgence, and I've been dying my own hair for at least a year now (saved about $120) so why not?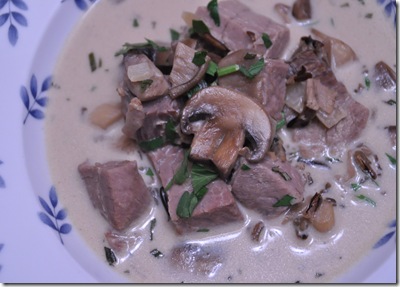 I put the morels in my basket, then opted for oyster versus shiitake and baby bellas (pre-sliced). I quickly picked up the rest of my stuff and hurried home. I couldn't wait to make dinner. Only I was scared. The soup sounded perfect in my little pea brain but would it execute properly? I was worried that the morels would get lost in the mix of ingredients, I was worried that this was going to be too over the top. Would too many rich and wonderful ingredients combine into a flop?
Worries or not, I pressed on, the idea was strong and I just had to know. The conclusion? Maybe the best soup I've ever made! Just to be clear, I don't like to use "the best ever" when I describe my cooking, because I know there is someone out there who can do it better, probably already has. This is probably not the best ever mushroom soup (I'm still thinking the mushroom soup I had at the Foodbuzz festival is), but it is most certainly the best ever that I've made!
This recipe is easily converted to meatless by omitting the prime rib and substituting the beef broth for vegetable broth.
I just knew I had some cream leftover at home, after digging around a fairly full and certainly needing a cleaning fridge…no cream. So I called Mcgyver and asked him to stop on his way home and rescue me. Meanwhile I prepped (except the sliced mushrooms) the rest of the ingredients.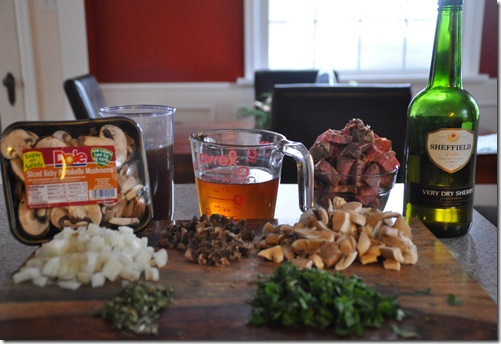 So after, and it's always after, I used the new cream that McGyver so loving stopped and picked up for me…you guessed it, I found the cream I knew I had…ain't that always the way.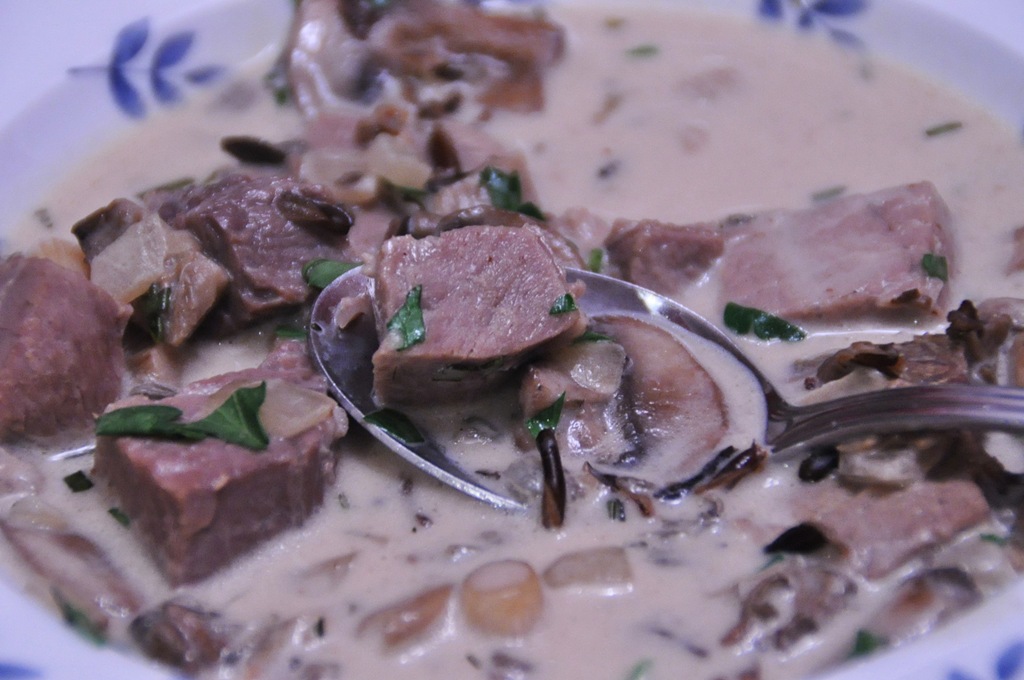 Wild Rice, Mushroom and Prime Rib Soup
2016-06-14 08:59:50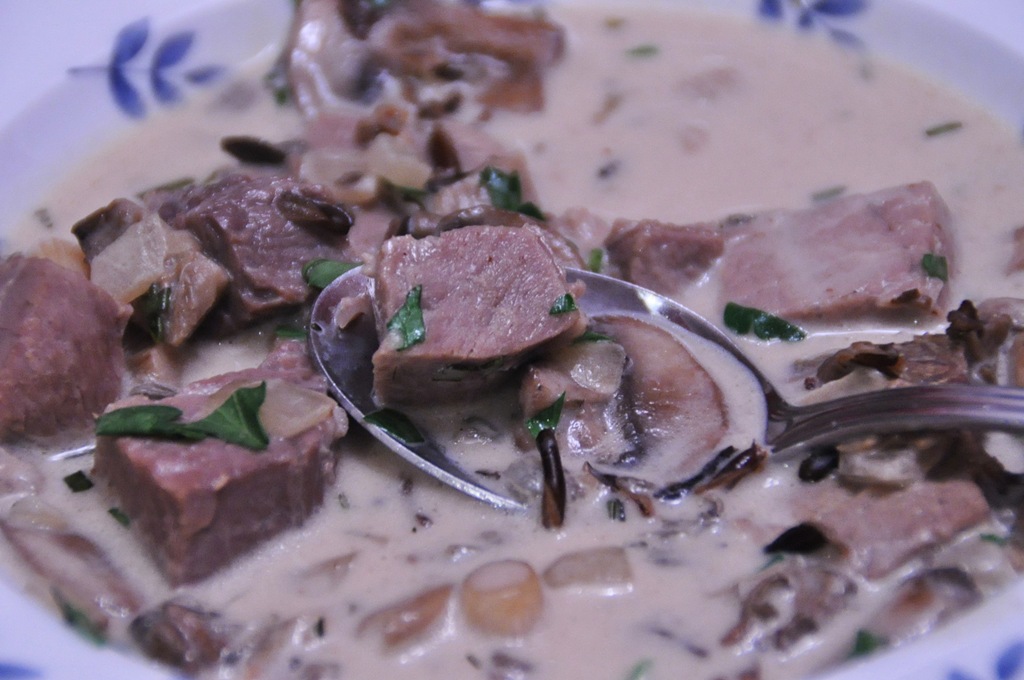 Ingredients
2.5 oz. Dried morel mushrooms
1 tbsp. olive oil or rendered fat*
1 tbsp. unsalted butter
1/2 medium onion, diced
8 oz. baby bella mushrooms, sliced
6 oz. Oyster mushrooms, chopped
1 tbsp. minced rosemary
1/2 cup dry sherry
2 cups broth
1/2 tsp. fresh ground pepper or to taste
1 tsp. kosher salt or to taste
2 cups cooked wild rice**
2 cups, large diced prime rib
2/3 cup cream
2 tablespoons flour
3 tablespoons chopped parsley
Instructions
Soak morel mushrooms in 2 cups boiling water until softened. Strain mushrooms and water through a fines sieve lined with a coffee filter. Remove morels and dice, reserving liquid, set aside.
Heat oil/fat and butter in a larger Dutch oven over medium high heat. Add onions and cook until the onion is translucent. Add the mushrooms and rosemary all at once. Sauté the mushrooms for 2-3 minutes. Add the sherry and deglaze the pan.
Add the broth and reserved morel mushroom liquid. Bring to a low boil, add the prime rib and the wild rice, salt and pepper to taste. Whisk flour and cream together and slowly add to soup. Bring back to a low boil, stirring occasionally until the soup thickens slightly. Finish with the fresh chopped parsley and serve immediately.
* I rendered oil from the excess prime rib fat that I trimmed off…flavor booster!
**Wild rice can take up to an hour to cook, make sure to plan that into your preparation.
Notes
Yields: 6 to 8
The Kitchen Witch http://www.thekitchenwitchblog.com/