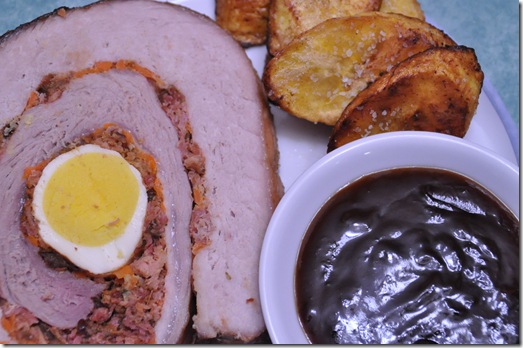 Meet the cook, my husband McGyver.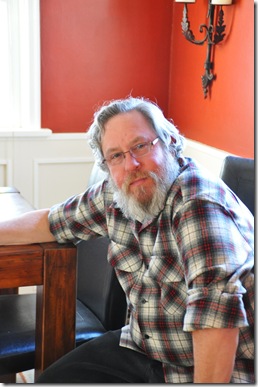 One of my goals this year was to "let go", in other words, get out of the kitchen and let McGyver cook (he knows how too, quite well in fact). McGyver has been chomping at the bit to make me one his specialty dishes he used to make all the time.
Once upon a time BR (before Rhonda), McGyver was stationed in Panama. McGyver was President of the H.O.G. club and frequently entertained the club with parties (lamp shades included). He stumbled across this recipe when browsing through a co-workers cookbook. The recipe caught his eye and he thought it would be a great way to feed a bunch of hungry bikers. It was a hit and so began the annual tradition of McGyver preparing and serving Pierno De Puerco Rellena to hungry hungry H.O.G.s (not to be confused with Hungry Hungry Hippos…that's a different club altogether =).
Be prepared, this recipe takes time to prepare, marinate and cook but it is worth it, like many things that take time.
This recipe was adapted (only slightly) from a "Taste of Old Cuba" by Maria Josepha O'Higgins. McGyver Xeroxed a copy, yes Xeroxed, back in those days that what we called it, and has been using the battered, tattered and stained poor Xeroxed copy for years.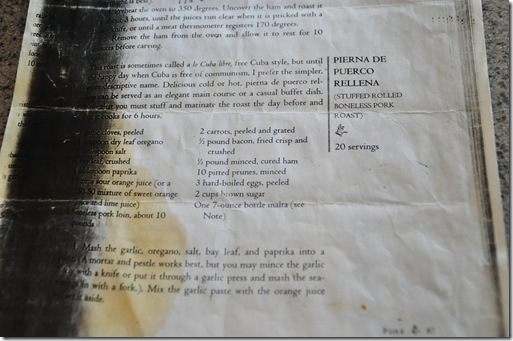 Because I was out of the kitchen (sort of), I was able to take a lot of photos, unfortunately it's the dark ages in Montana so we struggled with a lot of lighting issues. Please forgive the many hues, we thought the step by step was worth it.
Letting go isn't the easiest thing for me to do, so instead of relinquishing 100% I provided some assistance and a little coaching because McGyver had gotten a little crusty rusty in these last few years. One of the things I did, was on the morning he was going to do the prep work, I served hard boiled eggs and bacon for breakfast. I cooked extra to save time later in the day. Not only that, but the recipe called for sour orange juice which we didn't have, so McGyver planned to go with 50% OJ and 50% lime juice. He squeezed fresh OJ for breakfast and reserved enough for later. Gotta love it, breakfast and some prep work at once!
The ingredients are fairly easy to obtain at your local grocery store. If you can not find Malta, which is a sweet black malt beer with a low alcohol content, I recommend replacing it with 1/2 dark beer and 1/2 regular cola.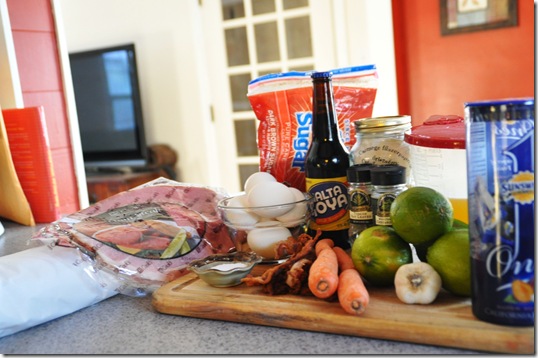 McGyver started by pulverizing the garlic, oregano, salt and bay leaf using a mortar and pestle.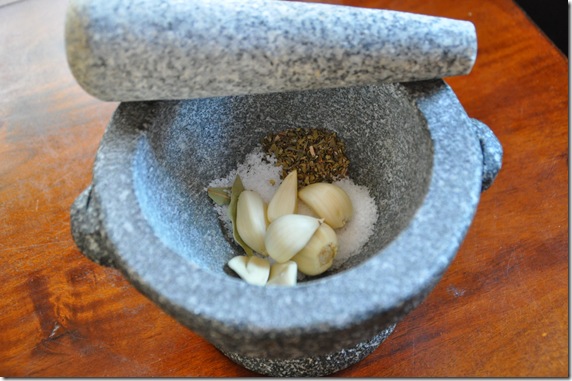 Then he realized he forgot the paprika, no worries since it comes ground.
He made up the sour orange juice by using the previously squeezed fresh orange juice and adding some fresh squeezed lime juice.
Add the garlic paste mixture to the sour juice and mix well. Set aside.
Preparing the pork loin was interesting. considering that we live in cattle country, meat and potatoes land, you would expect that a butcher would know how to fillet meat so that it could be rolled up. Had we known that is was going to be the butcher's first time and he didn't really know what he was doing, we would have done it. Sometimes you miss a big city, but only for a moment.
McGyver trimmed off the fat, cut the ends to even and pounded and pounded, then I pounded and pounded, we didn't get the pork loin as thin as we wanted, we gave up, "That'll do pig, that'll do". Can anyone guess where that quote comes from?
Stuffing preparation was next. McGyver grated the carrots and got the ham, bacon and prunes together.
McGyver was all ready to chop, chop, chop, and since I have a hard time letting go, I put in my 2 cents worth and suggested he use the food processor. After trying to figure out how the lid went together/on, which I didn't coach him on because he was providing me enormous amount of entertainment at the time, the mincing was done in no time at all. Oh yeah, definitely a bit crusty rusty.
Time to put the sour juice mixture onto the prepared pork.
I watched as McGyver fought with the ebb and flow of the juice, spreading around and it fighting back, pooling in some areas and not covering other. I couldn't help myself "why don't your try brushing it on?". Thank goodness McGyver understands that I can't help myself and completely "let go".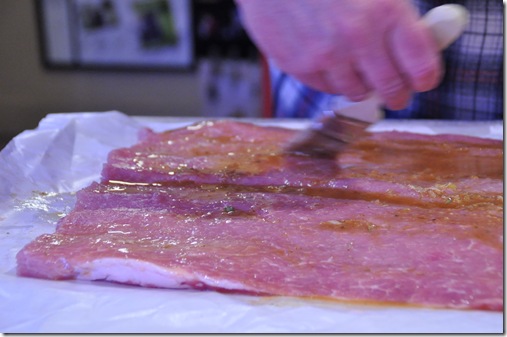 McGyver couldn't get all the juice onto the meat, he ended up using about half of it. Next he spread the grated carrots and meat/prune mixture evenly over the pork.
Add the hard boiled eggs to the the short end, we used 4 versus the 3 that the recipe called for and roll.
Once the roast is rolled up, go bondage on it and tie it up with some string. Place it in a large pot for marinating.
To mix the marinade, combine the Malta and the brown sugar. McGyver also added the leftover sour juice mixture to the marinade.
Pour the marinade over the roast and marinade over night. Note: our pot was so large that we mixed more marinade until we had enough to go half way up the roast so we could rotate it halfway through the marinade. In retrospect, we wished we would have used a large bag to marinate so we could have used less marinade.
The next day heat the oven to 200° F. Remove the roast from the marinade and place in a roasting pan fitted with a rack. Roast in the oven for 6 hours, marinating every 30 minutes. At 6 hours we checked the roast and it was not even close to being done. It was 6:00 pm by now, so we bumped the oven to 250° F and checked it in an hour. Still not done, we turned the oven up to 300° F and finally an hour later it was done.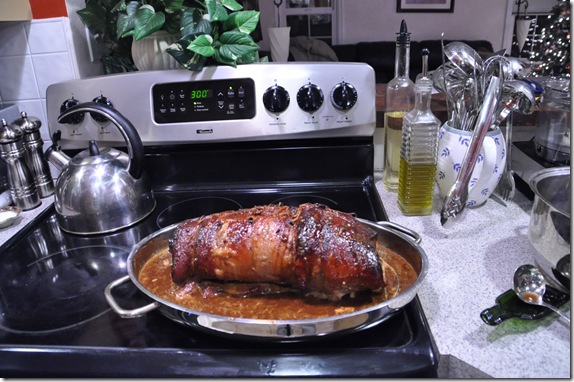 Remove roast to a carving board and let rest about 10 minutes.
Although not suggested in the original recipe, I added a couple of tablespoons of cornstarch to the remaining marinade and heated it up for a dipping sauce.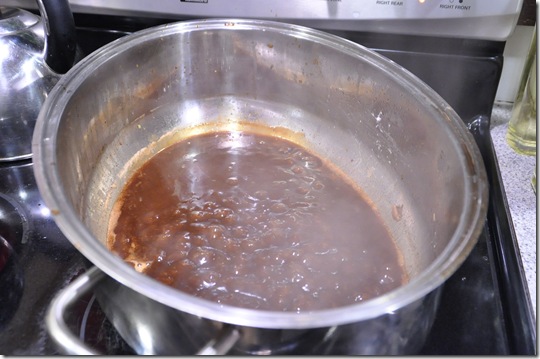 The roast was so beautiful. A nice crispy sweet crust, rolled layers, ending in a beautiful egg!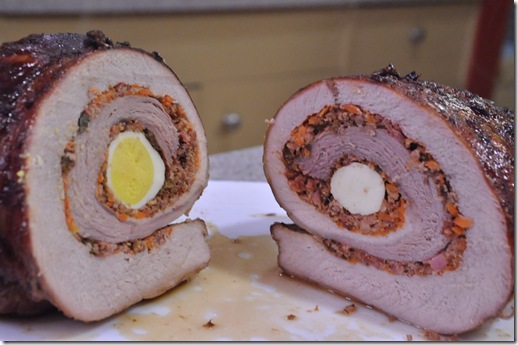 A showpiece, worthy for hungry H.O.G.s or Hungry Hungry Hippos. We served this up with some fried plantains, a mango and jicama salad and beer.
McGyver and I found this beer and I wanted to try it, the label was so intriguing. On the side of the bottle it says "bear food in a bottle", Huckleberries…bear food…get it? FYI, I enjoyed the beer also. That'll do Pig, that'll do.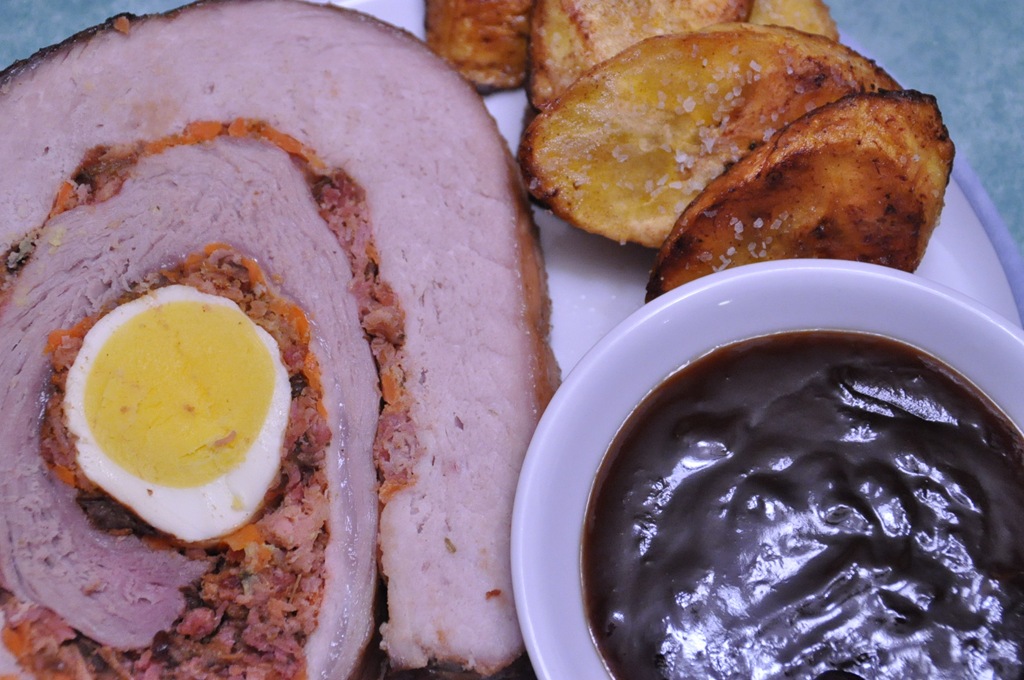 Pierno De Puerco Rellena
2016-06-14 08:55:36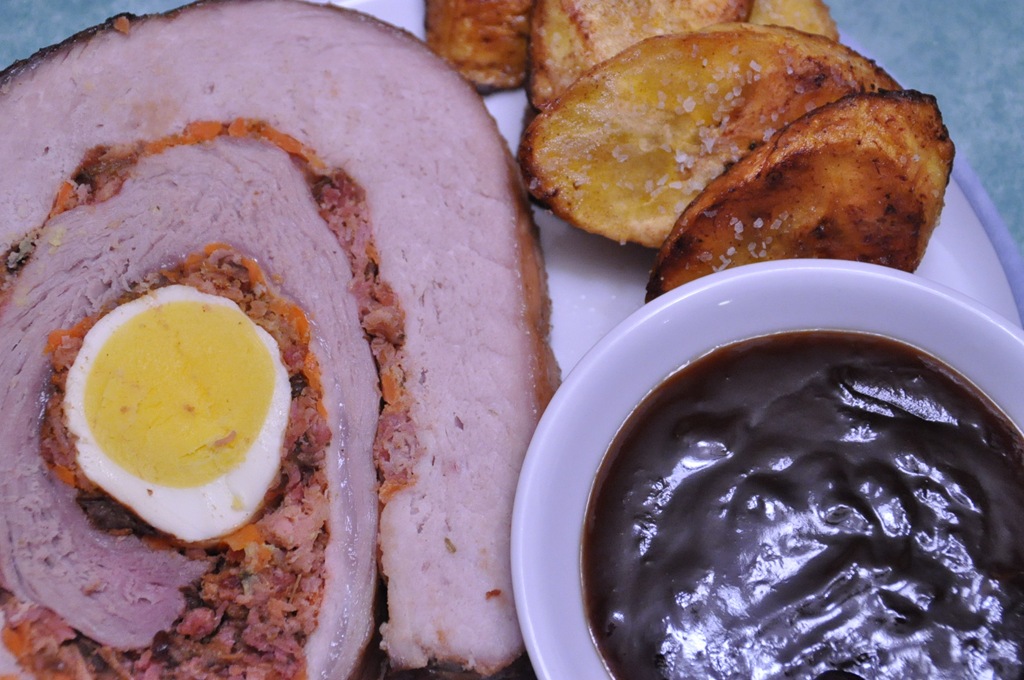 Ingredients
3 garlic cloves peeled
1 tsp. dried oregano
1 tbsp. salt
1 bay leaf, crushed
1 tbsp. paprika
1 1/2 cups sour orange juice (or 50/50 mix of orange juice and lime juice)
1 boneless pork loin, about 10 pounds
2 carrots, grated and peeled
1/2 lb. bacon, fried crisp and crushed
1/2 lb. minced, cured ham
10 pitted prunes, minced
3 hard boiled eggs, peeled
2 cups brown sugar
1 7 oz. bottle Malta
Instructions
Mash the garlic, oregano, salt, bay leaf, and paprika into a paste (A mortar and pestle works best, but you may mince the garlic finely with a knife or put it through a garlic press and mash the seasonings in with a fork.).  Mix the garlic paste with the orange juice and set it aside.
Unroll the pork loin, trim off as much fat as possible, and place it open in a large roasting pan.  Thoroughly douse the inside he of the pork loin with the marinade.
Spread the grated carrots over the marinade in an layer followed by the bacon, ham, and prunes.  Place the eggs end to end on one side of the meat.  Starting from that side, roll the meat up tightly and tie it securely with kitchen string.
Combine the brown sugar with half of the bottle of Malta and pour this mixture over the pork loin to cover it.  Wrap the pan tightly with plastic wrap and refrigerate the meat for at least 8 hours (overnight is best).
Preheat the oven to 200° degrees. Remove the plastic wrap, insert a meat thermometer into the pork loin, roast it for at least 6  hours, basting every 1/2 hour with the remaining Malta.
When the thermometer registers 170° degrees, or the juices run clear, remove the meat from the oven.  Let it rest for 10 minutes before slicing.
Adapted from a Taste of Old Cuba
Adapted from a Taste of Old Cuba
The Kitchen Witch http://www.thekitchenwitchblog.com/

Click to Print a Recipe Card