In my last post McGyver made Pierno De Peurco Rellena, a fabulous rolled and stuffed pork loin. He used to make Pierno De Peurco Rellana for all of the H.O.G. members in Panama. The dish is labor intensive, and rich with flavor. I figured the least I could do was to make all the sides. I remember McGyver and my 'not kids' telling me stories about all the mango they ate while they were in Panama, so I knew that I wanted to make something with mangoes. Not sure of what I had in mind, I got my inspiration, like I often do, just by perusing the grocery store isles.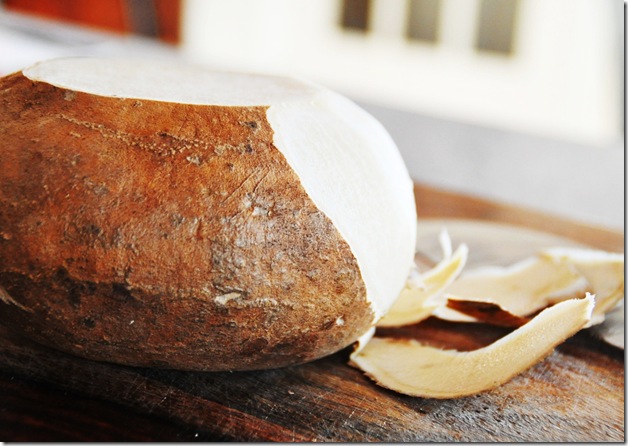 I found myself at our local Albertson's. I headed straight for the mangoes, and it was there, right next to the mangoes that I got my inspiration. In a small basket, piled high, were some very good looking Jicamas. Large brown and earthy looking, they were such a contrast to the mangoes smooth, pink and green skins that I an idea began to materialize.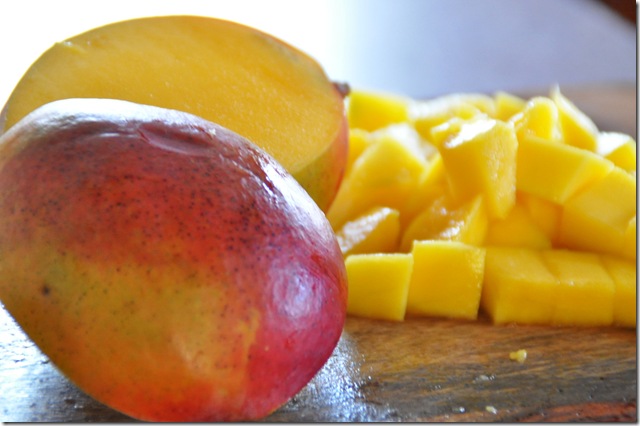 Mangoes have a sweet succulent orange flesh. Jicama has an off white almost nutty and crunchy interior. I thought that the opposites, in the case, would make a wonderful salad. As I was selecting by perfect jicama, an employee stopped by and asked, what exactly are those things and how do you eat them? I told her they were similar to a radish in texture and crunch, but slightly sweet with some nutty undertones, suitable for snacking or for salads. As I thought about what is a Jicama and was my sweet and nutty radish a good description, I also realized that they reminded me quite a bit of a water chestnut, a very large water chestnut!
Jicama originates from Mexico and Central America and it is often called the Mexican turnip because it's appearance resembles a turnip. Jicama is actually a vine and the "Jicama" are the tuberous roots of the vine. They have a thin skin and range in color from tan to brown. Oddly enough, I found tout hat they can be substituted for water chestnuts. Some people also describe their flavor as apple or pear like.
This is such a simple salad, a perfect accompaniment to any dish or on it's own. The lime and chili vinaigrette enhances the sweetness and nuttiness of the salad while the onions provide a nice sharp contrast and the parsley gives it that fresh green flavor. There will be more that enough dressing for other salads. The Jicama and Mango salad could easily be converted to a salsa using a smaller dice, the addition of a jalapeno and substituting the parsley for cilantro.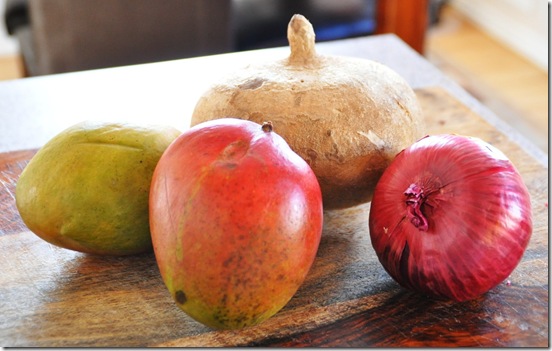 The recipe is so simple, peel and dice the jicama, mangoes and red onion. Chop the parsley.
Mix the dressing and toss all the ingredients in a bowl.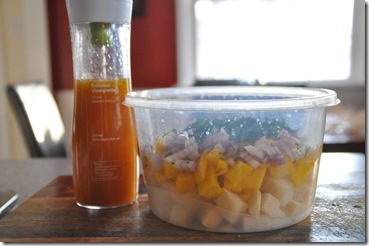 The secret ingredient, is this hot sauce that I picked up from, believe it or not, Wal-Mart. Liquid Chili by Trechas is a mildly spicy and slightly sweet sauce. Just enough spice to bring your taste buds alive.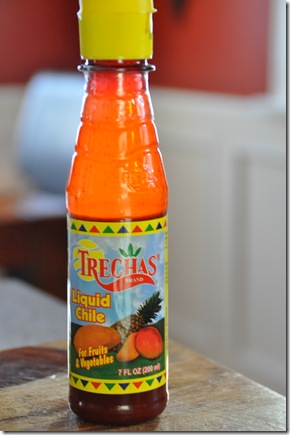 The final results are a beautiful refreshingly sweet, nutty, slightly tart and mildly spicy salad.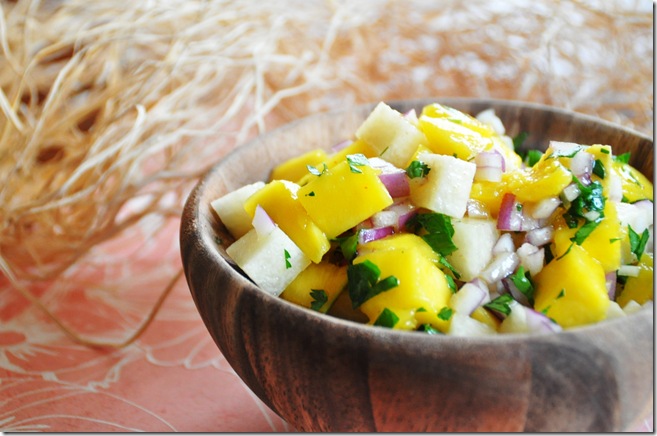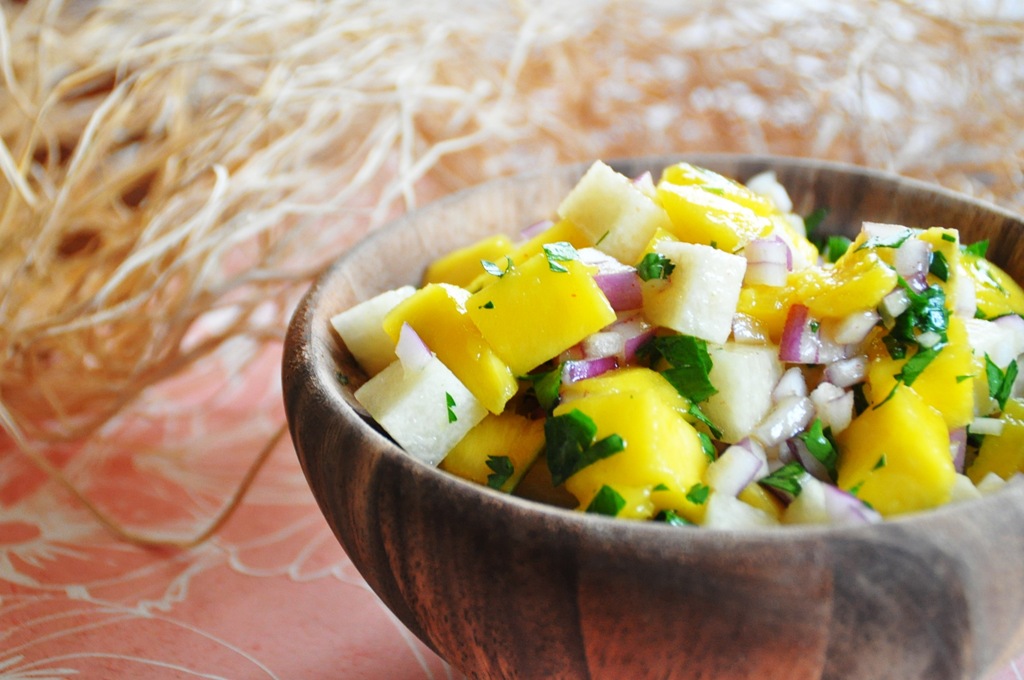 Jicama and Mango Salad
2016-06-13 21:51:08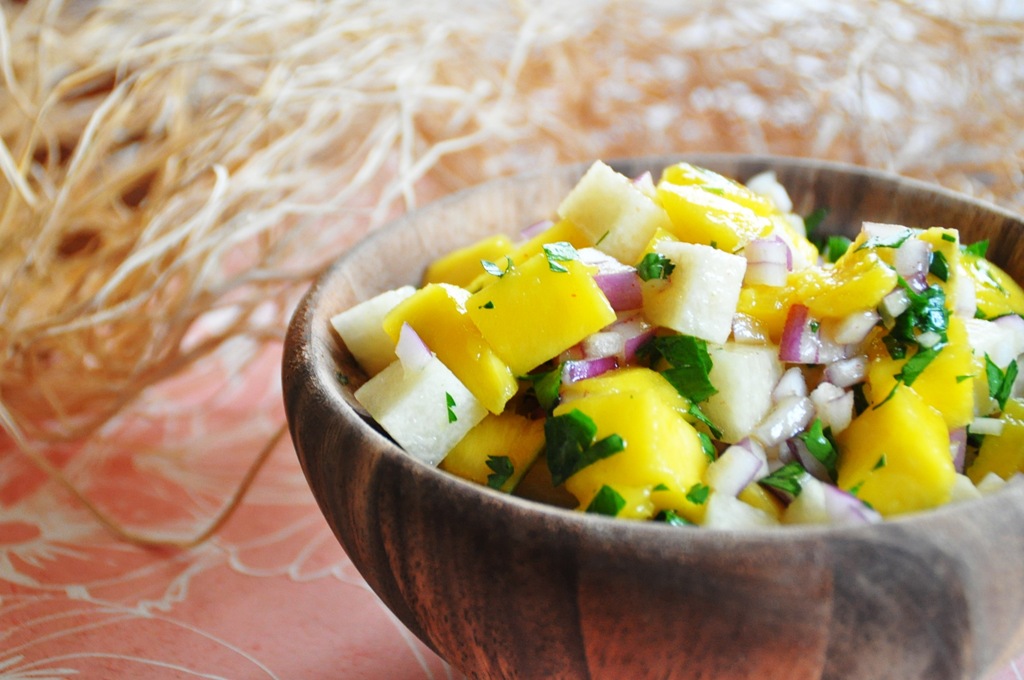 Salad
1 small jicama or half of 1 large, peeled and diced
2 mangoes, seeded peeled and diced
1/2 red onion diced
2 tbsp. chopped parsley
Dressing
2/3 cup olive oil
1/3 cup lime juice, fresh squeezed
2 tsp. Trechas liquid chile or suitable substitute
1 tsp. sugar
Instructions
In a large bowl mix the jicama, mangoes, onion and parsley.  For the dressing, mix the lime juice, chile sauce and sugar, whisk in the oil. Toss the jicama and mangoes with dressing.
The Kitchen Witch http://www.thekitchenwitchblog.com/

Click to Print a Recipe Card