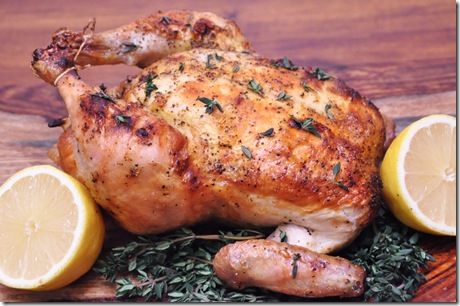 The Baby boy loves chicken skin, really crispy chicken skin. He also loves lemon. I wanted a special meal for him once he came from the hospital. Not that the hospital food was all that bad, as a matter of fact the only bad food he had was the crispy chicken. Which wasn't crispy and it was dry (surprise). He wanted crispy skin chicken, so I set out to make it happen. While I was at it, I was going to make sure it was moist too.
This recipe is a portion of a three part post. So don't go rushing out to make it just yet, you can if you want, but it's worth the wait. Here's the plan: Post 1) Crispy Roasted Lemon Pepper Chicken Post 2) Rice Pilaf with vegetables, and Post 3) Soupa Avgolemono, made with leftovers. Depending on the size of your family (or appetite) you'll get several meals.
To give you a head start here's the grocery list for the entire series:
1 (3 1/2 to 4 lb.) roasting chicken
Lemon Pepper
2 Lemons
3 cloves garlic
Fresh thyme
Olive oil
1 cup long grain rice
1/2 onion
2 medium carrots
2 stalks celery
2 qts. plus 1 3/4 cups chicken stock or broth
3 oz. baby spinach leaves
Butter
As you can see most items are pantry/stocked kitchen items, so this should be relatively inexpensive to make. This would make Feast on the Cheap proud! Their most recent post for Whole Wheat Parmesan Biscuits would be a perfect accompaniment.
Lemon pepper chicken is not a new discovery, not by any stretch of the imagination, the recipe is more about the method of roasting the chicken. I used the method from America's Test Kitchen which ensured a moist and crispy chicken. Normally I don't like to use spice mixes, I prefer to mix my own; lemon pepper is one of the few that I keep handy in my spice cabinet.
Start by mixing lemon pepper and baking powder.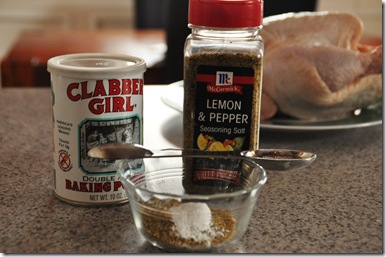 Rub it over the chicken. Place the chicken in the refrigerator uncovered and wait 12 to 24 hours.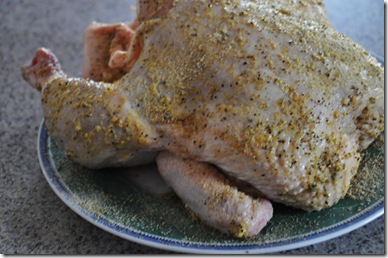 Stuff the chicken with half a lemon, garlic and thyme. Place on the roaster breast side down (it's not flipped in this photo)
Roast at 450 degrees for 25 minutes. You can see that it already has started to brown. by flipping it over for the first part, the breasts will be moist from the rendered fat.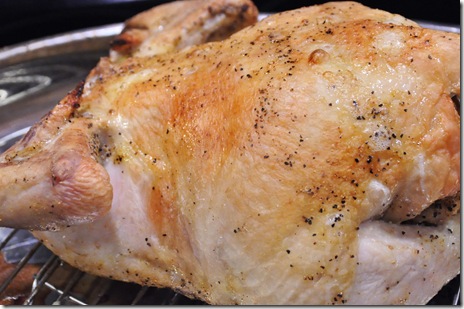 Flip the chicken over and place it back in the oven and roast another 15 to 25 minutes or until temperature reaches 135 degrees.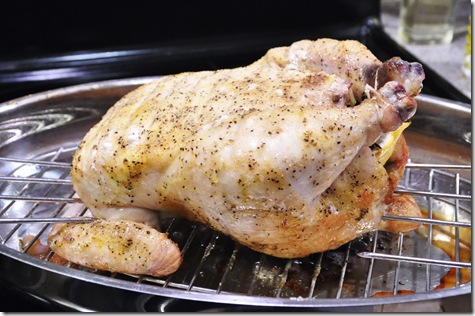 Finally turn oven up to 500 degrees and roast until chicken is golden brown and the breast register 160 degrees. About 10 to 20 minutes. Remove from oven and let rest uncovered for 20 minutes before carving and serving.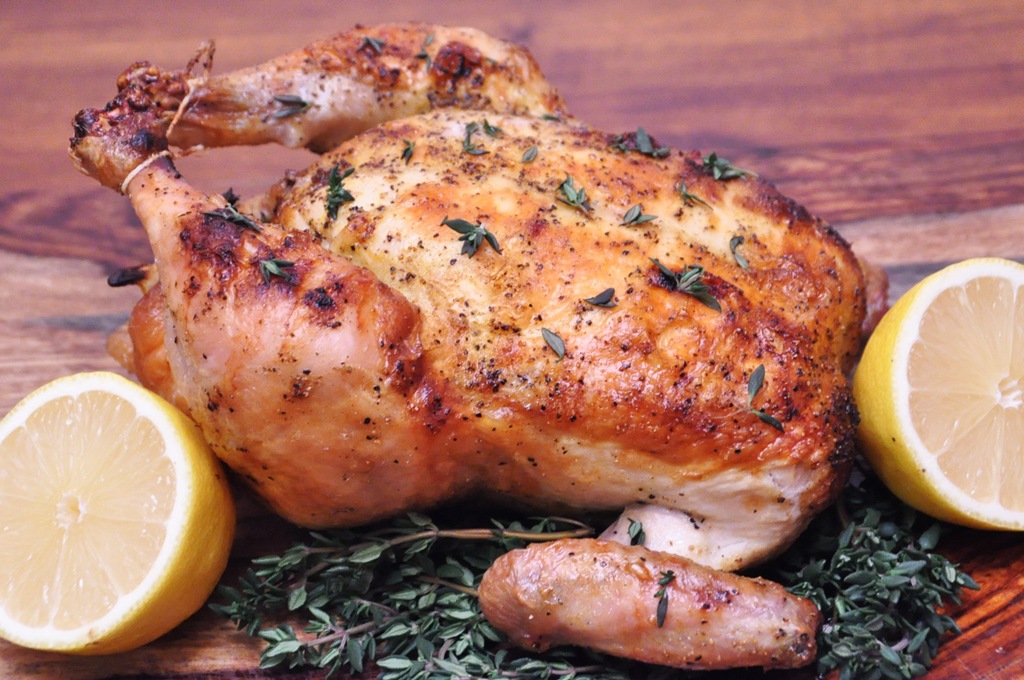 Crispy Roasted Lemon Pepper Chicken
2016-06-13 21:46:09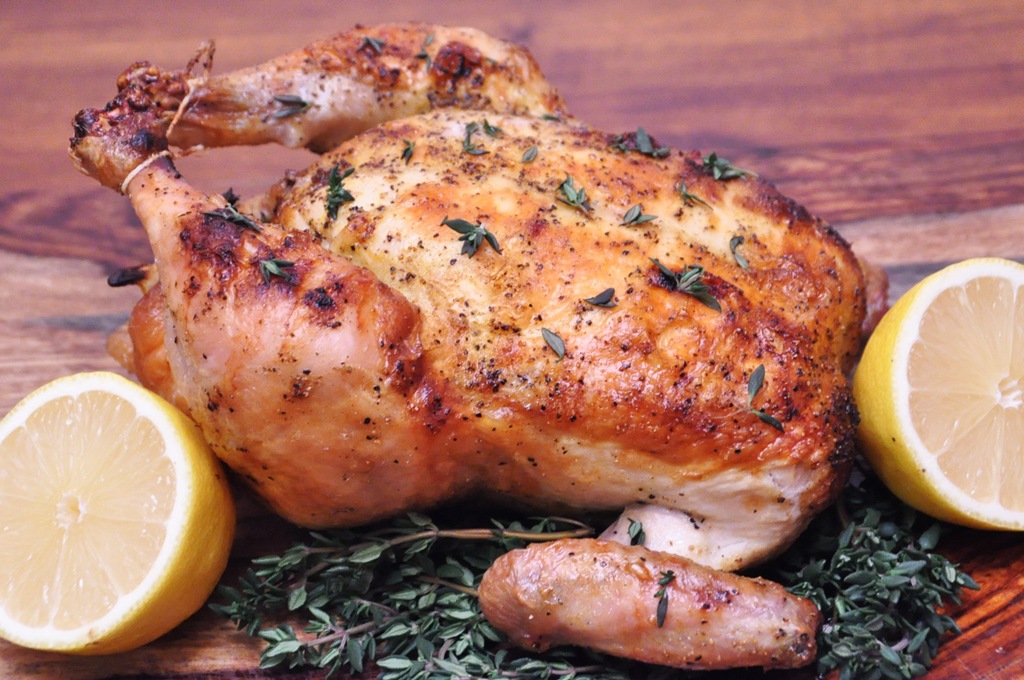 Ingredients
1 roasting chicken 3 1/2 to 4 lbs.
1 1/2 tbsp. lemon pepper
1 tsp. baking powder
1/2 lemon
3 cloves garlic
A few sprigs thyme
Instructions
Place chicken breast-side down on work surface. Use tip of sharp knife to make four 1-inch incisions along back of chicken. Using fingers or handle of wooden spoon, carefully separate skin from thighs and breast. Using metal skewer, poke 15 to 20 holes in fat deposits on top of breast halves and thighs. Tuck wing tips underneath chicken.
Combine lemon pepper, baking powder in small bowl. Pat chicken dry with paper towels and sprinkle all over with lemon pepper mixture. Rub in mixture with hands, coating entire surface evenly. Set chicken, breast-side up, in V-rack set on rimmed baking sheet and refrigerate, uncovered, for 12 to 24 hours.
Adjust oven rack to lowest position and heat oven to 450 degrees. Using paring knife, poke 20 holes about 1 1/2 inches apart in 16- by 12-inch piece of foil. Place foil loosely in large roasting pan. Flip chicken so breast side faces down, and set V-rack in roasting pan on top of foil. Roast chicken 25 minutes.
Remove roasting pan from oven. Using 2 large wads of paper towels, rotate chicken breast-side up. Continue to roast until instant-read thermometer inserted in thickest part of breast registers 135 degrees, 15 to 25 minutes.
Increase oven temperature to 500 degrees. Continue to roast until skin is golden brown, crisp, and instant-read thermometer inserted in thickest part of breast registers 160 degrees and 175 degrees in thickest part of thigh, 10 to 20 minutes.
Transfer chicken to cutting board and let rest, uncovered, for 20 minutes. Carve and serve immediately.
The Kitchen Witch http://www.thekitchenwitchblog.com/
Now tell me this doesn't look good and crispy.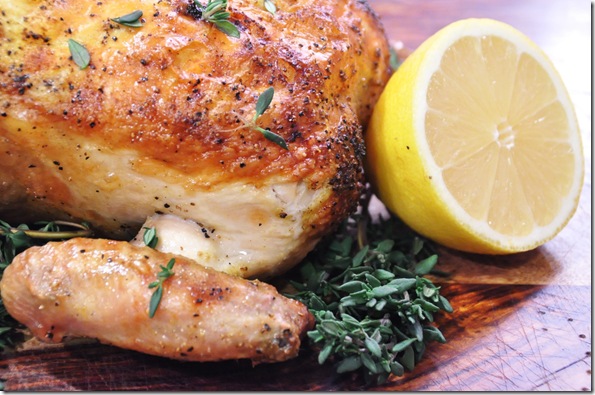 Click to Print a Recipe Card