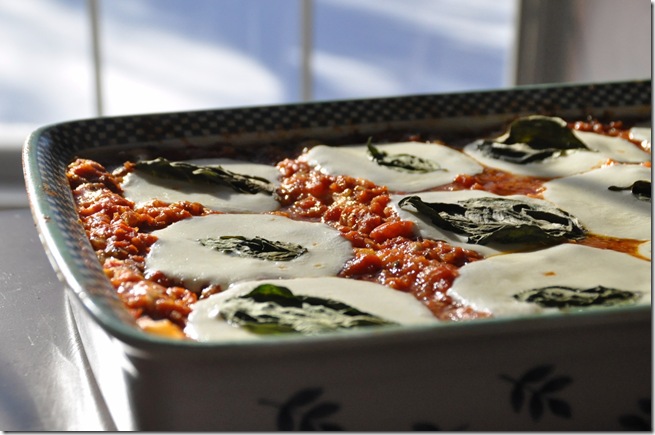 McGyver sat me down last Saturday and said, "I need to lose some weight and I'm going to start Monday, right after the Super Bowl." He told me this after I already made the menu for the week, after I just finished grocery shopping. Don't get me wrong, I'm totally supportive, more than supportive. I need to lose more weight than he does and he was my excuse for NOT doing it.
Thank you very much McGyver, now I don't have any excuses or anyone else to blame.
On my menu for the week, was my award winning lasagna. Seriously, I've actually won a few lasagna cook-offs. My normal lasagna is made in a deep dish 9×13 pan and weighs in at a hefty 10 lbs. (including pan). No joke, 2 lbs. of meat, 3 lbs. of cheese, 1 lb. noodles add the sauce and pan and you have one serious lasagna.
There would be no better way to kill a fledgling diet then the monstrosity that I call lasagna. Now I had to switch gears and lighten the load. Fortunately I had purchased reduced fat cottage cheese and reduced fat ricotta cheese. That helped, the next easiest fat and calorie reducer was to cut out the meat, which for my carnivorous family meant cutting out the flavor.
Our family is a lover of bold and robust flavors, nothing subtle for us, we want to know it's there! To boost the flavor of my basic marinara sauce, I added red, green and yellow peppers (minced finely so the boys wouldn't know), extra garlic and a teaspoon of crushed red peppers.
To make the boys feel like they were getting a hefty lasagna, I used a standard 9×13 pan versus my deep dish pan. This also meant that I automatically had to cut down on the amount of pasta I used. I had already purchased my favorite lasagna pasta (2 boxes), otherwise I would have upped the nutritional value even more by using whole wheat noodles.
We eat with our eyes first and I wanted it to look especially attractive. Instead of using grated mozzarella in the body of the lasagna, I placed slices of fresh mozzarella on top, I then topped each one with a single basil leaf. Not only did this add visual pleasure, it created a natural portion control. Everyone cut around each slice of mozzarella without even thinking about, after all it was just to pretty to ruin. An unplanned benefit but I'll take it.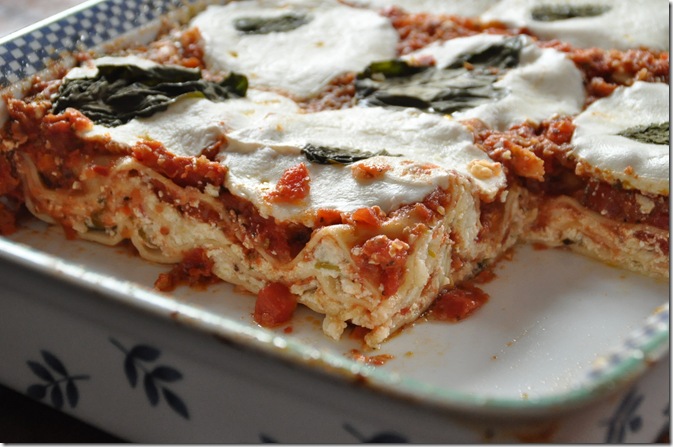 Both McGyver and the Baby boy declared the lighter version delicious. However the Baby boy stated that my "real lasagna was a million times better", I was crushed. Next he said "maybe not a million times better, more like a hundred thousand times better", although I'm proud my boy was reducing the number I was still pouting. Then he said, "nah, it really like 10 times better". I could live with that.
Although this lighter version is 10 times less better than my normal lasagna it's a hundred thousand times more healthy, no a million times more healthy!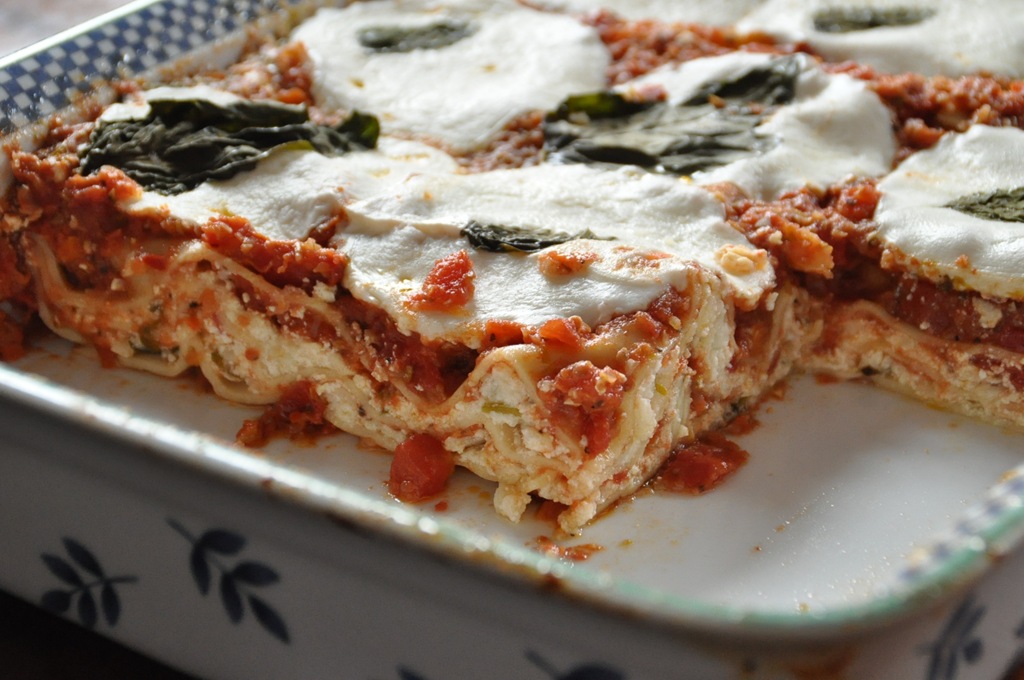 Lighter Lasagna
2016-06-13 21:26:42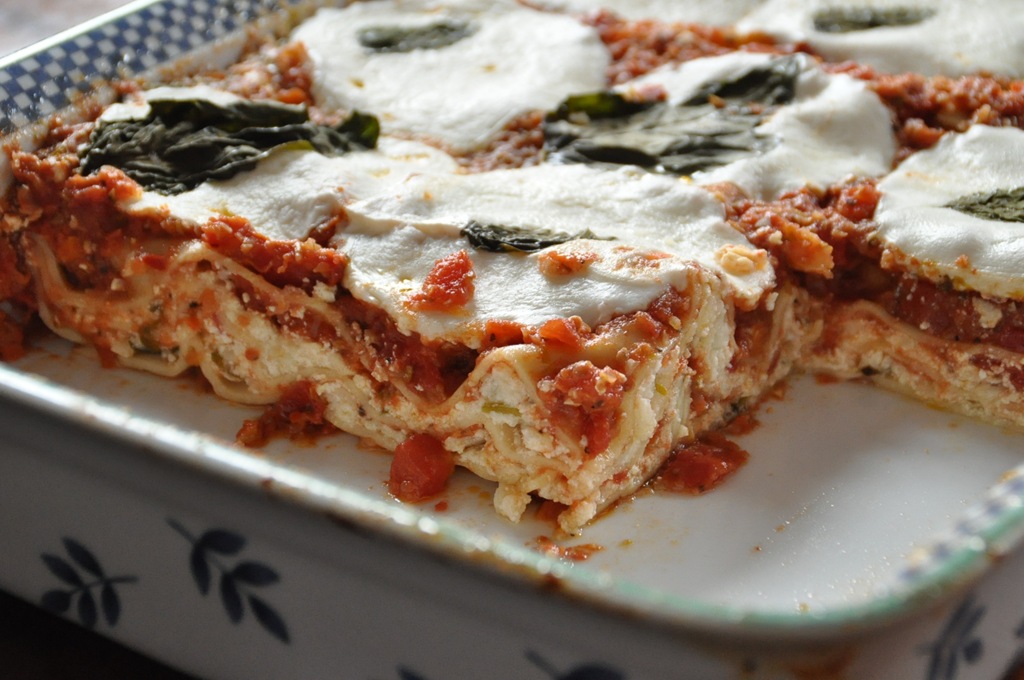 Ingredients
4 cups Marinara Sauce (or jarred spaghetti sauce)
24 oz. low fat cottage cheese
15 oz. light ricotta cheese
1/2 cup grated Pecorino Romano or Parmesan
1/2 cup chopped parsley
9 lasagna noodles (about 4 oz.)
12 slices fresh mozzarella
12 fresh whole basil leaves
Instructions
Preheat oven to 350°F.  Mix cottage, ricotta, Parmesan and the parsley leaves until well blended.  In a standard 9x13 pan, ladle 1 cup of the marinara sauce onto the bottom and spread evenly.  Place 3 lasagna noodles on top of the sauce, centering in the dish.  Top the noodles with one 1/2 of the cheese mixture and spread evenly.  Ladle one cup of the sauce evenly over the cheese mixture, top with 3 more noodles.  Spread the remaining cheese mixture over the noodles, evenly coat with one cup of sauce.  Finish by adding 3 more noodles and covering them with the last cup of sauce.
Cover with foil and bake for 45 minutes.  Remove from the oven, set the foil aside and top with the 12 slices of mozzarella placing one basil leaf in the center of each slice.  Return to the oven and bake uncovered for an additional 15 minutes or until the mozzarella is melty and bubbly.  Let the lasagna sit for 10 minutes before cutting.
The Kitchen Witch http://www.thekitchenwitchblog.com/

Click to Print a Recipe Card