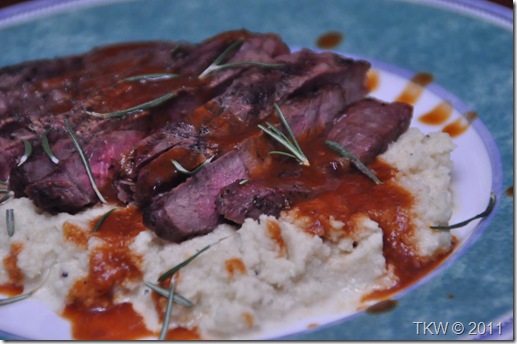 Can you believe, me the ultimate beef lover, has never ever tasted or cooked a flat iron steak before? I know, I know, everyone else has. Where have I been, out in the pasture with cows? It was high time that I put an end to this situation. When my grocer had them on special I knew it was time.
I used to say that I grill year round, no matter what the weather. That all changed when I moved to Montana. Something about having a negative sign before a number deters even the staunches of grillers. My plan was to fry up the steaks in a cast iron pan, the next best thing to grilling. Unbelievably, the weather had just warmed up enough that I could go out and grill, in what I consider comfort.
McGyver and I have been trying hard to lose some weight and get into shape, motivated by our big summer vacation, which meant I needed to keep the fat and calories down to a minimum. I did my usual internet search, like I always do when I'm trying something new. I ran across this recipe from Giada over at the Food Network site. I fell in love with recipe immediately.
I made some changes to reduce the fat and calorie content. I cut the butter in half, completely omitted the olive oil and reduced the amount of wine and substituted beef broth for some of the wine. Surprisingly it was a winner, you would never even know that this recipe was made healthier. I also swapped out the dried oregano for fresh rosemary, it's what I had on hand and it needed to be used. Steak and rosemary go well together and even better when red wine is involved.
I served the steak over my Roasted Cauliflower, Garlic and Rosemary Puree. A perfect pairing. Since I only put 1 cup of wine into the sauce, that left plenty for us to drink! Could a girl ask for more?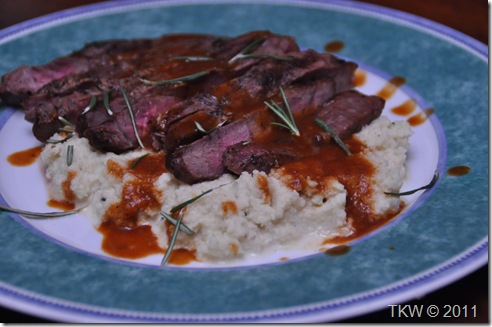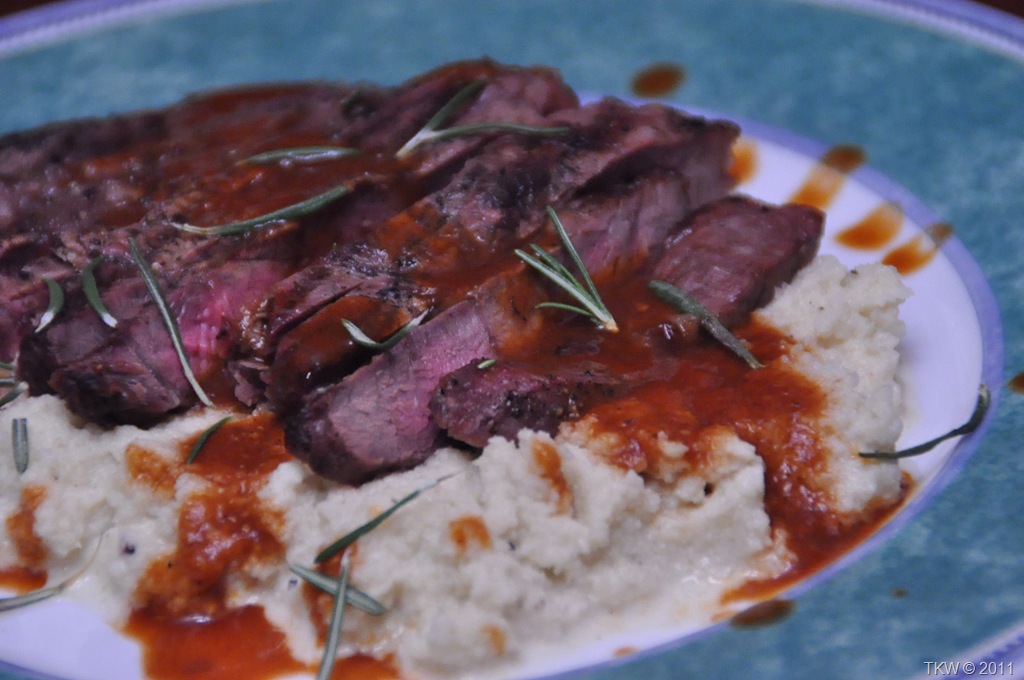 Flat Iron Steaks with Red Wine Sauce
2016-06-13 21:14:13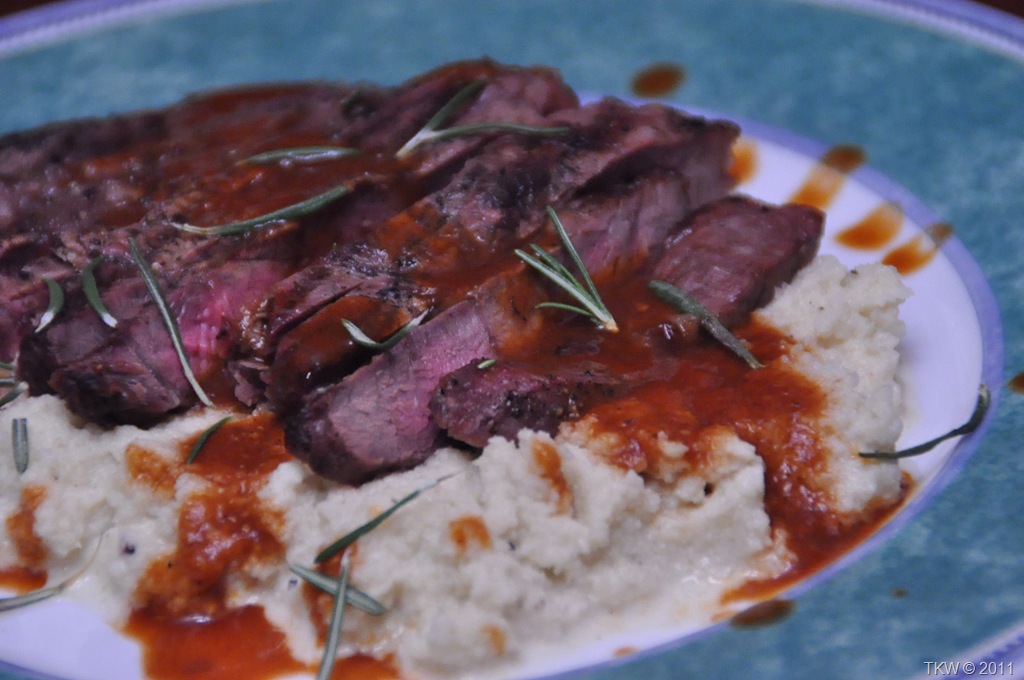 Ingredients
2 (1-pound) flat iron steaks or tri-tip steaks
Salt and freshly ground black pepper
Olive Oil Cooking Spray
3 tablespoons cold unsalted butter
1 onion, thinly sliced
1 tablespoon minced garlic
1 tbsp. minced fresh rosemary
1/4 cup tomato paste
1 cup dry red wine
1 1/2 cups beef broth
Instructions
Prepare the grill or barbecue (medium-high heat). Spray steaks with olive oil cooking spray and sprinkle the steaks with salt and pepper. Grill to desired doneness, about 5 minutes per side for medium-rare. Transfer the steaks to a cutting board. Tent with foil and let stand 10 minutes.
Meanwhile, melt 1 tablespoons of butter in a heavy large saucepan over medium heat. Add the onions and sauté until tender, about 5 minutes. Season with salt. Add the garlic and rosemary and sauté until fragrant, about 30 seconds. Stir in the tomato paste and cook for 2 minutes, stirring constantly. Whisk in the wine and the broth. Simmer until the sauce reduces by half, stirring occasionally, about 10 minutes. Remove the skillet from the heat. Strain the sauce into a small bowl, pressing on the solids to extract as much liquid as possible. Discard the solids in the strainer and return the sauce to the saucepan and bring back to a slow simmer. Cut the remaining 4 2 tablespoons of butter into small 1/2-inch chunks and whisk in the sauce a little at a time. Season the sauce, to taste, with salt and pepper.
Thinly slice the steaks across the grain. Divide the steak slices among 6 plates. Drizzle the sauce over the steak.
Adapted from Giada De Laurentiis
Adapted from Giada De Laurentiis
The Kitchen Witch http://www.thekitchenwitchblog.com/

Click to Print a Recipe Card