What is your lifelong dream?  Do you dream of world travels?  The perfect home?  A cabin in the mountains?  A luxurious vacation in the tropics?  Very few people get to realize a dream come true.  McGyver and I have friends that made their dream come true.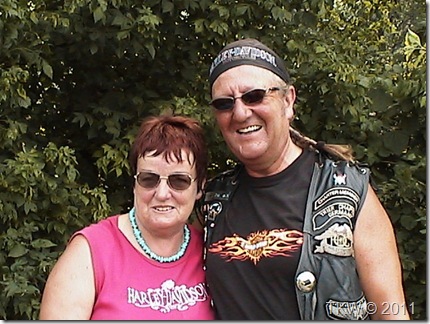 We met Jürgen and Sigrid through the H.O.G. Trier Chapter in Germany.  We struck up a friendship with them that has lasted the years.  When McGyver and I had to return to the U.S. we had no idea that our move would help make their lifelong dream come true.
Jürgen and Sigrid have been dreaming and planning on coming to the U.S. and touring it on their Harley.  They saved all their money so that when Jürgen retired they could make their dream come true!  Our move to Illinois just made it easier for them.
They shipped their bike and flew into Chicago.  McGyver made the 6 hour drive to meet them and help them with arrangements, like finding  out where the heck they were supposed to pick up their bike.  And why their prepaid Visa card was NOT working anywhere.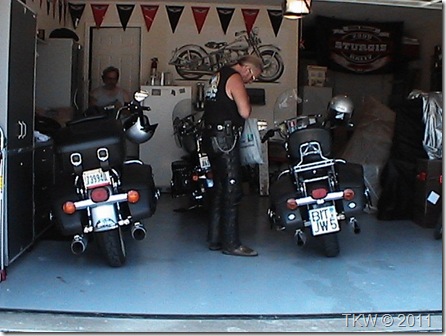 Jürgen and Sigrid stayed with us for a couple of days while they finished their planning and McGyver helped them choose the best roads to travel.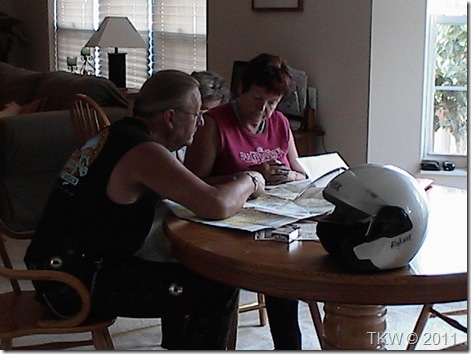 Naturally we took them on a few local rides.  We rode with them to Hannibal, Missouri.  The iconic town of Tom Sawyer.  McGyver and I look the perfect part?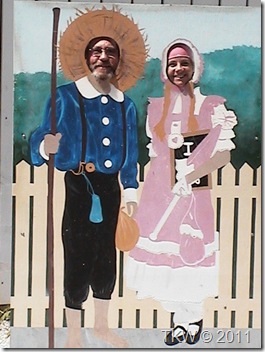 We also rode on the Great River Road to Segar Park in Chester, Illinois where the famous Popeye statue is.
The weather was looking seriously bad, the sky was getting a greenish tinge.  Anyone who has lived in tornado alley will tell you that is not a good sign.  We crossed over the bridge to Missouri and decided that it would be best to park the bikes and hit up an inviting diner.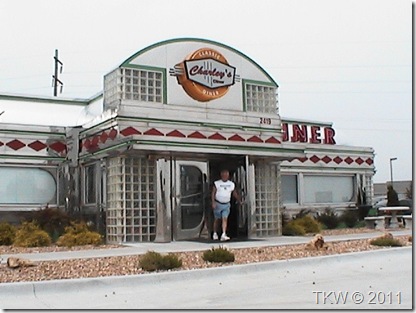 The bikes were parked so that they were slightly protected.
We hung out and chatted, watching the news and the tornado reports.  Some serious wind and rain came through, very exciting for Jürgen and Sigrid, it was their first tornado experience.  Fortunately we didn't suffer from it, and as fast as it blew in, it blew by and cleared up.
Jürgen and Sigrid went off to live their dream, I'll never forget the excited phone calls: "Ja, hello there, this here is Jürgen, we are in Memphis listening to Jazz-Blues, it's fucking awesome".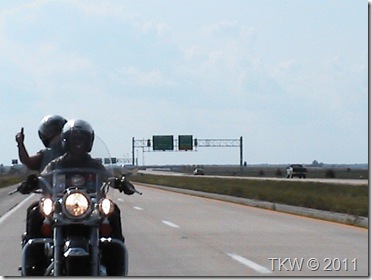 Auf Wiedersehen!