Pease porridge hot, Pease porridge cold,
Pease porridge in the pot, nine days old;
Some like it hot, some like it cold,
Some like it in the pot, nine days old.
When I was just a wee child, last year (not really but it seems like that), my mother would serve me oatmeal.  And I hated it.  I wouldn't touch it at all , I don't know if it was the flavor or the texture or both, but I hated it.  My mom had a solution for that, if I didn't get it for breakfast, I got it cold for lunch, cold for dinner, cold everyday for every meal until I ate it.  I think it took me nine days to get it down.
Many a year went by and sometime during that time my taste buds changed and I found myself liking oatmeal.  The oatmeal I'm talking about was good ol' Quaker instant oatmeal, sugary, artificially flavored oatmeal.  Peaches and cream being my favorite.
My daughter Leah at Leftovers for Lunch and Susan at The Great Balancing Act inspired me to do something more that open a packet of oatmeal and add hot water.  They add almond butter, peanut butter and honey, Nutella, nuts and so on and so on, things I never thought of doing.
I decided to challenge myself to a week of oatmeal, real no kidding porridge.  The only caveat, it had to be fast and easy.  After all it was competing with instant oatmeal that is ready in less than a minute.
The star of my oatmeal: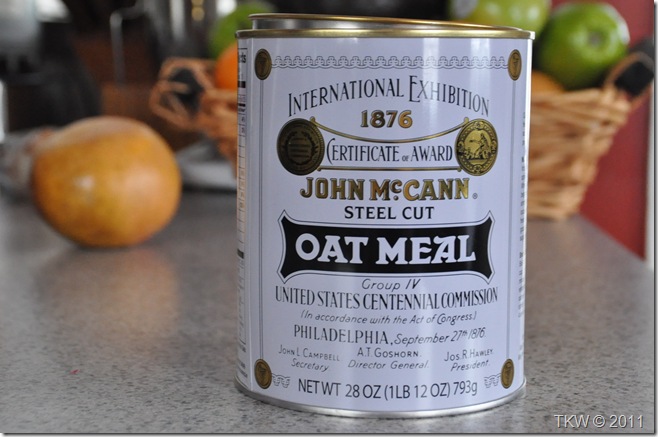 I decided to use steel cut oatmeal, a far cry from my instant oatmeal.  They take 30 minutes to cook, which seems to counter point my caveat that the oatmeal had to be fast and easy.  However, I made 5 servings in one shot, which meant that the rest of the week I merely had to microwave my portion and I would be ready to go.
I used some pre-packaged products, such as fruit cups (diced and pre-portioned), which cut down some prep time.  I ended up with some classic flavors and some not so classic, each one amazingly good and filling!
Apples and Cinnamon, warm and comforting, made better with chunks of apple, crunchy granola and lightly sweetened with cinnamon sugar.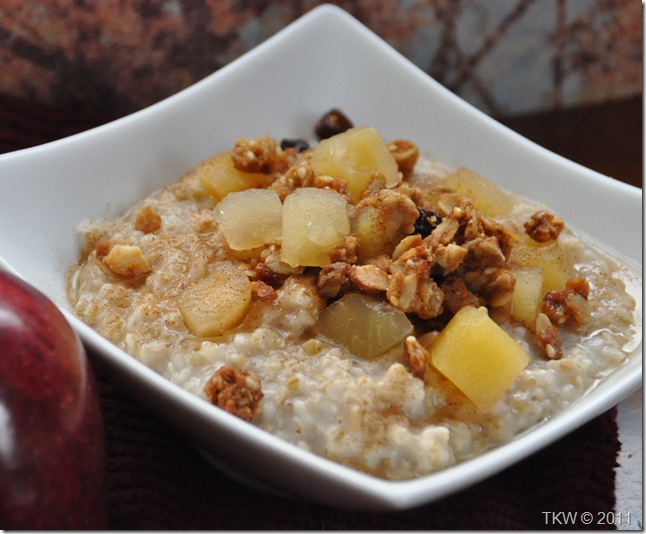 1 cup prepared oatmeal
1 apple fruit cup
1/8 cup of granola
Cinnamon sugar to sprinkle on top
Peaches and Cream, my favorite Quaker instant oatmeal, but better with diced peaches and fresh grated nutmeg to send it over the top.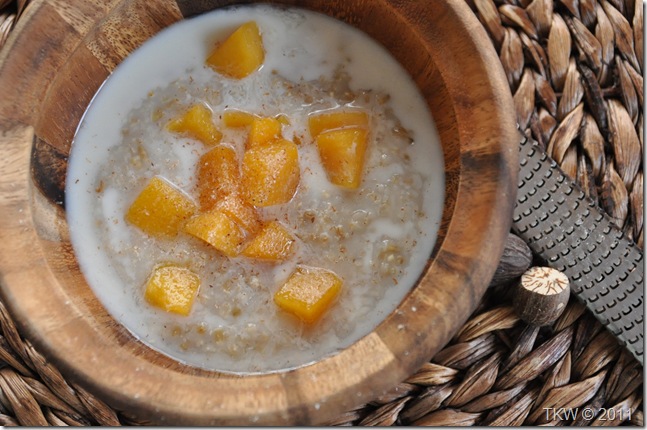 1 cup prepared oatmeal
1 diced peaches fruit cup
Drizzle of Fat Free half and half
Fresh nutmeg grated on top
Tropical Delight, an exotic oatmeal with pineapple tidbits, toasted coconut, and chopped macadamia nuts.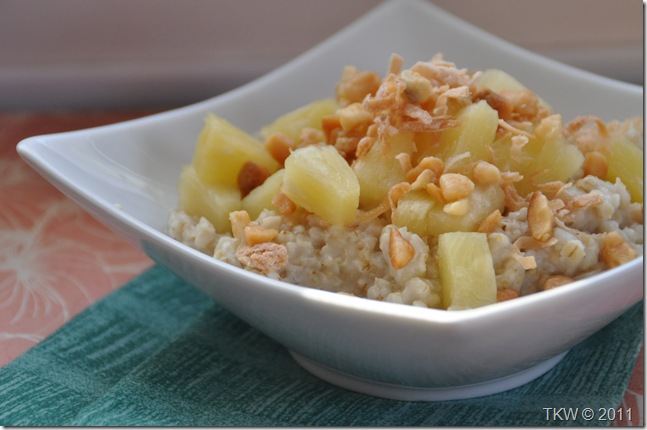 1 cup prepared oatmeal
1 pineapple tidbit fruit cup
1 tbsp. toasted coconut
1 tbsp. chopped macadamia nuts
Classic Breakfast, I love me some eggs and sausage for breakfast!  It may sound odd to put Boca sausage and a poached egg on top of oatmeal, but it worked really well and ended up being my favorite of the week.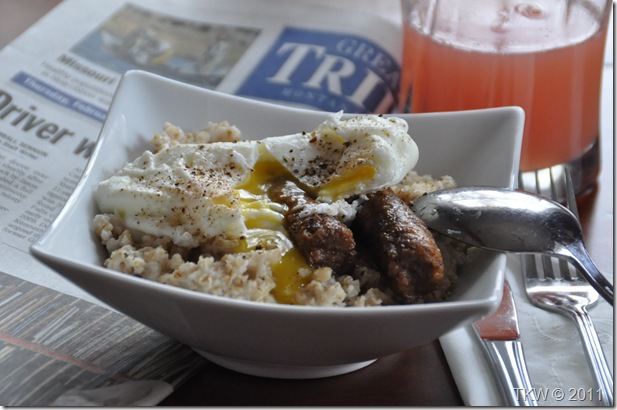 1 cup prepared oatmeal
2 Boca link sausages, heated according to directions
1 poached egg
Salt and Pepper
Almond Joy, I ended my week of oatmeal just like I would end any 4 course meal, with dessert.  Almond Joys are a favorite candy bar of mine.  I recreated an Almond Joy by deconstructing it and putting it over oatmeal.  The smartest thing I did?  I used mini chocolate chips, they melted to a chocolaty gooeyness throughout the oatmeal.  Beat that Quaker!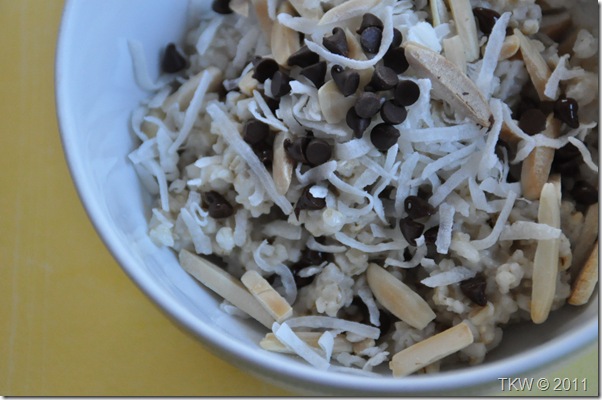 1 cup prepared oatmeal
shredded coconut
toasted almond slivers
mini chocolate chips
Notice I didn't give amounts for the Almond Joy Oatmeal, I didn't measure, I just sprinkled and stirred, it's dessert breakfast, go crazy!
Don't let your porridge get nine days old, turn it into something wonderful and eat it up now!