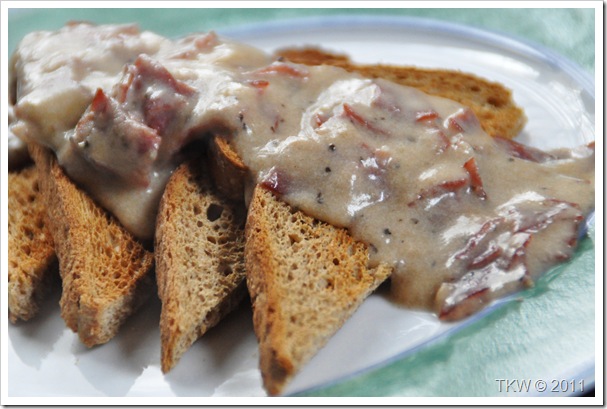 I've been eating S.O.S. since I was a wee little Navy Brat. That's how it all got started, the U.S. Navy. Travel back in time with me, just for a little while…
My father is one of the most interesting people I know, he's from a small, nay, teeny tiny town in West Texas. He used to tell me the only thing between Texas and the North Pole was a barbed wire fence. If you've ever been to west Texas and felt that cold breeze that comes from the North, you'd be inclined to believe him. In his young days, my daddy was pretty good at sports. Despite the fact that he was from this teeny tiny town, he scored a football scholarship to a Junior College.
Picture a young handsome man (I thought he was handsome from the photos), a football player from a teeny tiny town going off to a big school. A school with lots of girls, girls he didn't grow up with. Lets just say that one too many panty raids and he wasn't allowed at school anymore. Sigh…I know where my kids get their mischievous streak from.
That was the 1960's, that meant the Vietnam War was going strong. Daddy knew that no college meant he would be drafted into the Army and sent to Vietnam. My daddy loved the water, he was a life guard and a competitive diver throughout high school, the Army was not the place for him. Before the draft papers came in, he preemptively joined the U.S.N.
He may be going to war but he was with his first (and still) love of his life, the water. I'm not sure if that love of water came from the lack of water of West Texas or that his name literal translates to "ruler" (first name) and "lover of the sea" (middle name). For whatever reason, the seas were for him, he's never stopped working on or near them since.
Being in the Navy meant that my daddy would go out to sea for long periods of time. That meant that after a few months, fresh food was not in abundance. I remember that when he was home with us, we'd have a salad every night so he could have fresh crispy vegetables. He used to tell us that he would get "fresh" carrot sticks on board and he could hold them out and they resembled a limp…uh, use your imagination here.
Maybe through self defense, my dad did find himself enjoying some of the food that wasn't fresh. One of the dishes was S.O.S. What the heck is that? Besides meaning "Help" in the nautical world, in this case it refers to "Shit on a Shingle". I believe the more politically correct name for the dish is Creamed Chipped Beef over Toast. Sorry, to me it will always be S.O.S.
S.O.S. is typically served for breakfast. The "Shit" part is composed of a cream gravy (medium white sauce) with chipped dried beef in it. The "shingle" part consists of the toast that the gravy is poured over. The toast is layered much like shingles on a roof. There you have it, S.O.S.
If you do any camping or have a cabin or just want to reminisce over your old Navy days, this is a perfect and easy breakfast. The chipped beef has a shelf life of 10 or more years maybe more, (not really sure) and the rest of the ingredients are easy to pack or they are kept in your pantry. Just make sure that you rinse the chipped beef before you cook it, it contains a lot of sodium (hence the amazing shelf life).
In my version, I used bacon fat and cooked it with flour to make the roux. I cooked the roux until it was lightly brown to give the dish more flavor. I used fat free milk to save on calories and fat, but I didn't miss it because the roux added so much flavor.
Are you ready? Sing with me to the tune of "In the Navy" by the Y.M.C.A.
"In the Navy, you can sail the seven seas,
In the Navy you can eat S.O.S.
In the Navy, In the Navy"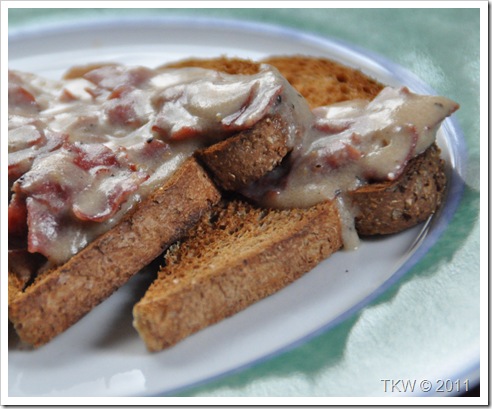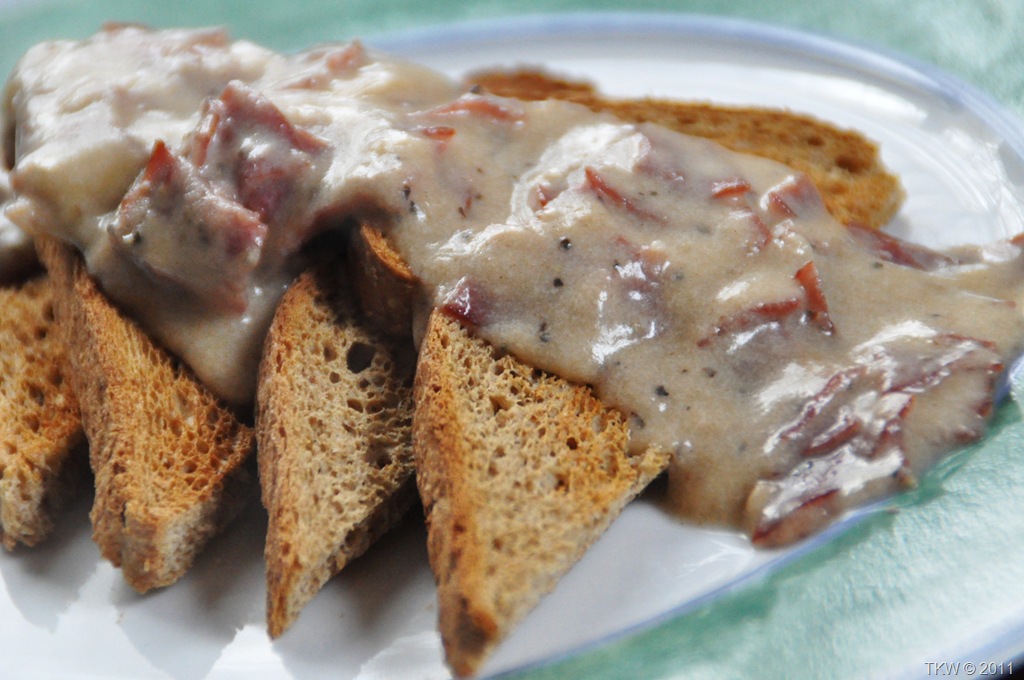 S.O.S.
2016-06-13 20:45:43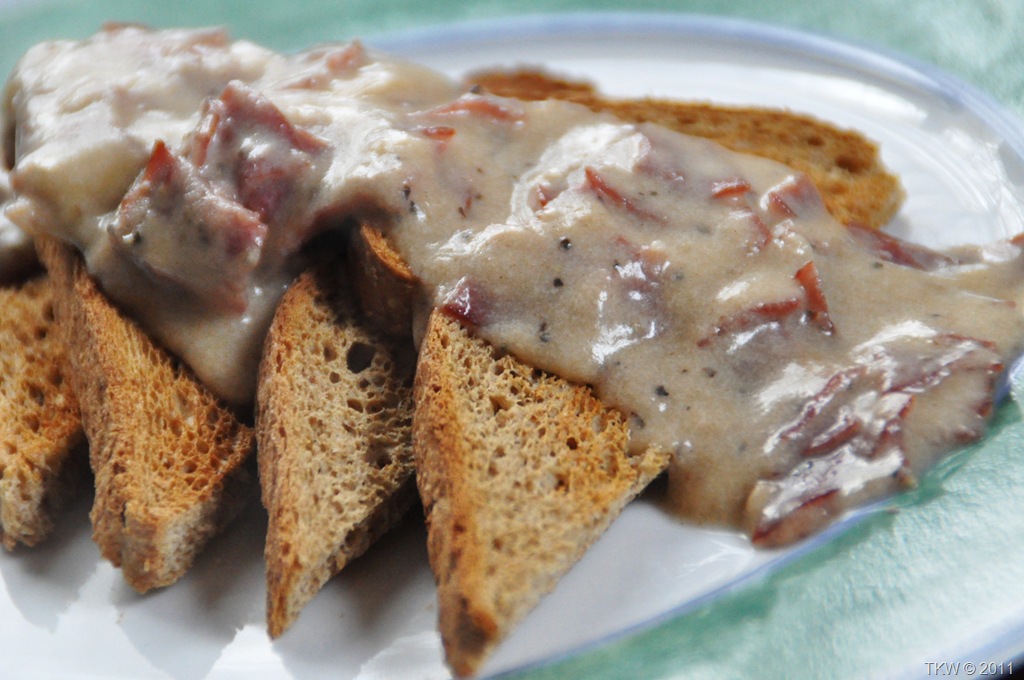 Ingredients
1 Jar or package of dried (chipped) beef, rinsed and diced
2 tbs. bacon fat, butter or oil
2 tbs. flour
2 cups milk or cream
1/4 tsp. pepper or more to taste
Salt if needed (taste first as the dried beef is very salty)
8 slices of toast
Instructions
In a non-stick pan over medium high heat, melt bacon fat or butter.  Once hot, add flour and whisk.  Continue to whisk until flour/fat mixture is hot and bubbly and becomes the color of caramel.  Slowly add milk, continuously whisking to blend.  Add diced and rinsed dried beef, boil for one minute than remove from heat.  Season with pepper and salt if necessary.  Cut toast on the diagonal, and lay 2 slices on each plate slightly overlapping each other.  Ladle a 1/2 cup of gravy over the toast.  Serve immediately.
The Kitchen Witch http://www.thekitchenwitchblog.com/
Just in case you've never seen dried (a.k.a. chipped) beef, here's a picture courtesy of Hormel:

Click to Print a Recipe Card