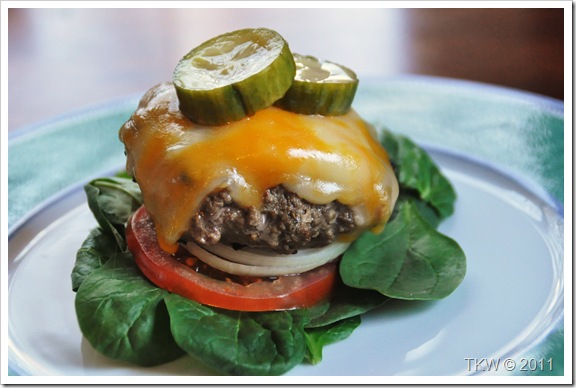 Once again I am out of sync with everyone. I realize that people normally pickle their cucumbers once they have hoards of them and their neighbors, friends and relatives have refused to take another single one. Here I am making pickles, pickles with purchased cucumbers.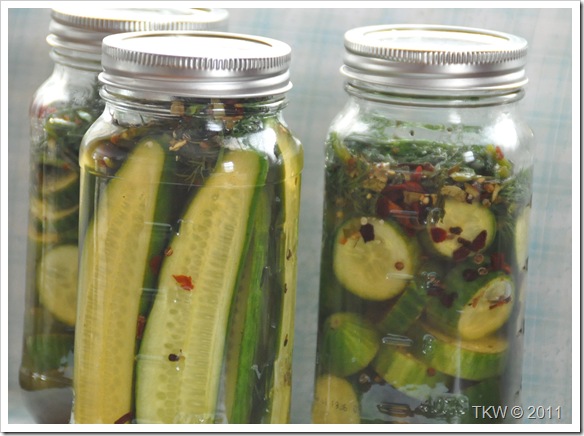 First of all, I've never pickled anything in my life except my liver. Based on that I should be pretty good at pickling cucumbers and hopefully they both have a long shelf life. Why in the world would it possess me to do it now? A yearning for summer? The rebel in me? Just another complicated me thing.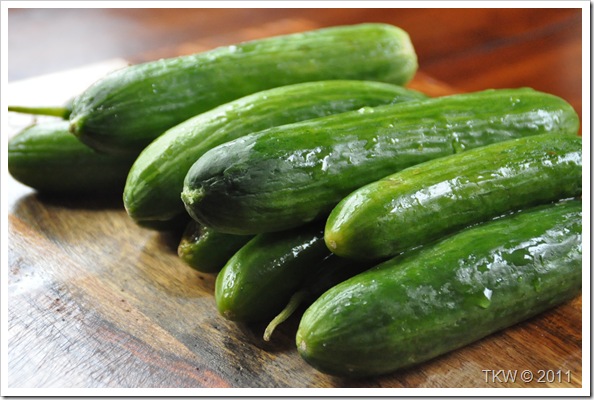 There was something so enticing about these "snacking" cucumbers (that's what they called them). Their claim was crispness. Just seemed like a good criteria for pickles. I picked up a couple of packs, brought them home and thought what the hell am I doing?
After searching the internet for pickling ideas, I had determined that 1. I was going to do refrigerator pickles (I didn't have any canning stuff) 2. I was going to create my own unique pickles. I did that by blending the sweet and dill then throwing in a little spice.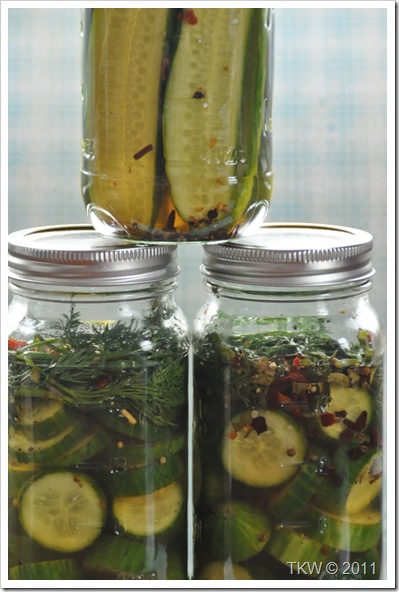 Talk about easy! Talk about dillyicious! Talk about sweet! They reminded me of a bread and butter pickle at first, then the sweetness faded and I got a subtle dill aftertaste, then the crushed red peppers hit the edges of my tongue and I went gaga!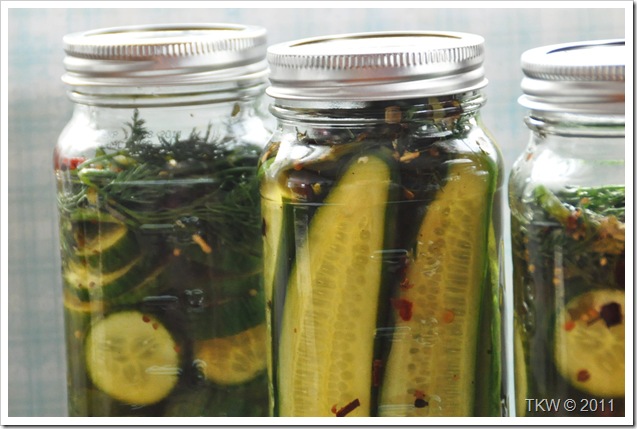 Sweet pickles are a mood thing for me, and these were maybe a tad bit sweet for my taste. I think next time I'll cut back on sugar. I might even wait until someone kind decides to unload their cucumbers on me before I go all rebel again.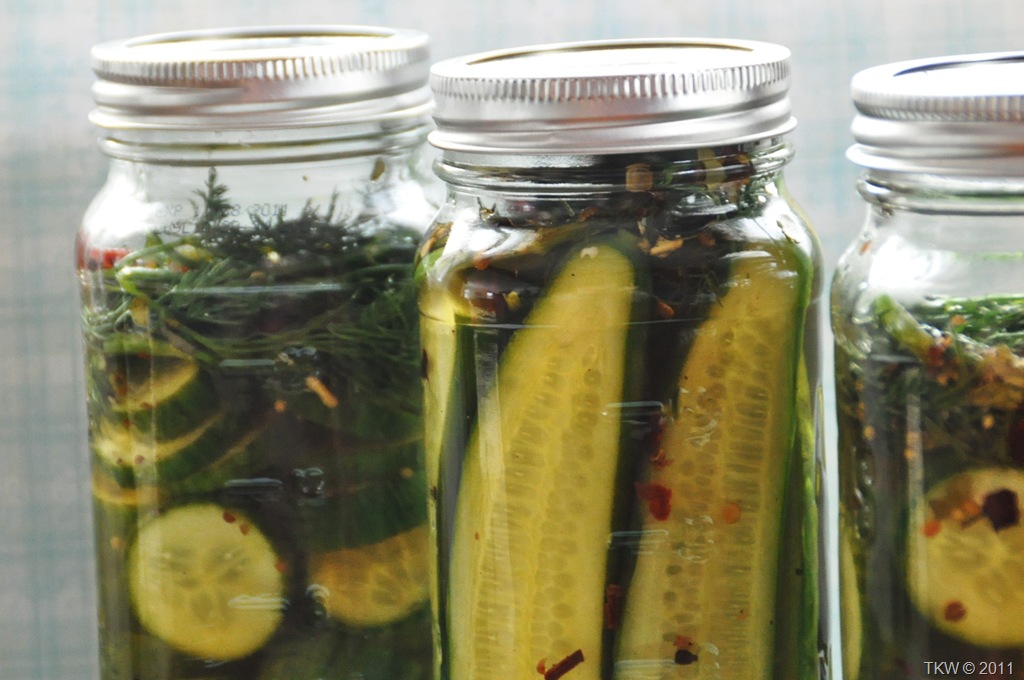 Sweet and Dillyiscious Pickles
2016-06-13 20:43:23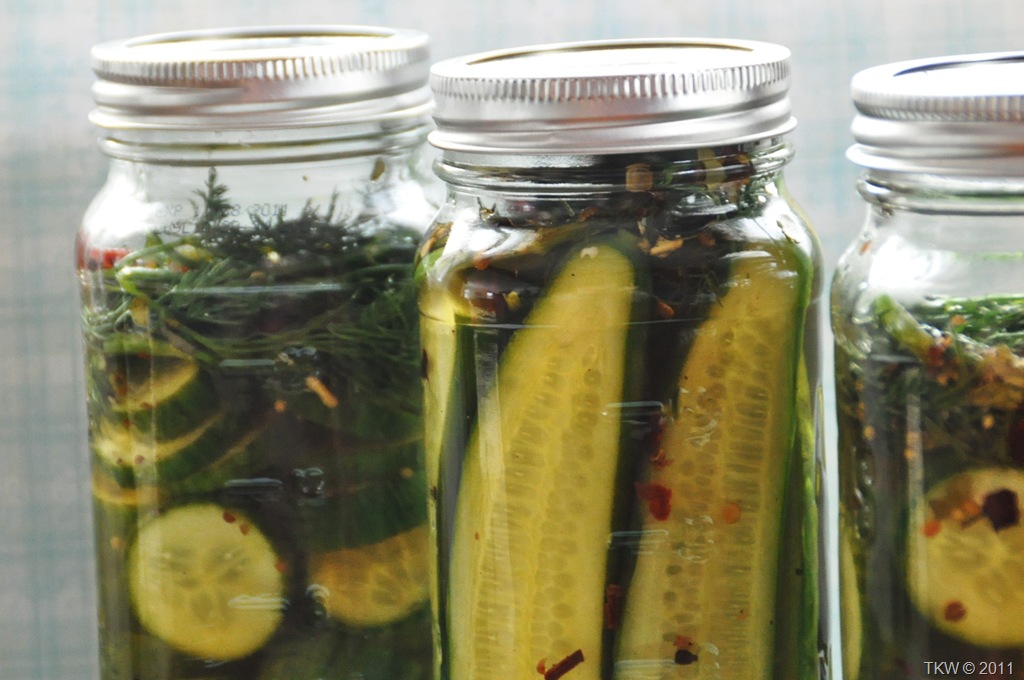 Ingredients
2 lbs. pickling cucumbers (or mini snacker cucumbers)
3 Tbs. pickling spice like McCormick's
1/4 tsp. crushed red pepper flakes
1 1/2 cups apple cider vinegar
1 cup water
1 cup sugar (or less)
3 Tbs. Kosher salt
3/4 oz. (1 pkg.) fresh dill weed
Instructions
Wash cucumbers and cut into 1/2" discs or into spears.  Tightly pack into 2 or 3 sterilized quart jars and top with the dill weed.
Lightly crush the pickling spice with a mortar and pestle.  Place in a medium non-reactive pan.  Add cider vinegar, crushed pepper, water, sugar and salt.  Bring to a boil, reduce heat and cook until the sugar and salt dissolves.  Pour over the jarred cucumbers and dill weed.
Let cool completely, cover and refrigerate for 7 days for best flavor.
The Kitchen Witch http://www.thekitchenwitchblog.com/

Click to Print a Recipe Card