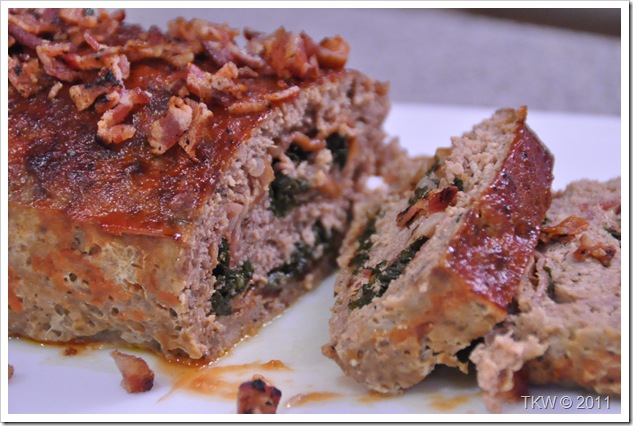 Meatloaf can be boring and mundane unless you are a Rockstar named Meatloaf. Some of us grew up eating meatloaf or "meat surprise" as we called in grade school. A slice of some kind of meat topped with ketchup served on a tray with instant mashed potatoes and green beans. The only thing that could make the meat more edible was by covering it with more ketchup and trying not to think about what might be in it.
Of course some of us grew up just listening to Meatloaf and watching him in cameos like "Rocky Horror Picture Show"…I'm just sayin'…not confessing, so don't judge. I didn't grow up with "Mom's Meatloaf" which I've heard could be good or so horrible that it could scar you for life. My main experience was the school cafeteria, and it never really left a good impression on me. So much so, that I've rarely made meatloaf in my life. I've tried a few recipes that were amazing like Alton Brown's Meatloaf recipe, but generally speaking meatloaf was just never that good. However, I didn't want my childhood memories/previous experiences, cloud my culinary adventurism; I decided to experiment and make a meatloaf worthy of posting about (and eating).
Meatloaf's main ingredient is ground beef, the "duh" factor. After some thought, I realized that meatloaf is similar to a burger and/or a meatball, but baked in the oven. With that thought in mind I started thinking about what I loved about a good burger. One of my favorite varieties of burgers is the BBQ bacon burger. So I had the flavor in mind…now to make it.
With that in mind I set out to make a meatloaf that would not bring back childhood school lunch memories but set a whole new bar for the humble meatloaf. I believe that bacon is the only meat that really makes any other meat taste better, so I was sure to use bacon…plus I was aiming for a BBQ bacon hamburger thing anyways.
Meatballs are often made with the addition of ground veal and/or pork. The addition of ground pork/veal makes the meat more tender and add some depth of flavor. I opted for the less expensive way and used some ground pork. To keep it a bit lighter I used panko bread crumbs versus traditional bread crumbs. I used some spinach, because I had it, and I thought it would add some nice color. I decided against mixing all the ingredients together because it would not be as interesting as "stuffing" the meatloaf. It would have been easier but not as appealing to the eye. We eat with our eyes first, appealing was a must do on my list. Another thing my school lunch meatloaf did not do!
I'm happy to report that the experiment was a success! I ended up with a beautiful and tender meatloaf that was reminiscent of a BBQ bacon hamburger. So much so that I would have been quite happy to slice it and put it between two hamburger buns!
Small confession…part of my motivation came from shopping at my favorite kitchen store, Pizazz. I bought a pan especially designed for cooking meatloaf. Naturally, I had to justify the purchase by making a meatloaf of my very own. It's a nifty little piece that has a perforated pan that fits inside of the loaf pan. It made it very easy to lift the meatloaf out of the pan, leaving the fat/juices behind. It was easy to slide out of the inner pan, so my meatloaf held its shape and sliced beautifully. Not only that, it held to my rule of being multifunctional and that I could use it as a bread pan without the insert.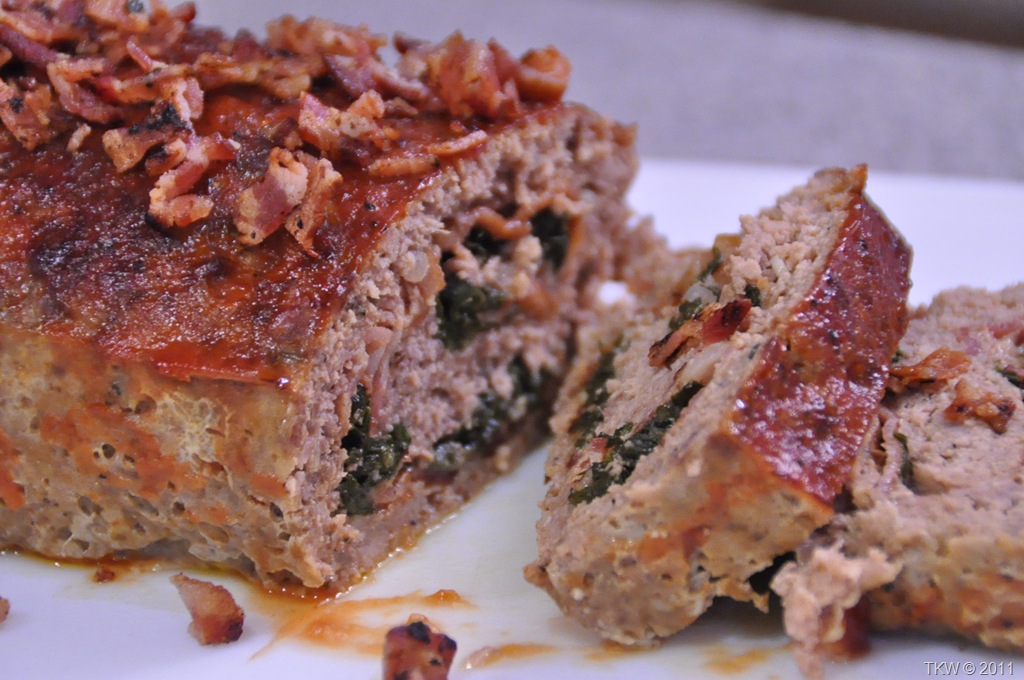 BBQ Bacon Stuffed Meatloaf
2016-06-13 20:38:19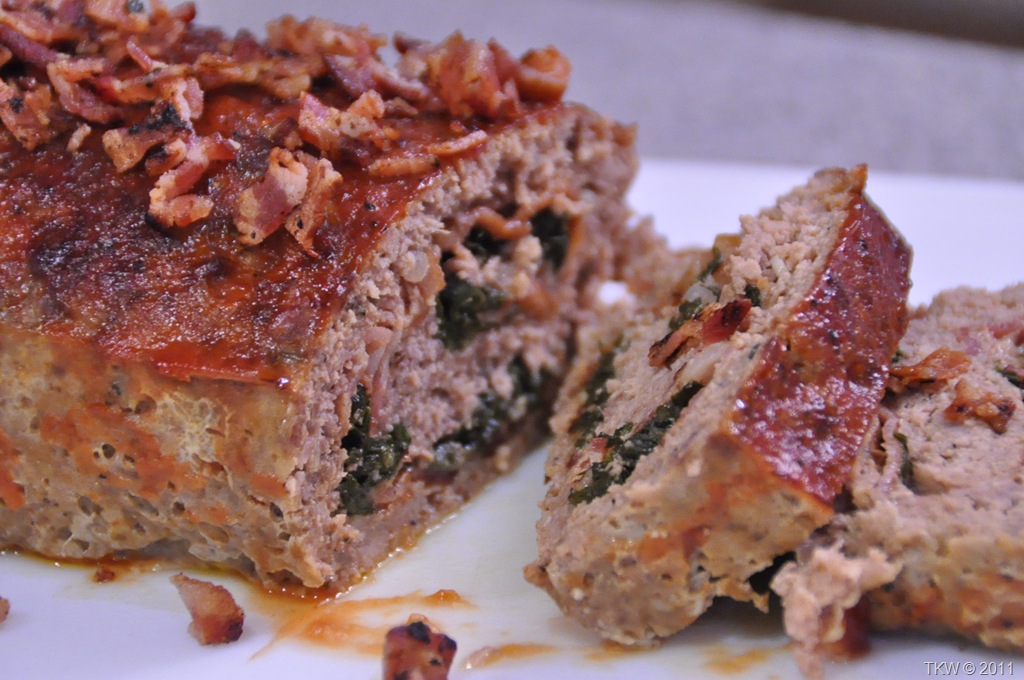 Ingredients
1 lb. bacon, divided
1 lb. lean ground beef
1 lb. ground pork
1/2 large onion, chopped finely
2 cloves garlic, minced
1 bunch fresh spinach, chopped
2 eggs, lightly beaten
1/2 cup panko bread crumbs
1 1/2 cups BBQ sauce divided
1/2 tsp. smoked sea salt
1/2 tsp. black pepper
Instructions
Preheat oven to 375°F. In a skillet over medium high heat, cook bacon until browned but not crisp. Drain bacon on paper towels, set aside. Pour off all but 1 tbsp. of fat. Cook onion and garlic for 2 minutes over medium high heat. Drain and set aside. To the hot pan add the spinach, cook until wilted and set aside.
Using your hands, gently mix the ground pork, ground beef, beaten eggs, panko, 1/2 cup BBQ sauce, the cooked onion and garlic mixture, salt and pepper until well blended. Lay out a piece of parchment paper and spread meatloaf mixture evenly across parchment paper. If using a loaf pan, spread the mixture to no wider than the pan.
Spread a thin layer of the BBQ sauce over the meat mixture, leaving a 1" border on all sides. Cover with the bacon strips. Chop remaining strips for garnish, set aside. Sprinkle cooked spinach evenly over the bacon. Using the parchment paper, carefully lift one end and roll the meatloaf up sushi roll style. Place in a loaf pan or on a cookie sheet. If placing on a cookie sheet, be sure to seal the ends.
Bake for 40 minutes. Cover with BBQ sauce and return to the oven for 10 to 20 minutes more or until the meatloaf is cooked well done. Let cool 15 minutes before slicing. Garnish with remaining chopped bacon and serve with extra BBQ sauce.
Notes
Yields: 8 to 10 servings
The Kitchen Witch http://www.thekitchenwitchblog.com/

Click to Print a Recipe Card