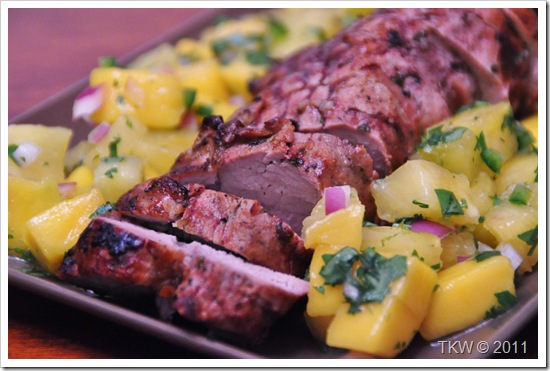 Is everyone as excited about grilling as I am? The weather is warming up and so is my grill. I love to grill so much so, that poor McGyver has slowly been cut off from the job. I couldn't help myself, there is just something about standing next to the grill, drinking a beer and turning the food every now and then. Maybe it's that primal instinct? Maybe it's just the beer? I don't care what it is, I love I t!
I did make a resolution this year to let McGyver grill/cook more…let it go, Rhonda…let it go (I have a teeny tiny control problem when it comes to cooking). I do promise that I will stand by my resolution, but not until I get a little grilling fever out of my system.
This year I bought a 1/4 of a cow, yep that's a lot of grass fed beef, scored locally from our center physician at work (who happens to own a cattle ranch). With all that beef to choose from, what do I choose to grill? Pork. A freezer full of beef and I could think of nothing but pork and pineapple and mango. I've got some serious spring fever for a girl who just watched snow fall for the last couple of days.
Snow was not enough to stop the spring fever, it certainly paid off. The pork was tender and flavorful and the pineapple/mango salsa was sweet and spicy…just how I like it. I had plenty of leftovers; the next night they were transformed into porkalicious tacos!
The pork can marinade all day if you like, makes it nice and easy. Marinade the pork loins, put them in the fridge, go for a ride and come back for a nice cold one and start grilling. I also recommend making the salsa ahead of time so all the flavors have time to bloom.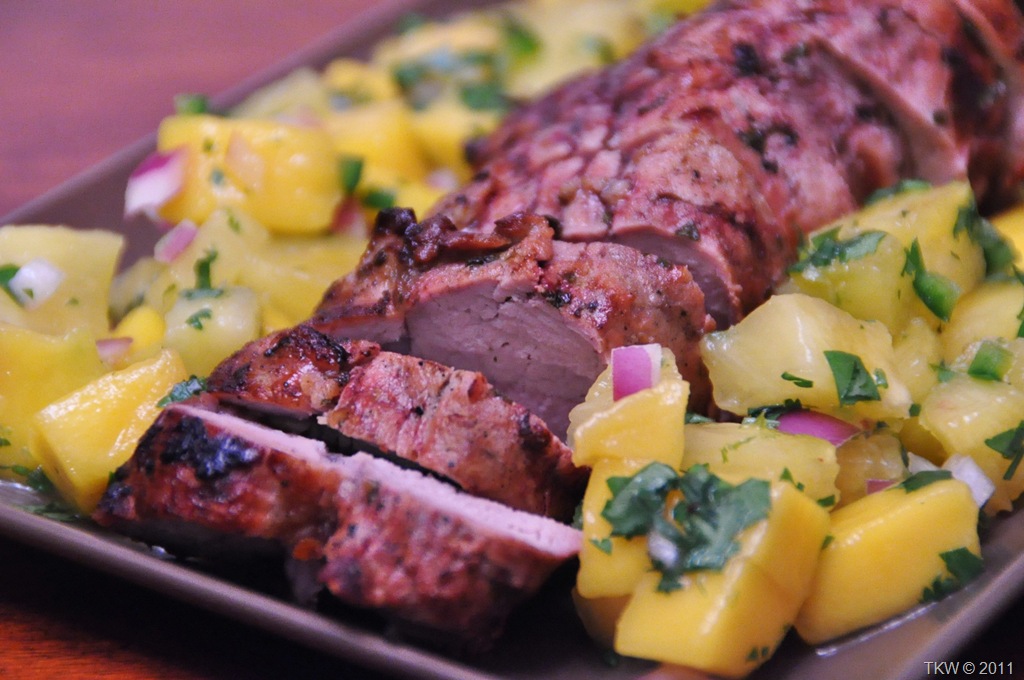 Grilled Pork Tenderloin with Pineapple and Mango Salsa
2016-06-13 20:35:38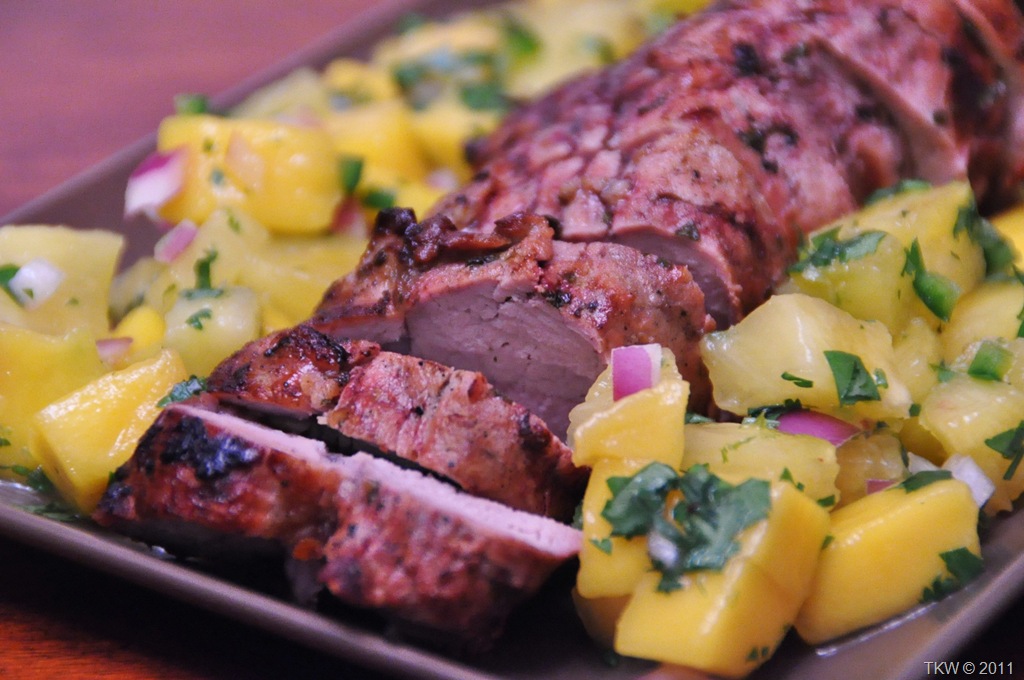 Pork & Marinade
3 to 4 lbs. pork tenderloin, silver skin removed
1/4 cup olive oil
1 lime, zest and juice
1/2 tsp. kosher salt
1/8 tsp. crushed red pepper
1/4 cup cilantro, chopped
3 cloves garlic minced
Salsa
1/2 fresh pineapple , diced
2 mangoes, diced
1/4 cup red onion, finely diced
1 lime, zest and juice
1/2 to 1 jalapeno, seeded and minced
1/4 cup chopped cilantro
1/2 tsp. kosher salt, or more to taste
Instructions
Pork & Marinade: Mix olive oil, lime zest, lime juice, salt, crushed red pepper, and garlic.  Put tenderloins and marinade in a zipper top plastic bag.  Marinade for 30 minutes at room temperature and up to 24 hours in the refrigerator.  Turn the grill to high heat and brown all sides of the tenderloin(s) until nice and brown, about 10 minutes.  Finish cooking on indirect heat at 350F for about 20 minutes more or until pork reaches 155F.  Remove pork and let rest 10 minutes prior to slicing.  Serve with Pineapple Mango Salsa.
Salsa: Mix all ingredients and refrigerate at least one hour prior to serving.
Notes
(Note: The instructions are for a gas grill)
The Kitchen Witch http://www.thekitchenwitchblog.com/

Click to Print a Recipe Card