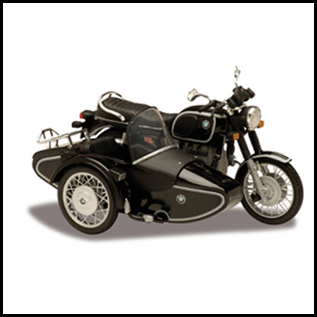 (Picture from Google Images)
I'm going to take you back a few decades. My first introduction to a motorcycle came from my dad. Back in the mid 70's, my dad had purchased a BMW and put a side car on it. I believe that is how he justified it as a family vehicle to my mom.
My most vivid memory of the bike was when my dad took me to school in it. I remember that the inside of the sidecar had a bar in it, I used to grip the bar and pretend that I was steering the bike. Vroom, vroom, turn to the left, turn to the right, it was an exhilarating feeling. It was also a good thing that my dad did not drive the bike like my pretend steering.
When my father pulled up to the school, it seemed like every kid turned and looked. They all ran up to the bike "wow, that's cool" they chimed time after time. I earned some serious cool points and had all the boys following me for days. That is probably the last time I earned cool points and had boys following me around. Unfortunately a drunk driver hit the bike while my dad was driving it and totaled the bike. My dad was fine but he never replaced the bike.
I didn't have much to do with bikes after that; a couple of outings on mini bikes and at 18, I drove a bike down our quarter mile stretch and that's it. I joined the military and my life went on, without another thought of a motorcycle.
Then one day, as a divorced single parent I met a guy, I liked him and we started dating. He had a 1999 Harley Davidson Fat Boy. I remember my first ride with him, I was wearing jeans and a winter coat and a helmet he had just bought me; if I didn't have newbie written all over me, I don't know who did. The ride through the Eifel region in Germany was exhilarating and it brought back those sidecar memories with my dad. I couldn't wait to ride with him again.
Bird rode with an amazing bunch of people; probably the best people I've ever met in my life. Riding with them was a blast; I never had a bad time. As the saying goes, all good things must come to an end. Bird and I didn't last, and with his departure, away went the Fat Boy rides also.
After our separation, I would hear a motorcycle buzz by and my heart would skip a beat, I would yearn to get on a bike and feel the wind in my face, listen to the rumble of the mufflers and explore the world on an open road. The camaraderie that goes with riding in a group was also gone, no more having a few beers after the ride and talking about the adventure. It was a sad time for me, not so much because the relationship was dissolved; it was because I wasn't out there riding.
Then there it was, the 'aha' moment, I knew what I needed to do. I made a promise to myself that I would learn to ride my own and never have to wait for a guy to give me ride. However, learning to ride my own was going to have to wait till I returned to the states, I was determined; I would wait and learn and then ride my heart out.
Fortunately, in the mean time, McGyver wooed me and for the next two years I rode two up with him. Not only that, but I got to ride with the same group of friends that Bird and I had rode with (a little weird but it was all good). I told McGyver of my desire to ride my own, he encouraged me. He also took every chance he could to prepare me.
McGyver coached me about riding, pointing out what riders were doing right and what they were doing wrong. He explained to me how to pack a bike and what to pack. He educated me about the parts and the care of a motorcycle. I was involved with every part of riding, except the driving part. But I knew that was just a matter of time.
Then the time finally came, a move back to the States. As sad as I was to leave Europe, I was excited to learn to ride my own. My first order of business was to sign up for the Motorcycle Safety Foundation beginner course; the local classes were full, but I was not to be deterred. I had waited two years to learn to ride. Instead, I signed up for the course offered at Southern Illinois University Edwardsville. It was a 45 minute drive each way for 3 days, but that was nothing compared to waiting for two years to ride my own.
I took the course and did well, except for the slow small turns. A crazy eight inside a box, are you kidding me? I never did master it; ironically I still have problems with it. Fortunately in the state of Illinois, if you passed the MSF course, you just had to bring your card in and your license would be endorsed. Whew, no second test needed.