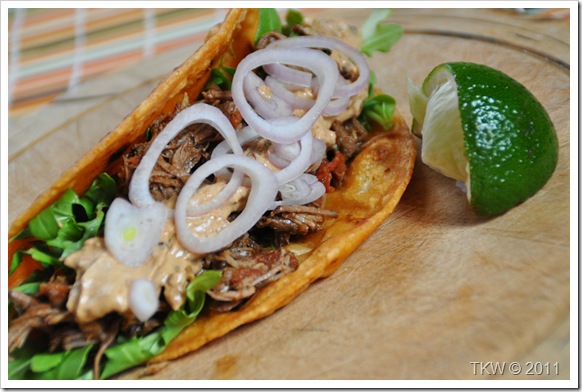 Can you believe Cinco de Mayo is just around the corner? If you've been keeping up on the latest food blog postings, you probably already picked up on the trend of latest Mexican inspired meals. My tacos aren't trendy but they are delicious!
I actually wasn't sure if tacos were really Mexican or another American meets Mexico dish. I checked out Wikipedia just for a little background information.
According to the Real Academia Española, publisher of Diccionario de la Lengua Española, the word taco describes a typical Mexican dish of a maize tortilla folded around food ("Tortilla de maíz enrollada con algún alimento dentro, típica de México"). The original sense of the word is of a "plug" or "wad" used to fill a hole ("Pedazo de madera, metal u otra materia, corto y grueso, que se encaja en algún hueco"). The Online Etymological Dictionary defines taco as a "tortilla filled with spiced meat" and describes its etymology as derived from Mexican Spanish, "light lunch," literally, "plug, wadding."
Whew, good news. I had my doubts because I couldn't imagine an authentic dish to include a preformed crispy corn tortilla. Now that I knew it was indigenous to Mexico, I had to read on.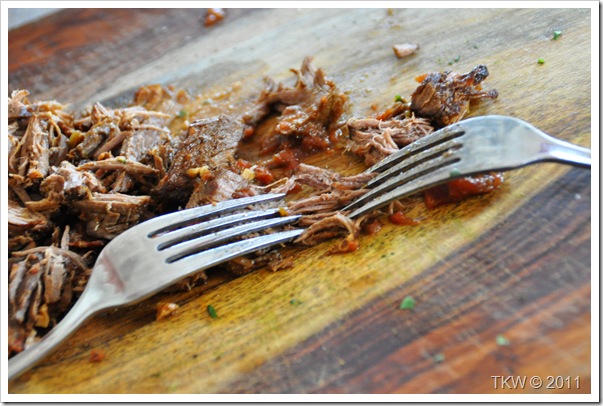 Beginning from the early part of the twentieth century, various styles of tacos have become popular in the United States and Canada. The style that has become most common is the hard-shell, U-shaped version first described in a cookbook authored by Fabiola Cabeza de Vaca Gilbert and published in Santa Fe, New Mexico in 1949. These have been sold by restaurants and by fast food chains. Even non-Mexican oriented fast food restaurants have sold tacos. Mass production of this type of taco was encouraged by the invention of devices to hold the tortillas in the U-shape as they were deep-fried. A patent for such a device was issued to New York restaurateur Juvenico Maldonado in 1950, based on his patent filing of 1947 (U.S. Patent No. 2,506,305). Such tacos are crisp-fried corn tortillas filled with seasoned ground beef, cheese, lettuce, and sometimes tomato, onion, salsa, sour cream, and avocado or guacamole. In this context, soft tacos are tacos made with wheat flour tortillas and filled with the same ingredients as a hard taco.
Ah ha, taco's hail from Mexico but the crispy taco shells I grew up with were definitely American. Personally I prefer my tacos in between a soft taco and a crunchy taco. I fry up a corn tortilla just enough that is bubbles and stays folded over, but soft enough that it doesn't totally disintegrate as soon as you bite into it.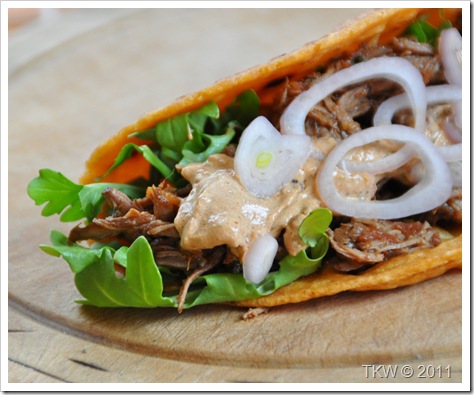 So taco originated from Mexico, the hard crispy shell is definitively American and the name? We can thank the Spaniards for the name taco. How happy I am to say taco instead of "Tortilla de maíz enrollada con algún alimento dentro".
Just a side note here, these may have been the best tacos I've ever made!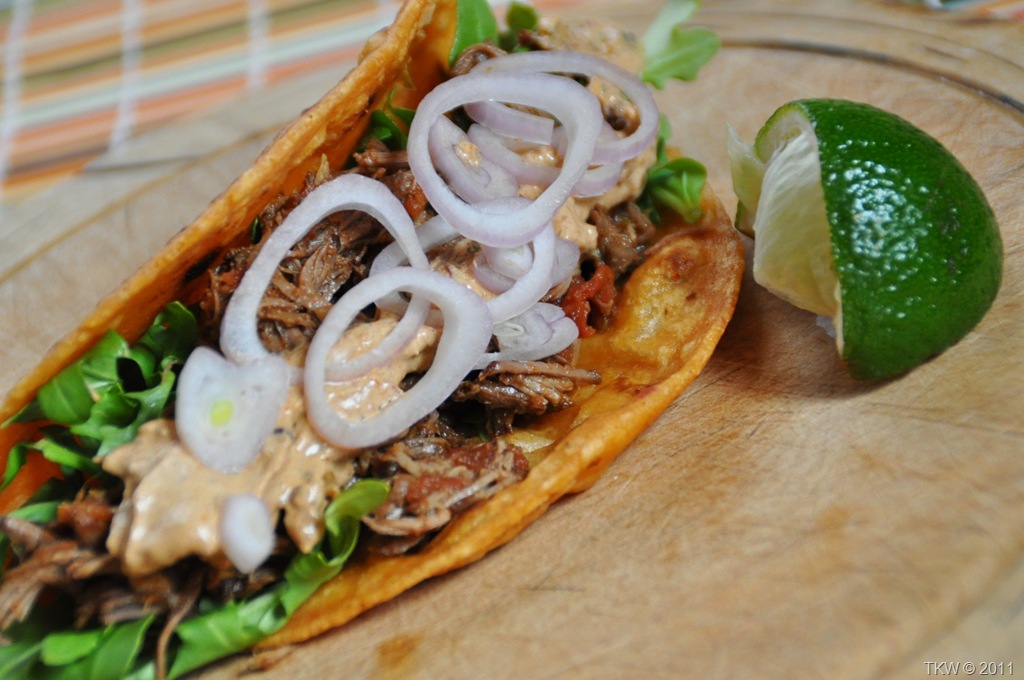 Shredded Venison Tacos
2016-06-13 20:22:58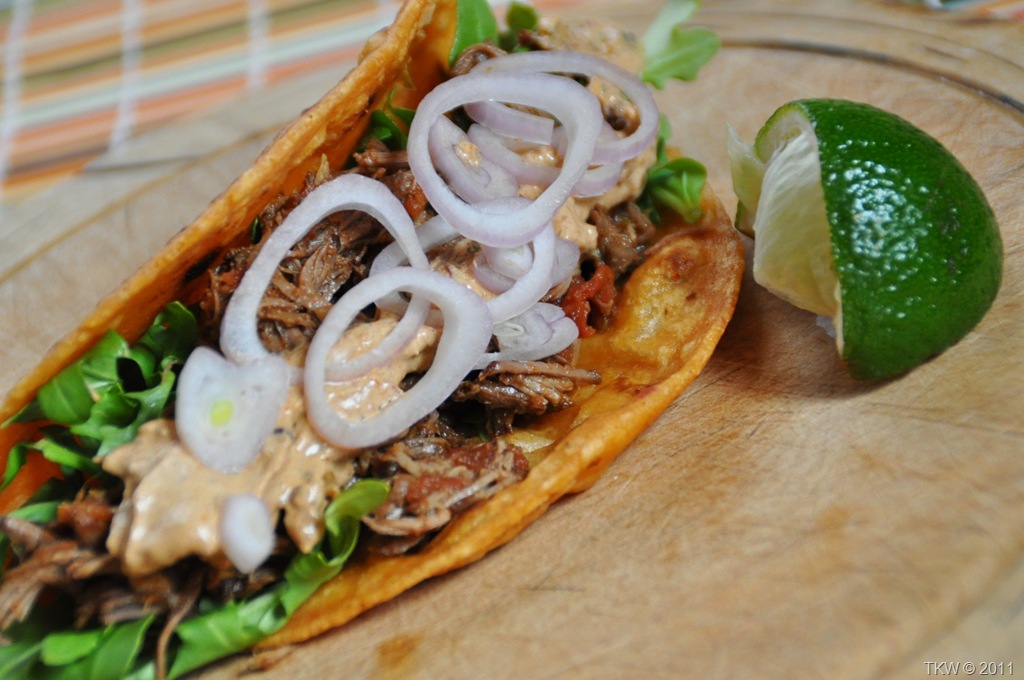 Ingredients
2 lbs Venision (steak, chops or roast) or beef
Kosher salt and fresh ground pepper
1 tbsp. olive oil
2 cloves garlic, minced
1 can Rotel plus 1 can water
1 tbsp. ancho chili powder
1 tbsp. cumin
1/4 tsp. cayenne pepper
2 bay leaves
1 lime, juice and zest
1 package corn tortillas (my favorite: La Tortilla Factory Chipotle Tortillas)
Canola oil for frying
Sauce
1 cup sour cream
2 tbsp. Siracha, harissa or other spicy chili sauce
1 tbsp. lime juice
1/4 cup chopped cilantro
Suggested toppings
Baby arugula, thinly slice shallots, lime wedges
Instructions
To prepare the meat.  In a large Dutch oven or other heavy bottomed pan, heat oil over medium high heat.  If using a roast, cut meat into large (2") pieces.  Season with salt and pepper.  Brown the venison, in batches if necessary.  Drain excess oil.  Return the meat to the pot and and the garlic, Rotel, water, chili powder, cayenne, bay leaves, lime juice and zest.  Bring to a boil then reduce to a simmer and cover.  Simmer for 2 hours or until it is for tender.  Using a slotted spoon, remove the meat chunks.  Using two forks or your hands, shred the meat.  Return the shredded meat to the pot to absorb any remaining liquid and keep warm.
Meanwhile, prepare the sauce.  Mix the sour cream, chili sauce of your choice, lime juice and cilantro.  refrigerate for a least 30 minutes to allow the flavors to bloom.  Prep any toppings you wish to use.
For the taco shells, in a large frying pan fill the pan with canola oil till it reaches about 1/4" depth.  Heat oil (medium high) until it sizzles when a couple of drops of water are added (be very careful if you use this method to check your oil, too much water dripped into it and the oil will splatter and my burn).
Using tongs, carefully lay one tortilla in the hot oil, cook for 5 to 10 seconds (you'll see it start to puff up and brown), flip it over and cook for 5 more seconds.  Then using your tongs, fold the tortilla in half and fry for approximately 5 more seconds, just enough to set the fold.  Drain on paper towels.
To assemble tacos, place lettuce on the bottom, top with the meat, sauce and onions or other toppings of your choice.
The Kitchen Witch http://www.thekitchenwitchblog.com/

Click to Print a Recipe Card