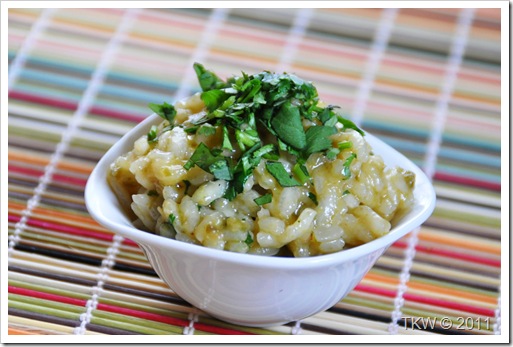 For all of you risotto lovers, have I got a treat for you! I really didn't intend to make this recipe, I intended on making Jen's Spanish Rice with green enchilada sauce versus the red that I normally use. I had everything I needed…except the rice. Time to switch gears or go shopping. I decided against shopping, instead I opted to peruse the pantry; I spotted my Arborio rice and had an 'aha' moment (did you see the light bulb go on?).
Arborio rice loves liquid, done right, it soaks it up and plumps to a nice and tender, yet slightly chewy risotto with an uber creaminess that is simply divine. It is probably the best rice in the world (in my book, it is). If you haven't tried risotto, I urge you, no I implore, I beg you to try it, you'll fall in love. If you are a risotto fanatic, you simply must add this one to your repertoire.
Now pour yourself a nice Margarita and enjoy Cinco de Mayo!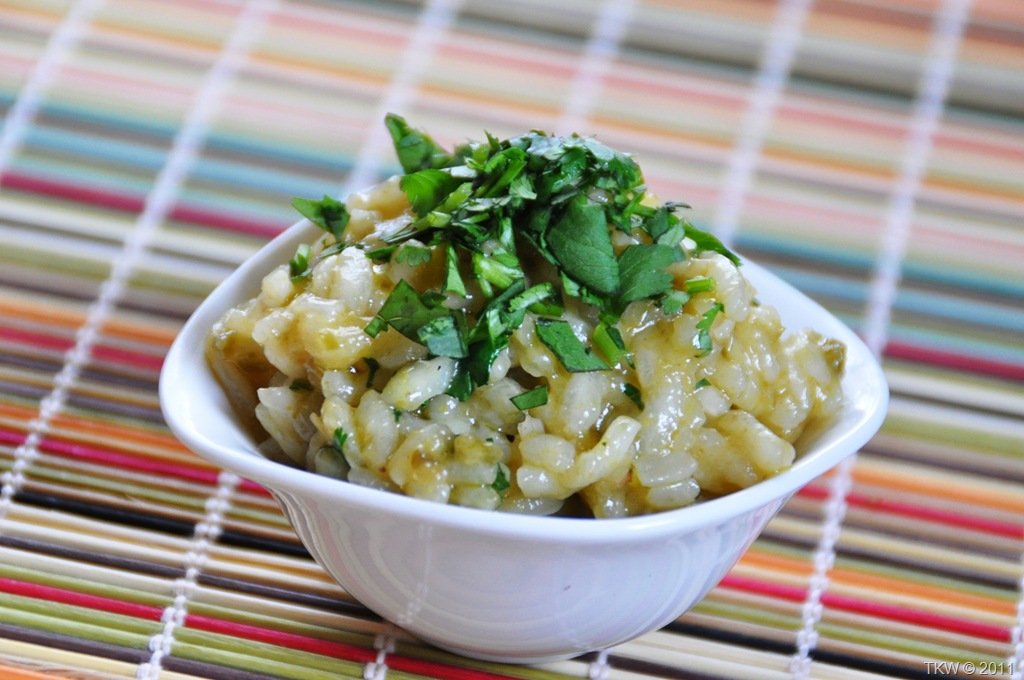 Risotto Verde
2016-06-13 20:19:52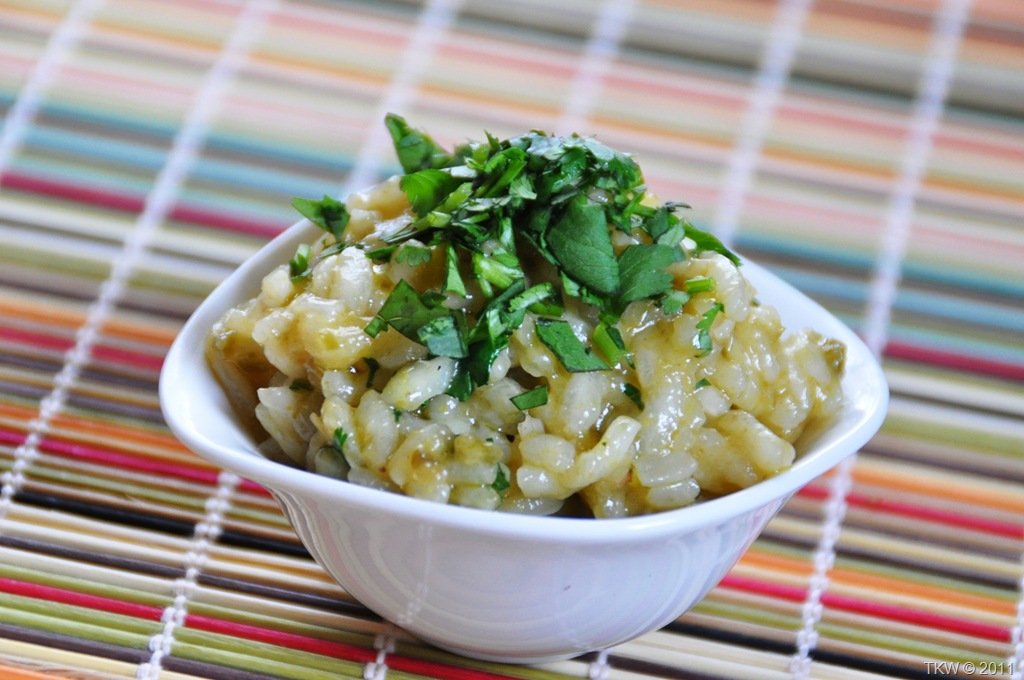 Ingredients
1 cup Arborio (risotto) rice
2 tbsp. olive oil
2 tbsp. butter
1/2 cup chopped onion
1 jalapeno, minced (seeds removed if you like it milder)
2 cloves garlic, minced
1 to 2 tsp. cumin (I like cumin, I used 2)
2  10 oz. cans green (Verde) enchilada sauce
14 0z. chicken broth
1/4 cup cilantro (chopped), optional
Salt to taste
Instructions
In a large Dutch oven or other heavy bottomed pot, heat oil and butter over medium.  Sauté onion and jalapeno until the onion is tender, about 3 minutes.  Add garlic and the rice and sauté for another 2 minutes.  Add the cumin, cook for 30 more seconds or until it becomes aromatic.
Mix the enchilada sauce and chicken broth.  Add 1 cup of the enchilada sauce/broth mixture, cook, stirring frequently until all the liquid is absorb.  Add the remaining sauce/broth mixture 1 cup at a time, stirring until each cup of liquid is absorbed before add the next about 20 minutes.  Stir in cilantro if desired.
The Kitchen Witch http://www.thekitchenwitchblog.com/

Click to Print a Recipe Card