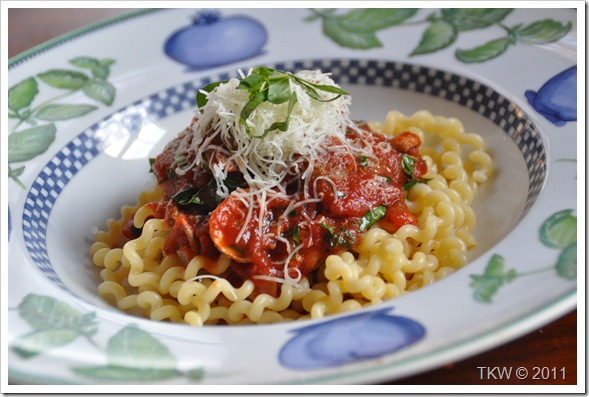 It's a weeknight, you've worked a long day, your favorite way to unwind is to cook. Except tonight, you really don't feel like it, no energy. Of course you could pick up something on the way home, or you could order out or even have the whole family go out for dinner. But you don't have the desire to go out, you just want to go home and put on some comfy clothes and relax. You also don't want some bad tasting take out food either, so what do you do?
Cheat of course!
Nothing like pasta and a sauce to make you feel like you just got a whole bowl full of love and good food. To have meatballs and pasta is the ultimate, but meatballs take some time…unless you cheat. I'm not talking about having a package of frozen prepared meatballs handy, but how about some link Italian sausage? Here's my quick cheat, take the link sausage and cut it into 1/2" pieces and fry them up, add some sauce stuff and they'll be ready about the same time it takes to boil a big pot of water and cook the pasta. Serve it over some fun pasta and your family will really think you did something special. We happened to have some venison link Italian sausage, leaner and healthier. See cheating can be good for you.
Next, recruit someone to do the cooking while you enjoy a glass of wine and do the coaching.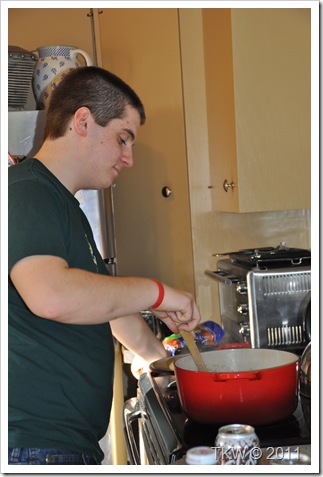 It also means that you are going to have a taste tester…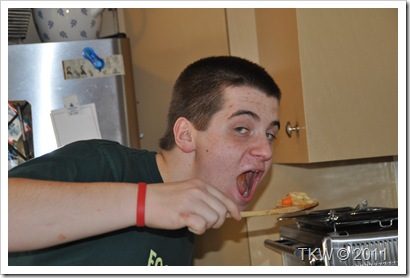 So here it is, the cheater version of Meatballs and Pasta: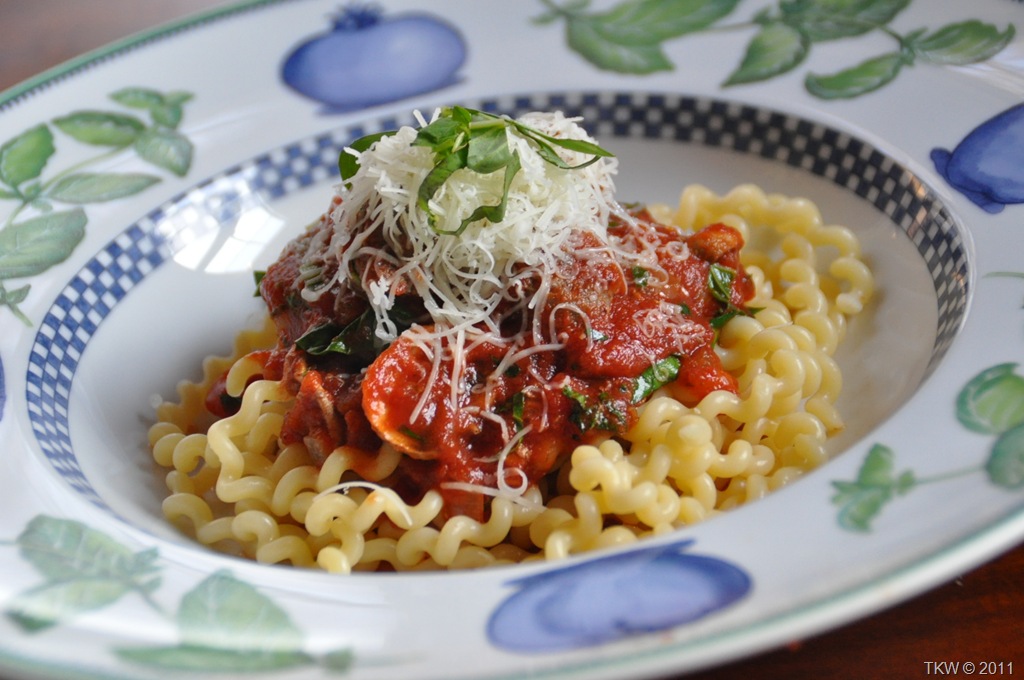 Italian Sausage and Mushroom Sauce over Fusili
2016-06-13 20:01:00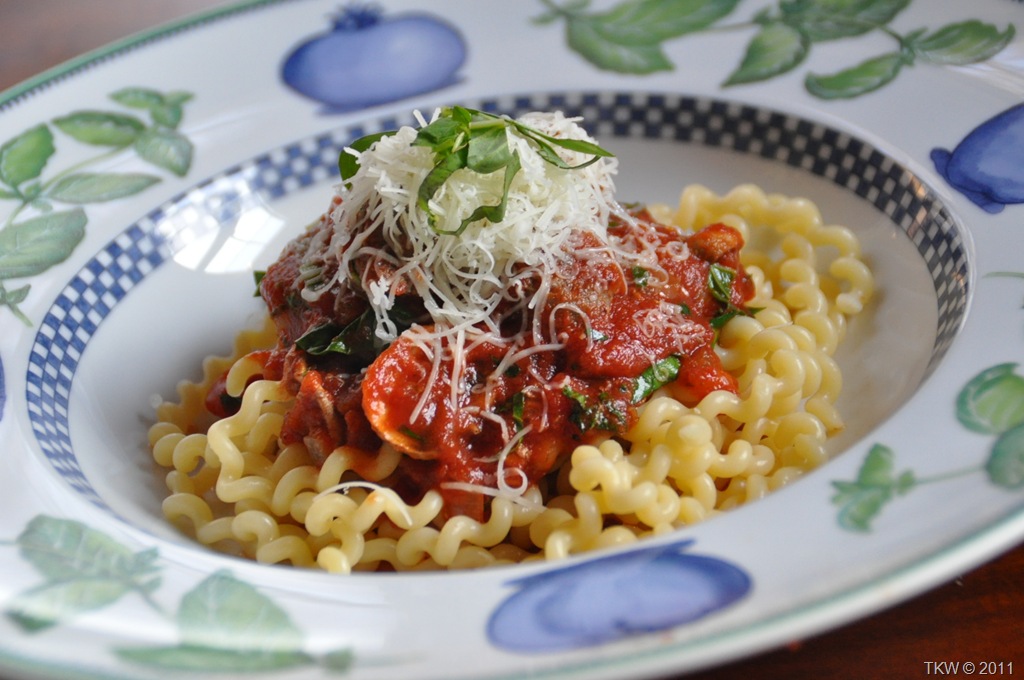 Ingredients
1 lb. link Italian Sausage
1/2 large onion, diced
2 cloves garlic, minced
6 oz. mushrooms, sliced
2 cans (28 oz.) crushed tomatoes
1/2 tsp. salt
1/2 cup basil, chiffonade
1/4 tsp. crushed red pepper, or more to taste
16 oz. fusili or other pasta, cooked
Freshly grated asiago, Romano or parmesan cheese
Instructions
Cut link sausages into 1/2" pieces, cove over med-hi heat, browning on all sides.  Remove from pan and drain on a paper towel.  Drain off all but 1 tbsp. of fat.  Cook onion until tender and translucent, add garlic and cook for 30 more seconds.  Add sliced mushrooms and continue to cook until mushrooms are tender, about 3 minutes.  Add canned tomatoes, salt and crushed red pepper.  Add "meatballs" and bring to a boil, reduce heat to simmer and cover.  Simmer for about 15 to 20 minutes.  Stir in fresh basil.  Serve atop cooked pasta and garnish with fresh grated cheese and additional basil if desired.
The Kitchen Witch http://www.thekitchenwitchblog.com/

Click to Print a Recipe Card