Now that the Safari is done and weather is cooperative, we've been able to head up to the cabin.  McGyver and I went up one weekend on our own and got it ready for this year's use.  It was a quick overnighter, nothing to exciting, just relaxing mostly.
While we were up there, I decided that I needed to challenge my outdoor cooking skills the next weekend.  Sure it's easy to grill a hot dog, hamburger, steak etc.  I wanted to do some real outdoor cooking, like using the cowboy grill and Dutch oven.  I made a goal oriented menu for the following weekend.
The next weekend we packed the cooler full of my ambitious menu and started our journey to the cabin.  On our way up, we saw about 70 Elk cross our road.  The photo is not great (I didn't have my zoom lens on), if you look on the hill you can see some of the ones that I scared off.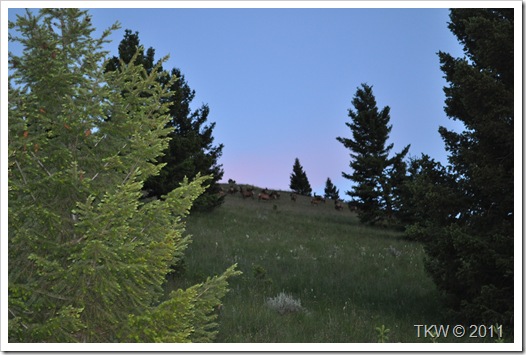 It is so thrilling to travel up the mountain, to view wildlife, see the beautiful flowers and the view, ahhh the view!
We traveled up late Friday night, unpacked and went to bed.  Saturday morning was a lazy morning.  I made  fancy pancakes  fomr a Bisquick mix(which we rarely have), I made way to much batter, so I tucked it away for later use.  Most of our day was spent cleaning up the outside area.  Particularly the area that I have designated our future outdoor cooking/entertaining area.  You can imagine McGyver's excitement about more of my lofty plans—-not.
Our property has old telephone poles everywhere, particularly in my outdoor kitchen/entertainment area.  McGyver worked hard moving the poles (which are not light), until they formed kind of an outline for my special area.  It happens that this night I had planned on doing chicken on a spit.  Old fashioned rotisserie chicken.  The plan was to cook it over low heat and then finish it off with a rosemary garlic glaze.
Problem #1, McGyver underestimated the time it would take to clear the area, which meant I couldn't start cooking until 7:00pm.  (I did offer to start the coals myself earlier, but was told that he was going to be done soon so I didn't need too, see how that one worked out.)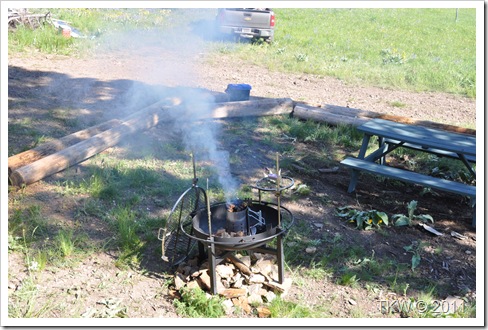 Problem #2, I don't have the patience to sit next to a chicken and spin it for an hour and a half.  Fortunately I'm a McGyverette and I used a stick to hold the chicken in place and rotated it every 15 minutes or so.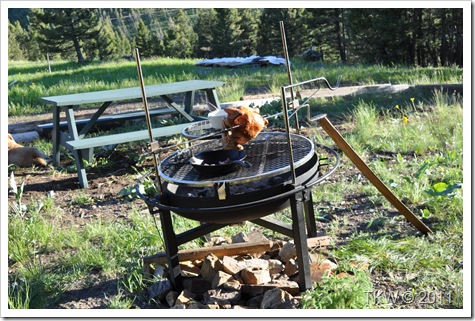 Problem #3, which wasn't apparent until much, much later.  I started the chicken too high.  Sure it was a beautiful color and it  looked down right delicious!  However, it was taking forever to cook!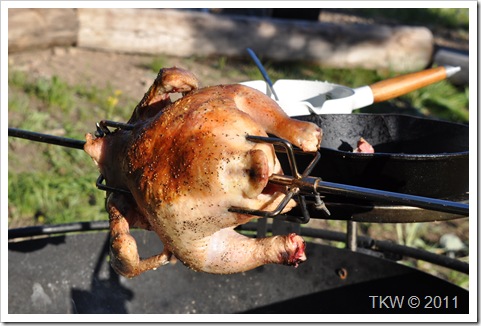 While the chicken was cooking, I also tried my hand at some Dutch oven cooking.  I actually baked my potatoes in a Dutch oven!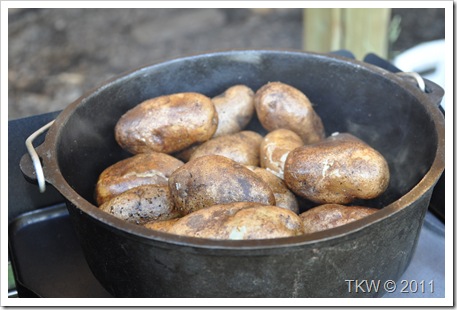 By 8:45 pm, I was starving and becoming a little impatient.  The chicken looked great, the legs were a little loose so I determined it was time to start glazing the chicken and cooking the beans.
At 9:15 I announced that the chicken must be ready, the boys were hungry and couldn't hardly wait.  We removed the chicken, I tried cutting into it and it wasn't very forgiving.  I started to get worried, I cut deeper and pink meat was revealed.  Nooooooooo!  You can't eat pink chicken meat, ever!
Sadly the chicken had to go back on, this time we lowered it, I didn't care that it would burn on  the outside. I knew that would happen since I used a rosemary garlic jam as the glaze, we just wanted to eat.
By 10:00 my chicken was black on the outside, my green beans had shriveled up to nothing and my potato skins were like leather.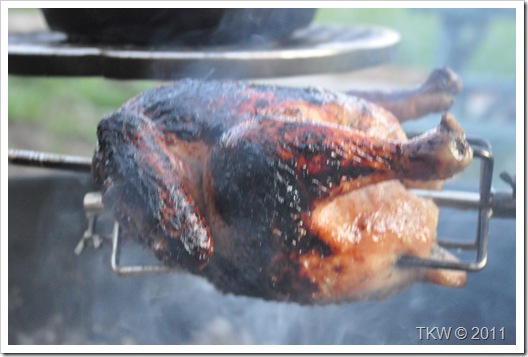 Guess what?  My chicken still wasn't done.  10:00 at night and it was still undercooked.  I said screw it, probably because I had about 3 drinks on an empty stomach and I was feeling reckless and hungry.  I cut off the done parts of the chicken, we ate only the insides of the baked potatoes, and the beans had bacon in them so the flavor was still good.  Besides, nothings wrong with bean jerky when you are a starvin marvin.
Not the best meal I've ever made, however I'm not giving up and I will try again.  So…lessons learned:
1. Start early, even if the chicken cooks quicker than expected, room temperature chicken is better than raw chicken.
2. Start low and then raise the chicken if needed.
3.  Do not glaze the chicken unless you are positively sure it's done, in other words, don't let hunger be your guide.
4.  Don't be too eager to start your sides, again the chicken can set while sides are cooking.
5.  Don't be to stubborn, if you are hungry and the sides are done, eat them and have chicken for dessert

.