Happy Birthday McGyver, how old are you? McGyver holds up his hand and starts with the thumb, 1966, then the index finger, 1976, the middle finger, 1986, the ring finger, 1996 and finally the pinky, 2006. Let's see now it's 2011, so 2006 to 2011 is 5 years, "I'm 55". Isn't it great that after decades have gone by we can still count how old we are on one hand (that is when you start counting by the decades). Actually that makes McGyver 5 and 1/2 right?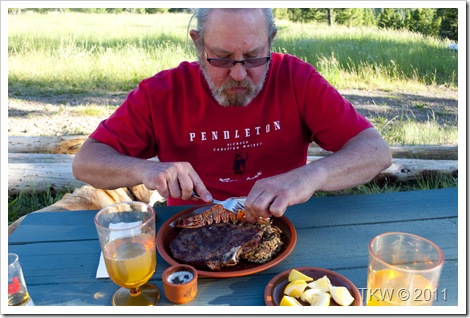 When we get older we start wanting different things; McGyver, what would you like for your birthday? "A weekend up at the cabin alone with my wife, wink, wink" With the change in my income, that sounded like the perfect gift for me to give him. The Baby boy is still in a cast and with crutches, so he wasn't too keen on going anyways, I just arranged for his buddy to come over and stay the weekend, in case he needed some help. I just had to hope that the house would still be standing when we got back.
I'm still feeling challenged about my open fire cooking so I planned a special meal for McGyver's Birthday dinner. A surf and turf meal of grilled lobster, roasted garlic stuffed rib-eye steak with a bacon and mushroom risotto.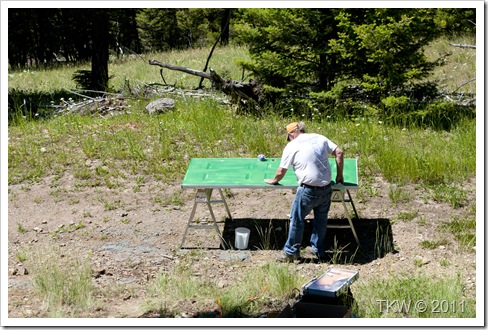 While McGyver worked away, I prepped everything. I pan roasted the garlic, chopped it up and mixed with a little olive oil, salt and pepper. Then I split the rib-eye and smothered the roasted garlic inside. The lobster had been purchased on a whim awhile back, I really wasn't even sure when I was going to serve it. I stored it in the freezer until the right time. It was still slightly frozen mid-Saturday although I took it out on Friday. With no microwave, and limited water, the defrost cycle took place out side. It worked quite well!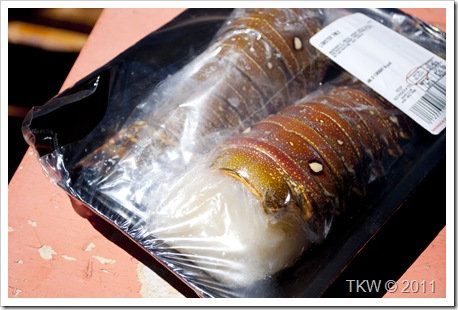 My plan was to get the briquettes going, make cocktails, cook the risotto, then throw on the lobster and steak in that order. Only we were low on briquettes, which meant that I would have enough to cook the risotto, which takes about 45 minutes and the lobster/steaks. Plan B, bring out the propane cooker. I started cooking the bacon on the propane cooker, I sat down with McGyver and chatted for a couple of minutes. When I got up to check the back, it was burned. Really, again…I seriously need to work out this outdoor cooking.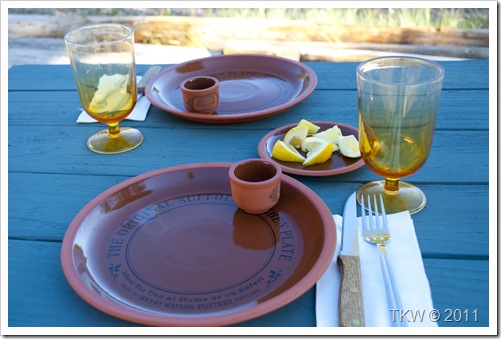 I quickly regrouped. I drained the bacon, fed it to the dogs who were very appreciative of my error. McGyver disposed of the hot grease and I chopped up some more bacon (so much for having it at breakfast). I turned the propane stove to low and cooked the bacon, this time not leaving it's side. Success! I babied the risotto the rest of the time, unfortunately my coals were burning down…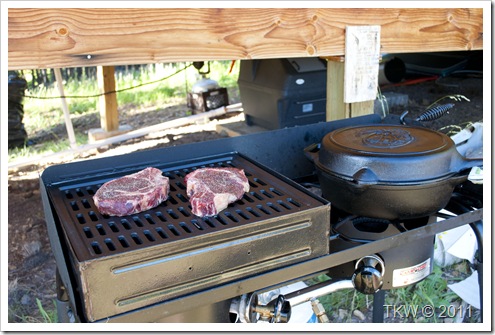 Once the risotto was just a few minutes from being done, I turned it off, covered it and started the lobster. The coals were warm but not hot. I knew that the steaks would not work out, they needed a nice high heat to get a good sear. I lit the other side of my propane stove and added the grill attachment. Steaks were cooked perfectly. I ended up moving the lobster over to the propane grill to finish them off. I also put the risotto back onto heat, cooked in the last of the liquid and added parmesan.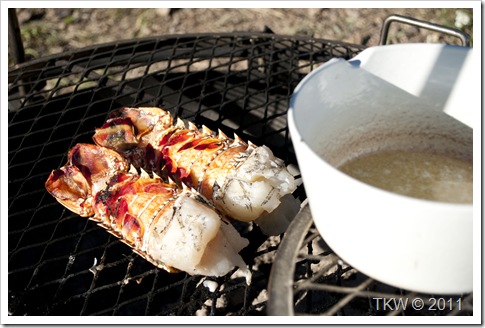 Voila Finally a birthday dinner worth having. I am happy to say that the coals were hot enough to melt the butter for the lobster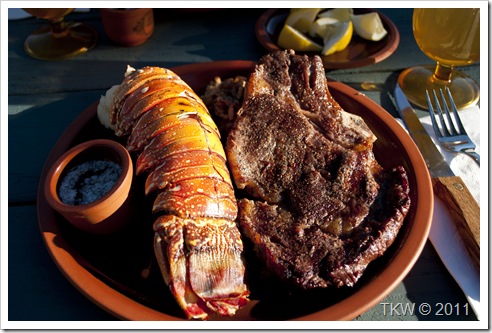 To go with dinner I brought a Mirabella Plum Wine that McGyver had purchased last year when he went to Glacier National Park. The wine's label features Polebridge, MT. A small town with an enormous population of 25, it's located just south of the Canadian border at the West Entrance to Glacier. The great thing about this wine is the Mirabella plums which are grown specifically for wine and Brandy are grown just 45 miles south of Polebridge by Merle and Emogean Baldwin.
Flathead Lake Wineries, est. 2002, specializes in small batch, handcrafted unique wines from fruit grown or picked wild in Montana.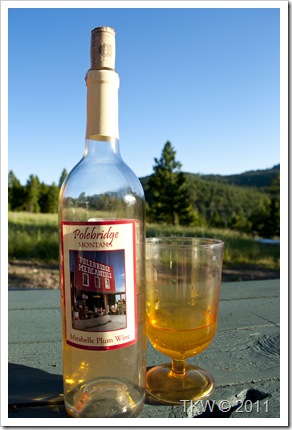 I noticed all week I've been rambling on and not sharing recipes, it's not that I haven't been cooking and taking photos, I've just rambled on for so long that adding a recipe seemed too much. Here I am again, rambling on about cooking failures and successes at the cabin, but this time I'm leaving you with a great drink recipe! If you like hard lemonade, then you'll love this drink. It's made from the new Jack Daniel's Tennessee Honey Whiskey, which ended up pairing perfectly with some tart lemonade and a splash of soda water to make it bubbly and refreshing.
Start with a tall glass filled with ice.
Here's the star of the drink. Yes I know Jack…sorry I couldn't help myself.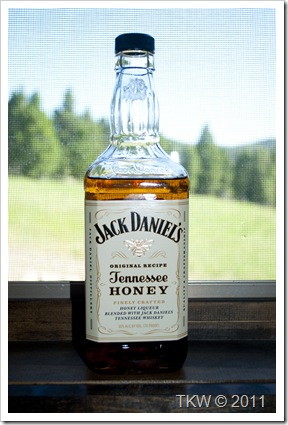 If you are a super talented blogger, you take a photo of yourself pouring the liquor.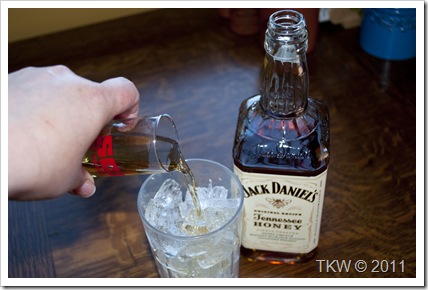 If you are super uncoordinated blogger, you make a mess trying to be the super talented self photo taker blogger.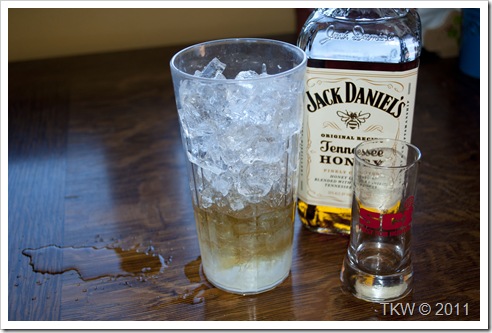 After the shot of Jack Daniels Tennessee Honey, pour in some lemonade, about 1/2 to 3/4 cup, leave enough room for the soda water.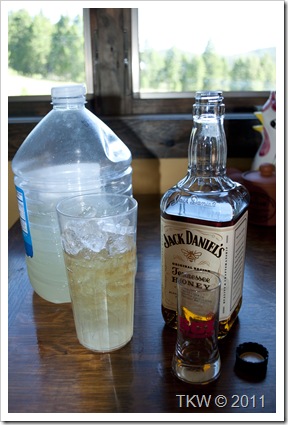 Top it off with some calorie free bubbly.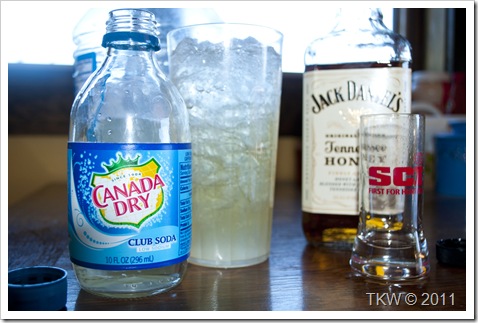 If you don't have any fancy stir sticks, you can go ghetto and use a butter knife. If you have a bar mixer, you can mix it all up and pour it over the ice. Up in the mountains, no one cares.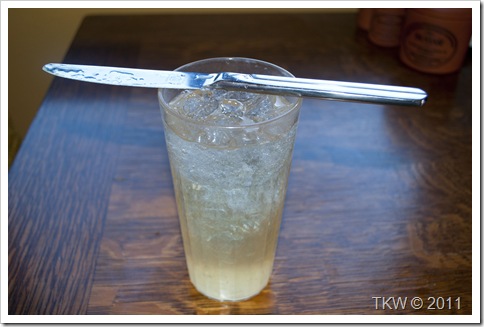 The result, a surprisingly light and bubbly hard lemonade with just a touch of tartness and a hint of honey.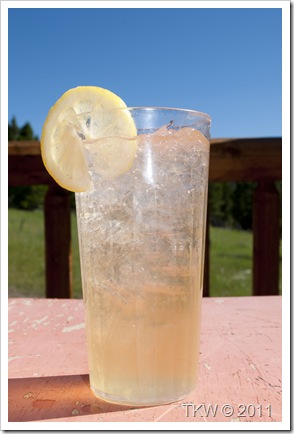 Honestly, besides having a great meal with my hubby and some us time, that I know you don't want to hear about, the best thing about the weekend was being able to take a hot shower. WooHoo, finally our hot water is working!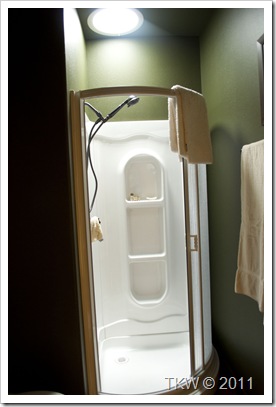 In case you are wondering about the light, it is a natural light. A tube is installed up through the roof allowing the natural light to come in without the use of electricity.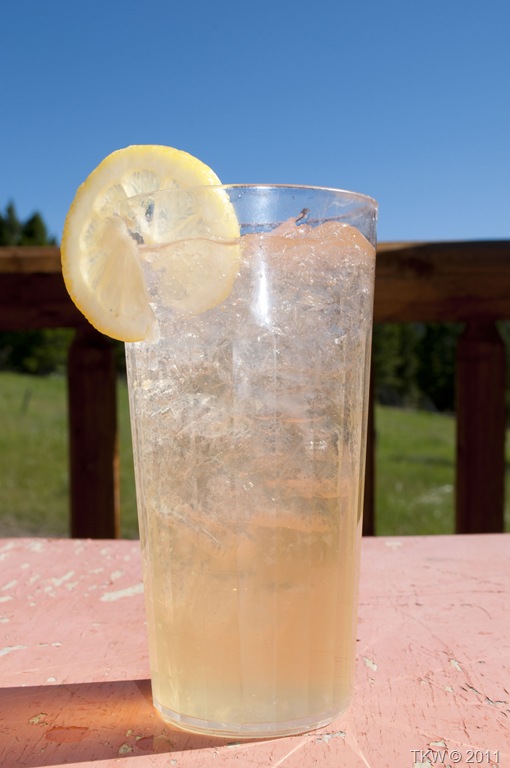 Honey Jack Lemonade
2016-06-13 14:34:33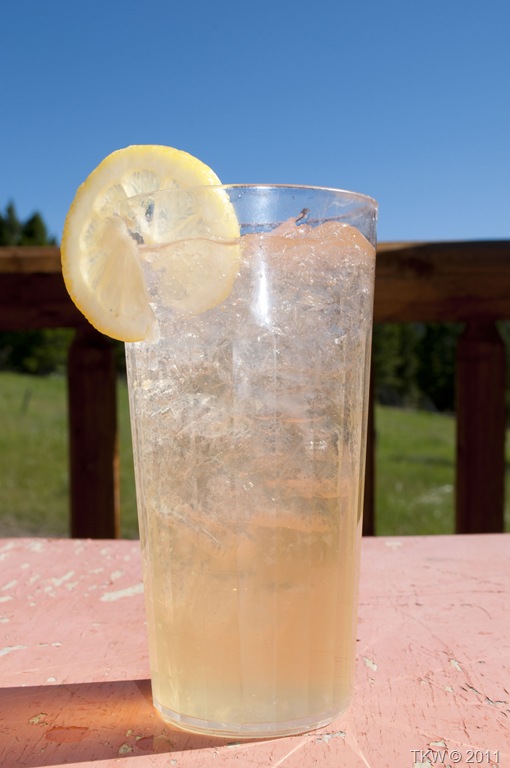 Ingredients
1 shot Jack Daniel's Tennessee Honey
1/2 to 3/4 cup lemonade
Splash of Club Soda
Lemon slices for garnish
Instructions
Fill a tall glass with ice, add the Jack Daniel's and lemonade, top with the club soda and stir well.  Garnish with lemon slices if desired.
The Kitchen Witch http://www.thekitchenwitchblog.com/

Click to Print a Recipe Card