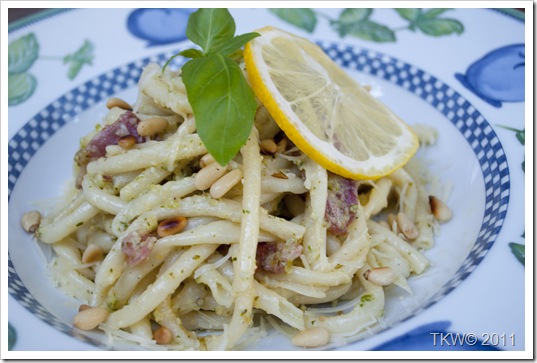 I'm not an exotic cook nor do I have an enormous amount of foodie knowledge. I cook more exotic than some and I seem to have an above average knowledge of foodie things. I'm not a foodie fad girl, I don't go chasing the latest "in" thing. Lamb may be the new bacon, but bacon will always be tops in my book, and I liked lamb and ate it regularly before it was "in".
That being said, sometimes I'm behind the times, sometimes I'm ahead of them and just didn't know it. For the most part I pride myself on not being a food snob, food is either good or not,period. Now that doesn't mean that some foods get my curiosity going. Occasionally I'll start seeing certain food items mentioned in various and it peeks my interest to the point that I just have to try it.
Garlic scape is one of those items. (Source)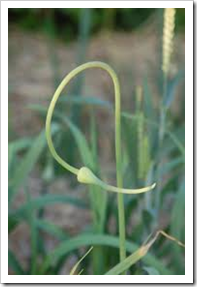 I started seeing these guys around the blogosphere, and thought what the heck? I was sure it had something to do with garlic, one of the loves of my life, but what exactly is it?
According to About.com:
"Garlic scapes are the flowering stalks of hardneck varieties of garlic. In late spring to early summer, in addition to the strappy green foliage, you'll start to see a round stem growing up from the bulb. It will get around two feet tall, form a bud, and start to curl over. Once the scape starts curling, it's time to harvest!

To harvest garlic scapes, just cut them off the plant 6 to 10 inches below the forming flower bud. They have a delicious, sweet, mild garlicky flavor that works very well in many dishes."
So scapes are the top of the garlic bulb, I began to wonder would harvesting the "strappy green foliage" affect the garlic bulb itself? Turns out that you are supposed to harvest the scape when growing garlic so that it doesn't steal all the nutrients from the bulb itself. In the end you'll get a beautiful garlic bulb with the added benefit of enjoying an herb/garlicky scape.
Isn't it wonderful how nature works like that? After reading about scapes, I was pleasantly surprised to see them at our local farmer's market. Without a second thought I purchased a handful (for only $1.00) and brought them home.
Again, I took to the internet to find out what to do with them. I ran across a pesto recipe from The Crisper Whisper, bingo! I noticed that the article was published last year, alas I am still behind on the food scene. In this case, regrettably so. Oh garlic scape, where have you been all my life?
I have to admit, that I loved, loved, loved garlic scapes and I wish I had purchased 5 handfuls! The pesto utilized my whole little stash and now they're gone. Gone from my coffers and gone from the market. A promise to myself has been made, next year I'll be purchasing plenty of garlic scapes.
I made the pesto with the scapes and some basil. It came out as a wonderfully flavored pesto, all the garlic flavor I love with none of the bite. Next year when I buy too many scapes (as I have a tendency to over purchase at the farmer's market), I'll follow suit with The Crisper Whisper and freeze enough to hold me through the winter.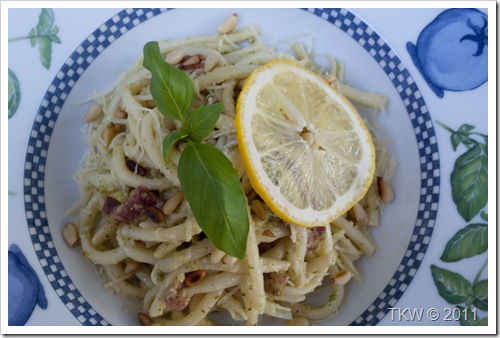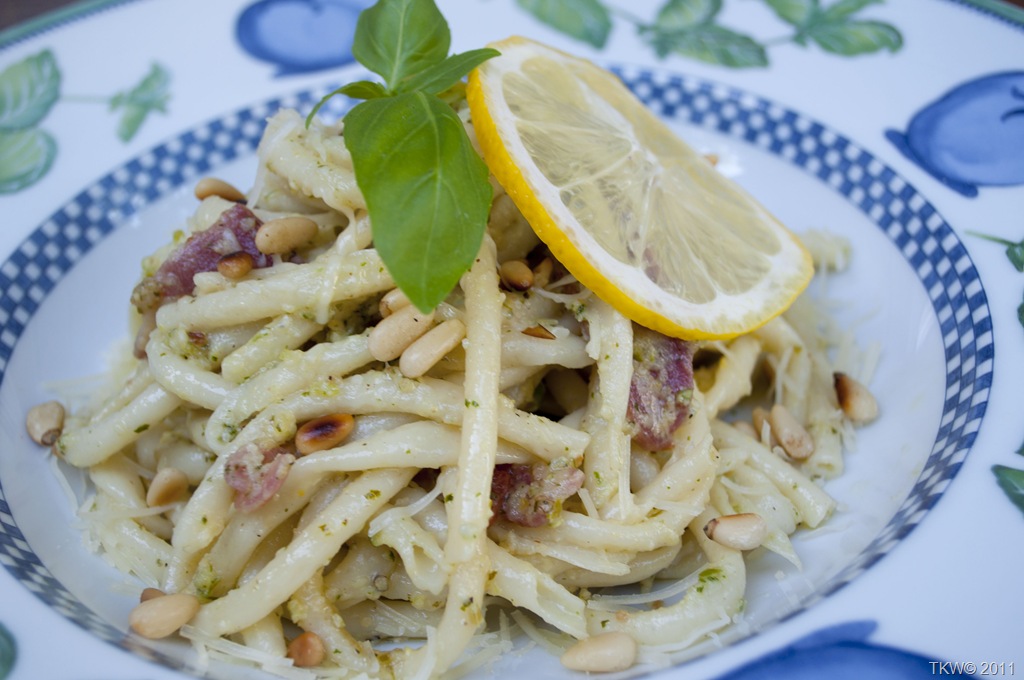 Garlic Scape and Basil Pesto with Pancetta
2016-06-13 14:32:36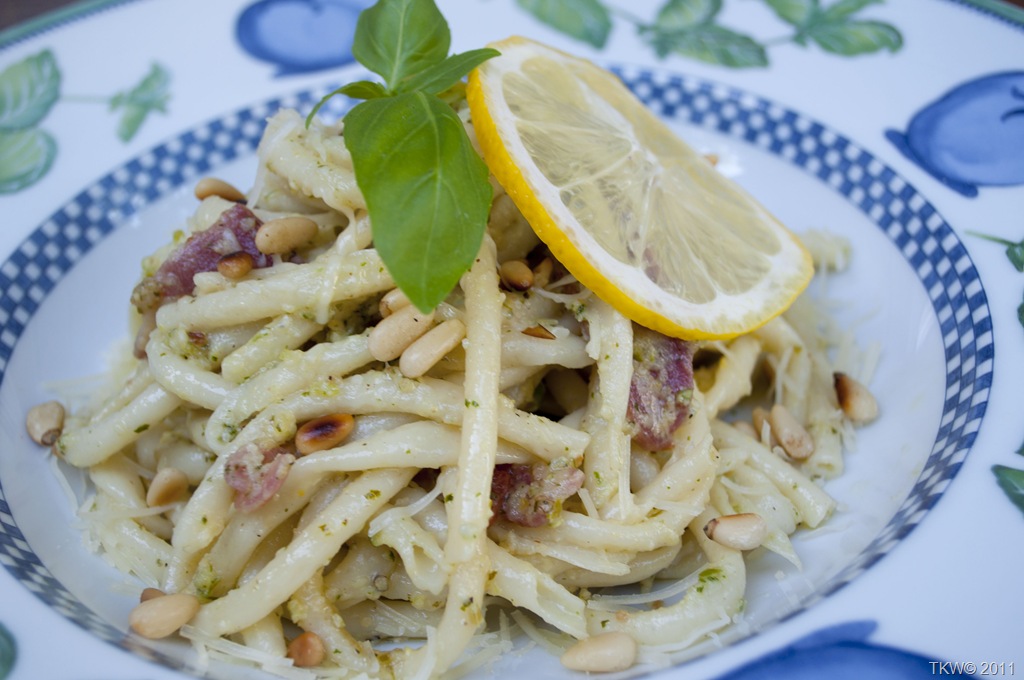 Ingredients
8 oz. Pasta, cooked according to package directions
1/2 cup pine nuts (divided)
1/2 cup coarsely chopped garlic scapes
1/2 cup chopped fresh basil
Juice and zest of 1/2 lemon
1/2 teaspoon salt
A few generous grinds of black pepper
1/2 cup extra virgin olive oil
1/4 cup grated Parmigiano Reggiano cheese
4 oz. Pancetta, coarsely chopped
Sliced lemon and extra basil leaves for garnish
Instructions
In a small, dry pan set over very low heat, lightly toast the pine nuts, stirring or tossing occasionally until just beginning to brown, about 2-3 minutes. Remove from the heat and let cool for a few minutes.
Combine the scapes, basil, 1/4 cup pine nuts, lemon juice and zest, salt, and pepper in the bowl of a food processor fitted with the blade attachment. Pulse about 20 times, until fairly well combined. Pour in the olive oil slowly through the feed tube while the motor is running. When the oil is incorporated, transfer the pesto to a bowl and stir in the grated cheese.
In a large non-stick pan, cook the chopped pancetta over medium heat until brown and crispy, drain excess oil.  Add the cooked pasta and the pesto, toss to coat pasta evenly.  Serve warm, garnished with a lemon slice, a sprinkling of toasted pine nuts and fresh basil.
Notes
Note: If you plan to freeze the pesto, wait to add the cheese until after you've defrosted it.
Adapted from The Crisper Whisper
Adapted from The Crisper Whisper
The Kitchen Witch http://www.thekitchenwitchblog.com/

Click to Print a Recipe Card