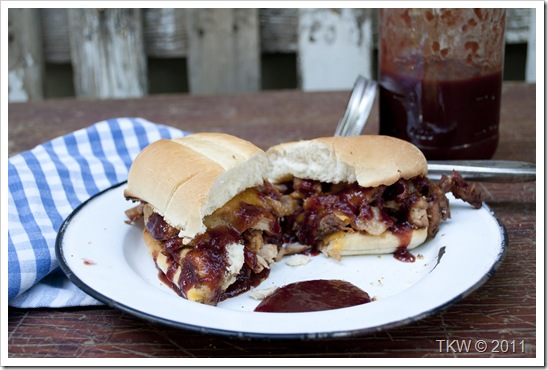 It's no secret that my eyes are bigger than my stomach, my sense of time means that I always think I have more time than I do and I have an unrealistic view of how much fresh food we can consume in a week. I have this tendency to overbuy and then I find myself in the situation of: make something, freeze it or throw it away.
Not everything freezes well and I hate throwing food away. Once again, I found myself in a very typical situation, I had some strawberries and some cherries that weren't looking exactly their best. I had pushed some strawberries and cherries to the back of the fruit and veg drawer where they were briefly forgotten. By the time it dawned on me that they were still there, it was too late to do much with them, but I certainly wasn't going to throw them away.
Huckleberry BBQ sauce is very popular in Montana, which gave me thought towards a fruit based sauce. When fruit is a bit on the sorry side but still tasty, cooking will disguise a less than stellar appearance and you still get the benefit of the flavor.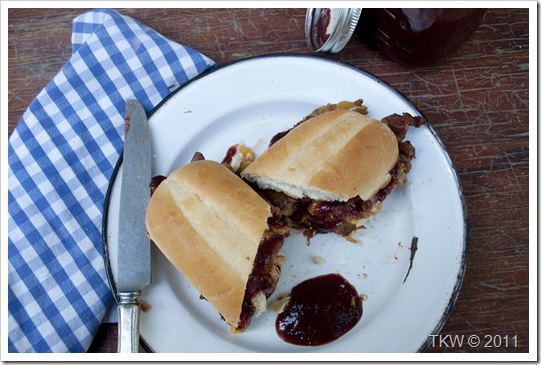 Enter a strawberry and cherry barbeque sauce. I was afraid that infusing sweet fruits into a BBQ sauce would cause it to be too sweet so I added some chipotle chili powder for a smoky goodness. Genius! I found a perfect marriage between my not so great fruit and a beautifully perfect BBQ sauce!
What to pair it with? Chicken seemed the perfect match, a mild meat that happily sets the palate for a sweet and smoky sauce. Add bacon and cheese, well, it just couldn't be better. Although not necessary, a food processor makes quick work of this sauce.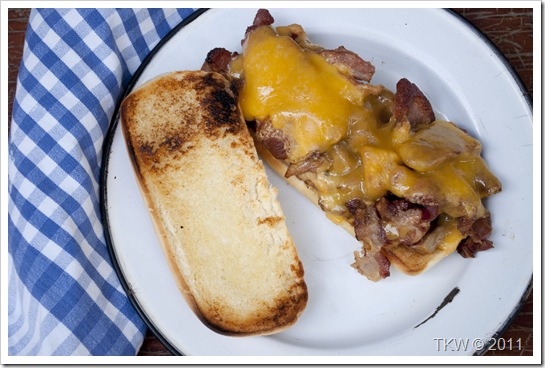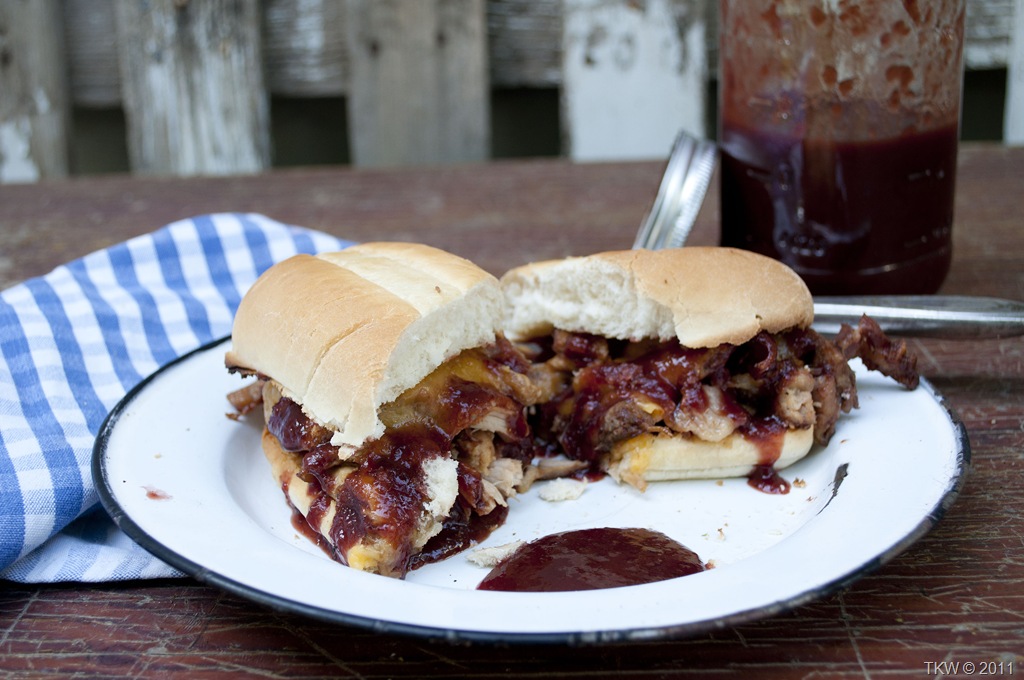 Berry Cherry Chipotle BBQ Chicken Sandwich
2016-06-13 14:29:21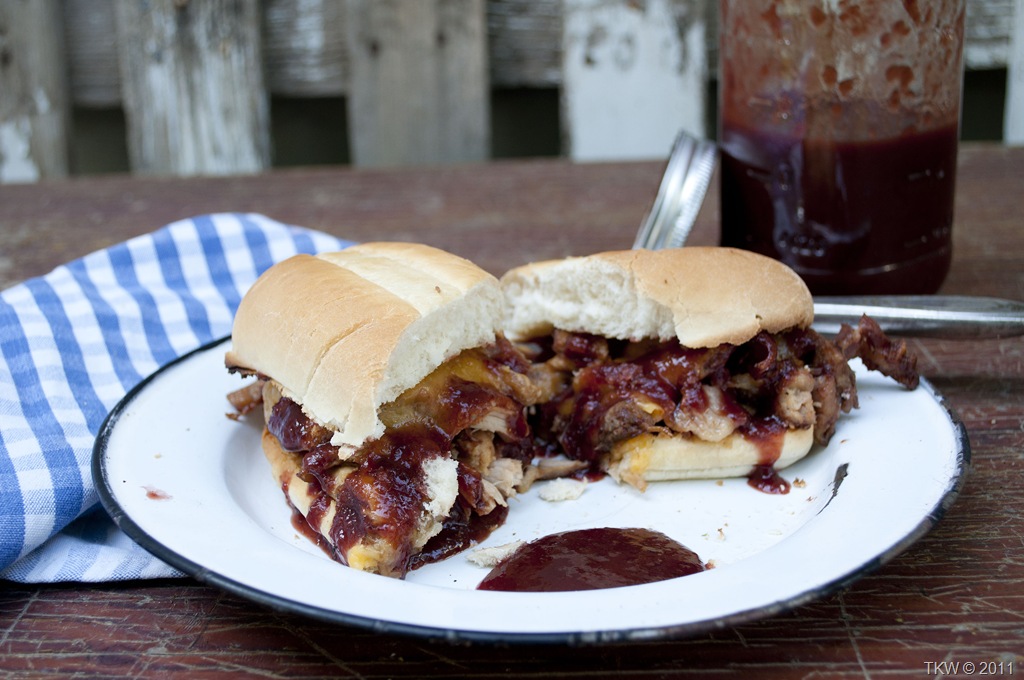 Berry Cherry Chipotle BBQ sauce
2 cups cherries, pitted
1 cup strawberries, hulled
1 medium onion
3 cloves garlic
1 1/2 cups ketchup
3/4 cup packed brown sugar
1/3 cup cider vinegar
1 1/2 tbsp. Worcestershire sauce
1 tsp. dry mustard
1 tsp. dry mustard
1 tsp. coarse ground black pepper
1/2 tsp. liquid smoke
1 tsp. chipotle chili powder
Sandwich
6 Hoagie/sub sandwich rolls
6 skinless boneless chicken breasts, grilled and sliced
12 slice bacon, cooked
6 slices cheddar cheese
Instructions
In a food processor puree the cherries, strawberries, onion and garlic.  Scrap down side of processor as necessary.  Place pureed ingredients in a medium sauce pan, add ketchup, brown sugar, cider vinegar, Worcestershire sauce, dry mustard, black pepper, liquid smoke and chipotle chili powder.
Bring to a bowl then turn down heat and simmer for 30 minutes to 2 hours.  Pour sauce throw a fine mesh strainer or food mill.  Let cool.
To build the sandwich, toast the sandwich rolls.  On bottom half of the roll, top with sliced grilled chicken, bacon and a slice of cheddar cheese.  Place under a broiler until the cheese is hot and bubbly.  Smother in BBQ sauce and place other half of roll on top.
The Kitchen Witch http://www.thekitchenwitchblog.com/

Click to Print a Recipe Card