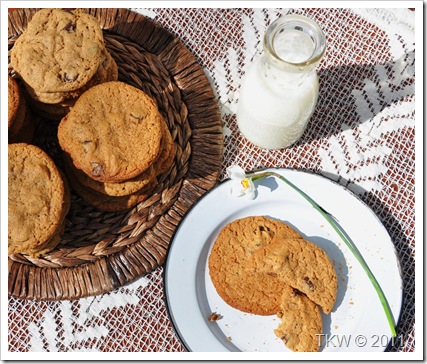 On a whim I picked up a jar of almond butter with honey. I've never had almond butter but I've heard about it and thought it sounded wonderful. The jar with honey in it was particularly enticing, peanut butter and honey is a favorite combination of mine, especially on celery.
I eagerly dug into the jar when I got home and filled a stalk of celery with it…blech. I did not care for it at all. I paid nearly $8 for the small jar, so now what? I put out a tweet for help and my daughter quickly responded with a suggestion to make cookies or maybe a satay with a nut sauce. There was also a small chastise "you should be making your own nut butters". Well, I didn't and I spent money on it and I hate to waste, so I took up her suggestion and made cookies.
I used my favorite recipe from Cook's Illustrated. I figured adding sugar and chocolate could make anything palatable. Plus a recipe that uses 2 sticks of butter can't be all that bad tasting. I surmised using almond butter wouldn't be anything different from using peanut butter…it all seemed to go well.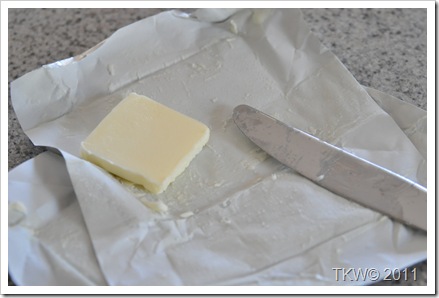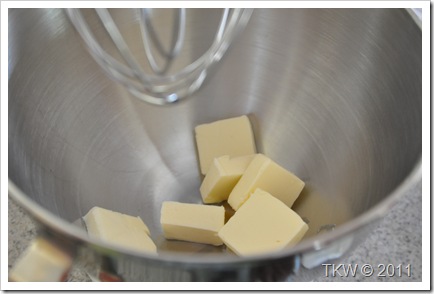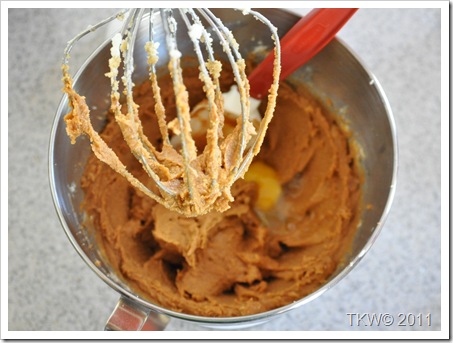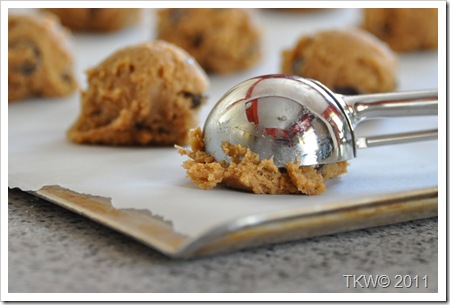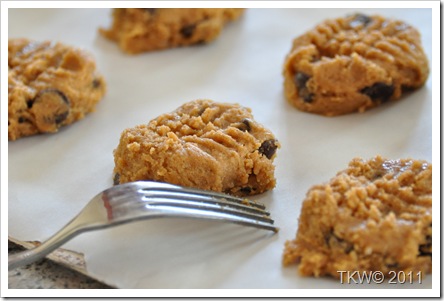 Till I baked them, I expected thick cookies with cute little cross hatches. Almond butter didn't quite act like peanut butter. Maybe I could introduce them…Hey almond butter, this is peanut butter, you could learn a thing or two from it.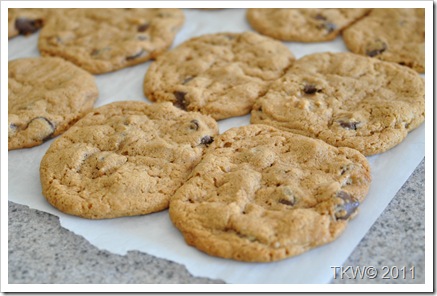 The next batches I spaced further apart, skipped the cross hatch and pushed on. Only I pushed a little to hard when I slid the parchment paper off my pan and onto the counter. Guess I didn't realize my own strength.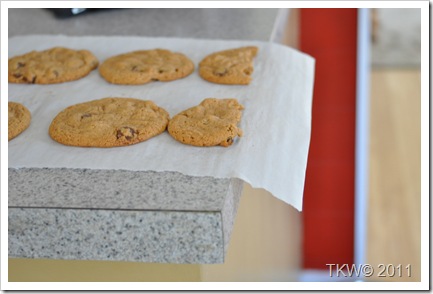 Summer quickly came over to check out the damage.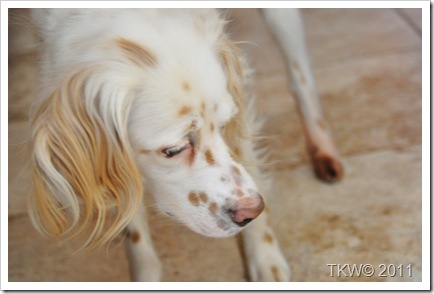 Looks like a snack, freshly dished up on the floor.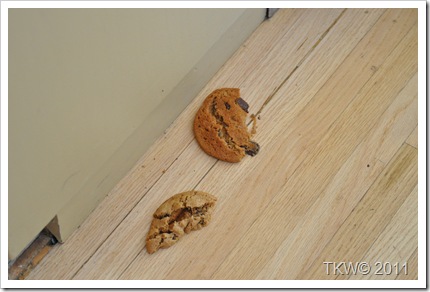 Old, slow, Becca dog was not too far behind, she was just waiting for the okay from me. What a good dog, yes, you are!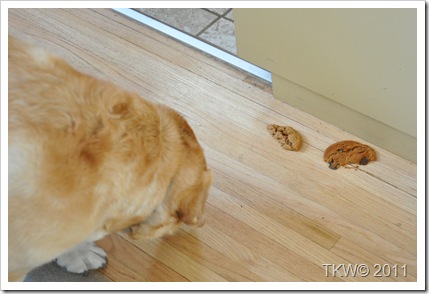 The end result? The dogs loved them, and people? They loved them too. Other than a disappointing appearance, I decided that the cookies came out perfect and tasted wonderful. I'd make them again, only I'll make my own nut butter first…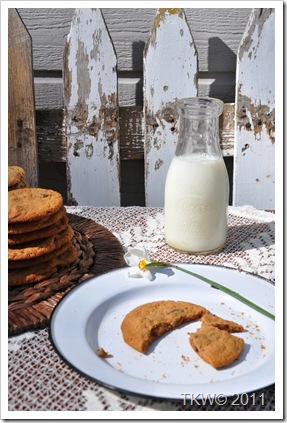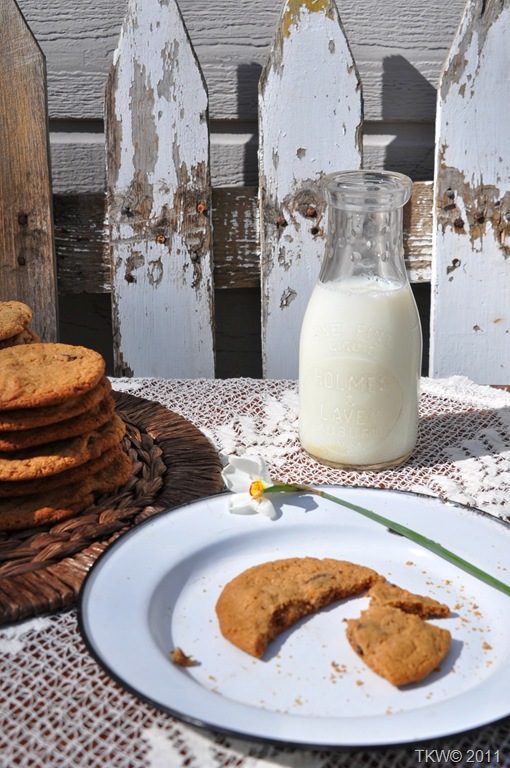 Almond Butter Chocolate Chip Cookies
2016-06-13 14:13:57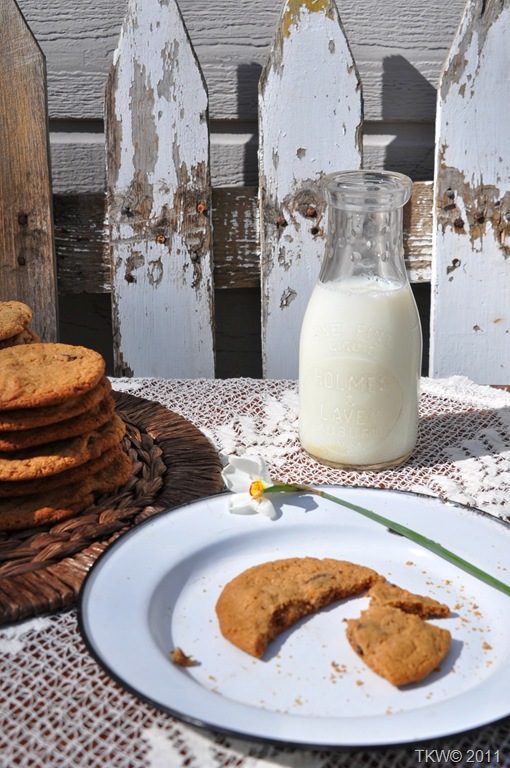 Ingredients
2 1/2 cup flour
1/2 tsp. baking powder
1/2 tsp. baking soda
1 tsp. salt
1 tsp. cinnamon
16 tbsp. (2 sticks) unsalted butter, softened
1 cup brown sugar
1 cup granulated sugar
1 cup almond butter
2 large eggs
2 tsp. vanilla
1 cup dark chocolate chips
Instructions
Preheat oven to 350° F.  Mix dry ingredients (except chocolate chips) and set aside.
Beat butter until creamy, add the sugars and beat until fluffy, approximately 3 minutes.  Beat in almond butter and vanilla until well mixed.  Then add the eggs and finish mixing till homogenous.
Slowly mix in the dry ingredients scraping the bowl as necessary.  Once the dry ingredients are incorporated stir in the chocolate chips.  Drop by rounded tablespoons on a parchment lined cookie sheet.  Leave plenty of space as the cookies spread.  Bake 12 – 15 minutes.  Let cool slightly before serving.
The Kitchen Witch http://www.thekitchenwitchblog.com/

Click to Print a Recipe Card